Explore the Beauty of Wooden Puzzle Craftsmanship
Our Wooden Puzzle offers a vibrant portrayal of the Earth, surrounded by its majestic inhabitants. Lions roar from the African savannahs, tigers stealthily move through Asian jungles, and playful pandas munch on bamboo shoots. Mischievous monkeys swing above, parrots add a splash of color, while polar bears and wolves dominate the icy regions. Dive deeper, and you'll find the oceanic realm: gigantic whales, menacing sharks, graceful swordfish, and serene turtles, not to forget the adorable seals.
A Unique Piece Every Time
What truly sets this masterpiece apart are its individual pieces. Every piece has a distinct shape, making the assembly a delightful challenge. To elevate the experience, special large pieces depict animals and landmarks, making the assembly process even more captivating.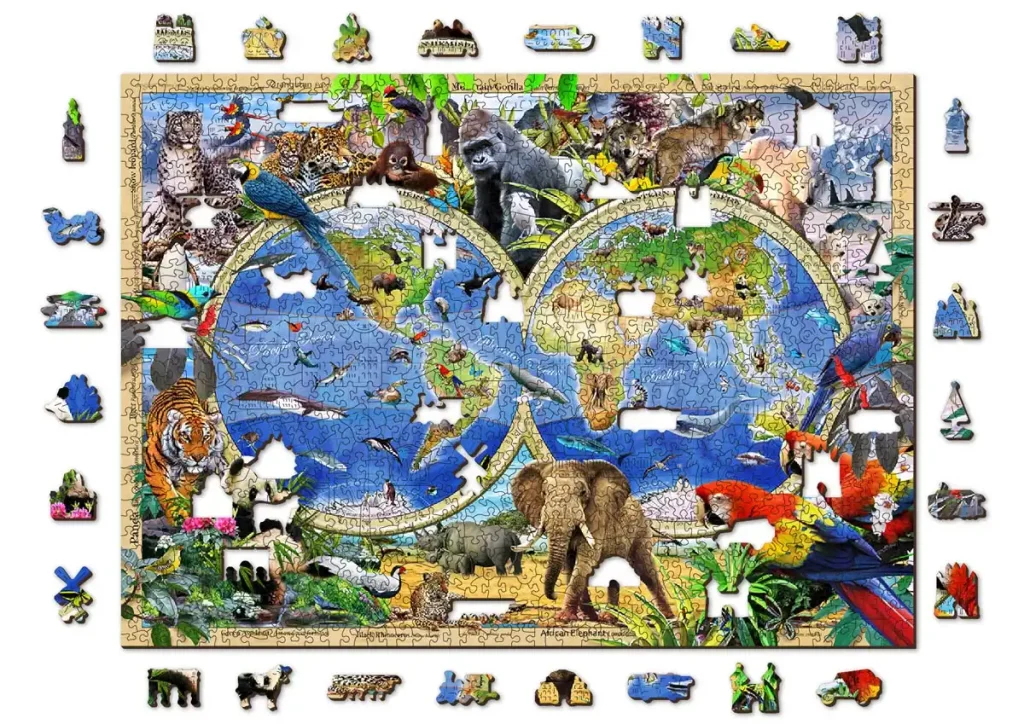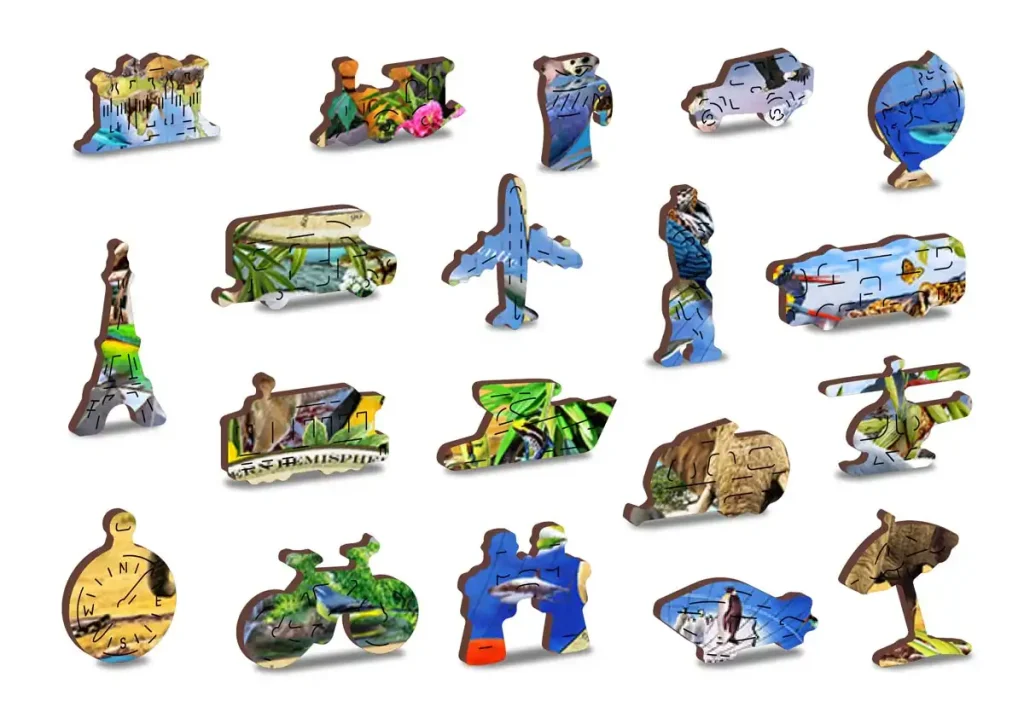 Perfect for Family Bonding
Assembling this artwork is not just a pastime; it's a journey. It's a way for families to bond, for memories to be created, and for hours of laughter and teamwork. Each piece you fit brings the world closer, teaching, and entertaining both young and old.
Exceptional As A Gift
Looking for a unique and thoughtful gift? This artwork is a splendid choice for birthdays, anniversaries, or simply to show someone you care. Its rich colors and intricate designs promise hours of enjoyment, making it a gift that keeps on giving.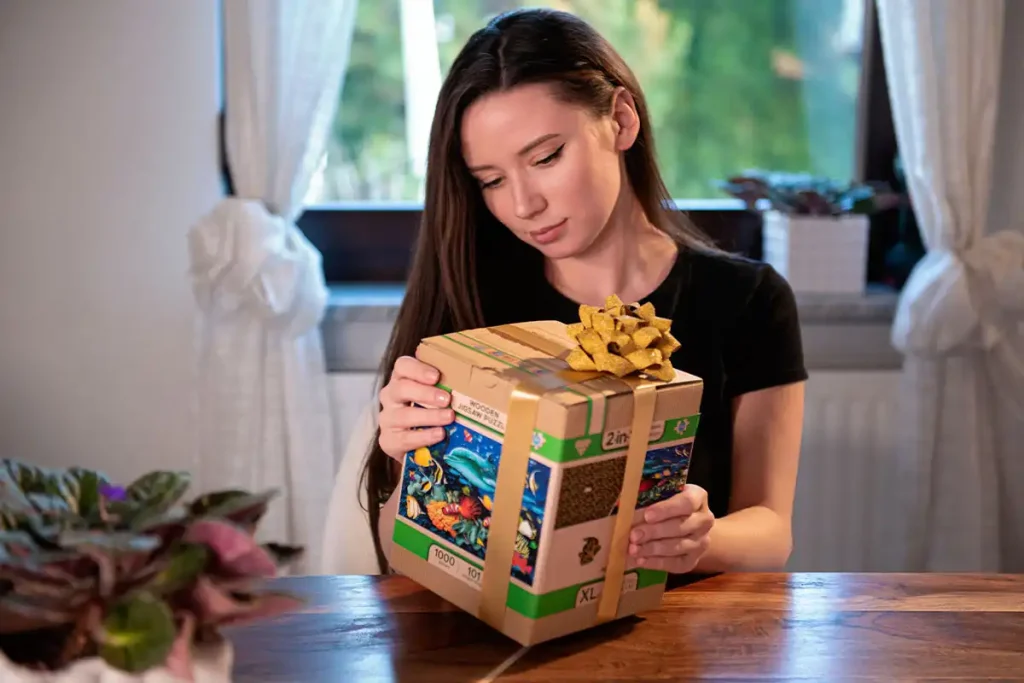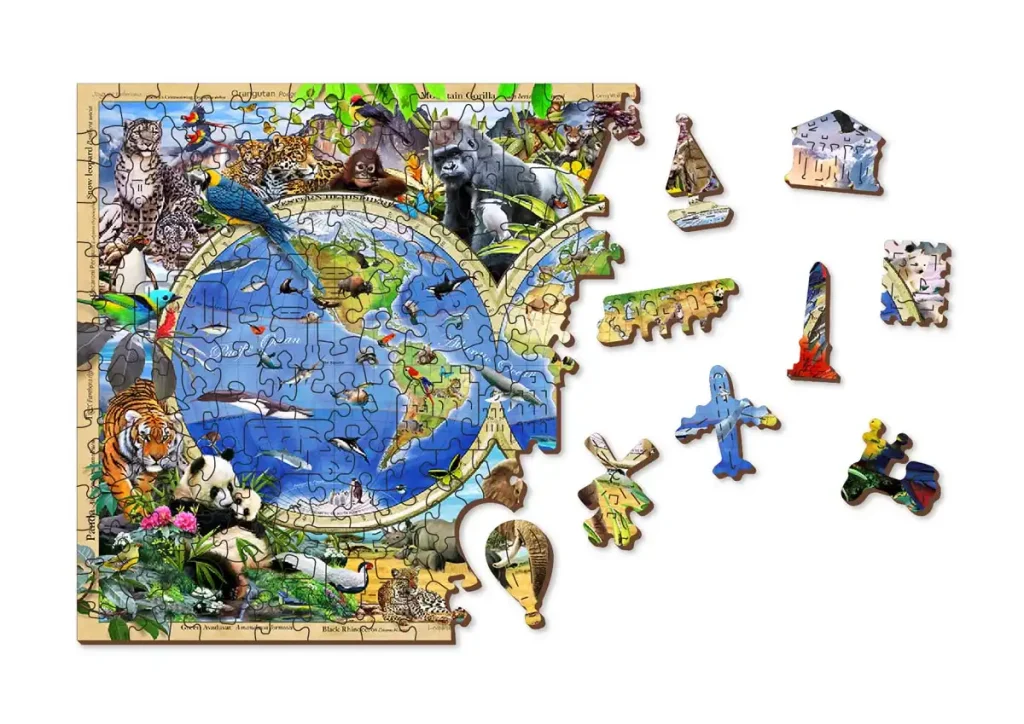 Decorative and Functional
Once completed, it doesn't have to be dismantled. Its vibrant display and intricate design make it a beautiful decorative piece. Proudly showcase your achievement by hanging it on a wall, a testament to patience and collaboration.
Characteristics
Series/Article
TR 0014-M
Age
10 +
Number of elements
150 pcs
Number of whimsies
30 pcs
Assembled size
H: 7,16"(18,2cm)
W: 10" (25,4 cm)
Packaging size
H: 5,98" (15,2 cm)
W: 4,92" (12,5 cm)
D: 4,92" (12,5 cm)
Packaging weight
0,66 lb (0,3 kg)
Puzzle thickness
0.12″ (0,3 cm)
Assembly time
3h
Artist
Howard Robinson
Type of Cut
Travel
Back side
Two Sides to Every Story
And this is no exception. The reverse side of each piece features a pattern that can assist in the assembly, adding an extra layer of intrigue to your puzzle-solving experience.
In conclusion, "The Amazing Animal Kingdom 150" is not just a pastime; it's an experience. From its unique design to its educational value, it promises endless hours of fun, making it a treasure for every household. Dive in, explore, and let the adventure begin!