An Enchanting Journey in Timber
Unveiling a tapestry of a bygone era, this Wooden Puzzle paints an American boulevard alive with festive exuberance. Each segment you fit reveals tales of folks immersed in their festive preparations, the radiant glow of a Christmas tree.
Discover a Distinctive Adventure
Every jigsaw fragment is uniquely contoured, promising an exhilarating yet intricate endeavor. Our jigsaws shine with their theme-based cuts. In zoological sets, expect pieces mirroring the animals they depict. Meanwhile, globetrotter-themed jigsaws present iconic global monuments. Enhancing your journey, the reverse side of each bi-faceted fragment bears a design, acting as a guiding clue during assembly.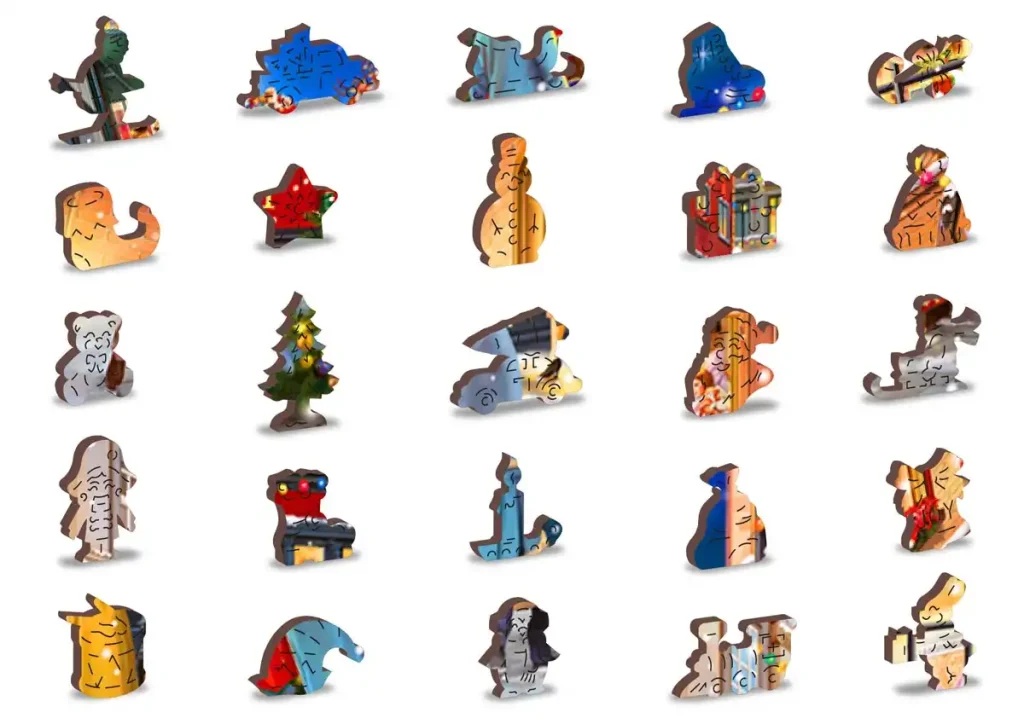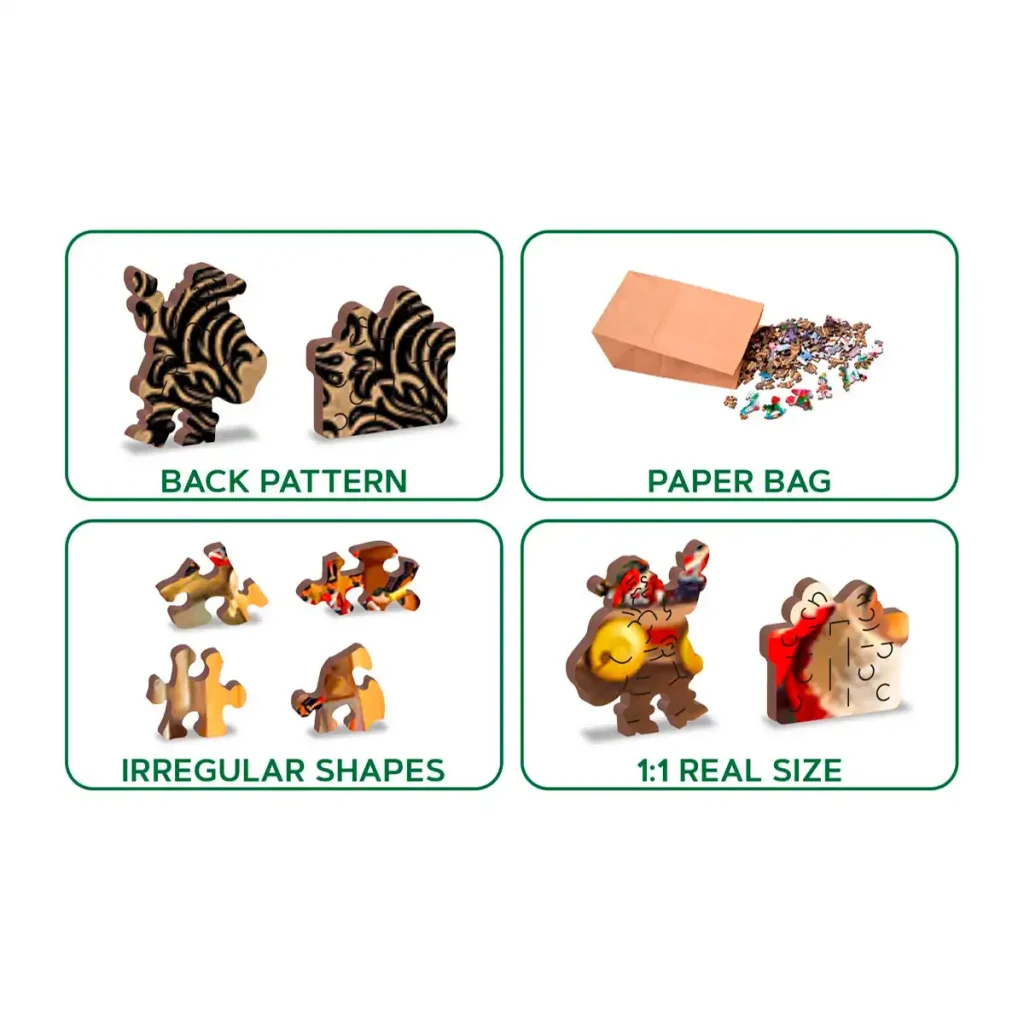 An Unforgettable Token
In search of a gift that strikes a chord, both emotionally and sentimentally? The "Christmas Evening 750" transcends being a mere Jigsaw; it's a portal to precious recollections. Piecing it together is a heartwarming avenue for family unity, nurturing intimacy and collective achievement. Bestow the gift of quality time, familial bonding, and seasonal elation.
Art Beyond Amusement
This masterpiece, once assembled, offers more than mere gratification. It stands out as an exquisite decorative piece. Proudly display it as a reflection of your perseverance, dexterity, and the perennial magic of the Yuletide.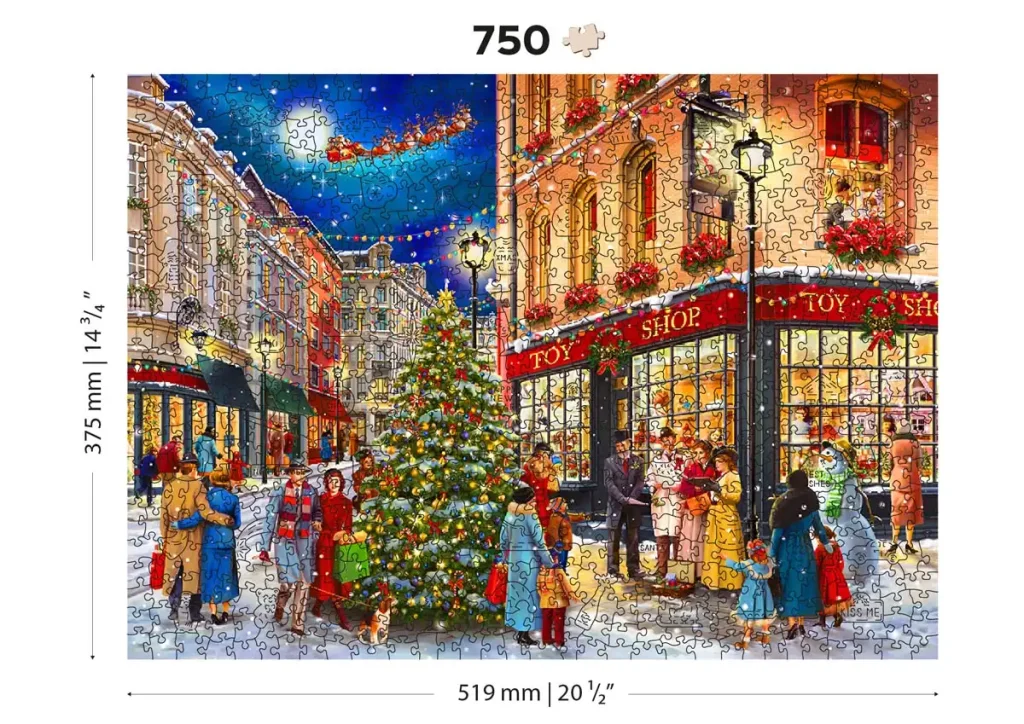 Characteristics
Series/Article
XM 750-0050-XL
Age
10+
Number of elements.
750 pcs
Number of whimsies
75 pcs
Assembled size
H: 20.43" (51,9 cm)
W: 14.76" (37,5 cm)
Packaging size
H: 7.87" (20 cm)
W: 6.57" (16,7 cm)
D: 6.57" (16,7 cm)
Packaging weight
1,34 lb (0,61 kg)
Puzzle thickness:
0.12″ (0,3 cm)
Assembly time
10h
Artist
Simonetta Pirola
Type of Cut
Christmas
To sum it up, our jigsaws do more than entertain; they beckon you into a realm of narratives, tests, and splendor. Allow the "Christmas Evening 750 Wooden Puzzle" to be your portal to holiday wonder and a poignant reminder of treasured instants shared with kin.