Embark on a Wooden Puzzle Journey
Dive into this Wooden Puzzle and witness London's magnificence: the majestic Westminster Palace, the iconic Big Ben under a burst of fireworks, a classic London bus crossing the historic bridge, and two tourist boats cruising, offering mesmerizing views of the cityscape.
Colors That Captivate
Every piece boasts rich and vibrant colors, capturing the essence of London's twilight beauty and transforming your assembly experience into a visual delight.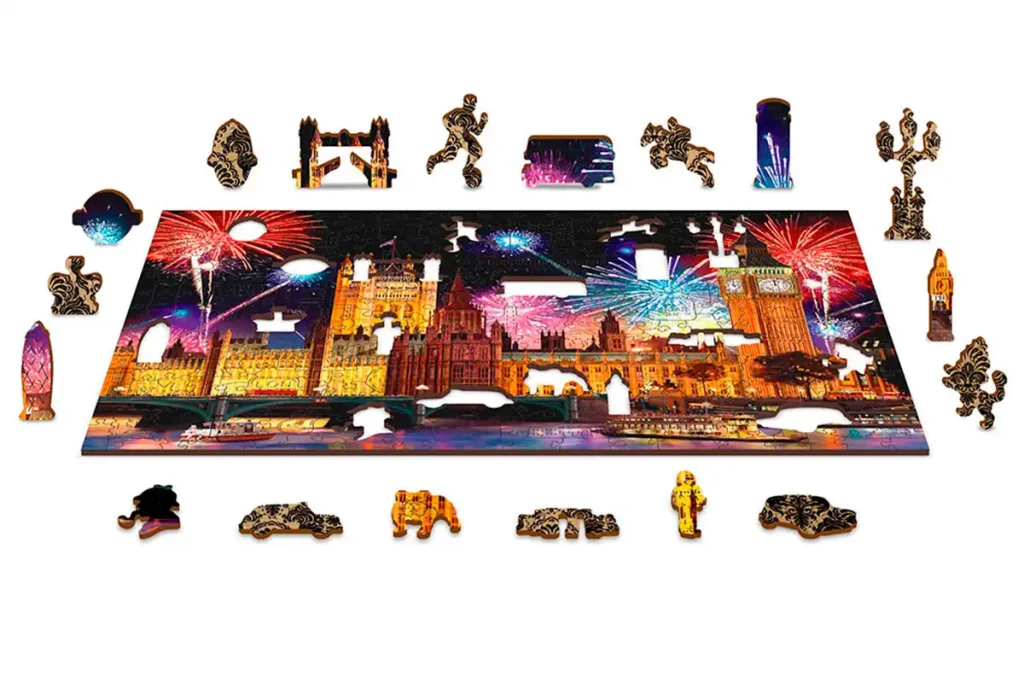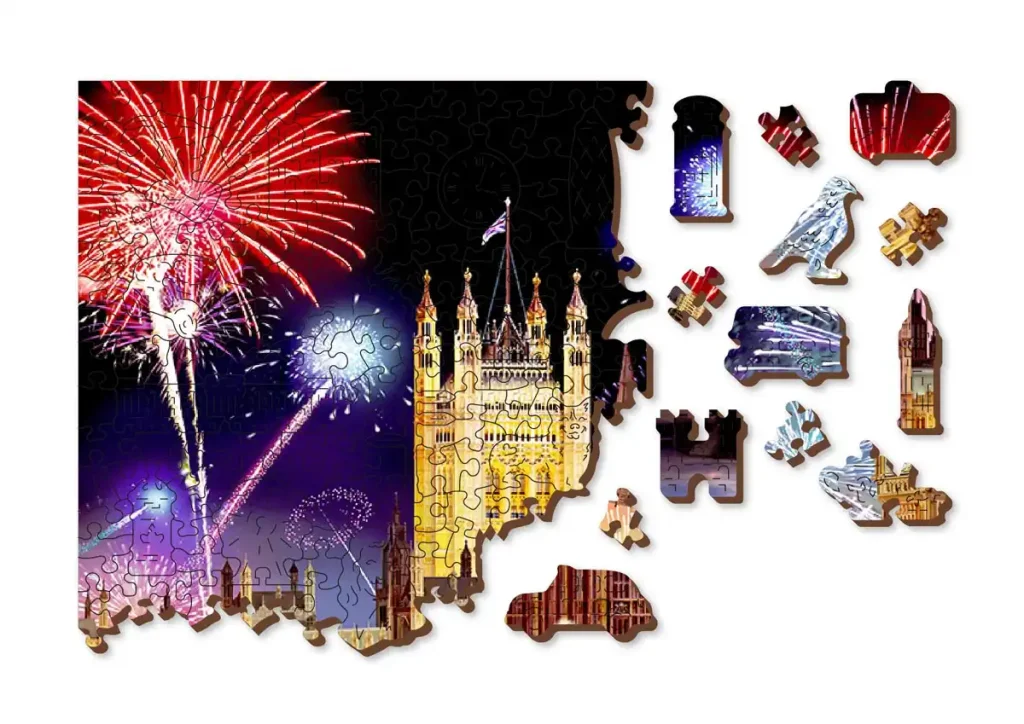 Unique in Every Sense
Each element of this product has been meticulously crafted, ensuring a distinctive shape for every piece. From landmarks to animals, the detailed cut-outs cater to the theme, making the assembly process both fascinating and rewarding.
The Perfect Gift
Whether it's for travel enthusiasts, city lovers, or anyone in between, this jigsaw serves as a thoughtful gift, ensuring hours of engaging fun and a lovely visual masterpiece upon completion.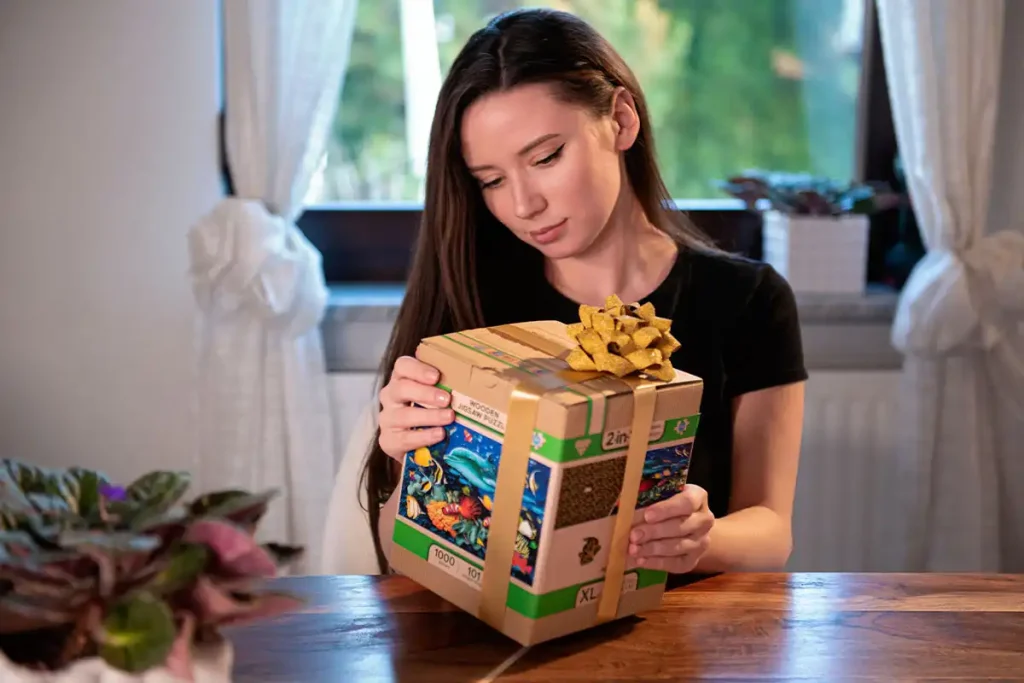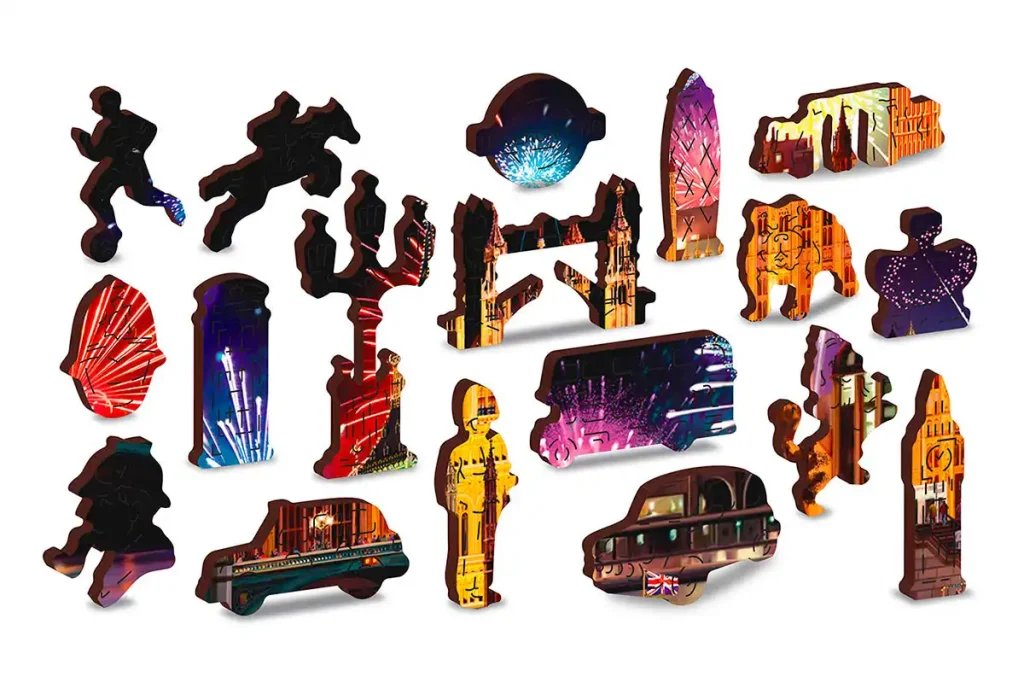 Decorative and Elegant
Once assembled, it's more than just a game. It becomes a sophisticated piece of decor, bringing the urban charm of London to adorn any living space.
Quality Time with Loved Ones
Engaging with this jigsaw provides not just an individual challenge but also a wonderful opportunity to bond with family, cherishing the moments spent together.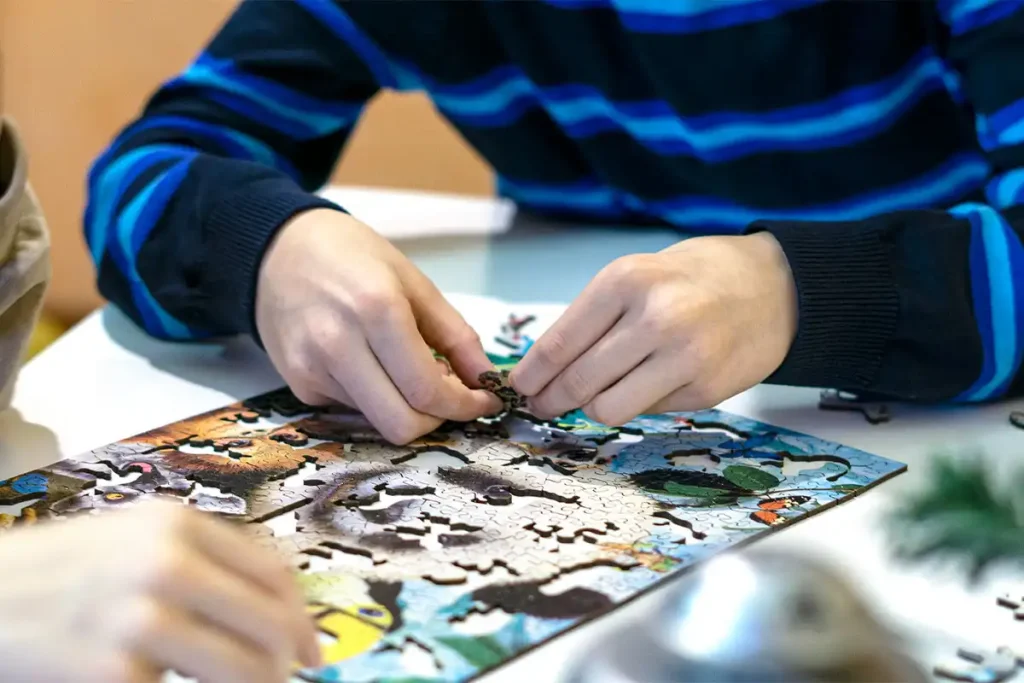 Characteristics
Series/Article
BR 0006-L
Age
10+
Number of elements
300 pcs
Number of whimsies
60 pcs
Assembled size
H: 14,76"(37,5 cm)
W: 10" (25,4 cm)
Packaging size
H: 5,98" (15,2 cm)
W: 4,92" (12,5 cm)
D: 4,92" (12,5 cm)
Packaging weight
0,66 lb (0,3 kg)
Puzzle thickness
0.12″ (0,3 cm)
Assembly time
4 h
Artist
Simonetta Pirola
Type of Cut
Travel
Back side
Two-Sided Design
For those seeking a bit of guidance, each piece is double-sided, with patterns on the reverse to aid in placement, making the assembly journey smoother.
In conclusion, the "London by Night 300" is more than a mere jigsaw. It's an exploration into the heart of London, a journey of discovery, and a testament to the city's everlasting charm. Dive in and let the city's magic unfold, piece by piece.
* The images are for illustrative purposes. The finished picture may differ from the image.