Dive into the Wooden Puzzle Adventure
This craftsmanship piece brings Las Vegas, the city of dreams, right to your fingertips. As you piece together the puzzle, watch the vibrant nightlife of Vegas unfold before your eyes. Casinos shimmering in neon lights, the legendary Elvis Presley in his prime, helicopters taking off against the starlit sky, airplanes making their descent, and lively dancers that bring the spirit of Vegas alive. But that's not all; the vastness of the desert and rugged off-road vehicles add a contrasting charm to the city's glamor.
Colors that Captivate
The vivid hues used in this masterpiece are sure to captivate your senses. They transport you straight to the glitzy streets of Las Vegas, ensuring a visually enchanting experience.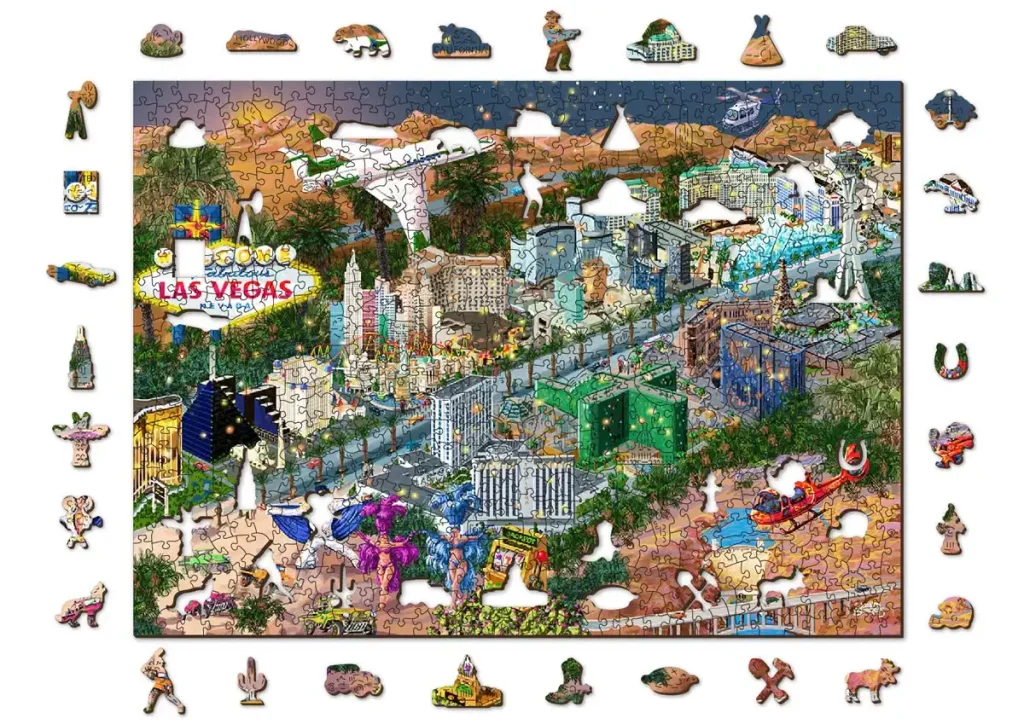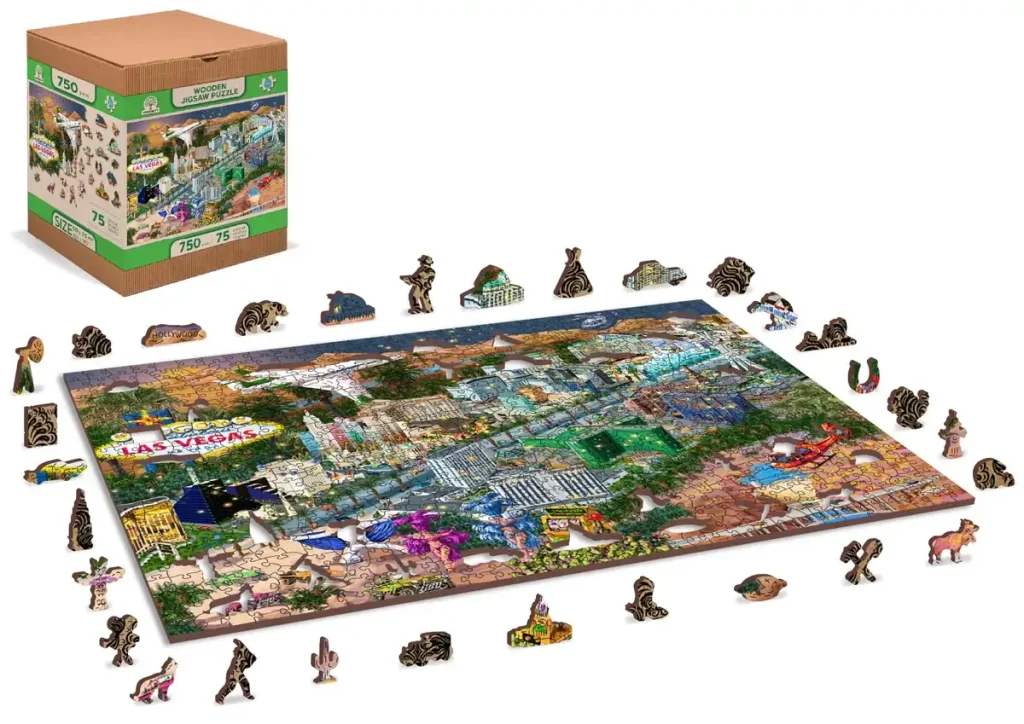 A Piece for All
Designed for both adults and children over the age of 10, it's a fantastic way to bond, challenge your skills, and reminisce about the USA's entertainment capital.
Unique in Every Way
Every piece in this set is unique, having its distinct shape. Depending on the theme, expect to find special pieces, be it animals or landmarks, making the assembly process all the more thrilling.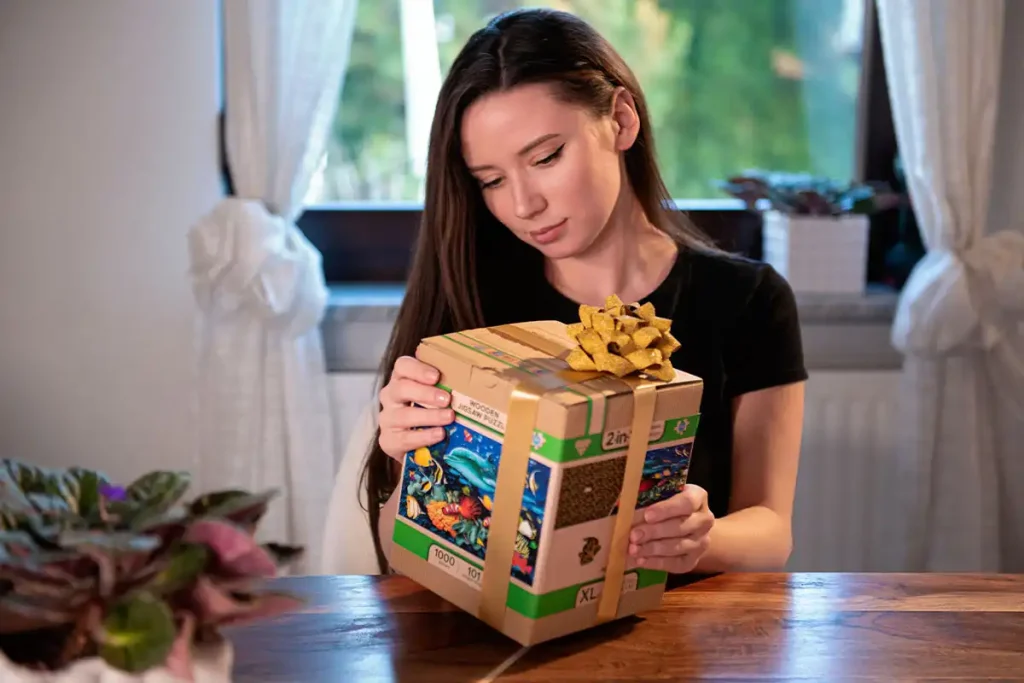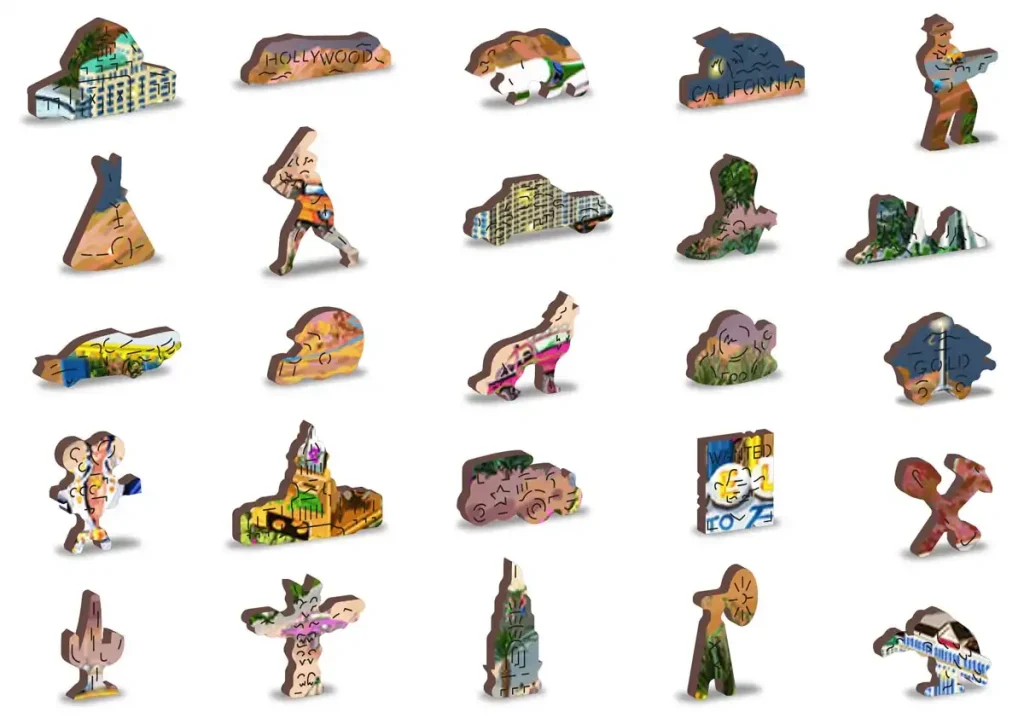 Gift the Magic of Vegas
Looking for a perfect gift? This product serves as a beautiful token of memory, ensuring hours of entertainment and a trip down the Las Vegas lane.
From jigsaw to Decor
Once your journey culminates, it stands as a testament to your patience and skill. It transforms into a beautiful art piece, perfect for adorning your walls and keeping the spirit of Vegas alive in your space.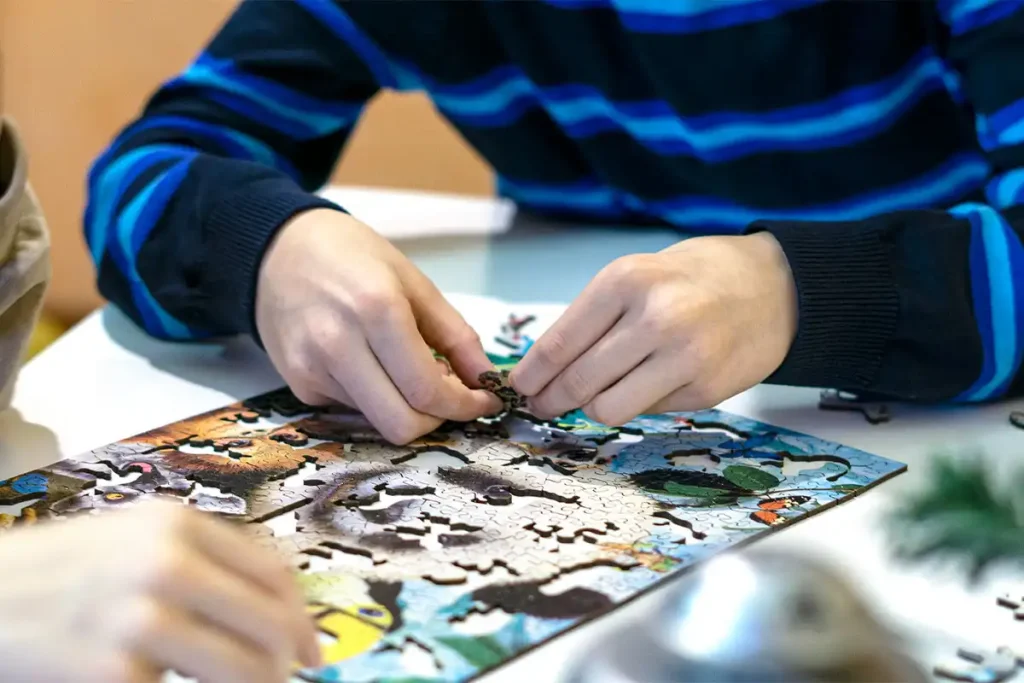 Characteristics
Series/Article
US W 750-0058-XL
Age
10+
Number of elements
750 pcs
Number of whimsies
75 pcs
Assembled size
H: 20.43" (51,9 cm)
W: 14.76" (37,5 cm)
Packaging size
H: 7.87" (20 cm)
W: 6.57" (16,7 cm)
D: 6.57" (16,7 cm)
Packaging weight
1,34 lb (0,61 kg)
Puzzle thickness
0.12″ (0,3 cm)
Assembly time
6h
Artist
Joseph Burgess
Type of Cut
USA
Back side
In conclusion, our "Welcome to Las Vegas 750" isn't merely a jigsaw; it's an experience, a journey, and a story waiting to be told. Dive in and let the city of dreams come alive in your hands.