3D wooden dinosaur puzzle are quite a delight for a true enthusiast of these majestic creatures. Children who love dinosaurs surround themselves with them in many ways, choosing printed clothing, backpacks, school accessories, or even wallpaper with "dino" motifs. Collecting plush toys or plastic figurines is also very popular. Therefore, it is also worth thinking about the possibility of assembling a three-dimensional T-rex or Triceratops figure yourself. Will the wooden puzzle please the dinosaur lover?
Table of contents:
Is it worth choosing this model?
Benefits
Will this model be good as a gift?
How can this puzzle be used?
Safe, because ecological
Is it worth choosing a 3D wooden dinosaur puzzle for your child?
3D wooden dinosaur puzzle are a good choice for a child in early school or preschool age. It is during this period that toddlers are often most fascinated by dinosaur figures, and this applies not only to boys but also to girls. A model of a dinosaur made of wooden pieces, once assembled, can decorate a child's room, and since assembly is done without glue, one model can be assembled and disassembled many times. In case of difficulties with arranging the puzzle, any person who has purchased a model from our store can contact us and get assistance from an expert. Importantly, we also provide assistance in case of loss of individual pieces (which is easy for the youngest users). If the dinosaur is no longer complete after some time, write to us and we will send you the missing elements.
Why should children do puzzles?
Indeed, there are many reasons why it is more advantageous to buy a self-assembly dinosaur model for a child than a ready-made toy. The process of assembling puzzles – especially three-dimensional ones – intensively stimulates the development of a young person. Matching the individual pieces of the puzzle allows one to work on the precision of movements, eye-hand coordination, and small motor skills. Meanwhile, from the perspective of the puzzle itself, i.e. thinking about how to fit successive parts of the model together, this activity is beneficial for a young person, as it develops creativity, spatial imagination, and the ability to think logically. While putting the puzzles together, children calm down, relax, and learn to focus their attention on the task. If a toddler arranges them with i. i.e., a parent, he also learns the principles of cooperation and teamwork. It should not be forgotten, that after assembling the whole model, the child feels great pride and appreciates the owned toy and its originality.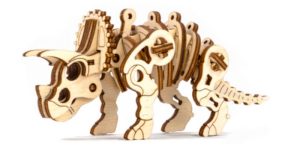 Is a 3D wooden dinosaur puzzle a good gift idea?
3D wooden dinosaur puzzle can be given to a child of 8 years without any worries. However, this is not a strictly valid age limit, as some toddlers, who regularly put together various puzzles, can cope with assembling such a model much earlier – even at the age of 5-6. Also, there is no upper age limit, after which such a gift might not be suitable. The only thing worth considering is to make sure that the theme of dinosaurs is close to the child. This ensures that the gifted toddler will certainly enjoy such a gift. Our offer also includes models referring to other themes, such as railroads or vehicles. We also offer numerous gadgets and accessories, such as board games.
How can this puzzle be used?
The wooden dinosaur can be assembled by the child alone or under the supervision of an adult. Thanks to the detailed instructions, this is a very simple task. Moreover, neither specialized tools, glue, or other binders are needed to assemble our models. All the elements hold together thanks to their corresponding shape, and this means that you can also repeatedly assemble and disassemble your chosen dinosaur model. After assembling, the figurine stands steady, so it can decorate a table, shelf, or cabinet in a child's room. What's more, it is also possible to paint it in any color.
Safe, because ecological
Our wooden puzzles are suitable for the youngest due to the fact that we cut them from natural material, such as certified birch plywood. The pieces do not have bumps or sharp edges. They are smoothed, so when assembling the dinosaur model, the child will certainly not get hurt. The product is free of chemical content, so it is not toxic for the user. Since the assembly of the model is also done without the use of glue and tools, the finished dinosaur will not be a source of harmful substances either. The child can play with his model or use it as a decoration. In both cases, the wooden dinosaur is completely safe.
A 3D wooden puzzle in the shape of a dinosaur is an excellent idea for a developing, creative gift for a young person. In our offer, you will find, among others, a model of T-Rex, Triceratops, or Diplodocus – the most popular species of dinosaurs, easily recognizable by young admirers of these extinct creatures. The models are sold in a natural color, but you can paint them yourself in colors of your choice. Find out how the already put-together plywood dinosaur looks in 3D!