3D wooden motorcycle puzzle is a great treat for enthusiasts of motorization and creative leisure activities. This type of model does not have the form of a classic two-dimensional puzzle, because its elements allow you to assemble a fully three-dimensional structure. The process of assembling a three-dimensional motorcycle develops imagination and manual skills, as well as enhances precision and concentration. When the game is over, the finished 3D model becomes a unique and intriguing decoration.
Table of Contents:
Who are they designed for?
Carefully reproduced design
Intuitive installation and high-quality workmanship
Why it's a good choice
Unique decoration and gift
Creative entertainment
For whom are 3D wooden puzzles imitating a motorcycle intended?
3D wooden puzzles imitating a motorcycle are intended for both children and adults. You can find many 3-dimensional models of this concept in the offer of our brand Wooden.City, which is engaged in the design and production of wood puzzles. Our three-dimensional puzzles can faithfully reflect the construction of various motorcycles, and their mechanical elements, to allow you to drive the finished exhibit into motion. The specific form of the models makes their assembly fully manual and does not require the use of glue. Our 3D puzzle sets contain up to several hundred different elements. Fitting them requires considerable precision and guarantees enormous satisfaction at the final stage.
Carefully replicated design
Our brand's three-dimensional models accurately replicate the designs of many iconic motorcycles. These puzzles bring to mind the specific sound of the muffler, the engine squeal, the friction of the leather jacket, the wind in the hair, and other peculiar experiences that accompany interaction with a real motorcycle. Strikingly reproduced models of motorcycles provide a unique experience, regardless of the chosen set. In our offer, you will find puzzles that allow you to self-assemble a wooden chopper with reel, motocross, cafe racer, or V-Twin cruiser. Individual models feature by realistic appearance, rubberized and easily steerable wheels or inertia mechanism, and can cover a distance of 1m.
Intuitive installation and high design quality
There is no need for glue or a set of specialized tools to assemble our motorcycle models, as each piece can be easily fitted to the other manually. The individual 3D puzzles are notable for their simplicity of assembly, so they only require reading the instructions and using a little imagination. You can assemble the finished model in a few hours, and in case of problems contact our helpline and ask for expert advice. If you lose or misplace a part of the kit, we are able to send the missing piece on request. Wooden sets of our brand are made in Wroclaw, from where we also realize shipments. For the production of puzzles we use certified birch plywood, which is a certified, ecological, and environmentally friendly raw material. The precision of the elements is a result of innovative laser technology. The design of each model is the work of experienced and creative specialists.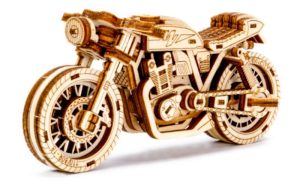 Why is a 3D wooden puzzle replicating a motorcycle a good choice?
3D wooden motorcycle mapping puzzles perfectly match the interests of motorcycle-only enthusiasts. Each of our brand's models has been designed with attention to the finest details of selected vehicles, including many complex mechanisms. Putting them together manually gives enormous satisfaction and joy, regardless of age and level of modeling expertise. In our store, you will also find sets referring to other categories and themes, including railroads, photography, or the world of animals and dinosaurs. We also offer wooden two-dimensional puzzles and maps.
Unique decoration and gift
Three-dimensional wooden puzzles of our brand exceptionally masterfully replicate the various components of a motorcycle, so they look perfect and work well as an interesting room decoration. Our models are also a great idea for an original and unique gift, which can initiate a real passion for this form of modeling and become the first piece of an original collection. The finished exhibit in the form of a wooden motorcycle looks great on a shelf in the living room, children's room, or workplace. Its unique design surprises and attracts attention, which makes it ideal as a gift for loved ones.
Creative entertainment
The wooden motorcycle model requires significant commitment when assembling, so it is very suitable for long afternoons and evenings. You can assemble the three-dimensional puzzle alone or with family and friends, engaging in creative teamwork. 3D puzzles provide an excellent opportunity for intergenerational fun, involving children, parents, and grandparents interested in this unusual and developing hobby. You are welcome to contact our company Wooden.City. We encourage you to have a look at our current catalog of three-dimensional puzzles and other natural wood products.