3D Wooden Puzzles is an exceptionally interesting form of this popular jigsaw. in contrast to traditional sets, elements of this puzzle are not used to arrange a two-dimensional, flat image. 3D Puzzles allow you to create a three-dimensional image on your own. Assembling puzzles develops concentration, precision, imagination, and manual skills. The finished exhibit may also turn out to be a very attractive and original decoration.
Table of contents:
Description
Various forms and shapes
Safe fun
Why our product?
Attractive decoration and unique gift
Entertainment for kids and adults
Description of 3D wooden puzzles
You can find 3D wooden puzzles in the offer of our brand Wooden.City, in which we design and manufacture them ourselves. The three-dimensional model can be in the form of a structure with mechanical elements, which allows it to be set in motion. This form is ideal, especially for puzzles depicting various vehicles and other objects. A great advantage of our models remains the fact that the process of assembling them is done entirely without glue. A set of such puzzles can contain up to several hundred pieces, which is why fitting them on your own requires considerable accuracy and gives you great satisfaction after the fun is over.
Various forms and shapes
Our three-dimensional models come in many different forms that belong to certain categories. Wooden.City successfully offers puzzles designed for enthusiasts of various topics, including automobiles, railroads, photography, animals, or dinosaurs. To assemble them, no specialized tools are needed, as the individual components fit together manually. All you need to do is carefully read the instructions and use your imagination to construct a 3D model in a few hours. If you have problems putting the puzzle together, we offer a helpline to contact us and receive support from experts. If you lose any of the pieces, we are also available to send you the missing parts upon request.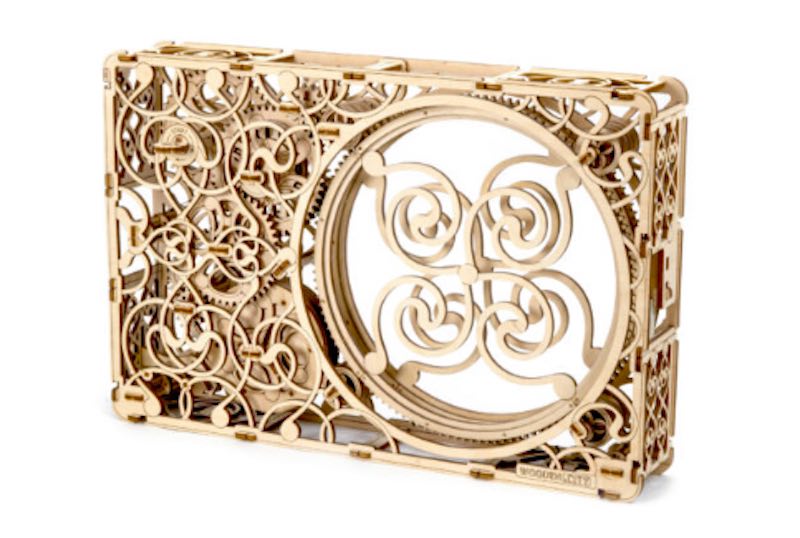 Safe fun
Wooden.City is a local company headquartered in Wroclaw, where take place production processes, and shipping of finished puzzles to customers in and beyond Poland. The elements of our 3D models are created from properly selected, and certified birch plywood. The use of this ecological material guarantees the fulfillment of ecological and environmental protection requirements, as well as the preservation of the most important quality parameters. Responsibility for the design and testing of our puzzles lies with creative and experienced professionals. In the catalog of the store, you will now find tens of diverse models made of wood, the manual assembly of which is an exceptionally relaxing and developing entertainment.
Why our 3D wooden puzzles?
3D wooden puzzles of our brand Wooden.City is an attractive offer for both children and adults. The wide range of products allows you to pick up a model that will be closely related to different preferences and interests. Regardless of the type of set, each of them has been designed with great attentiveness to detail and faithfully reproduces the finest details of each vehicle, machine, or other object. We offer constructions with uniquely complex mechanisms. Assembling them on your own gives exceptional joy and satisfaction regardless of age.
Attractive decoration and unique gift
Our three-dimensional models are characterized by a perfect fit of the individual elements, intricate construction, and intuitive assembly, which makes them a great pleasure for people focused on creative leisure. All of this also results in their unique appearance, which allows them to achieve a very attractive and unusual interior decoration. Three-dimensional puzzles are, for this reason, also an ideal choice for a gift. Our models are perfect as a present, and can also initiate a unique and original collection of self-assembled 3D constructions. Individual items wonderfully present themselves both in the children's room and the living room. Their unique form surprises the birthday boy or girl, which is why they are an excellent option when looking for an unusual gift for birthdays or festivities, or the wish to give a beloved person a surprise without an occasion.
Entertainment for kids and adults
Three-dimensional puzzles of our brand are a unique form of entertainment for the whole family and a very good way to spend long evenings creatively together. Assembling individual items as a family teaches teamwork, while also creating an opportunity for intergenerational fun. Our 3D models can be successfully assembled by parents with children or grandparents with grandchildren, getting ideas from each other. Choosing wooden puzzles by Wooden.City may turn out to be an introduction to a wonderful hobby, which model making unquestionably is. Please feel free to look through our company's current catalog, and we welcome you to contact us to ask questions.