3D wooden world map puzzle is a three-dimensional decoration, much more impressive and interesting than a wall sticker or wallpaper of the same design. However, the advantage of such a decoration is not only its three-dimensionality but also its elegant appearance and practicality. What are the advantages of this type of wall puzzle?
Table of contents:
Unique DIY decoration
What kind of interior does it fit into?
How to expose it?
Why choose them?
Ideal for travelers
For enthusiasts of natural accents
3D wooden world map puzzle in the form of a unique decoration that you will create yourself
The 3D wooden world map puzzle is made of plywood and includes tens of pieces that you need to arrange yourself. Therefore, the product combines the features of puzzles with the characteristics of of wall decorations, which are perfect for the living room or bedroom. The main advantage of DIY products, however, is their uniqueness. Self-assembled and adhered to the wall, the decoration will be one of a kind. However, it is not easy to cut the perfect pieces from plywood on your own. When it comes to preparing the materials for such a decoration, trust a proven company. In our store you will find wooden world maps in the form of puzzles cut from certified birch plywood. You can choose from various style, color or size. In our offer you will also find 2D puzzles and 3D puzzles in the form of wooden mechanical models. Importantly, in case of any problems with assembling or if you lose a piece of the puzzle, you have the opportunity to get support from our experts – just contact us!
What kind of interior does it fit into?
The original map made of plywood is a modern-style decoration that fits well into the character of interiors that refer to nature. Wood is a timeless and very versatile decoration. On the one hand it warms the design, while on the other it increases its elegance. It is not without reason that neither wooden floors nor wooden furniture go out of fashion. Moreover, modern design styles aim to introduce natural elements in the apartment to help establish an aura for relaxation and leisure. Thus, among other things, such wooden accents as laths or precisely wooden wall decorations are fashionable. A map made of plywood can be adhered to a wall in a bedroom, in a child's or teenager's room, as well as in the most representative interiors such as a living room or hallway. It is worth remembering at the same time that such a decoration is not dedicated exclusively to travel lovers.
How to expose it?
The wooden maps come in different sizes, thicknesses and colors. Some of them are blank – composed only of outlines of individual countries. Others are signed or marked with symbols, such as animal figures. Since there is a wide variety of puzzles in our store, you can easily match them to your needs and expectations, as well as to the interior design style. On the other hand, the pre-assembled decoration should be adhered in a place of good visibility – on a free wall, preferably facing the window. For properly lit decoration will present itself in its full beauty. Its assets can also be emphasized with artificial lighting, such as LED strips.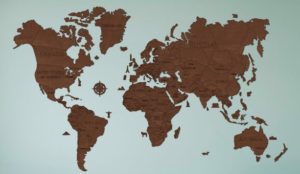 Why choose 3D wooden world map puzzle: wall decoration?
3D wooden world map puzzle for wall, or map-shaped puzzle made of certified birch plywood, is a timeless, universal decoration. Moreover it is ecological and safe – it does not contain any toxic substances and does not release such substances in the room. For this reason, this type of puzzle works well even in rooms for children and babies. Thus, such a puzzle can be treated not only as a decoration, but also as a teaching tool. Many people opt for wooden maps due to the fact that three-dimensional decoration turns out to be both: impressive and practical. After all, it is impossible – in any practice – to use a map in the form of a sticker or print on wallpaper. The plywood model, on the other hand, is soft enough to drive pins into it, which will be used for planning trips or marking places already visited.
Ideal for travelers
If you love traveling, a puzzle of this type is definitely the best wall decoration for your home. You can also give it as a present to other enthusiasts, who expands their horizons. You can easily mark all the countries you have visited with small flags or souvenir photos pinned on it. Such a decoration on the wall will give your apartment a completely different character.
For enthusiasts of natural accents
References to nature and ecology are very popular nowadays, which is why when looking for decorations that are associated with nature, it is worth reaching for wood products. The world map is a large-size decoration, which makes it look good also in a spacious living room. Since its theme is universal, it can be chosen by any person, not only a fan of foreign travel. The product will allow to introduce natural texture into the arrangement and will warm up the interior, adding to its coziness.
This type of decoration not only adorns the interior, but also acts as a functional piece of art. If you assemble it yourself, it will have a special value. Looking at it every day will certainly fill you with pride – especially when the map is also filled with markers of the trips you have made. Find out more about the wooden puzzles we currently have in our offer!