Lion wooden puzzle is a unique proposition for puzzle enthusiasts. The product is distinguished not only by its level of difficulty but also by its attractive, eye-catching graphics. The figure of a lion built from variously shaped elements and animal figurines looks amazing on a wall, in a bedroom, or in a child's room. Meanwhile, the very arrangement of such puzzles is both a pleasure and a challenge. Why is it worth choosing such a puzzle model?
Table of Contents:
What makes them unique?
Distinctive design
Durable material
Why is it worth choosing such puzzles?
Suitable for adults
Decoration form
What are the characteristics of a wooden puzzle in the shape of a lion?
Wooden puzzles lions are different from ordinary puzzles with typical rectangular shapes. The product we offer in our store Wooden.City is made from certified organic birch plywood and cut precisely. Even the smallest part of the puzzle fits perfectly into its place. The wooden pieces have various irregular forms. It increases the level of difficulty even for puzzles with a smaller number of pieces. The puzzle contains animal-shaped pieces. In the offer of our store, you will find wooden puzzles depicting not only lions but also other majestic animals. In addition, we offer 3D puzzles, or mechanical models referring to various themes, including vehicles, railroads, or dinosaurs, as well as wooden board games and various gadgets, such as key chains. Have a look at our current offer and contact us if you have any questions.
Characteristic theme
Assembled lion-shaped wooden puzzles are unique and much more interesting than typically available puzzles, depicting only images. On the other hand, the animal design is quite popular, due to the phenomenal appearance of the king of the savannah, associated with power, strength, and danger. The color scheme of such puzzles fits perfectly into the character of many modern arrangements. Thus, the arranged puzzle can become a beautiful decoration, for example, on the wall in a child's room.
Durable material
Wood is much sturdier than paper. As a puzzle material, wooden plywood performs well due to its firmness. Eventually, each piece can be repeatedly turned in the hands, and – sometimes with gentle force – fitted into the right or wrong place. When a child uses paper puzzles, these quickly lose their original shape, so that the finished puzzle no longer has its original sturdiness. In the case of puzzles made of wood, one can even talk about their timelessness. Such a toy is capable of serving many generations. If a piece is lost, we can always send you the missing parts.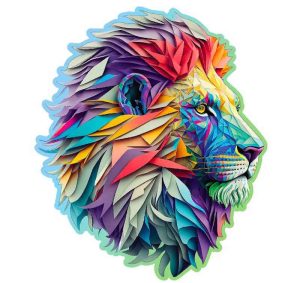 Why choose a wooden puzzle with a lion theme?
Wooden puzzles with a lion design segmented into 250 pieces can be enjoyed above the age of 10. This means the product is suitable not only for children but also adults. It is not only the youngest who benefit from putting together puzzles. Puzzles are an educational toy that:
– stimulates brain development,
– trains fine motor skills and eye-hand coordination,
– stimulates imagination and creative thinking,
– develops logical thinking skills,
– teaches patience and concentration,
– teaches teamwork.
Puzzles will work well as a gift idea and as a form of entertainment. Instead of stifling a child's imagination, stimulates its development. This product is perfect as a solution to time at home due to bad weather, or when the toddler is simply bored. Puzzles are also a good solution when the parent does not have time to play with the child and does not want the youngster to constantly watch TV or play video games. Attractive graphics and a challenging level of difficulty can make children more interested in reaching for this kind of toy.
Good choice for adults as well
Adults and seniors should not give up on puzzles. They stimulate the brain and take care of the efficiency of the mind or a good memory. Puzzles can help to relax and calm down but also provide joy and pleasure. Puzzles replace board games during family and social gatherings. Arranging them together demands cooperation and finding a common language, which results in making the relationships closer. We also offer puzzles with a lion theme, which have more than 500 pieces. This is a tougher option, which makes it suitable just for adults.
As a decoration
A finished puzzle with an animal design looks just as interesting as a framed image or poster. There are several ways to enjoy it as a decoration. You can stick it directly with pieces of double-sided tape or use self-adhesive film. Other wooden puzzles from our offer can be used in a similar way, for instance: of the world, which you can also find in our store. It is worth mentioning that the beautiful puzzle will also be perfect as a gift for a loved one.
A lion-shaped puzzle is a beautiful decoration and an original source of entertainment for long evenings or rainy days. Choosing such a puzzle, you can enjoy it yourself, or present it to a child, or an adult. Wooden puzzles are a completely different form of puzzle solving. Make sure to have a look at the designs we currently have on offer!