Wooden world map wall puzzle is a DIY product. It is also a phenomenal and practical decoration that can be placed in the living room, or in a child's room. Whether you love puzzles, or travel proposal of a puzzle worth exploring. How can you use a wooden world map in your home?
Table of Contents:
How to use it?
Travel memories
Education
How to expose it?
In what kind of interior will it work?
How to highlight it?
How to use a wooden world map wall puzzle?
The wooden world map wall puzzle available in Wooden.City consists of tens of elements, which together create a picture of all the continents. The world map is a popular motif and can be hung on the wall as stickers, or wallpaper. However, a 3D map made of wooden plywood is a way more interesting and practical option. How to use it? Our maps belong to DIY products, which means that they are composed of many elements that require assembly on your own in a puzzle-like manner. If you would have any difficulties assembling the product correctly, you are welcome to contact us. We are happy to help you create the perfect version of the DIY map. This puzzle can be assembled repeatedly, but most users choose to permanently attach it to the wall. For this purpose, it is enough to use double-sided tape, which allows you to make any corrections (tear off the pieces without damaging the wall paint coating). What can be done in the future with such a decoration?
Travel memories
World map decoration is a product recommended especially for travel lovers. Since the map elements are soft enough, you can easily mark those places where you have already been or those you plan to visit in the future. You can mark it with pins. You can attach miniature flags, souvenir photos, or other types of objects that have symbolic meaning. You can also paint or draw on the map, marking the places you have visited with different colors.
Education
The maps are available in several designs. They vary in size, color, and also in detail. Some of the maps are decorated with the names of countries, others with figures characteristic of the fauna of a particular region of the world. Thanks to this, the map also plays an educational role. Pasting in the place where we most often spend time, acquire knowledge, and remember where a particular country is located becomes an easy task. For this reason, the map installation is worth considering, especially in the room of a child or teenager.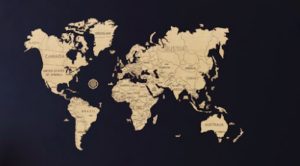 How and where to display a wooden world map wall puzzle?
A wooden world map wall puzzle usually decorates the living room, but it will be perfect in a child's room as well. Since this design is universal, it will suit most rooms in the house. Passionate travelers can paste the map in the hallway or lobby. Every guest has the opportunity to see the routes the hosts have traveled throughout their lives. The motif suggests that the householders love to travel and placing it in a representative place makes the interiors more impressive.
In which interior a map made of wood will perform well?
A wooden wall map works well in any interior style, as wood is versatile and timeless. Wooden decor elements are a reference to nature and ecology, which are extremely popular interior décor today. Wood warms and adds coziness. It is also elegant and blends well with any color. It can decorate both: a wall in a neutral shade, or in a vivid shade.
How to highlight the map on the wall?
The wood map looks best on a smooth wall of solid color. It is beneficial to paste it. it will look good over a couch or bed, as it will not be covered by any tall piece of furniture. You can also decorate an empty wall with it. Thanks to its considerable size, the product looks good both in a small bedroom and in a spacious living room. To further emphasize its importance, it is worth taking advantage of the spectacular illumination of the map. The decoration can be illuminated from both sides, above, or below with wall lamps. LED lighting strips will work excellently with this decoration. However, it is worth remembering to prepare properly for its adhesion. It is best to use tools such as a level or tape measure to mark the space where the decoration is to be placed before proceeding. This will ensure that the map will be installed evenly, at eye level, and will make a beautiful, highly original decoration for the space.
The wooden map is not only a puzzle but also a practical decoration that can be treated on par with a painting or photograph. Its advantage is that it is a DIY product assembled by the owner. What's more, the puzzle is a stylish decoration, as well as a practical piece of furniture to be used, when planning your next trip.