3D wooden car puzzle is an excellent gift idea not only for a child, but also for any car, or puzzle enthusiast. Assembling three-dimensional models is a favorite activity of younger and older constructors. It is a source of entertainment, but also teaches and develops new skills. If you are looking for a gift idea suitable for a future engineer, or a fan of all types of vehicles, look closely at our 3D puzzles.
Table of Contents:
For whom will our 3D be an ideal choice?
Suitable for children
For younger and older
Why choose them?
Development through fun
Wood model as a decoration
For whom will a 3D wooden car puzzle be an ideal choice?
The 3D wooden car puzzle is not only a self-assembly model, but also a puzzle that surprises with its faithfulness of reproduction and a decoration that impresses with its precision and attention to detail. Such a puzzle is perfect as a gift for a child or teenager, but also for an adult. Assembling a chosen model of a vehicle can provide fun for the whole family – especially since our offer includes not only cars such as bolides, roadsters, or buggies but also buses, motorcycles, or tractors. The large selection of vehicles makes it easy to find one in our assortment that will have a special meaning for the recipient. If you need help with the choices – contact us!
Suitable for children
The puzzles available in Wooden.City are produced from certified eco-friendly birch plywood. This means that they are completely safe for children or people with allergies. The assembly is done without glue, so the finished model is not a source of any potentially hazardous chemicals. The miniature can stand on a shelf or countertop as a decoration of the interior. The model can also be used as a toy for children.
For younger and older
Three-dimensional puzzles available in our offer vary in the number of elements, and as a result, also in the level of difficulty of assembly. Thanks to this, our models are suitable as a gift for both a small constructor and an adult puzzle, or automotive enthusiast. Assembling miniature models of vehicles is very often a passion passed down from generation to generation. Thus, the chosen car model can be assembled by the parent together with the child, so that later it can be proudly presented to other family members and guests. In case of problems with the assembly of individual components, we encourage you to contact our store – we provide assistance, and guide our customers step by step through the entire process of constructing the selected model.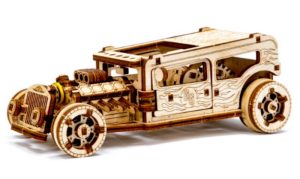 Why choose a 3D wooden car puzzle?
3D wooden car is a puzzle far more difficult to assemble than a regular puzzle. However, this does not mean that a child or teenager cannot cope with putting them together. Assembling 3D models provides a lot of fun and gives a lot of benefits. What skills does such entertainment develop?
Development through fun
Putting together a puzzle is a fun activity that gives joy, but also develops many useful skills. First of all, fitting puzzle pieces together develops manual skills and spatial imagination. During such an activity, perceptiveness, patience, or logical thinking skills are also exercised. Such training of the mind has an excellent effect on both: learning, intensively developing children, and adults, who should also take care of the fitness of their minds. Moreover, assembling puzzles on a regular basis can be relied upon to reduce stress, develop creativity and imagination, improve concentration, increase the precision of movements (the so-called small motor skills), and develop technical skills. If a child puts together a puzzle with a parent, he learns cooperation and teamwork. The more difficult puzzles are chosen, the more possibility of having a positive effect on a child's endurance and determination to reach a goal. Furthermore, children who do puzzles also turn out to be more curious about the world, better at math and technology, and acquire knowledge more easily.
Wood model as a decoration
Putting together our puzzle is an activity that can be done repeatedly since the assembly of models is done without tools or glue. However, the already assembled car can also serve as a practical decoration. Each element of our puzzles is cut out very precisely. Attention to detail combined with high-quality material, makes the finished vehicle an impressive reflection of its archetype. Therefore, it can successfully decorate the interior of a living room or private bedroom. The plywood elements can be colored the way you wish. Although wood in its natural appearance is the most universal – it fits into any style of interior.
Car-shaped puzzles made of wood are an ideal gift for boys of any age, although not only, as more often girls turn out to be great automotive enthusiasts. If you're looking for something suitable as a gift for a future engineer or builder, take a look at our 3D wood vehicle models!