The 3D Wooden Puzzle Car Experience
Step into a captivating world of mechanics with the Hot Rod, an extraordinary 3D Wooden Puzzle Car. Expertly crafted from high-density birch, this model offers you a unique chance to experience the satisfaction of building and understanding mechanical machinery.
A Masterpiece of Mechanics
This Hot Rod model is a marvel of mechanical engineering. Complete with a pull-back mechanism, it delivers a dynamic performance as it moves approximately one meter both forward and backward. The openable doors add another layer of realism, immersing you even further into the assembly process.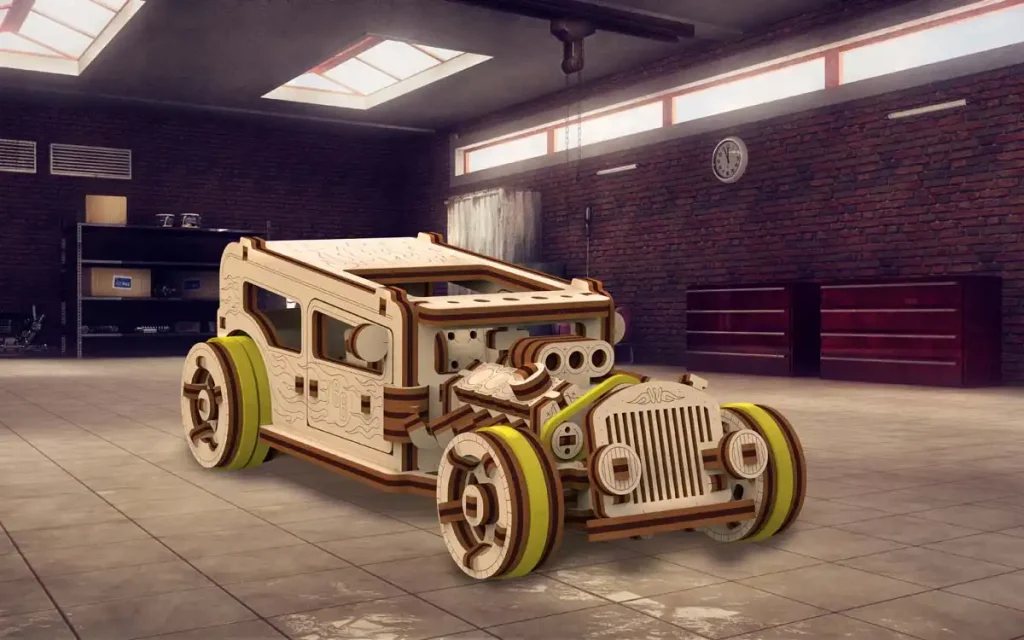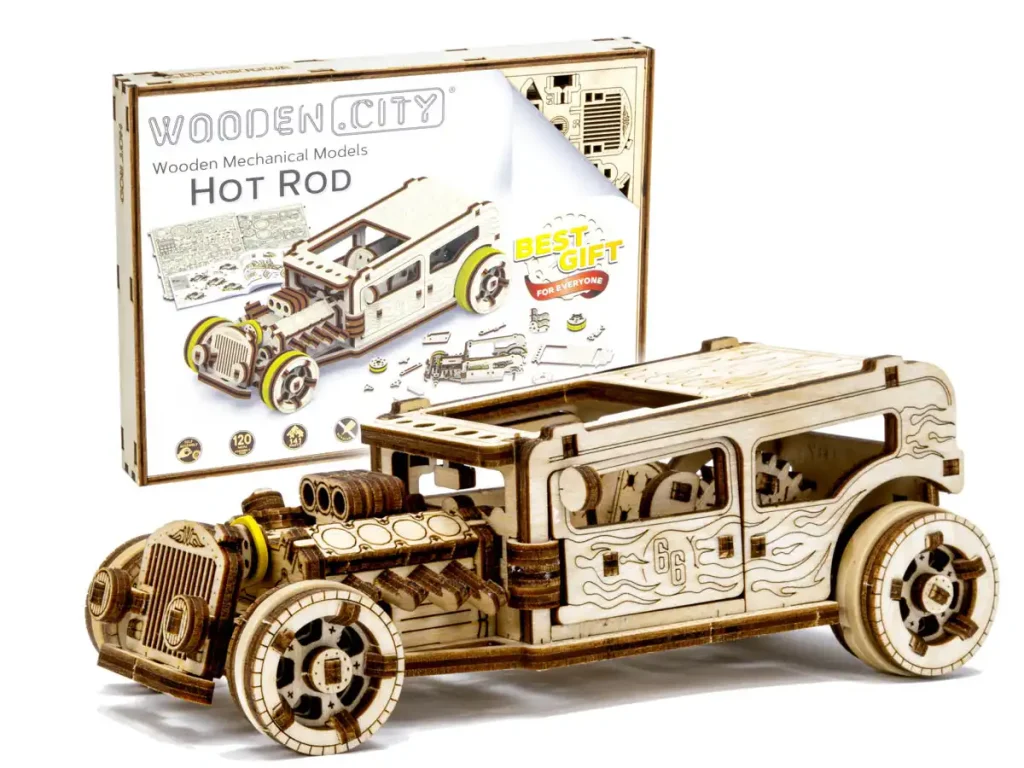 Functional Packaging
The Hot Rod model comes in an innovative package that you can repurpose into a stand for your finished model. This clever use of packaging further extends the assembly experience and provides an elegant solution for displaying your achievement.
An Unforgettable Gift
The Hot Rod model is a remarkable gift for those who appreciate the interplay between mechanics and assembly. It provides hours of intellectual stimulation and a rewarding sense of accomplishment upon completion, making it a unique and thoughtful present.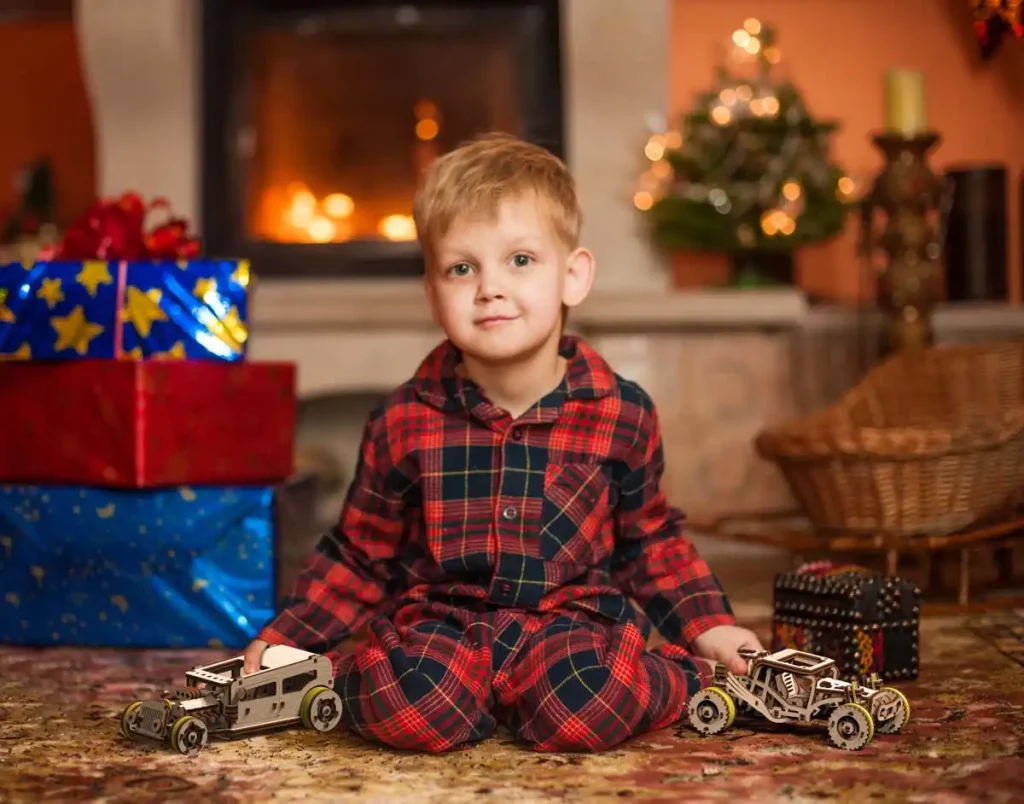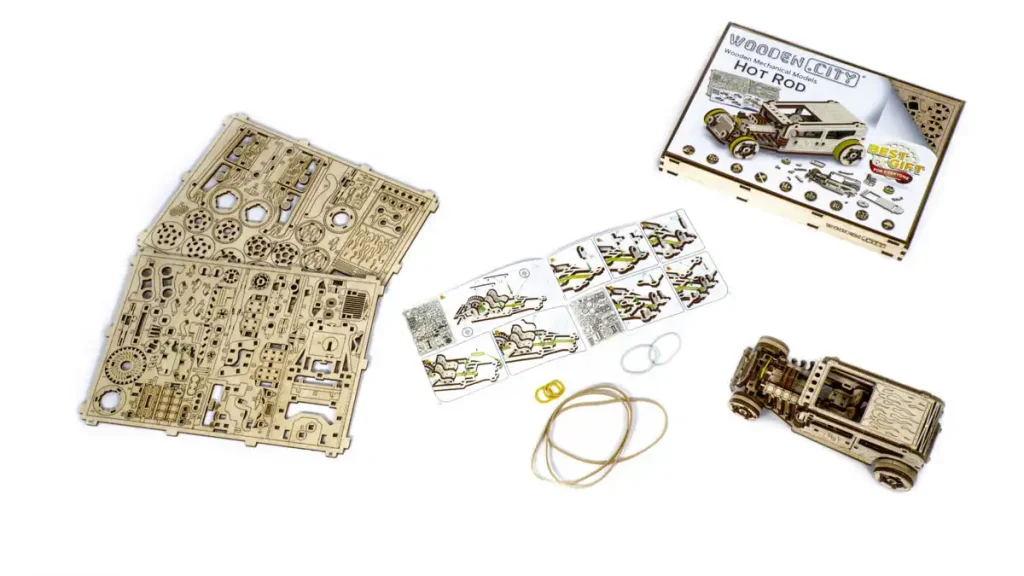 A Stunning Decorative Piece
Aside from its appeal as an assembly project, the Hot Rod model is also a stunning decorative item. Its intricate details, coupled with its ability to move, set it apart from conventional decor, making it a focal point in any setting.
Details that Dazzle
The Hot Rod model is teeming with striking features that enhance its authenticity. From the steer wheels that improve grip, to the openable doors and sunroof, control elements, and imitation mirrors and lights, each detail contributes to the overall realism of the model.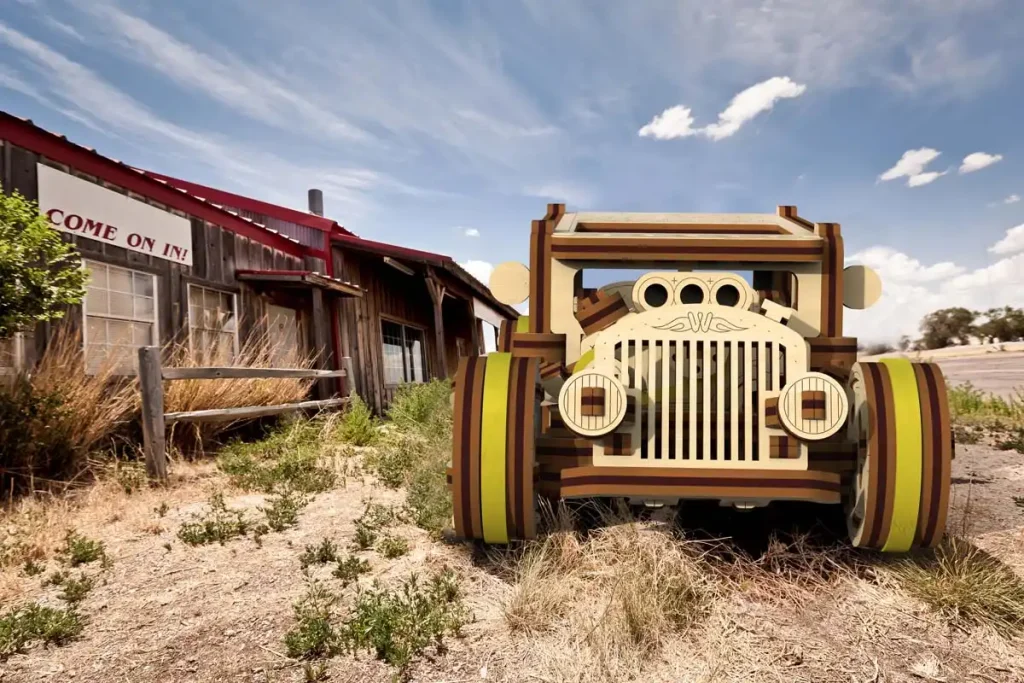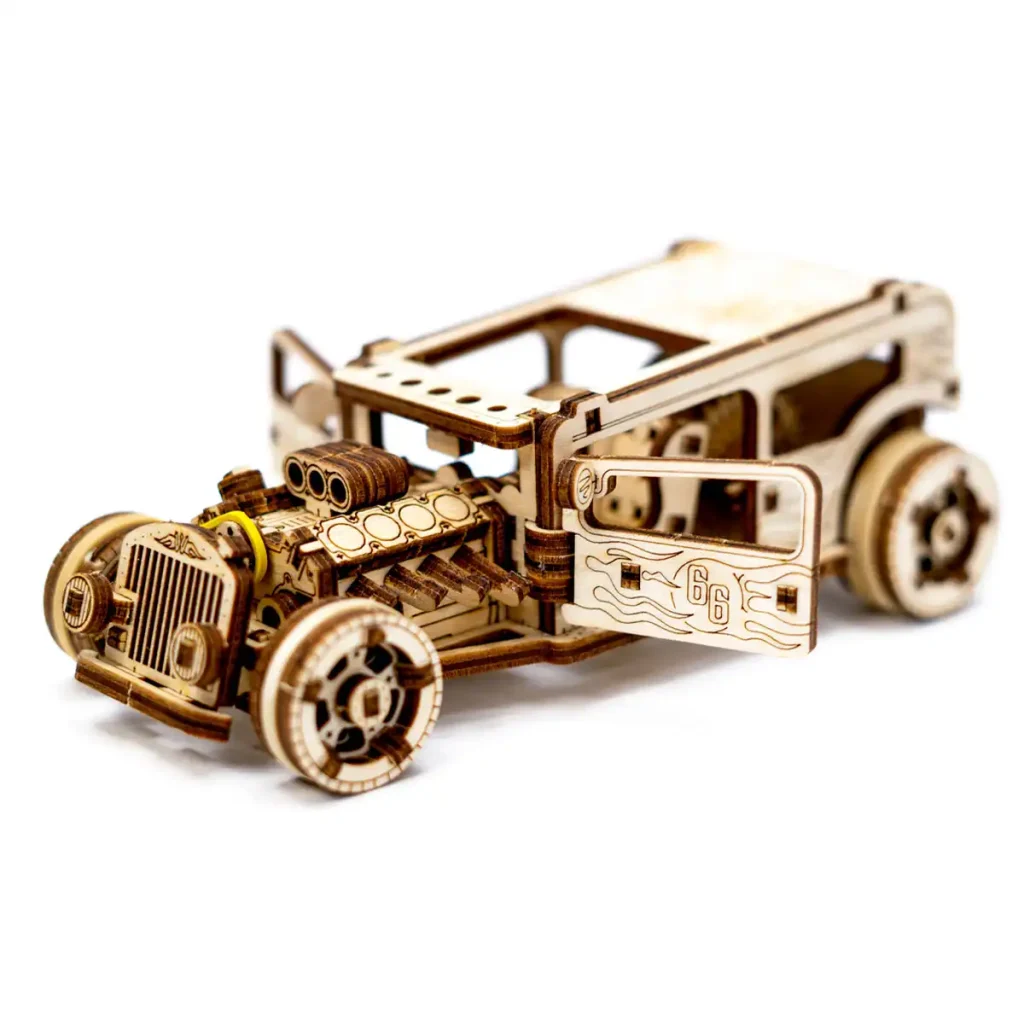 Rev Up Family Bonding with the Hot Rod Experience
Fuel a spirited family gathering with the sleek Hot Rod design! As each piece finds its place, stories of vintage rides and open roads unfold. Dive into a realm of nostalgia, laughter, and collective creativity. This isn't merely an assembly—it's an exhilarating ride through memory lane, fostering connections that outpace time. Ignite your family's passion today!
Characteristics
Quantity
134
Spare parts
7
Series/Article
LE-001
Set
Rubber band 1,5х1,5 d15 L20 – 3
Rubber band 1,5х1,5 d30 L40 – 2
Rubber band 1,5х3,5 D80 L130 – 3
Candle – 1
Sandpaper – 1
Difficulty level
3/5
 Assembly time
2 h
Model dimensions
H: 6.69'' (17 cm)
W: 3.07'' (7,8 cm)
D: 2.36'' (6 cm)
Package size
W: 9.44'' (24cm)
H: 6.89'' (17,5cm)
D: 1.1'' (2,8 cm)
Model scale
1:32
Path length
39.37" (1 m)
Rubber motor
✔
Pull-back mechanism.
✔
Steered wheels
✔
Dashboard
✔
Openable doors
✔
Detailed engine
✔
Control elements (steering wheel, levers)
✔
Reverse movement (backward)
✔
Box – podium/displaying stand
✔
Can be a good decor element
✔
The model box is made of wood.
Inside there is an instruction on how,
after assembling the model, you can also
assemble the box into a demonstration stand.
✔
Conclusion
The Hot Rod is an engaging assembly project, an educational exploration of mechanics, and a stylish decorative piece all rolled into one. Whether you're gifting it or enjoying it for yourself, this model promises a unique and rewarding experience.