3D Wooden Puzzle Motorbike – A Mechanical Marvel
Introducing the 3D Wooden Puzzle Motorbike – an embodiment of engineering art and design aesthetics. A part of the exclusive Limited Edition series from Wooden.City, this Cruiser V-twin model brings a pop of color into the world of mechanical model-making.
Embrace the Engineering
This motorbike model, a mechanical feat, can travel a distance of approximately 1 meter (39.37″) forward and backward under the power of a rubber-band motor. Its pull-back mechanism ensures the essence of true mechanics is captured, offering you an exhilarating experience of seeing your constructed model in motion.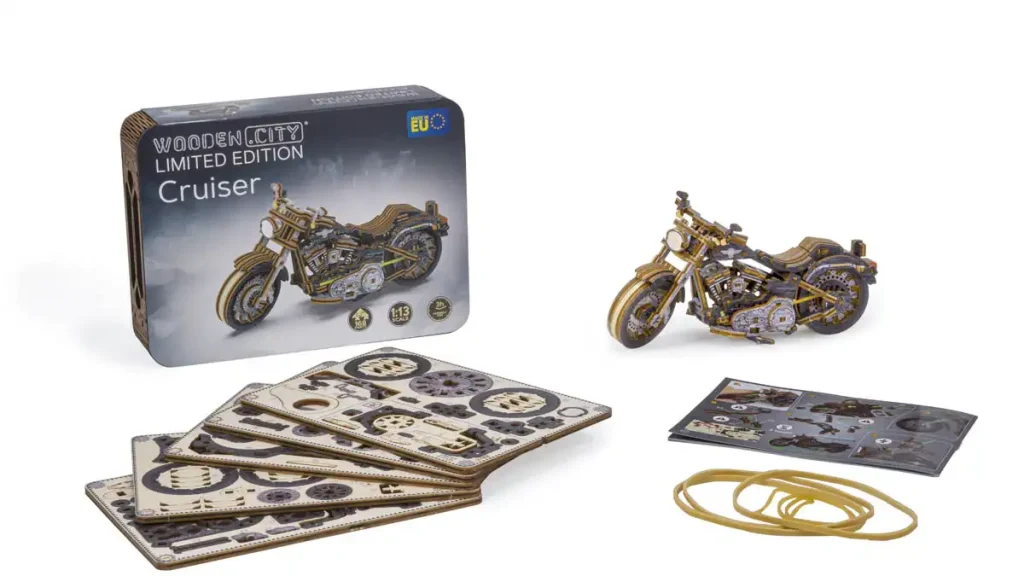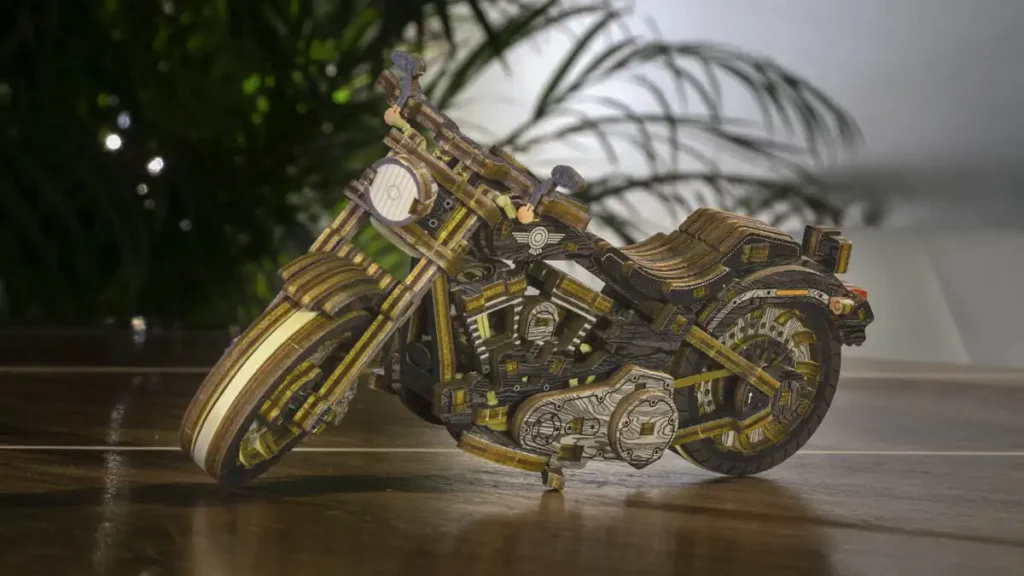 Beauty in the Detail
The Cruiser V-twin model is renowned for its detailed craftsmanship. It has a vibrantly painted body that reflects the original aesthetics of the Cruiser V-twin, while the inclusion of features like rubber on wheels for increased grip, reverse movement capability, and imitation mirrors and lights bring a sense of authenticity to your mechanical model.
Quality Unboxed
This model is delivered in a high-quality wooden box with magnetic closures. The box not only protects your model but also serves as a classy display stand once the model is built. Moreover, it can be repurposed into a treasure box for keeping valuable items.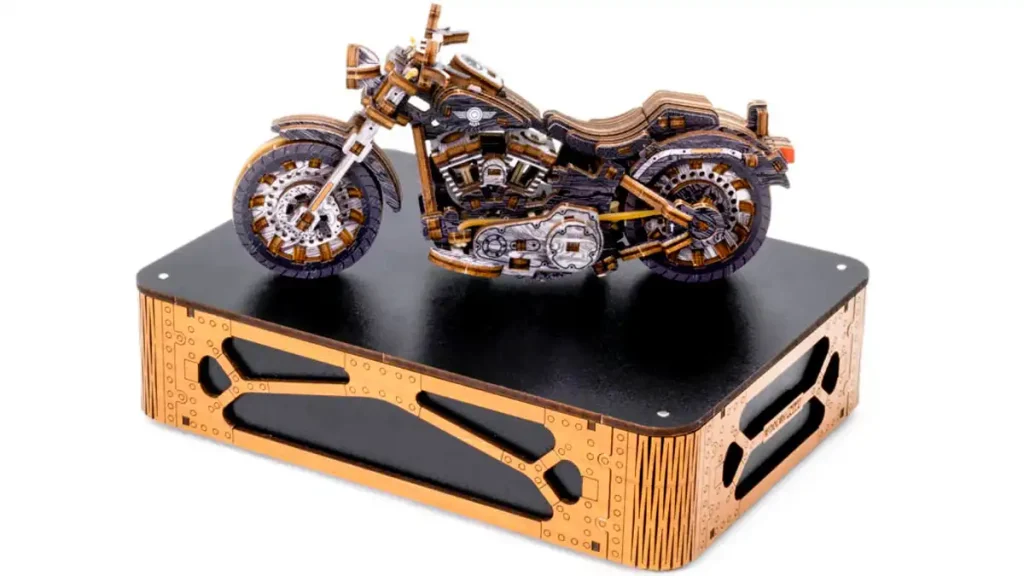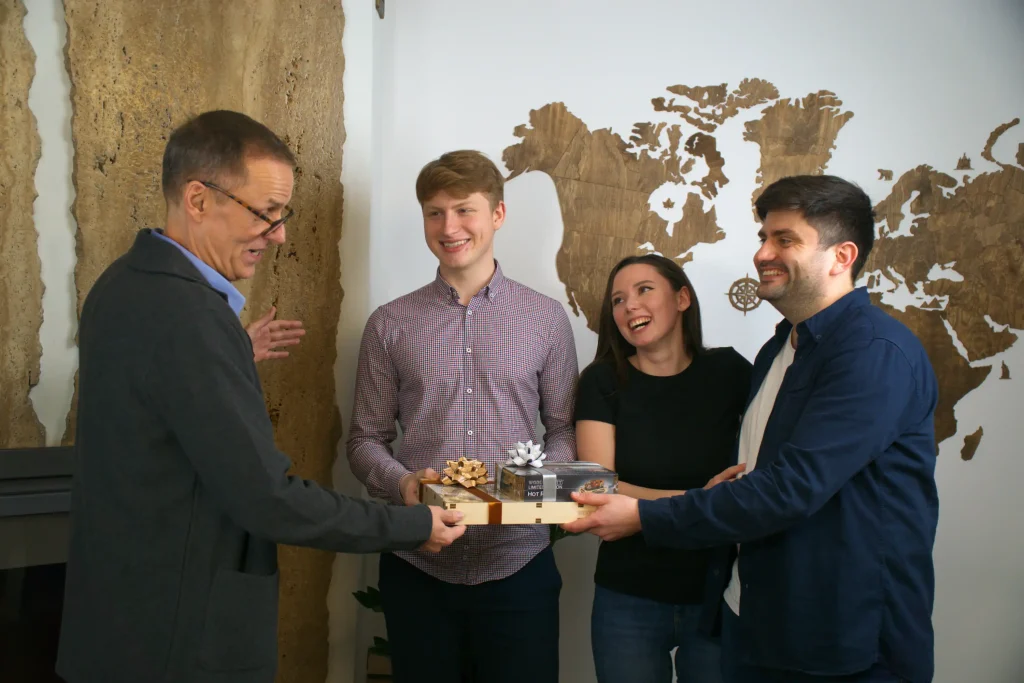 Gift of Experience
As a gift, the Cruiser V-twin Limited Edition model offers an unforgettable hands-on building experience to your loved ones. It allows them to explore the fascinating world of mechanics, making it an ideal present for those who appreciate intricacy and detail.
Decorative Aesthetics
Once assembled, the model doubles as a sophisticated piece of decor. Its dynamic color scheme, paired with its intricate detailing, make it an eye-catching addition to any room.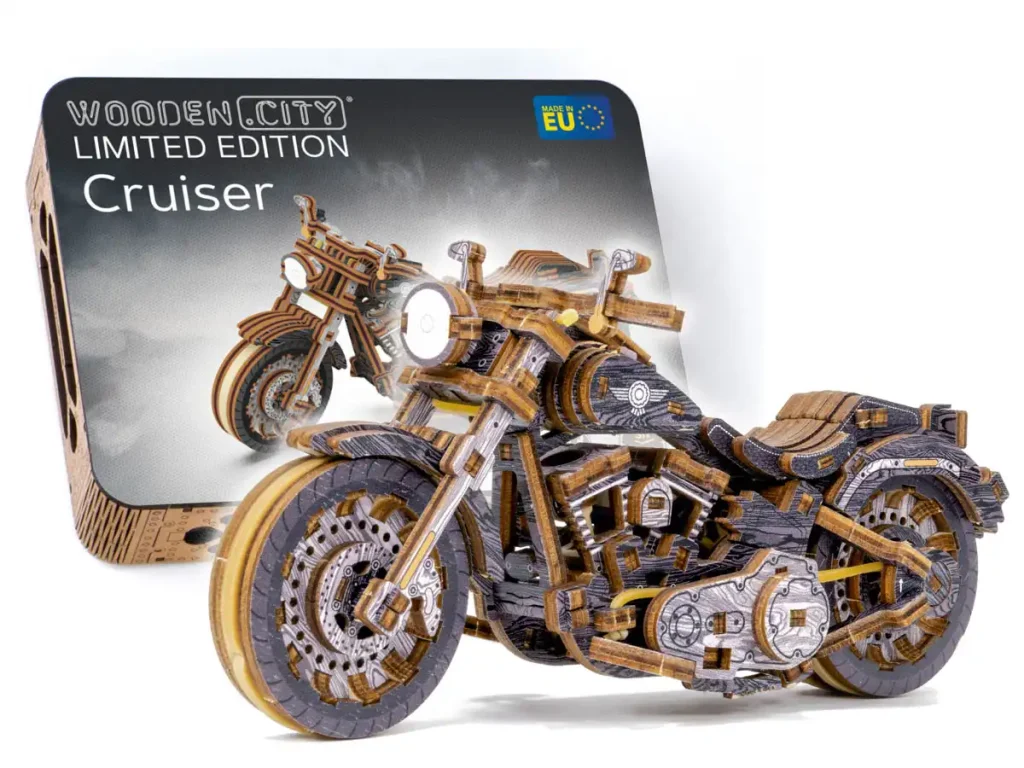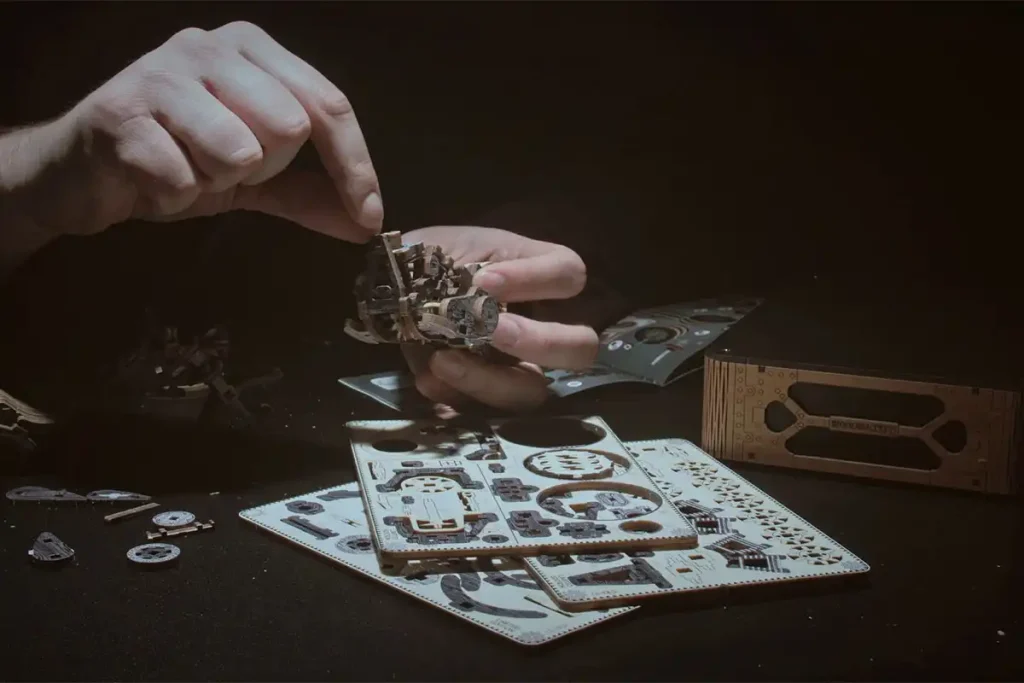 Wrap Up
The Cruiser V-twin Limited Edition model is more than just a puzzle. It's an intriguing amalgamation of engineering, design, and vibrant color scheme. It allows you to create a moving mechanical marvel, enriching your surroundings with its visual appeal. Embrace the art of crafting with this unique model and bring the spirit of mechanics to life.
Cruiser V-Twin Dreams: Family Highways of Imagination
Gear up for an exhilarating ride with the Cruiser V-Twin Limited Edition! Assemble tales of open roads and sunlit journeys together. It's more than just crafting—it's igniting a shared spirit of adventure, bonding, and memorable moments on two wheels. Kickstart your family's next grand voyage!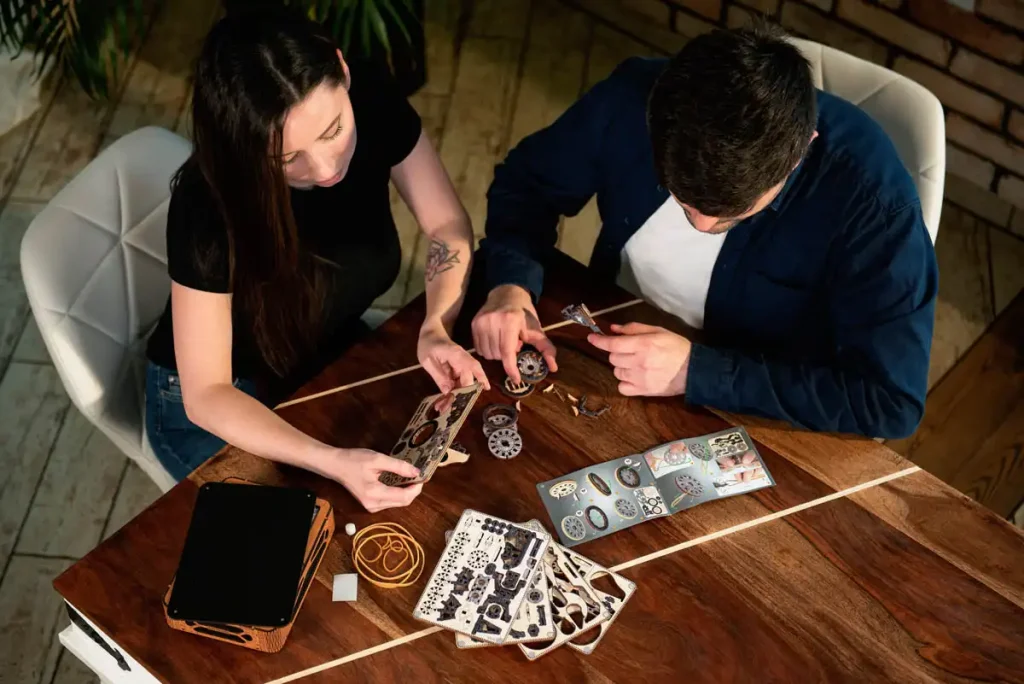 Characteristics
Quantity
168
Spare parts
12
Series/Article
LE-002
Set
Five plywood sheets
Assembly instruction
Candle – 1
Sandpaper – 1
Rubber Band 3,5х1,5 d90 L130 – 2+1;
Rubber Band 1,5х1,5 d50 L80 – 2+1.
Difficulty level
3/5
Assembly time
3 h
Model dimensions
H: 7.08'' ( 18 cm)
W: 2.36'' ( 6 cm)
D: 3.39'' ( 8,6 cm)
Package size
H: 8.07" ( 20,5cm)
W: 5.9" ( 15cm)
D: 1.89" ( 4,8cm)
Model scale
1:13
Path length
39.37" (1 m)
Pull-back mechanism
✔
Footboard/stand
✔
Rubber motor
✔
Rubber on wheels (increase grip)
✔
Steered wheels
✔
Dashboard
✔
Shock absorber
✔
Painted body
✔
Detailed engine
✔
Movable pistons
✔
Imitation mirrors
✔
Imitation lights
✔
Control elements (steering wheel, levers)
✔
Reverse movement (backward)
✔
Box – podium/ displaying stand
(+ the box has a magnetic lid)
The box can be used further to store small things.
✔
Can be a decor element
✔
Age
12+