3D Puzzle: Mechanical Craftsmanship at its Finest
The 3D Puzzle takes you on a ride through the skies, sans the confines of wood and "3D". Enjoy the thrill of mechanical dynamics and the satisfaction of a well-assembled puzzle in this bespoke model.
Uniquely Crafted
This model is not just a replica of a helicopter—it's a tangible demonstration of mechanical principles. The rotors whirl and the entire model can move, thanks to a well-integrated rubber-band motor, providing a realistic, hands-on experience.
Quality in Every Detail
From the intricately designed dashboard to the detailed engine complete with movable pistons and control elements like levers, every component is meticulously crafted. The starting key initiates the model's movement, adding a realistic touch to your assembly.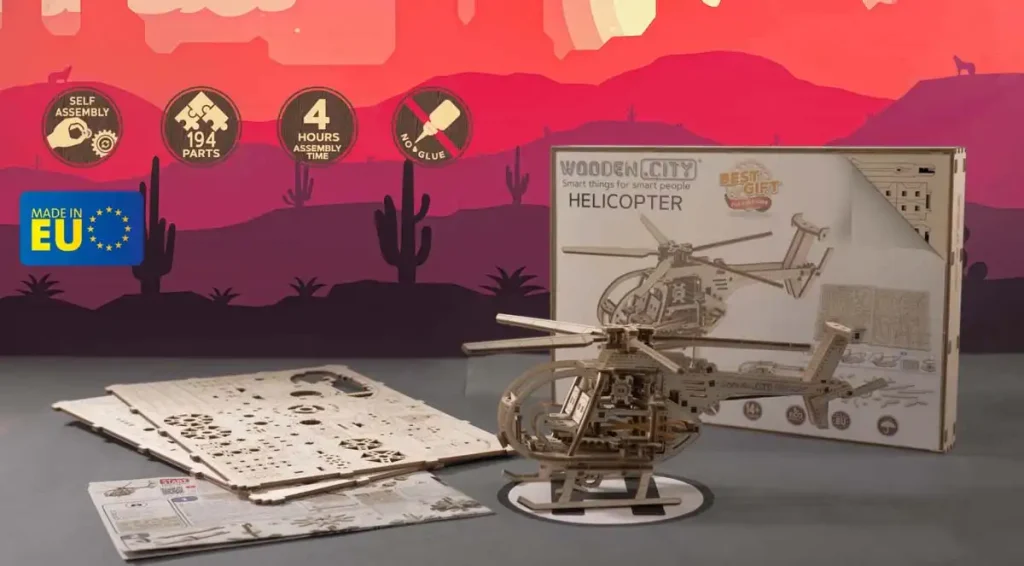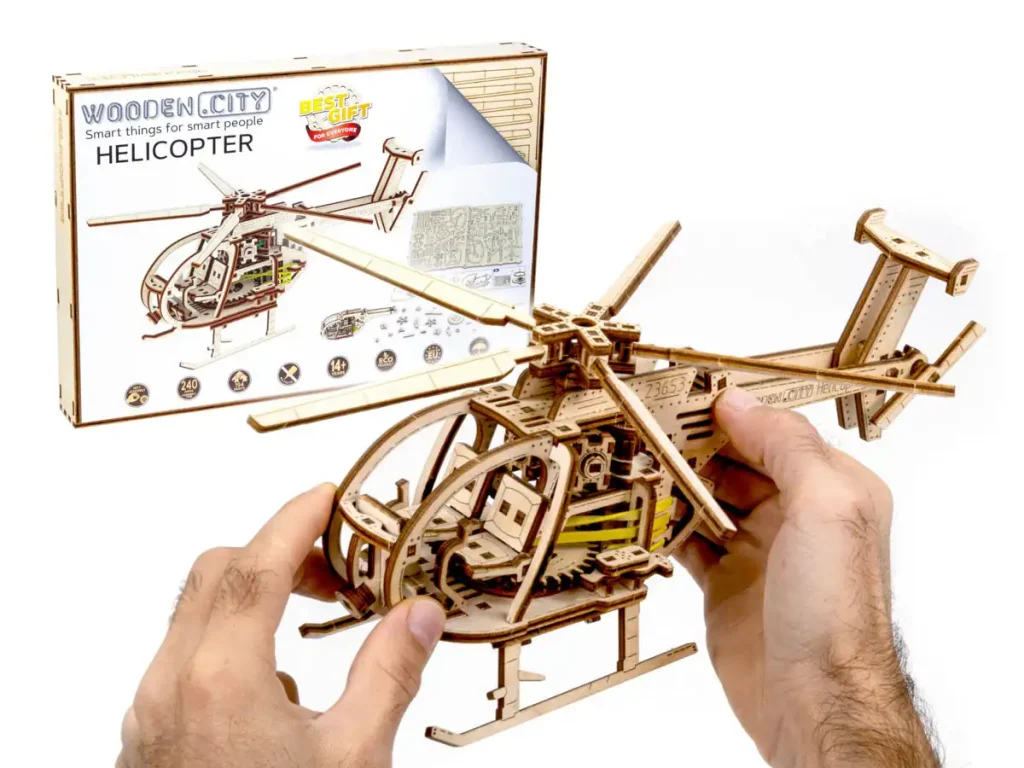 From Packaging to Display
Arriving in a sturdy wooden box, the model's packaging serves a dual purpose. Once your helicopter is assembled, the box transforms into a stand for your model, enhancing its display appeal.
An Ideal Gift
Looking for a unique gift? The model serves as an excellent choice. Its intriguing assembly process and captivating mechanical features make it an appealing choice for hobbyists and enthusiasts alike.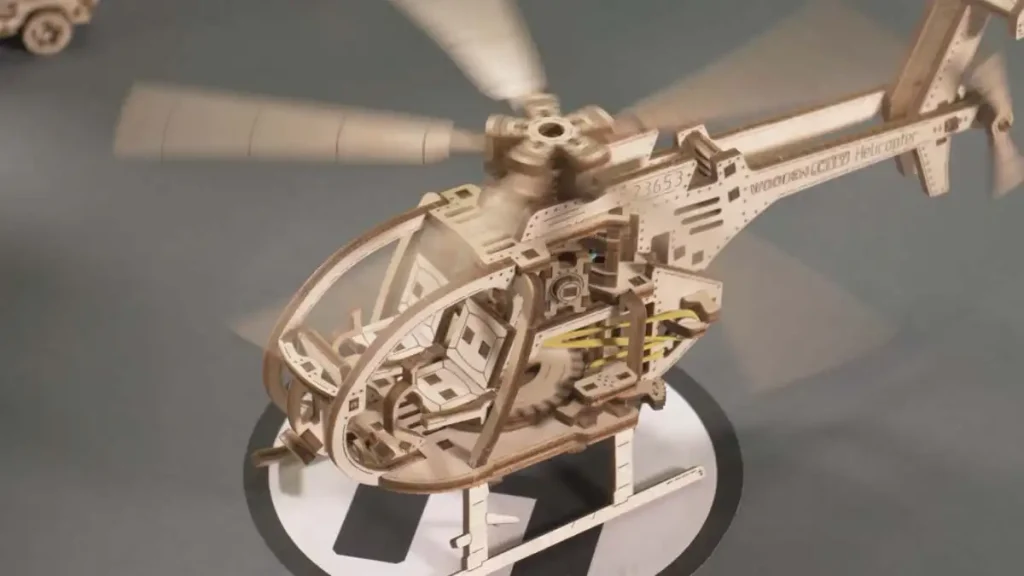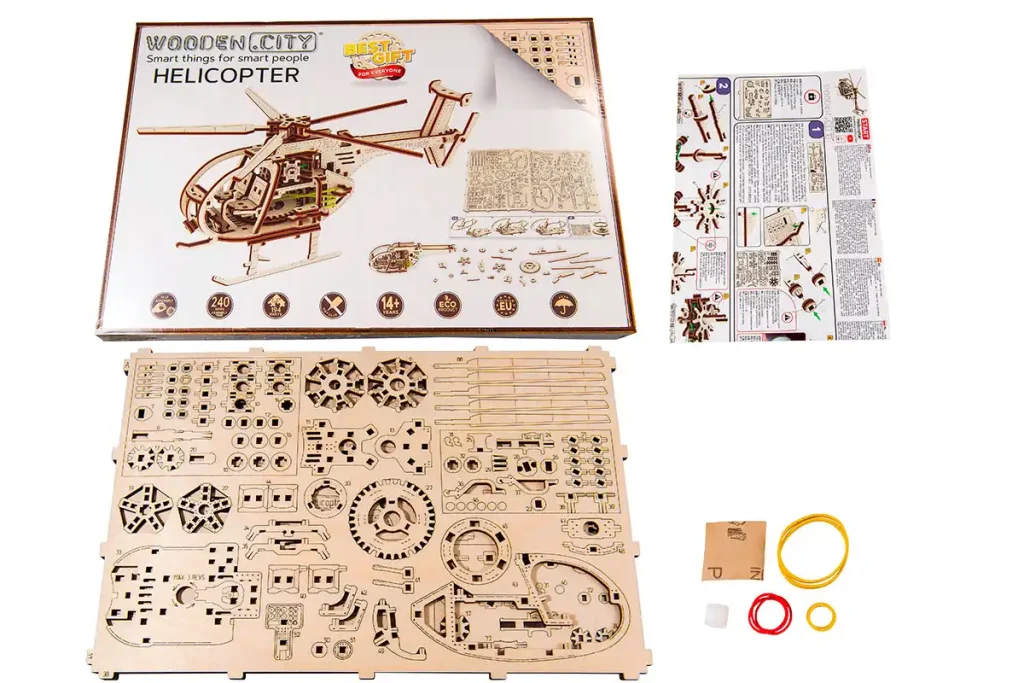 An Artistic Display
Beyond its mechanical appeal, the assembled model also serves as an impressive decor piece. Its intricate design and moving parts are sure to catch the eye and start conversations.
Get Creative
Fancy adding a personal touch? You can paint the model as you wish, letting your creativity flow through your brush. You're not just building a model; you're creating a piece of art.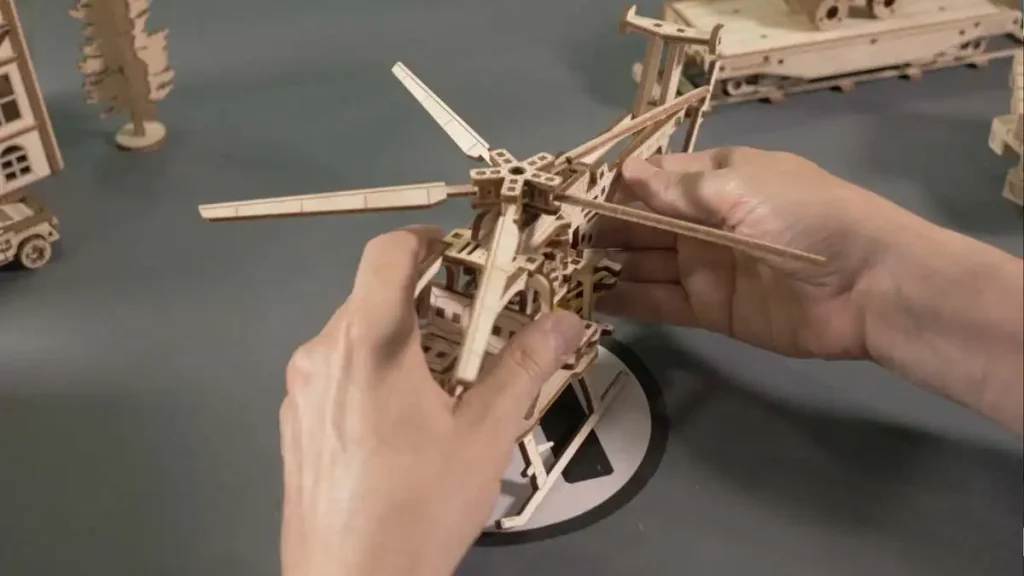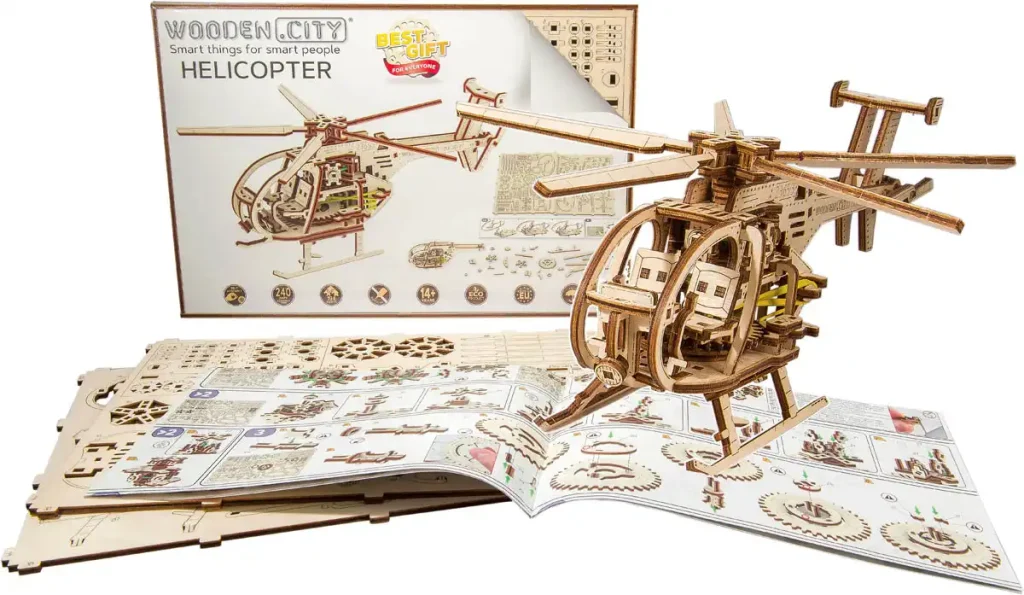 Skyward Family Adventures Await
Dive into the thrilling world of helicopters! Gather the family and craft memories as you piece together this aerial wonder. Let imaginations soar and tales of daring flights ensue. A delightful journey that binds generations. Assemble, explore, and take to the skies!
Characteristics
Quantity
152
Spare parts
21
Series / Article
LE-011
Set
Four plywood sheets
Assembly instruction
Candle -1
Sandpaper -1
Toothpicks 8pcs
Rubber Band 3,5х1,5 d40 L60 – 1+1;
Rubber Band 1,5х1,5 d20 L30 – 2+1;
Rubber Band 1,5х1,5 d15 L20 – 1+1;
Difficulty level
3/5
Assembly time
4 h
Model dimensions
H: 9.45'' (24 cm)
W: 4.74'' (12 cm)
D: 12'' (30,5 cm)
Package size
H: 13.97"(35,5 cm)
W: 9.44"(24 cm)
D: 1.57"(4 cm)
Model scale
1:30
Rubber motor
✔
Dashboard
✔
Detailed engine
✔
Movable pistons
✔
Control elements (levers)
✔
Imitation lights
✔
Propeller / propeller with blades
✔
Driver/pilot seat
✔
Starting key (The model starts with a key)
✔
Start lever
✔
Can be a decor element
✔
Possibility of hand painting
✔
The model box is made of wood.
Inside there is an instruction on how,
after assembling the model, you can also
assemble the box into a demonstration stand.
✔
Age
12+
Conclusion
The Helicopter Puzzle offers more than just a pastime—it's an engaging journey through the intricacies of mechanical principles, the world of aviation, and the realm of handcrafting. As you assemble and display this model, you'll appreciate the detailing, craftsmanship, and mechanical features that make it a truly unique piece.