A Journey Through History with the 3D Wooden Puzzle
Beginning with this 3D Wooden Puzzle, journey through London's historic streets with our uniquely crafted mechanical London Bus. Crafted to perfection, it's a hands-on exploration of engineering, design, and history.
A Tribute to Mechanical Precision
This model encapsulates the essence of mechanical engineering. It features a rubber-band motor, propelling the bus forwards and backwards along an impressive 157.48" (4 m) path. With the travel speed control feature, you can dictate the pace of your journey.
Attention to Detail
The London Bus model is detailed to perfection. Its interior features a meticulously designed engine, a starting key, a start lever, and shock absorbers. The inclusion of figurines adds life to this mechanical masterpiece, offering a more authentic and engaging display.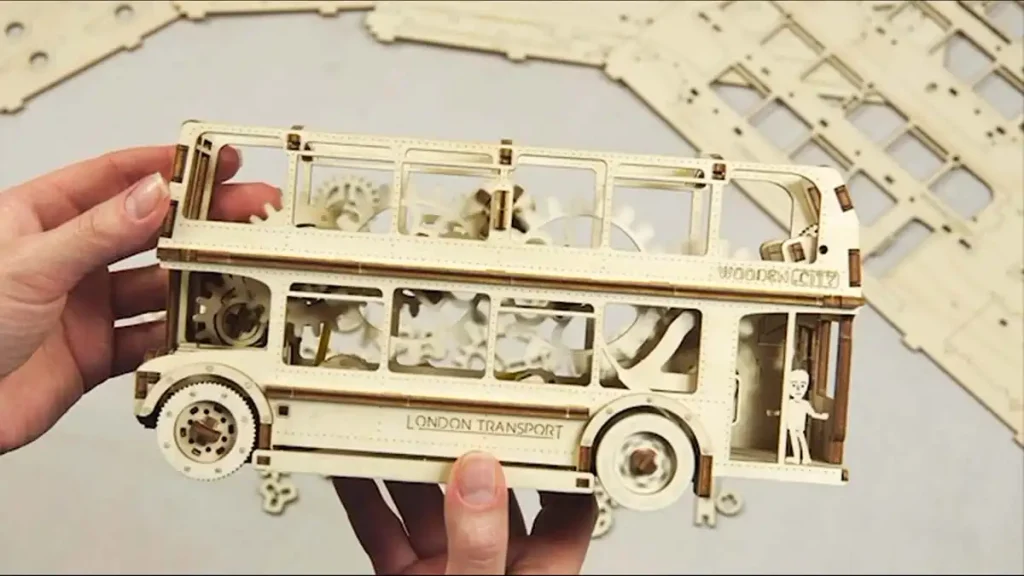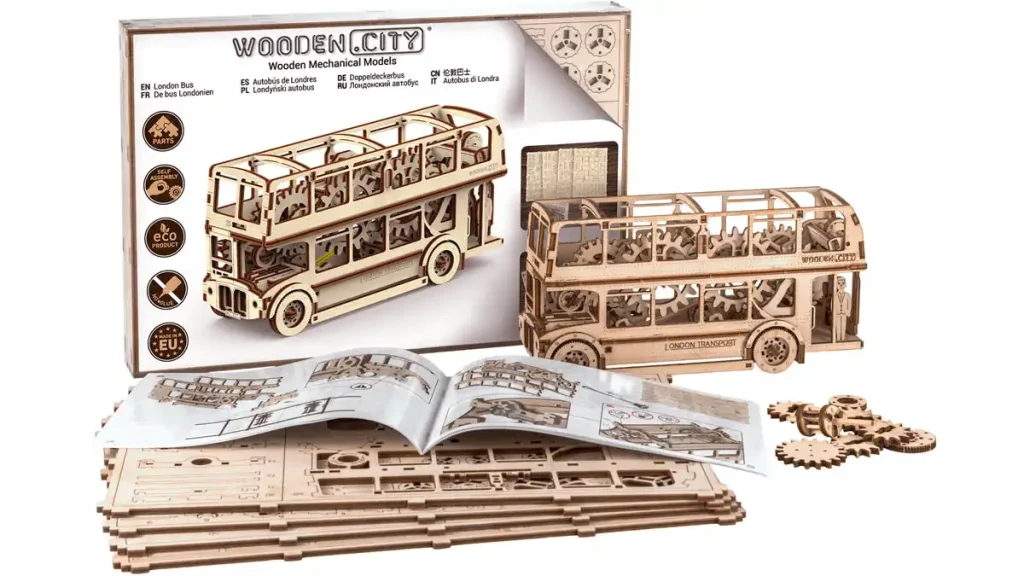 From Box to Display Stand
Our London Bus arrives in a wooden box that, once unpacked, can be transformed into a display stand. This thoughtfully designed feature further enhances the model's presentation, making it an even more desirable showpiece.
The Perfect Gift
Whether for a puzzle enthusiast, history buff, or a lover of mechanical crafts, this model makes an excellent gift. Its sophisticated design and captivating functionality provide an intriguing and enjoyable assembly experience.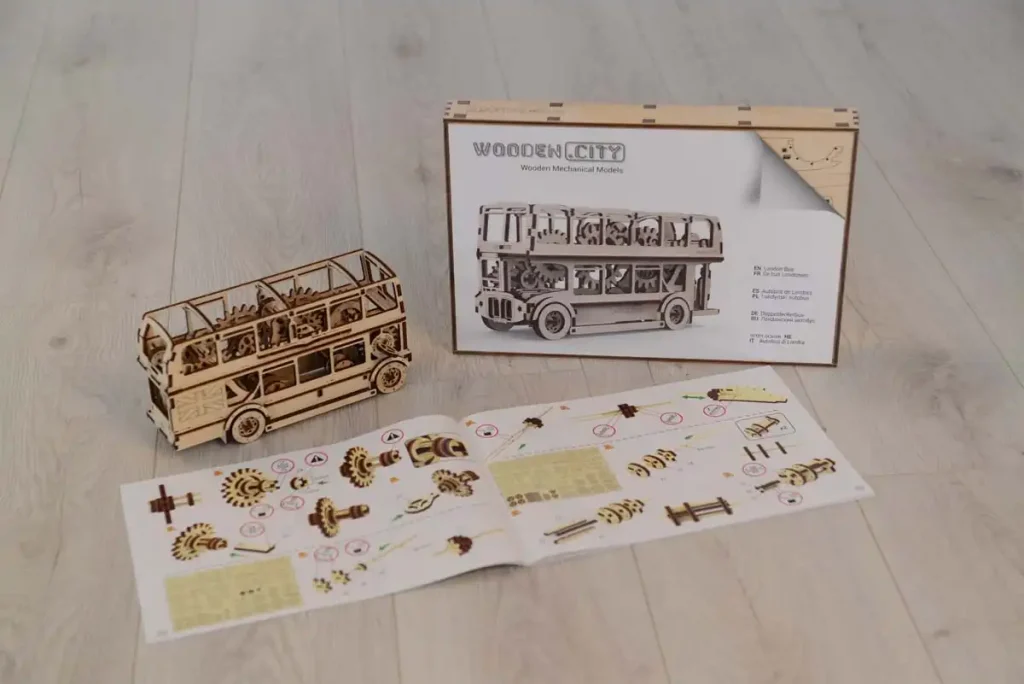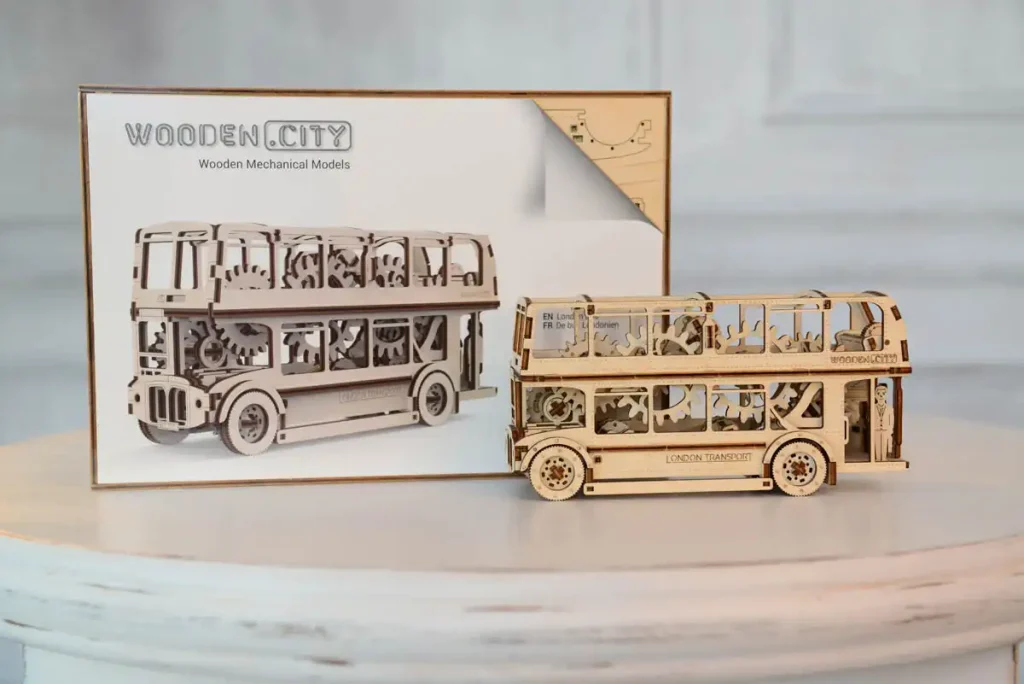 A Statement Piece
Once assembled, the model becomes a striking décor piece. Its intricate details, combined with the familiarity of its design, make it a conversation starter and a striking addition to any space.
Bring Your Personal Touch
Express your creativity by painting this model in your preferred shades. Transform it into a one-of-a-kind artwork that reflects your taste and style.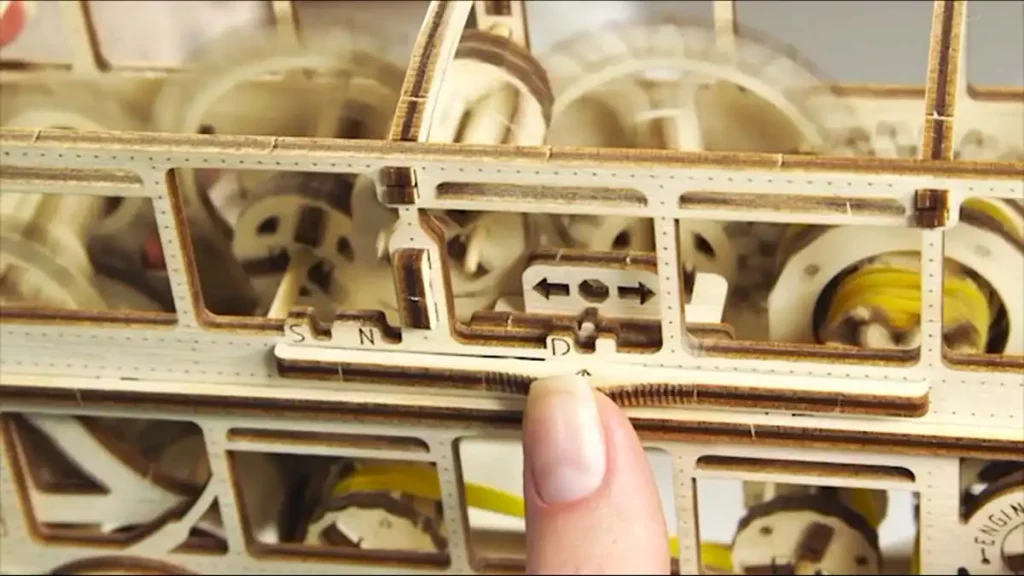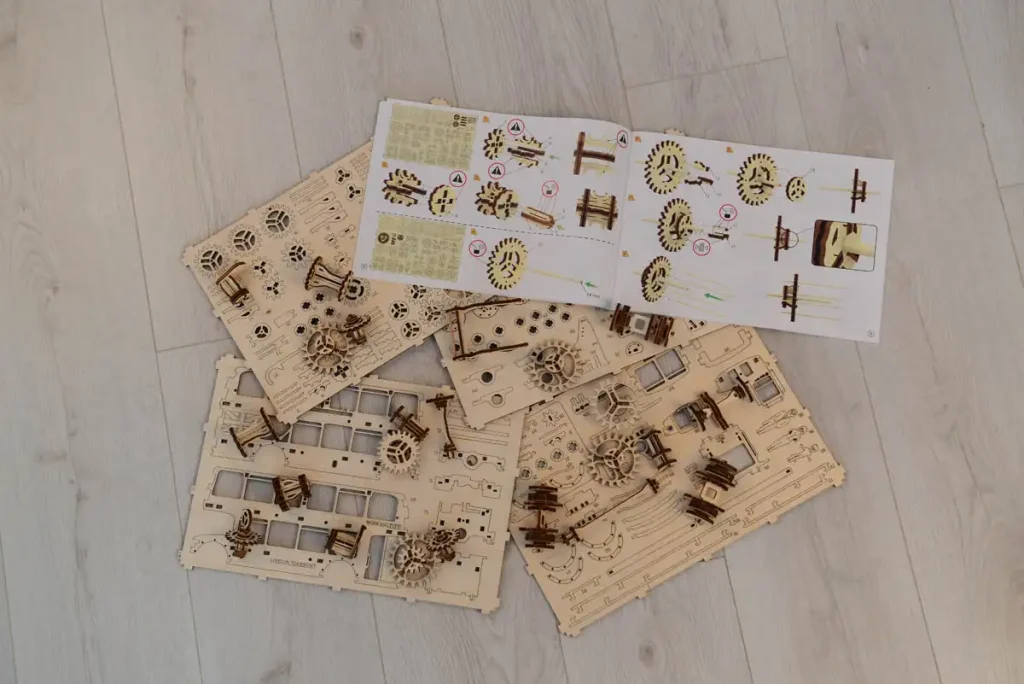 Family Fun with the London Bus
Dive into a delightful challenge! Assemble this iconic London Bus and enjoy quality time with loved ones. Perfect for bonding and creating lasting memories. Don't miss the ride!
Characteristics
Quantity
197
Spare parts
19
Series / Article
WR-303
Set
Assembly instruction
Candle -1
Sandpaper -1
Toothpicks – 40 pcs.
Rubber Band Yellow 1.5х3 D130 L200 – 2 pcs.
Rubber Band Yellow 1.5х1.5 D30 L40 – 3 pcs.
Axle 57 – 5 pcs.
Axle 64 – 12 pcs.
Difficulty level
3/5
Assembly time
6 h
Model dimensions
H: 9.13'' (23,2 cm)
W: 2.75'' (7 cm)
D: 4.53'' (11,5 cm)
Package size
H: 13.97" (35,5 cm)
W: 9.44" (24 cm)
D: 1.57"(4 cm)
Model scale
1:40
Path length
157.48" (4 m)
Rubber motor
✔
Shock absorber (only front)
✔
Detailed engine
✔
Imitation lights
✔
Starting key
✔
Start lever
✔
Possibility of reverse (reverse movement)
✔
Figurine(s) of people included
✔
Travel speed control
✔
Can be a decor element
✔
Possibility of hand painting
✔
The packing box is made of wood.
Inside there is an instruction on how,
after assembling the model, you can also
assemble the box into a demonstration stand.
✔
Age
12+
In Conclusion
The London Bus Puzzle is more than just a model — it's an interactive experience. It offers a rewarding journey through the process of assembly, mechanical exploration, and historic immersion. Its aesthetic appeal and engaging features make it a valuable addition to any collection or as a standalone display piece.