3D Puzzle Motorbike – Unveiling the Mechanics
Step into the world of the 3D Puzzle Motorbike and prepare to be amazed. This intricate model, crafted with precision, combines the beauty of birch wood and the complexity of mechanical design, providing a uniquely satisfying building experience.
Movement Masterpiece
This Motocross model is equipped with a pull-back mechanism that allows the motorcycle to move approximately 1 meter (39.37″) forwards and backwards. Powered by a rubber-band motor, the model demonstrates an excellent representation of mechanical principles in action.
Intricate Details
Every detail matters in this mechanical puzzle. The Motocross model boasts a variety of features such as rubber on wheels for improved grip, reverse movement capability, and front and rear shock absorbers. Imitation mirrors and lights add an extra touch of realism, enhancing the overall appeal of the model.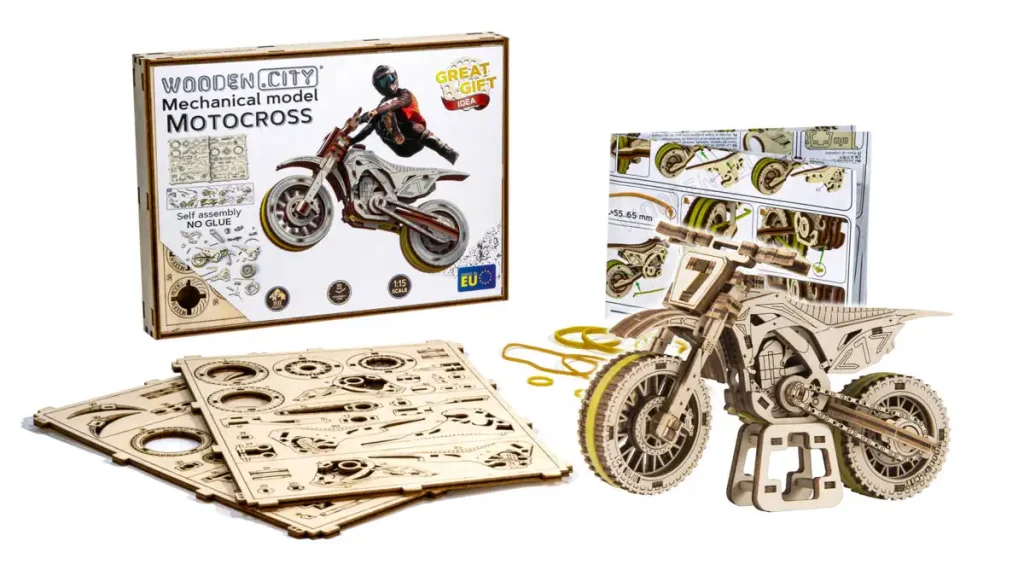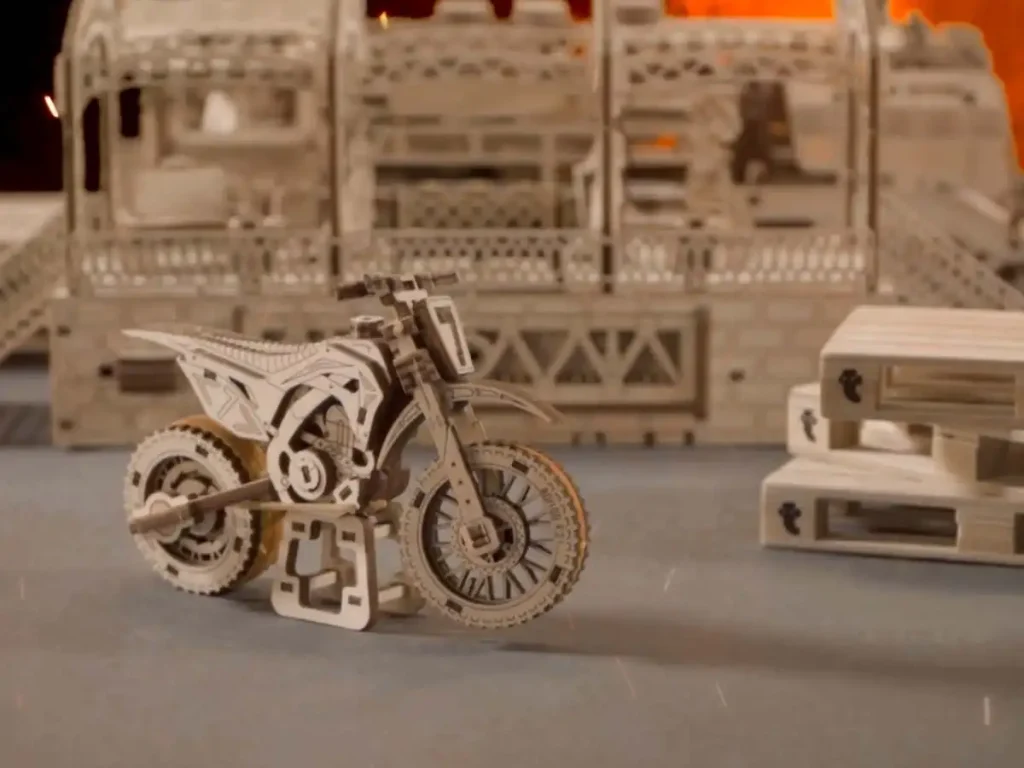 From Packaging to Display Stand
Even the packaging of this model showcases thoughtful design and dual functionality. It not only protects the model but can also be transformed into a stand, perfect for displaying the completed Motocross motorbike model in all its glory.
The Perfect Gift
For those who value intricate craftsmanship, mechanics, or simply enjoy a rewarding challenge, this Motocross model makes for an ideal gift. It's a thrilling project to undertake, a conversation piece, and a unique item of decor, all rolled into one.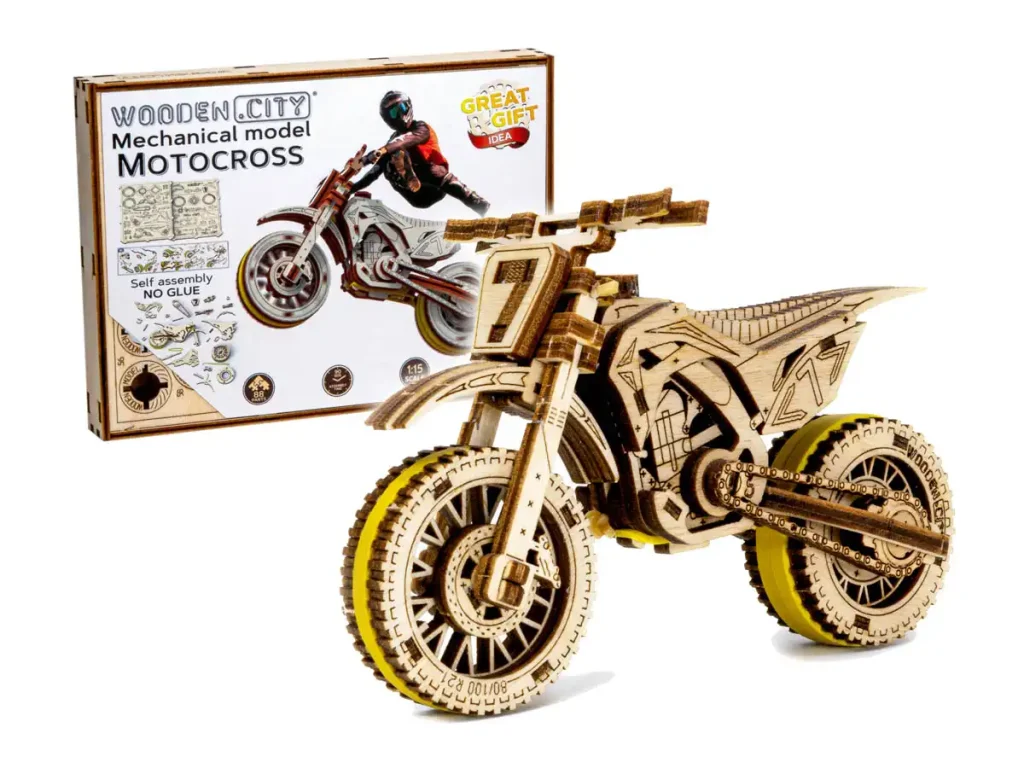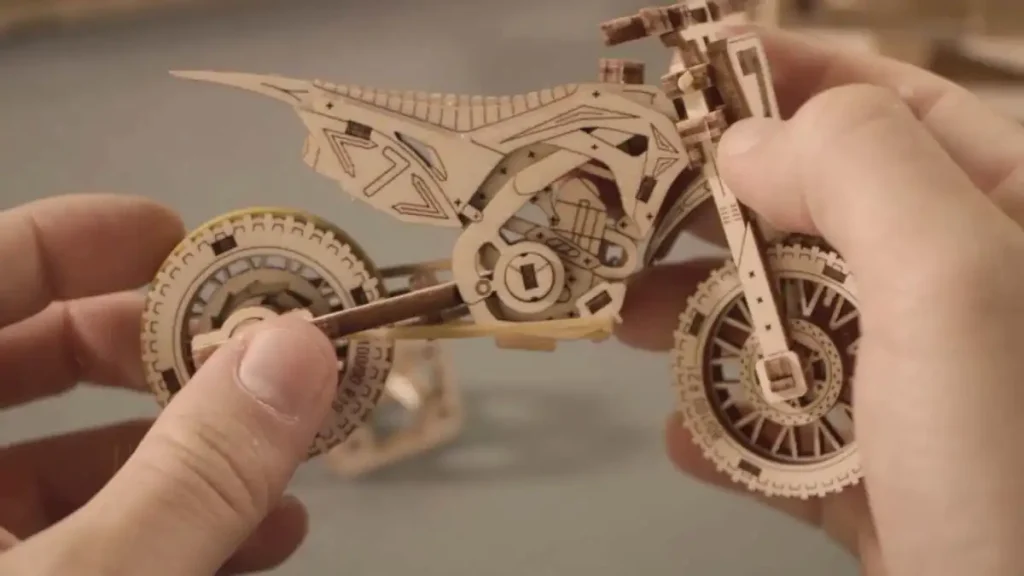 Decorative Delight
This motorbike puzzle is not just a toy; once assembled, it becomes a stunning piece of decor. Its intricate detailing, mechanical design, and fine wood finish make it a stand-out addition to any space, serving as a testament to your fine craftsmanship.
Personalization at its Best
Add your unique touch to the model by painting it to your liking. The birch wood used in crafting the model is ideal for customization, allowing you to create a motorbike that is truly one-of-a-kind.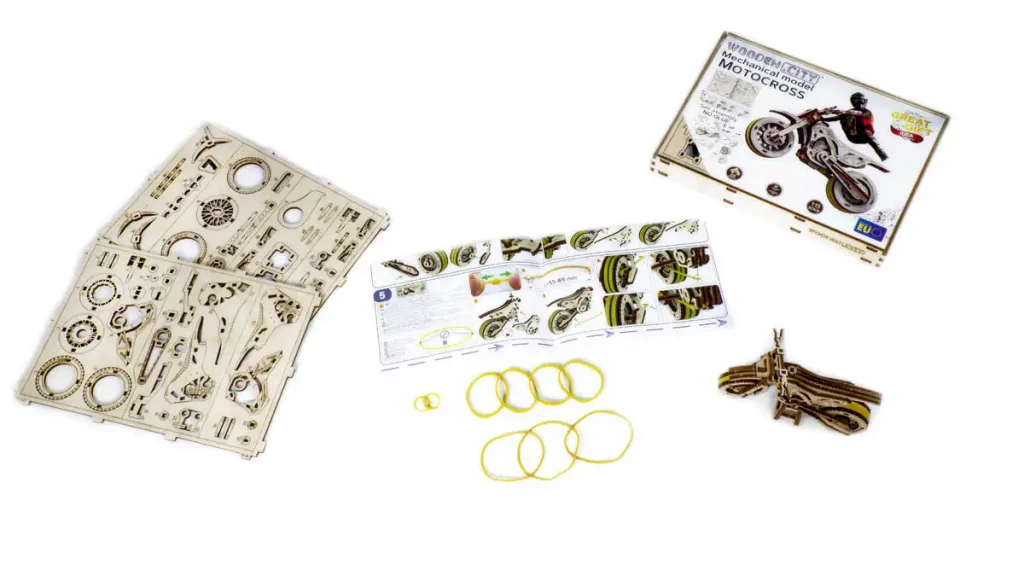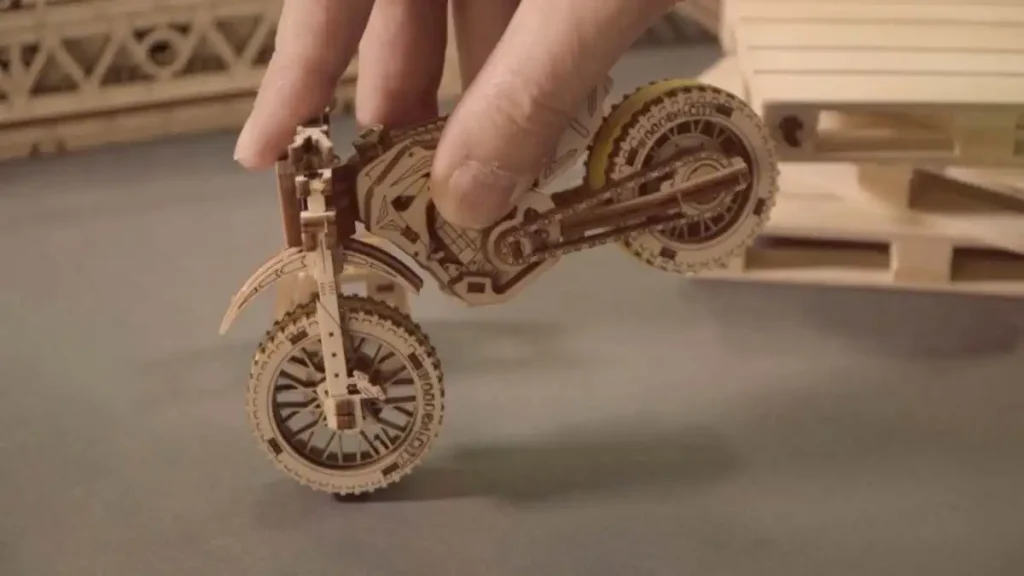 Motocross Adventures Begin at Home
Dive into the thrill of dirt biking! The Motocross model brings family members together, sparking excitement and teamwork. Assemble and share stories of off-road escapades. A unique path to laughter, connection, and family adrenaline rushes right in your living room! Let's ride the adventure wave together!
Characteristics
Quantity
78
Spare parts
10
Series/Article
WR 343
Set
Assembly instruction
Candle -1
Sandpaper -1
Rubber Band 1.5х3.5 D40 L60 – 3+1
Rubber Band 1.5х1.5 D15 L20 – 1+1
Rubber Band 1.5×1.5 D50 L80 – 2+1
Difficulty level
3/5
Assembly time
1,5 h
Model dimensions
H: 5.4'' (13,7 cm)
W: 2.44'' (6,2 cm)
D: 3.43'' (8,7 cm)
Package size
H: 9.44" ( 24cm)
W: 6.89" ( 17,5 cm)
D: 1.1'' (2,8cm)
Model scale
1:15
Path length
39.37" (1 m)
Pull-back mechanism
✔
Footboard/stand
✔
Rubber motor
✔
Rubber on wheels (increase grip)
✔
Steered wheels
✔
Shock absorber (suspension) front and rear
✔
Driver/pilot seat
✔
Control elements (steering wheel, levers)
✔
Reverse movement (backward)
✔
The model box is made of wood. Inside there is an
instruction on how, after assembling the model,
you can also assemble the box into a demonstration stand.
✔
Can be a decor element
✔
Age
12+
Conclution
The Motocross Wooden Puzzle is more than just a model; it's a journey into the world of mechanics, a creative outlet, and a beautiful work of art. With its intricate design and mechanical functionality, it promises a memorable building experience and a rewarding result.