3D Wooden Tractor Puzzle: Engineering Marvel at Your Fingertips
Discover the enchanting realm of the 3D Wooden Tractor Puzzle. Embrace the detailed mechanics and the pleasure of assembling this exquisite piece yourself.
Operational Excellence and Functionality
This is not just a static model; it's a fully functional tractor that can move forward and backward, covering a path length of approximately 19.68″ (0.5 m) thanks to its built-in rubber-band motor. An engaging mechanical toy, it's sure to entertain both the young and the young at heart.
Remarkable Details and Features
The model features steered wheels that replicate the maneuverability of a real-life tractor. With movable pistons, an opening hood, and a trunk, the attention to detail is truly amazing. The tractor can be activated using the start lever and winding mechanism handle, bringing an authentic feel to your hands.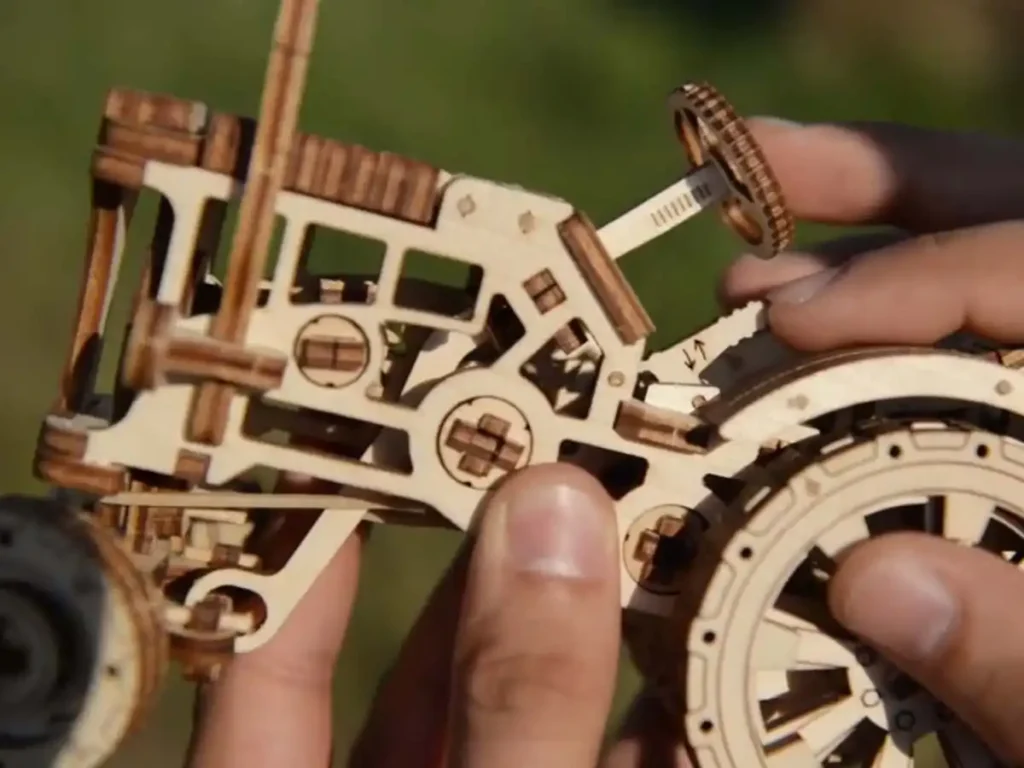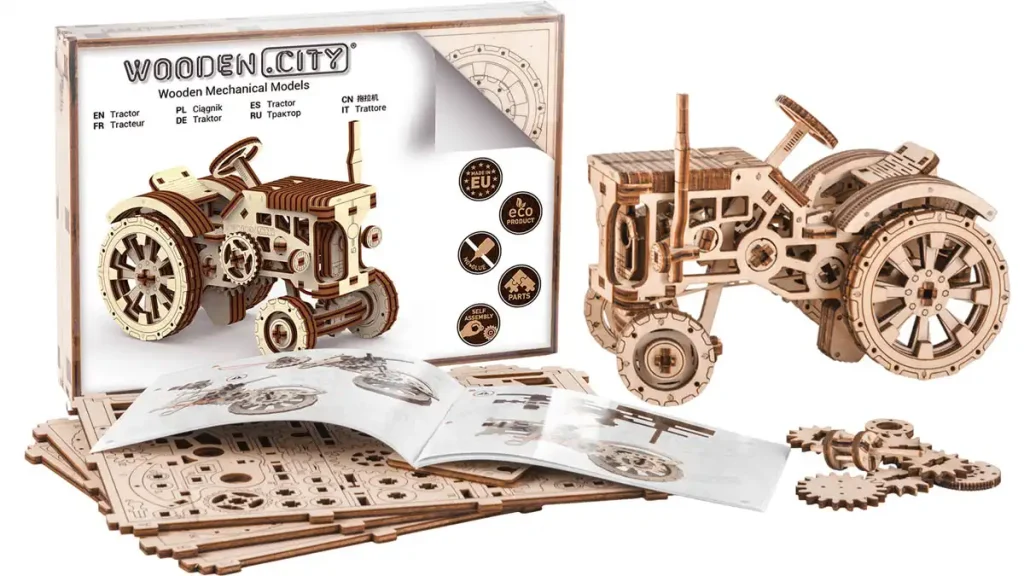 Environmentally Friendly Packaging
The wooden packaging is not just for protection; it also doubles as a stand for your model. It's an innovative way to exhibit your hard work while being considerate of the environment.
The Perfect Gift
Looking for a unique gift? Look no further. This 3D puzzle is an excellent choice, offering the recipient the joy of hands-on assembly and the satisfaction of creating something beautiful. It's perfect for puzzle enthusiasts, model builders, or anyone who appreciates mechanical toys.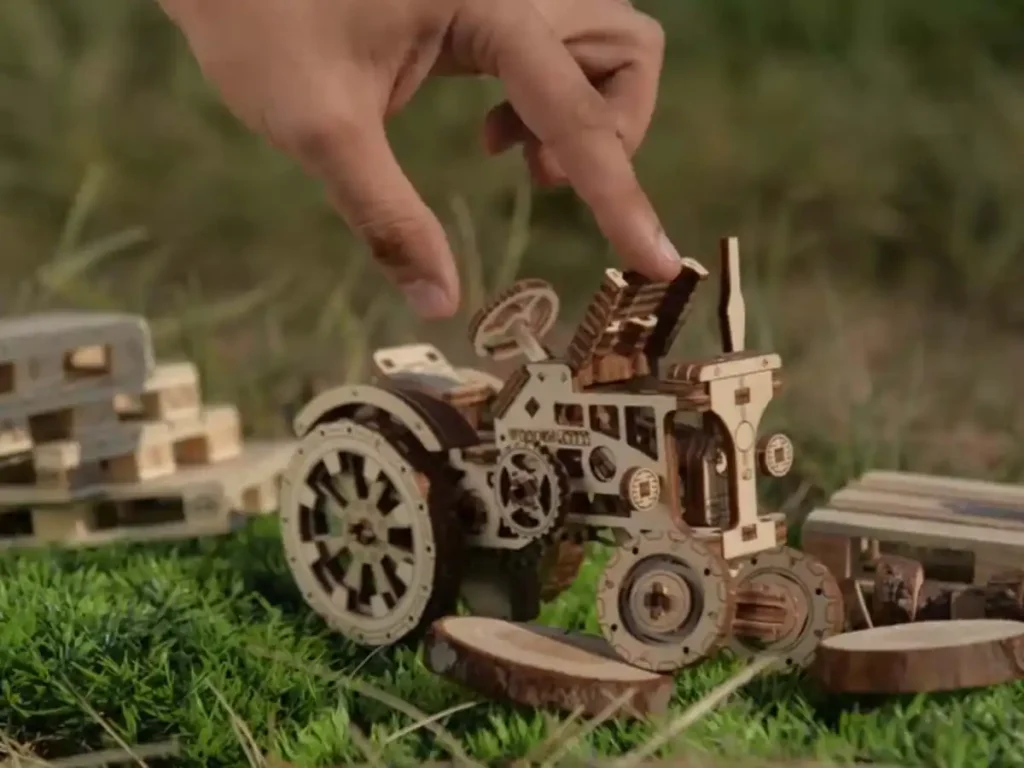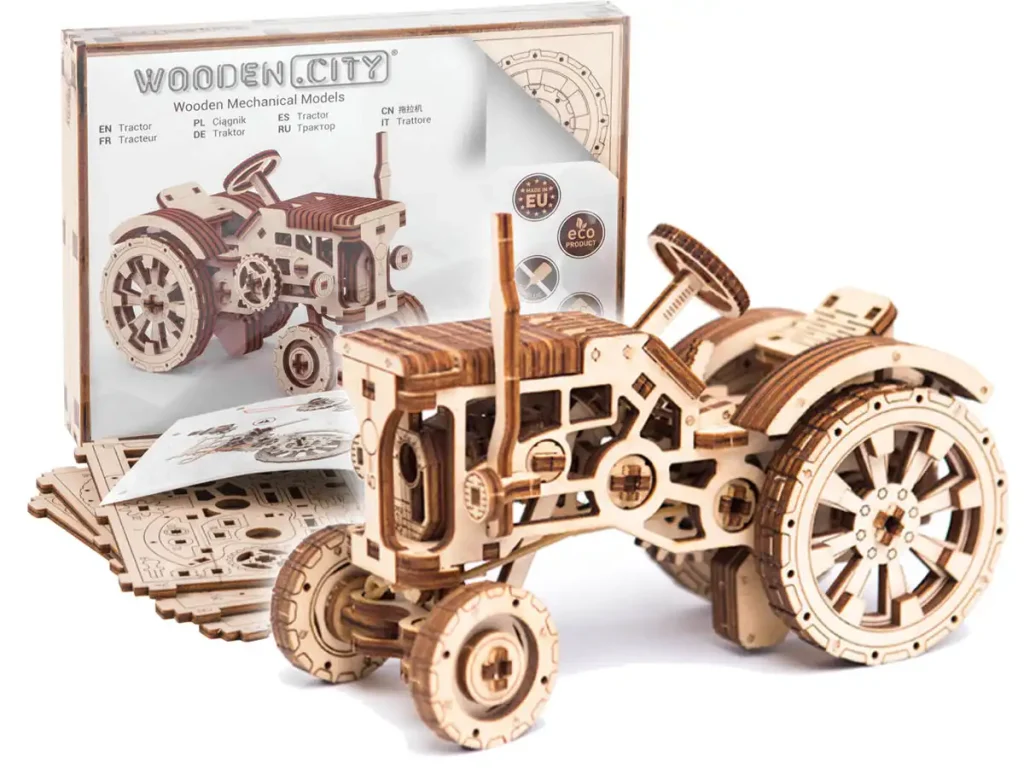 A Fine Decorative Piece
Once assembled, the tractor makes a striking decorative item. Whether displayed on a desk, a shelf, or a mantelpiece, it adds an element of rustic charm and complexity to any room. It's a testament to mechanical innovation and the beauty of farm machinery.
Personalize Your Model
With the option to hand-paint the model, you can truly make it your own. Whether you prefer to stick to realistic colors or let your imagination run wild with vibrant hues, the finished model will undoubtedly be a one-of-a-kind masterpiece.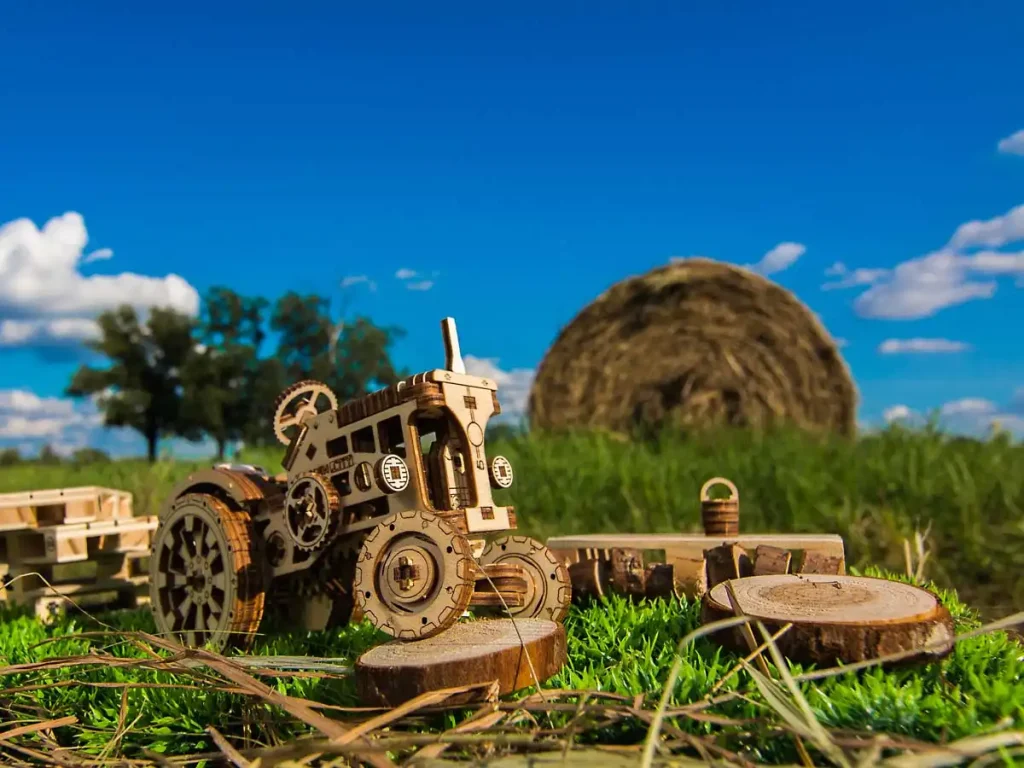 Family Farming Adventures
Gather the crew and step into a farmer's shoes! Assemble this classic tractor and feel the countryside vibes. Share stories of golden fields and harvest seasons, bonding over a piece of timeless machinery. Craft memories that'll last a lifetime!
Characteristics
Quantity
148
Spare parts
64
Series / Article
WR-318
Set
Assembly instruction
Candle -1
Sandpaper -1
Toothpicks – 20 pcs.
Rubber Band Yellow 1.5х1.5 D30 L40 – 2 pcs.
Difficulty level
3/5
Assembly time
3 h
Model dimensions
H: 4.68'' (11,9 cm)
W: 2.83'' (7,2 cm)
D: 6.22'' (15,8 cm)
Package size
H: 9.44" ( 24cm)
W: 6.89" ( 17,5 cm)
D: 1.1'' ( 2,8cm)
Model scale
1:20
Path length
19.68" (0,5 m)
Rubber motor
✔
Steered wheels
✔
Dashboard
✔
Shock absorber
✔
Detailed engine
✔
Movable pistons
✔
Control elements (steering wheel, levers)
✔
Imitation mirrors
✔
Imitation lights
✔
Propeller / propeller with blades
✔
Driver / Pilot seat
✔
Opening the hood/trunk
✔
Starting key
✔
Start lever
✔
Enlarged wheels
✔
Possibility of reverse (reverse movement)
✔
Can be a decor element
✔
Possibility of hand painting
✔
The packing box is made of wood.
Inside there is an instruction on how,
after assembling the model, you can also
assemble the box into a demonstration stand
✔
Moving Pedals
✔
Age
12+
Final Thoughts
This 3D tractor model embodies the elegance of engineering and the thrill of hands-on assembly. It's more than just a mechanical puzzle; it's a journey into the realm of mechanics and a tribute to the beauty of wooden craftsmanship. Unravel the intricacies of the mechanical tractor and experience the joy of seeing your creation come to life.