Biplane Wooden Puzzle 3D: A Colorful Assembly Adventure
Our Biplane Wooden Puzzle 3D, part of the unique Limited Edition series from Wooden.City, offers an unforgettable assembly experience. It's not just about piecing together a model; it's about immersing yourself in the craft of mechanical assembly and creating a vibrant piece of decor that stands testament to your skills.
Colorful Appeal
Beyond the impressive mechanics, this biplane stands out with its brightly painted body, lending it a playful and lively character. The colorful representation is a joy to look at and a unique addition to any model collection.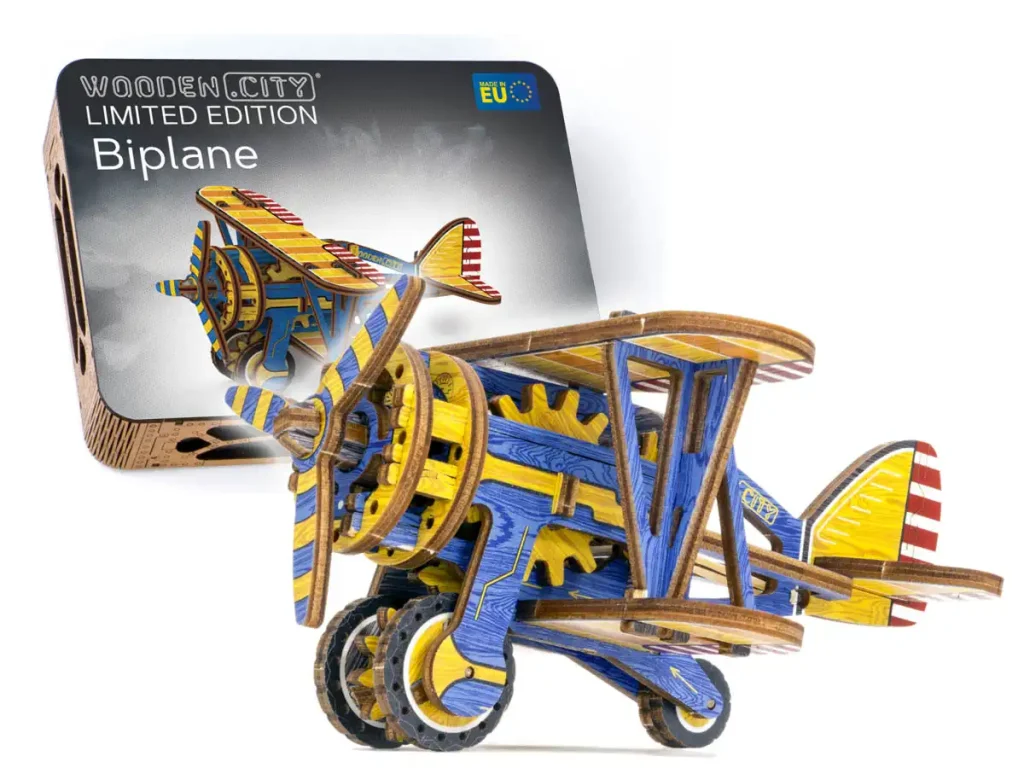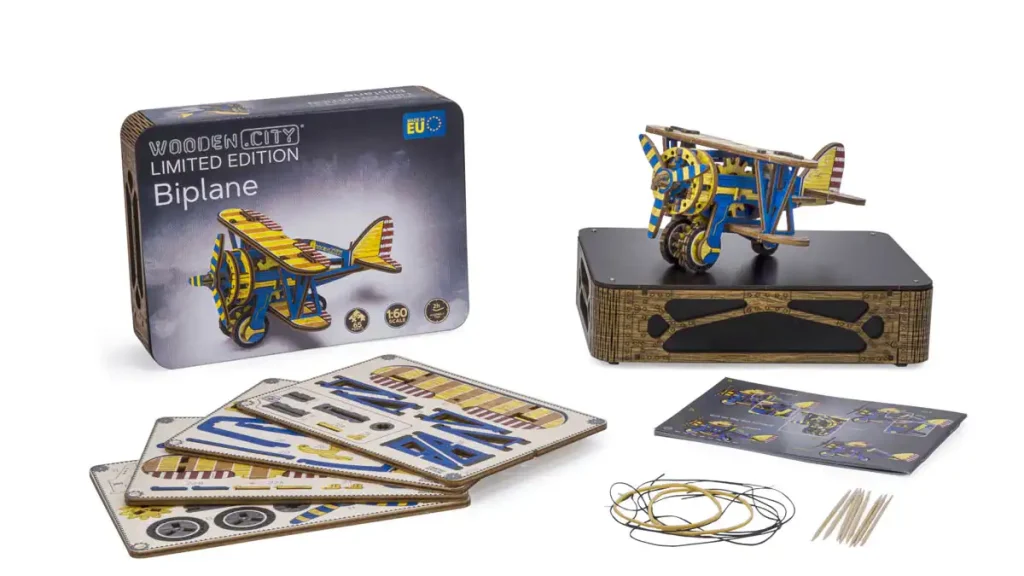 Quality Packaging
This mechanical model comes in a high-quality wooden box secured with magnets. The box not only ensures the safekeeping of the model parts but can also serve as a stand for the assembled biplane or as a container for your precious items.
Perfect Gift Idea
Looking for a unique gift? This vibrant mechanical biplane is an excellent choice for puzzle lovers, hobbyists, or anyone with a love for aviation. It offers not just the fun of assembly but also a decorative piece that can brighten up any space.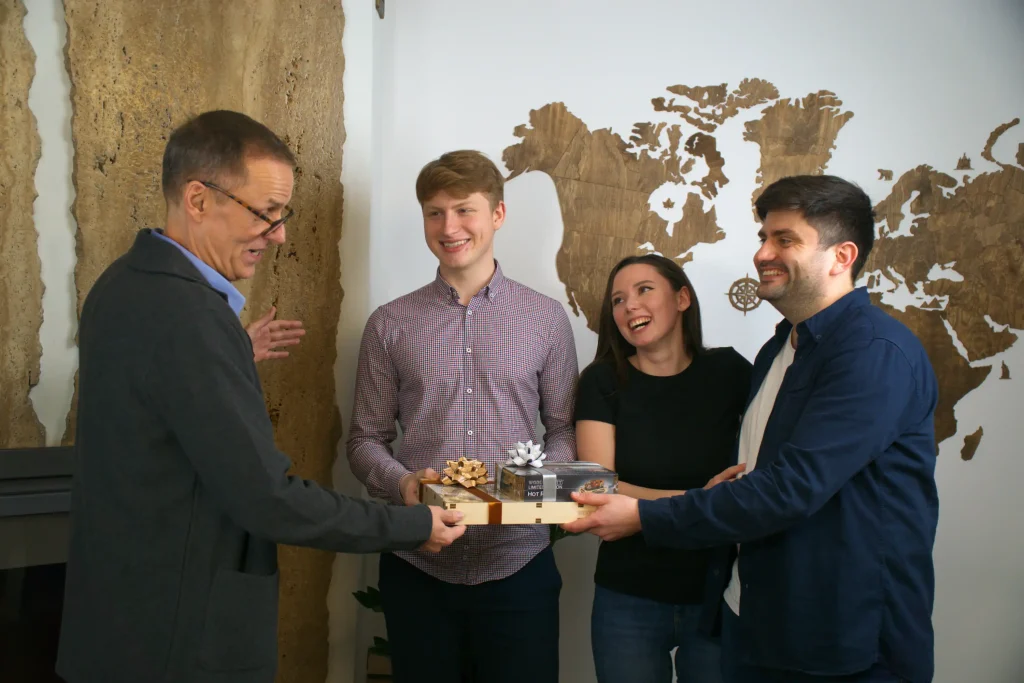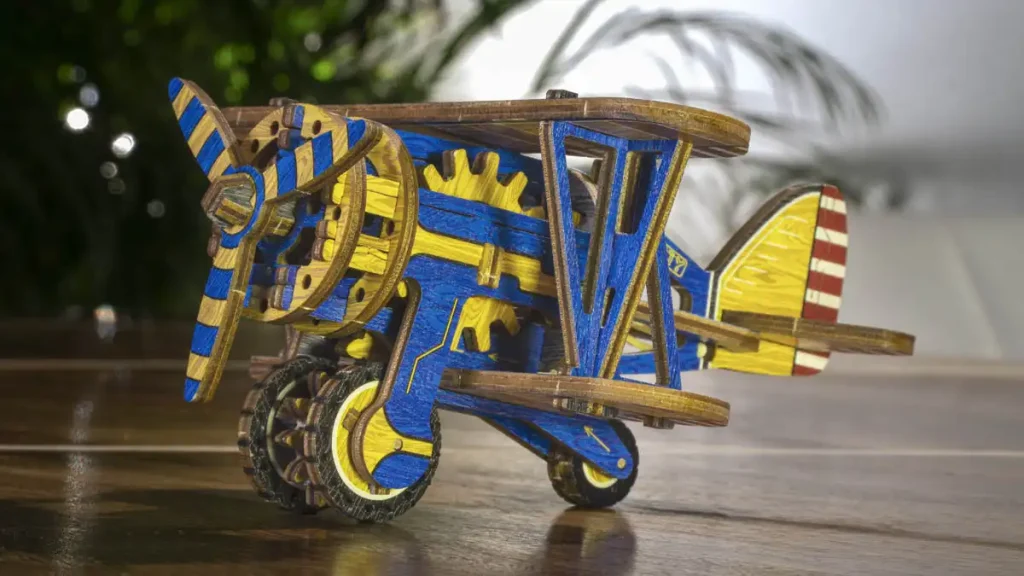 A Statement Decor Piece
Once assembled, the biplane becomes more than a toy. It transforms into a striking decor piece that's sure to catch attention. Whether placed in your living room, study, or office, this brightly colored biplane model will add a dash of charm and provoke conversation.
Features and Construction
This biplane model boasts a rubber motor, rubber on wheels for increased grip, and a reverse movement feature. Its brightly painted body crafted from high-quality birch wood ensures the model's longevity and resilience.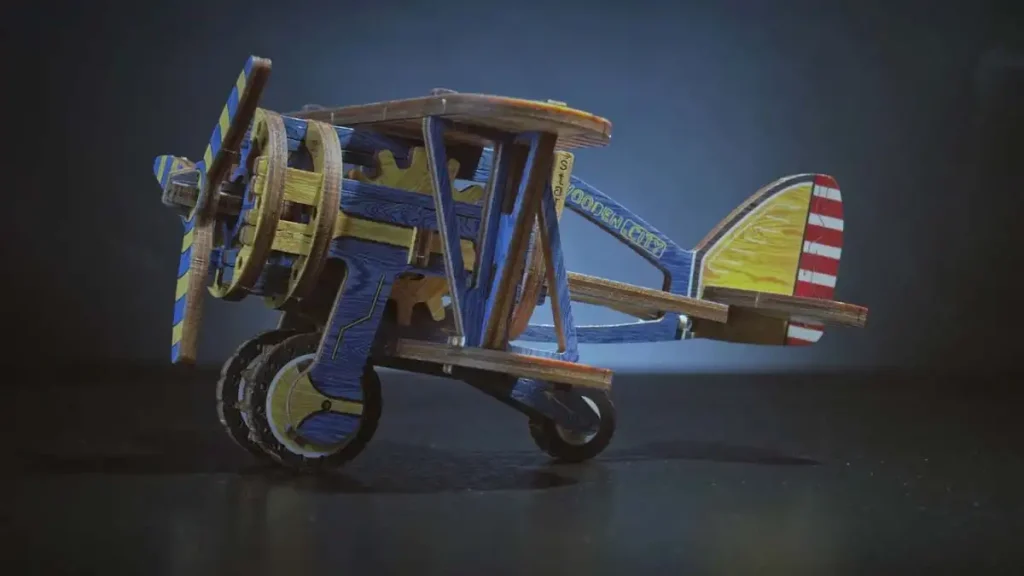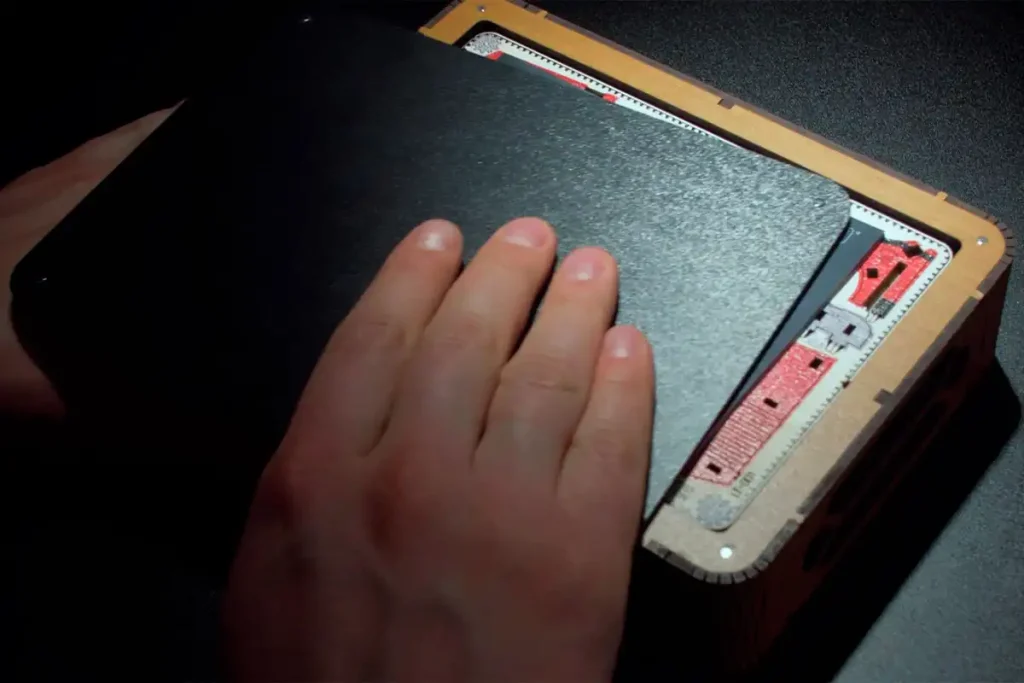 The Beauty of Movement
The main attraction of this model is its authentic movement mechanism. Powered by a rubber-band motor, the biplane can move both forward and backward, covering a distance of approximately 19.68 inches (0.5 m). This biplane features a pull-back mechanism, adding another layer of interactivity to the model.
Soaring Through History Together
Discover the classic charm of a biplane! Limited edition excitement for families eager to build and imagine. Share stories, create memories, and embark on aerial adventures. A timeless treasure that promises hours of shared joy. Take flight as a family!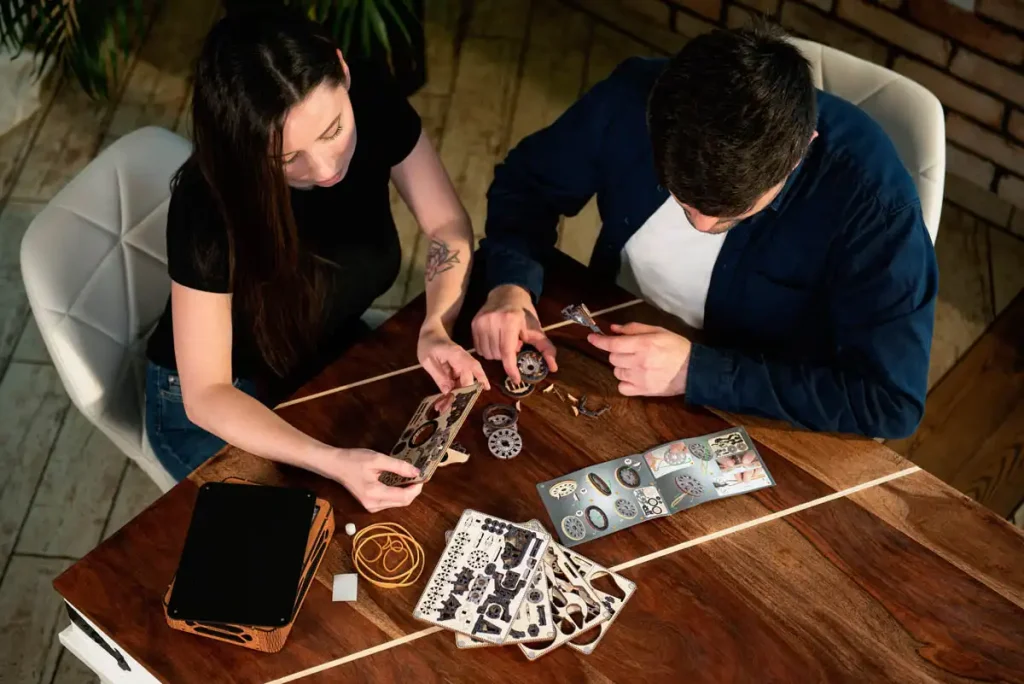 Characteristics
Quantity
65
Spare parts
8
Series/Article
LE-012
Set
Four plywood sheets
Assembly instruction
Candle -1
Sandpaper -1
Toothpicks 8pcs
Rubber Band 1.5х1.5х50 L=80mm – 2pcs
Difficulty level
2/5
Assembly time
2 h
Model dimensions
H: 7.08'' (16,1 cm)
W: 2.36'' (14 cm)
D: 3.39'' (8,8 cm)
Package size
H: 8.07" ( 20,5cm)
W: 5.9" ( 15cm)
D: 1.89" ( 4,8cm)
Model scale
1:60
Path length
19.68" (0,5 m)
Rubber motor
✔
Rubber on wheels (increase grip)
✔
Dashboard
✔
Painted body
✔
Propeller / propeller with blades
✔
The propeller is connected to the wheels
and rubber motor by means of a gear mechanism.
✔
Reverse movement (backward)
✔
Start lever
✔
Box – podium/ displaying stand
(+ the box has a magnetic lid)
The box can be used further to store small things.
✔
Number of gears, pcs
✔
Can be a decor element
✔
Age
14+
Final Thougts
The Biplane Limited Edition model is more than just a puzzle; it is a journey into the world of mechanics, a testament to the beauty of assembly, and a colorful addition to your decor. Indulge in this creative experience and own a piece of art that is as unique as it is vibrant.