Embark on a 3D Wooden Puzzle Journey
Stepping into the 3D Wooden Puzzle experience is akin to stepping into a different era. Every piece of Birch that you connect brings the Roman Chariot closer to life. As the chariot forms, you can't help but appreciate the delicate details and the mechanical genius that bring this model to life.
Experience the Roman Era
The Roman Chariot model is a historical artifact that encapsulates the heart of Roman warfare. The figurines of people, the horses, and the detailed chariot, all work in synergy to replicate the ancient Roman wars. This model isn't just about building, it's about recreating and reliving a part of history.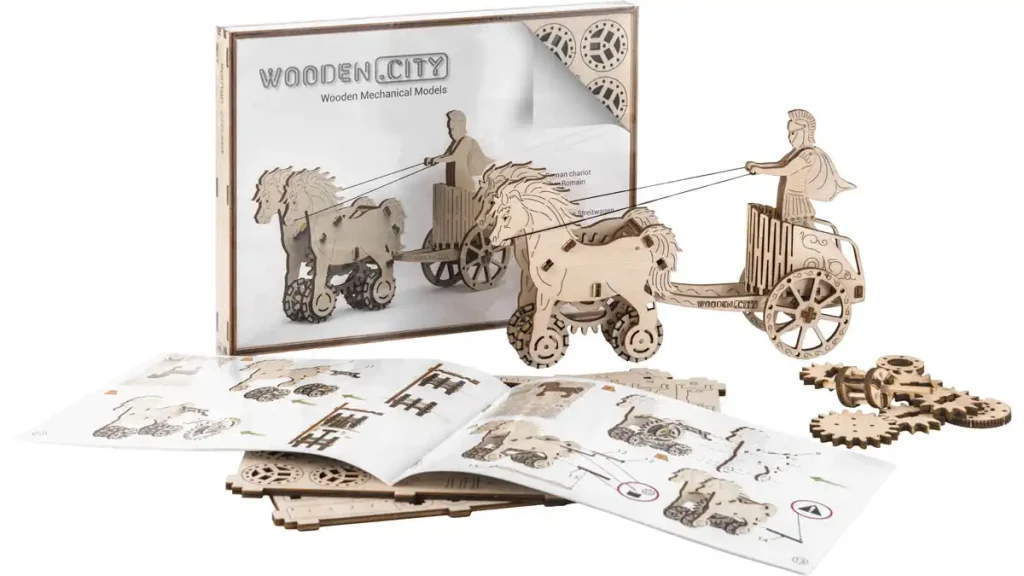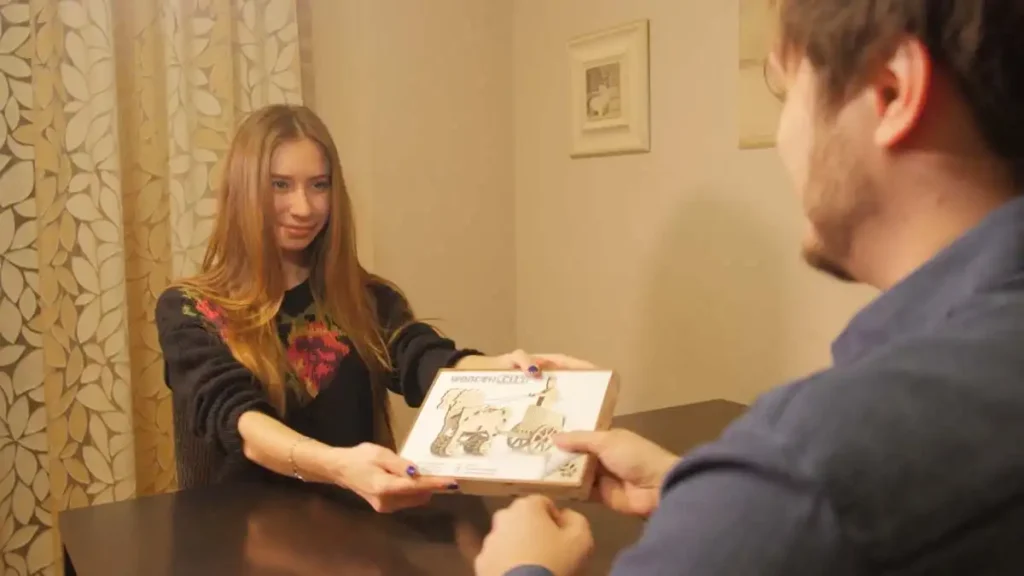 An Interactive Toy and a Family Activity
The Roman Chariot is a unique toy that you and your child can enjoy. With a rubber motor that propels it forward and backward, and rubber on wheels for increased grip, this model can travel up to 1 meter. It's not just a toy; it's an engaging family activity that brings you closer as you work together to bring the chariot to life.
A Unique Gift
The Roman Chariot is an exceptional gift for anyone who appreciates history, mechanics, or simply the joy of building. It's an opportunity to share a piece of history, a fun activity, and a token of your thoughtfulness.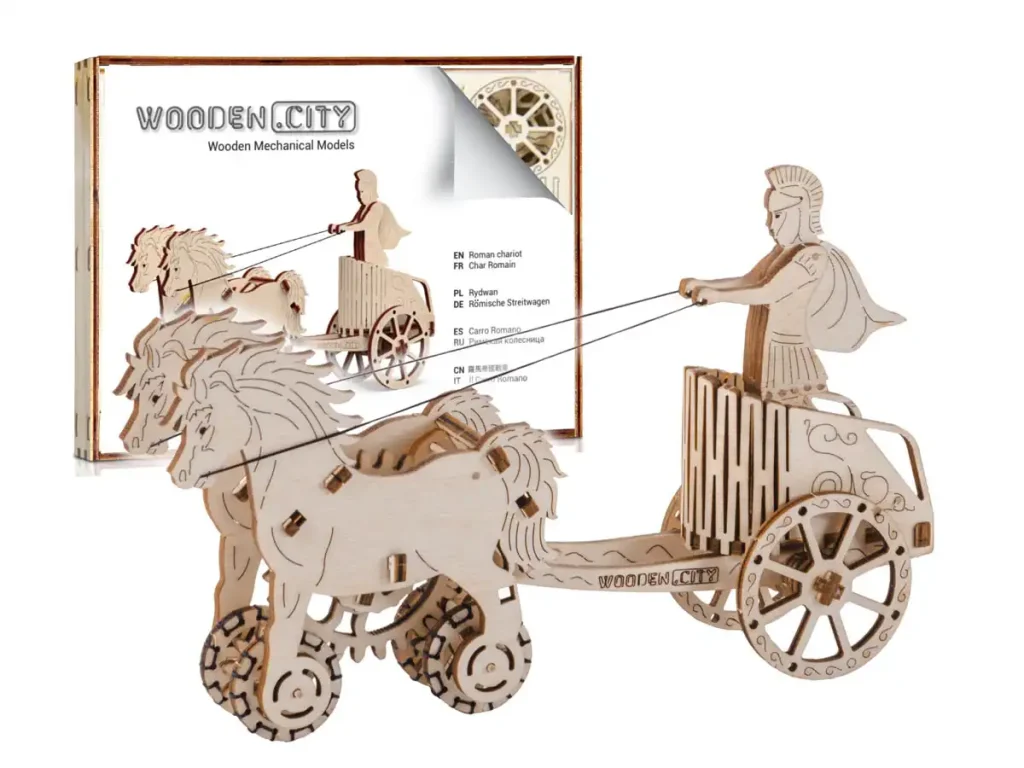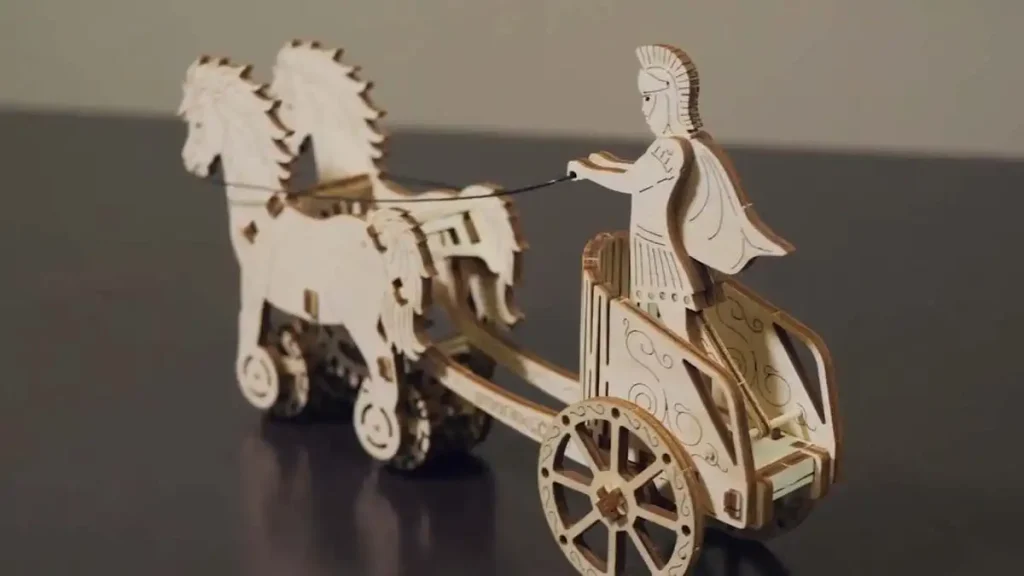 A Piece of Decor and a Piece of History
Once assembled, the Roman Chariot serves as an eye-catching piece of decor. It stands as a symbol of ancient Rome, adding a touch of history and sophistication to your space. Moreover, the packaging of the model can be repurposed into a stand, adding to its display value.
Artistry Meets Mechanics
The Roman Chariot is more than just a model; it's an intersection of artistry and mechanics. Every component, from the figurines to the rubber motor, works in unison to create a fully functional chariot. This model stands as a testament to the beauty of mechanics, the elegance of design, and the allure of history.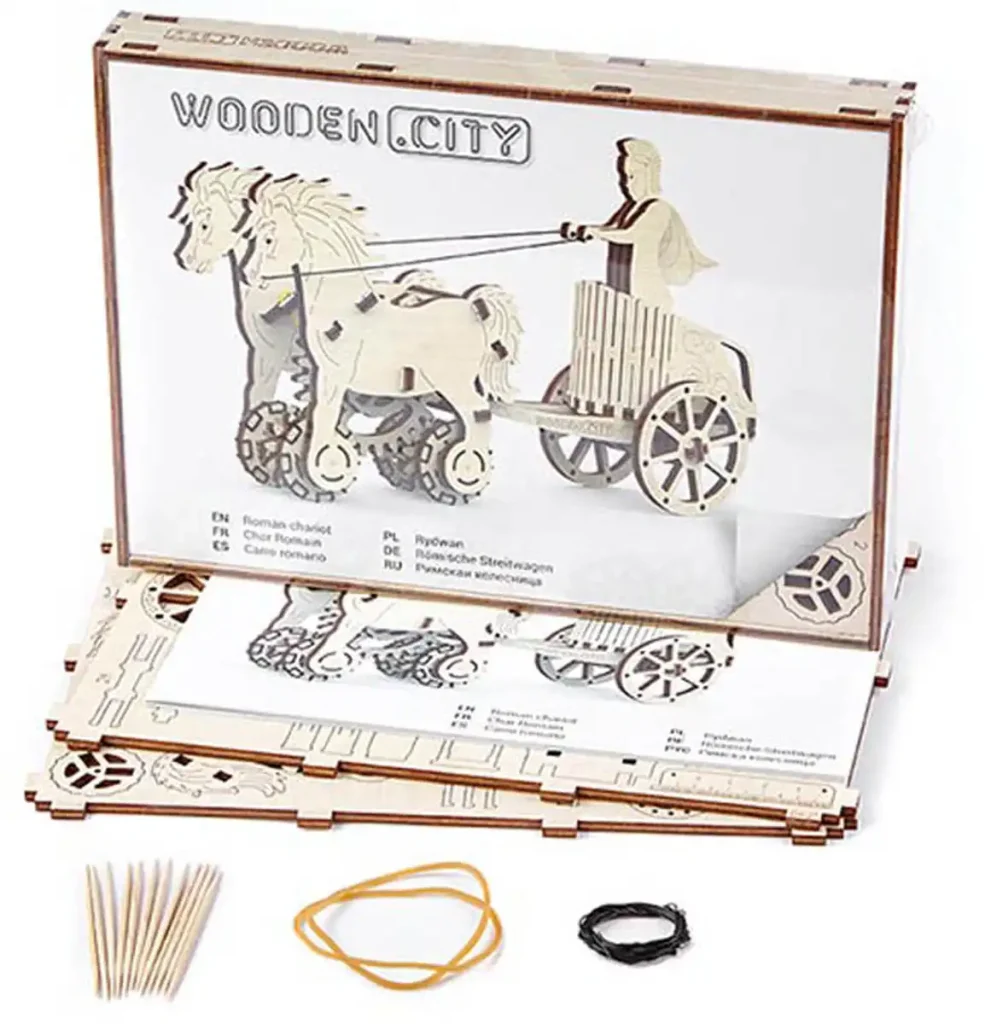 Chariot Races at Home
Dive into history and feel the thrill of ancient Rome! Assemble this majestic chariot as a family, sparking conversations about gladiators and emperors. A timeless journey awaits as you craft and then race imagination's wheels. Relive the grandeur together!
Characteristics
Spare parts
18
Series/Article
WR-301
Difficulty level
3/5
Assembly time
2 h
Model dimensions
H: 8.66'' (22 cm)
W: 2.16'' (5,5 cm)
D: 5.12'' (13 cm)
Package size
H: 9.44" ( 24cm)
W: 6.89" ( 17,5cm)
D: 1.1" ( 2,8 cm)
Path length
39.37'' (1 m)
Rubber motor
✔
Rubber on wheels (increase grip)
✔
Reverse movement (backward)
✔
Figurine(s) of people included
✔
Can be a decor element
✔
Possibility of hand painting
✔
The packing box is made of wood.
Inside there is an instruction on how,
after assembling the model, you can also
assemble the box into a demonstration stand.
✔
Age
12+
In Conclusion
The Roman Chariot is not just a model, it's an experience. It offers a journey through time, an engaging activity, and a stunning piece of decor. Whether as a gift or a treat for yourself, this model offers an unforgettable foray into the world of ancient Rome, one piece at a time.