A New Dimension with the 3D Wooden Puzzle Clock
The 3D Wooden Puzzle Clock Limited Edition unveils a richly colored, mechanical clock model that is a treat for both your eyes and your intellect. Its meticulously painted, high-density birchwood components assemble into a functioning clock, exuding a royal retro aesthetic that becomes a standout feature in any space.
Marvel at Mechanical Mastery
This tabletop clock is more than a colorful centerpiece. The clock hands, pendulum, and clockwork come to life through a winding key, demonstrating a fascinating interaction of rubber-powered mechanics. Watch time unfold in style as your favorite models now don a vivid palette.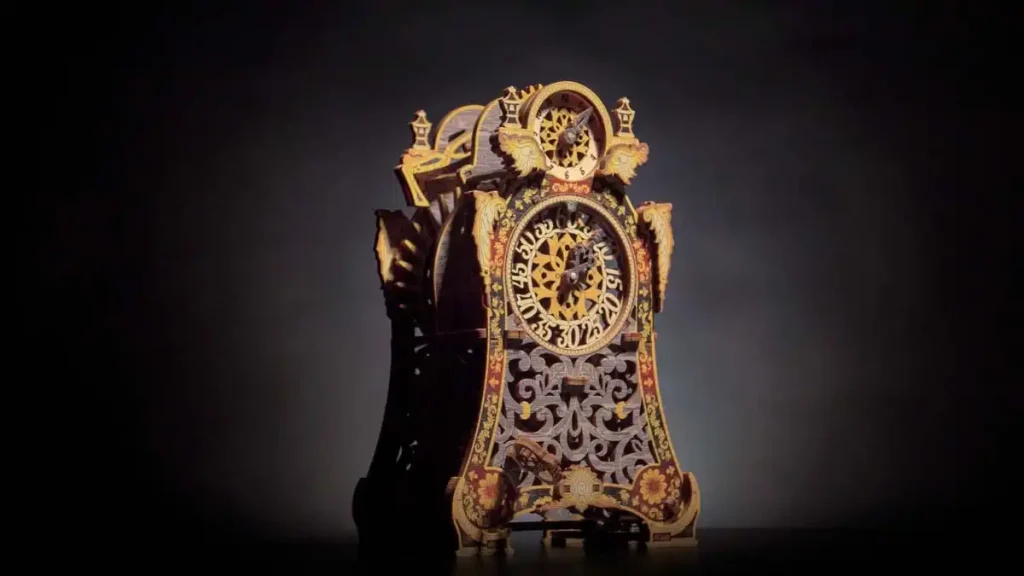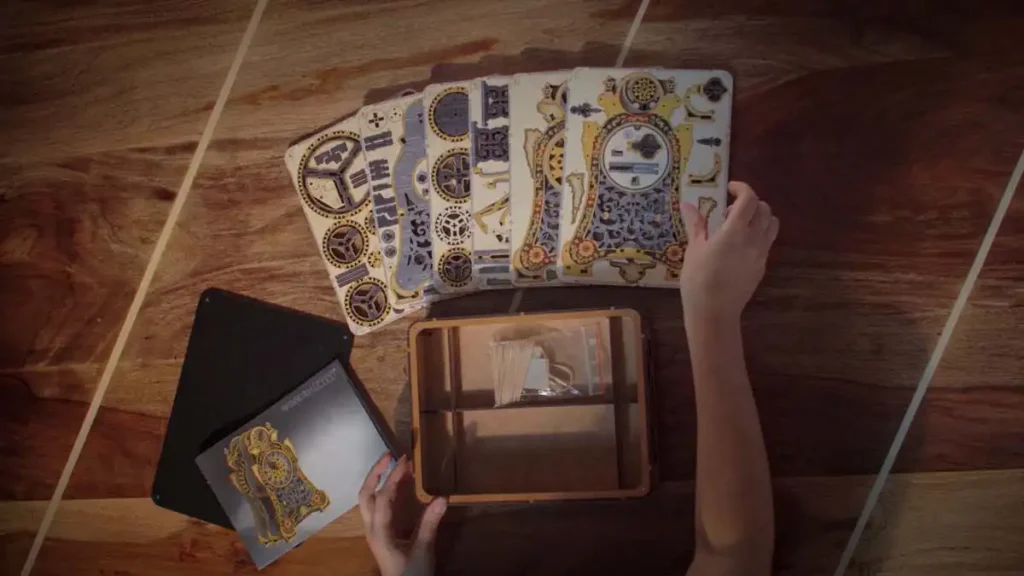 Impressive Packaging and Display
The Magic Clock arrives in a robust wooden box held together by magnets. This box doesn't just serve as protective packaging; it metamorphoses into a stand for the assembled clock and doubles as a keepsake box for your treasures, enhancing the product's utility and appeal.
A Special Gift Idea
The Magic Clock Limited Edition is not just a gift; it's an experience. The vibrantly colored clock model with its royal retro charm makes an exceptional present for those who appreciate unique, hands-on projects and timeless decor elements.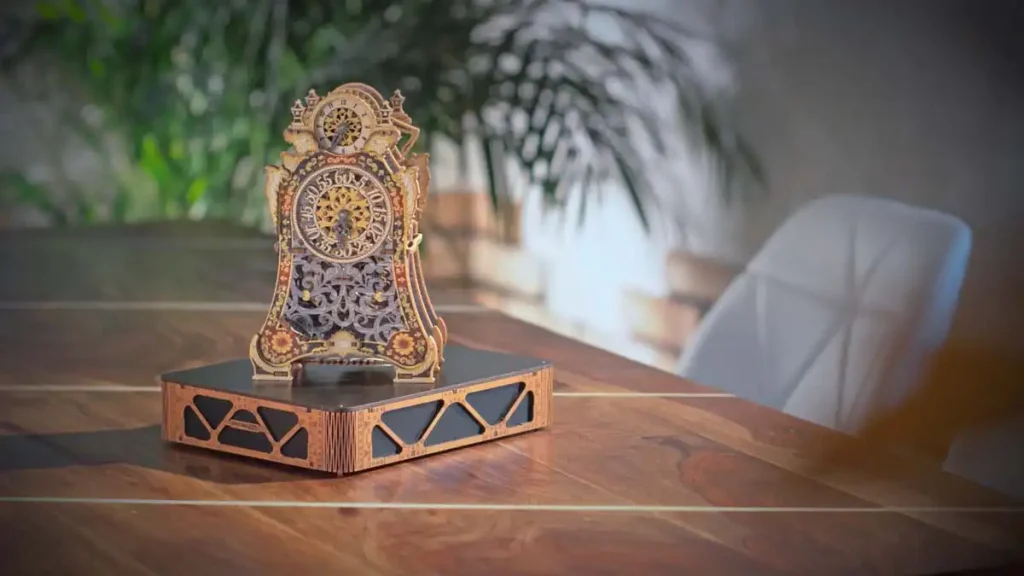 Decorative in its Royal Aesthetics
Bring a touch of the royal past into your living or working space with this clock. Its brightly painted pieces assemble into a stunningly decorative and functional timepiece, paying homage to the regal, retro aesthetics.
Limited-Time Enchantment Awaits
Gather your loved ones and delve into a realm of mystique with the Magic Clock Limited Edition. Craft memories, laughter, and a touch of wonder as you piece together this magical masterpiece. A special family activity that unlocks the charm of time. A collectible treasure for enchanted evenings.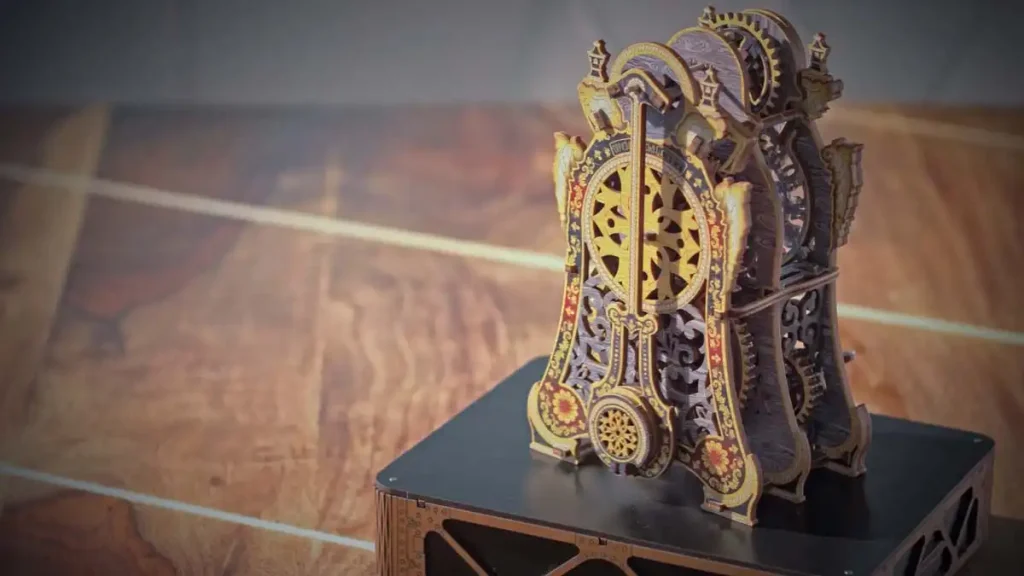 Characteristics
Quantity
140
Spare parts
9
Series/Article
WR-312
Set
Axle 39.9mm – 2 pcs
Axle 42.9mm – 2 pcs
Axle 46mm – 5 pcs
Axle 56.8mm – 2 pcs
Axle 83.7mm – 2 pcs
Toothpicks – 30 pcs
Rubber band yellow 1.5х1.5 D30 L40 – 2 pcs
Rubber band yellow 1.5х1.5 D50 L80 – 2 pcs
Candle – 1 pcs
Sandpaper 30*40 – 1 pcs
Difficulty level
4/5
Assembly time, min
5 h
Model dimensions, mm
H: 5,07'' (12,9 cm)
W: 5,55'' (14,1 cm)
D: 8,58'' (21,8 cm)
Package size, mm
H: 13,97'' (35,5 cm)
W: 9,44'' (24 cm)
D: 1,5'' (4 cm)
Rubber motor
✔
Starting key
✔
Pendulum
✔
Clockwork
✔
Clock hands
✔
Can be a decor element
✔
Box – podium/displaying stand
✔
Age
14+
High Quality, High Aesthetics
Constructed from high-density birchwood, the Magic Clock Limited Edition embodies the commitment to quality Wooden.City is known for. Each piece of the model is painstakingly designed, painted, and precision-cut to ensure a seamless assembly process and an aesthetically pleasing final product.
Experience the intersection of color, mechanics, and time with the Magic Clock Limited Edition Wooden Puzzle 3D. Assemble, admire, and let this vibrantly hued timepiece breathe life into your space. Its royal retro appeal and working mechanics make it more than a model; it's a conversation starter, a gift, and a decor piece that truly stands the test of time.