3D Wooden Puzzle Car: Experience Mechanical Excellence
Step into the fascinating universe of the 3D Wooden Puzzle Car. Specifically, our 4×4 model brings you closer to understanding the essence of mechanical wonders and the beauty of DIY assembly.
Functional Design and Performance
This car model isn't just a static display piece; it's a fully functional 4×4 that can travel a path length of approximately 78.74″ (2 m). Equipped with a rubber-band motor, it moves forward and backward using a pull-back mechanism, making it an engaging and interactive piece.
Exquisite Attention to Detail
Under the hood, you'll find a detailed engine, complete with movable pistons. It also boasts realistic control elements, such as a steering wheel and levers, adding another layer of complexity and realism to this mechanical puzzle. The car can be activated using the starting key and start lever, simulating the real driving experience.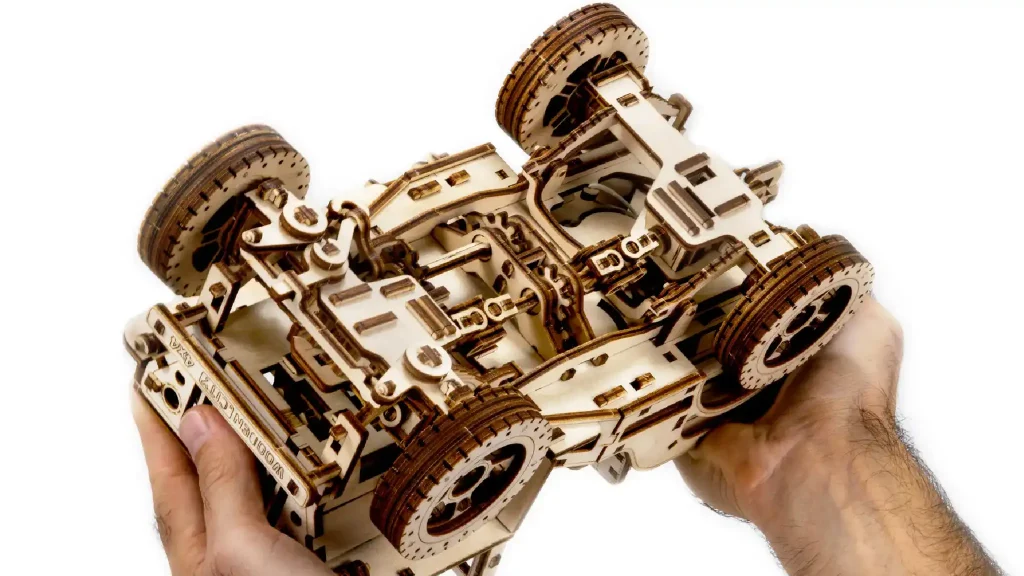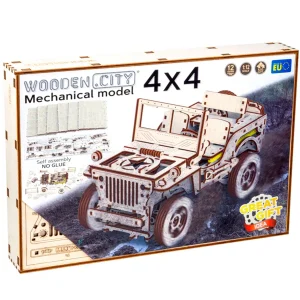 Recyclable Packaging: An Eco-friendly Approach
The model's wooden packaging can be cleverly repurposed into a display stand for the car. It's not just sustainable, it's a brilliant way to showcase your completed project, underlining its beauty and your assembly skills.
The Ideal Gift
Searching for a unique gift? This 4×4 model would be an excellent choice. Whether for model enthusiasts, puzzle lovers or someone who simply enjoys a hands-on challenge, it offers a rewarding building experience that goes beyond mere assembly.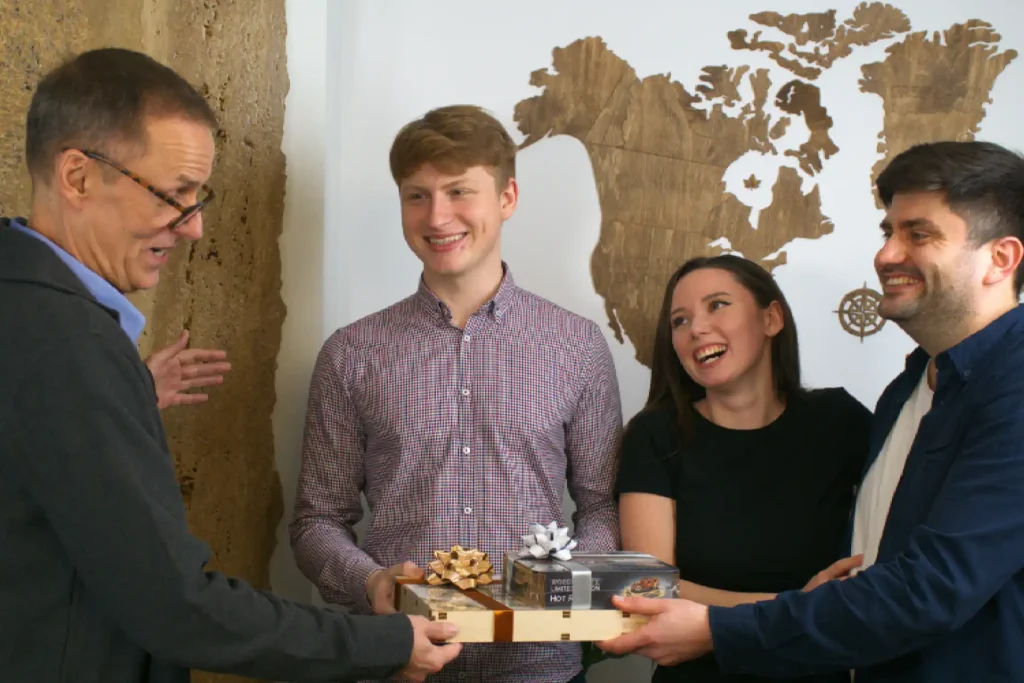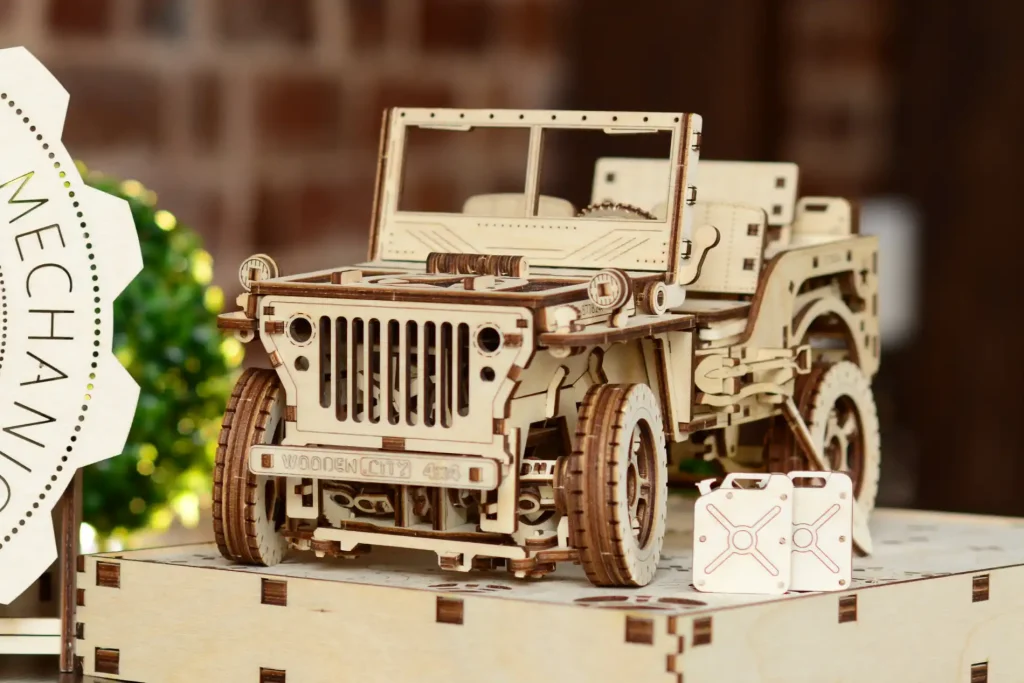 A Perfect Addition to Your Decor
Not only does this 4×4 car model provide an intriguing assembly journey, but it also serves as a remarkable decorative piece. Display it on your desk, bookshelf or coffee table to spark conversations and add an element of elegance to your interior design.
Create Your Unique Piece
Add a personal touch by painting the car with your choice of colors. Unleash your creativity and transform this model into a unique piece of art that represents your style and passion for mechanics.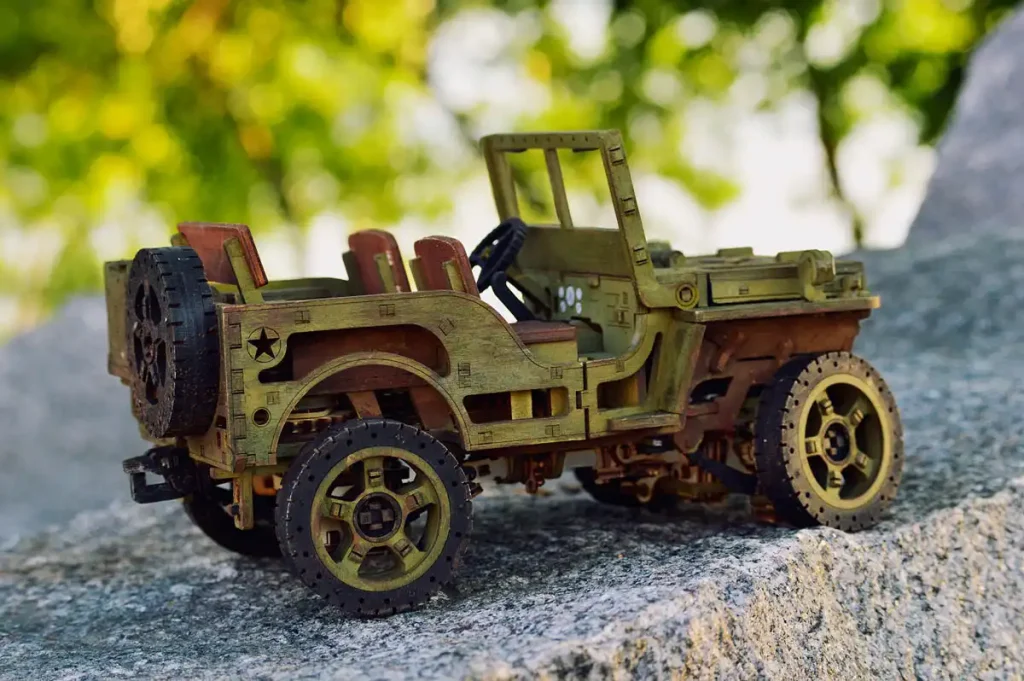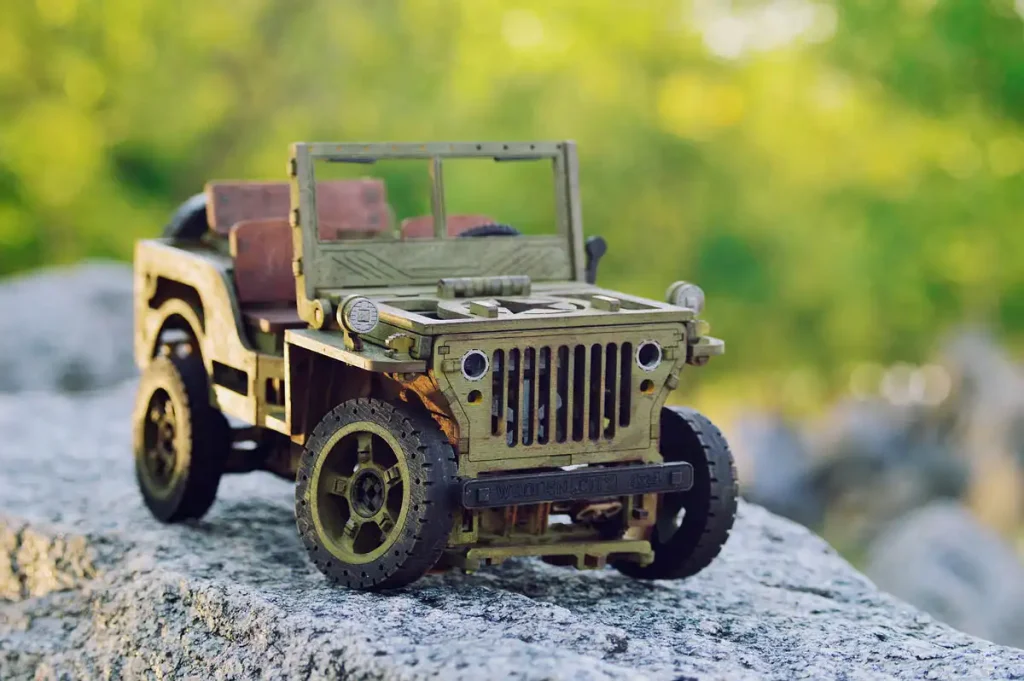 Journey Together with the Car 4×4 Adventure
Embark on a family expedition with the captivating Car 4×4 model! Navigate twists, turns, and tales as you bond over its assembly. Every component offers an opportunity for collaboration, igniting imaginative tales of off-road adventures. This isn't just a project—it's an experience, filled with laughter, creativity, and heartwarming moments. Chart a course for family fun!
Characteristics
Series / Article
WR-309
Quantity
506
Spare parts
64
Set
Assembly instruction
Candle – 1
Sandpaper – 1Axle l=15.6 – 11 pcs.
Axle l=19.5 – 5 pcs.
Axle l=23.9 – 7 pcs.
Axle l=30.8 – 2 pcs.
Axle l=34.5 – 4 pcs.
Axle l=46 – 2 pcs.
Rubber Band Yellow 1.5×6 D80 L130 – 2 pcs.
Rubber Band Yellow 1.5х1.5 D30 L40 – 5 pcs.
Toothpicks – 36 pcs.
Difficulty level
5/5
Assembly time
12 h
Model dimensions
H: 10.98" (27,9 cm)
W: 5.94" ( 15,1 cm)
D: 5.82" ( 14,8 cm)
Package size
H: 13.97" ( 35,5 cm)
W: 9.44" ( 24 cm)
D: 2.02" ( 5,14cm)
Model scale
1:12
Math length
78.74" ( 2 m)
Rubber motor
✔
Steered wheels
✔
Dashboard
✔
Shock absorber
✔
Detailed engine
✔
Movable pistons
✔
Control elements (steering wheel, levers)
✔
Imitation mirrors
✔
Imitation lights
✔
Propeller / propeller with blades
✔
Driver / pilot seat
✔
Opening the hood/trunk
✔
Starting key
✔
Start lever
✔
Enlarged wheels
✔
Possibility of reverse (reverse movement)
✔
Can be a decor element
✔
Possibility of hand painting
✔
The packing box is made of wood.
Inside there is an instruction on how,
after assembling the model, you can also
assemble the box into a demonstration stand.
✔
Moving Pedals
✔
Age
14+
Final Thoughts
Crafted with attention to detail and a deep respect for the art of mechanical assembly, this 4×4 model transcends the ordinary. It doesn't merely provide a hands-on assembly experience but serves as a gateway into the fascinating world of mechanical engineering and the beauty of sustainable materials.