Experience the Wonder of 3D Wooden Puzzle Clock
The 3D Wooden Puzzle Clock invites you to a world where artistry and mechanical prowess intertwine. Crafted from high-density birch wood, this model evolves into more than just a timekeeping device—it becomes a decorative piece that stands as a testament to your accomplishment and a remarkable display of the Steampunk aesthetic in your decor.
Masterful Design and Functionality
Every component of this Steampunk Wall Clock, from the pendulum to the clock hands and the clockwork, is thoughtfully designed to provide you with an authentic horological experience. Powered by a counterweight and governed by a pendulum, this clock ensures accurate timekeeping, offering both functionality and a captivating mechanical spectacle.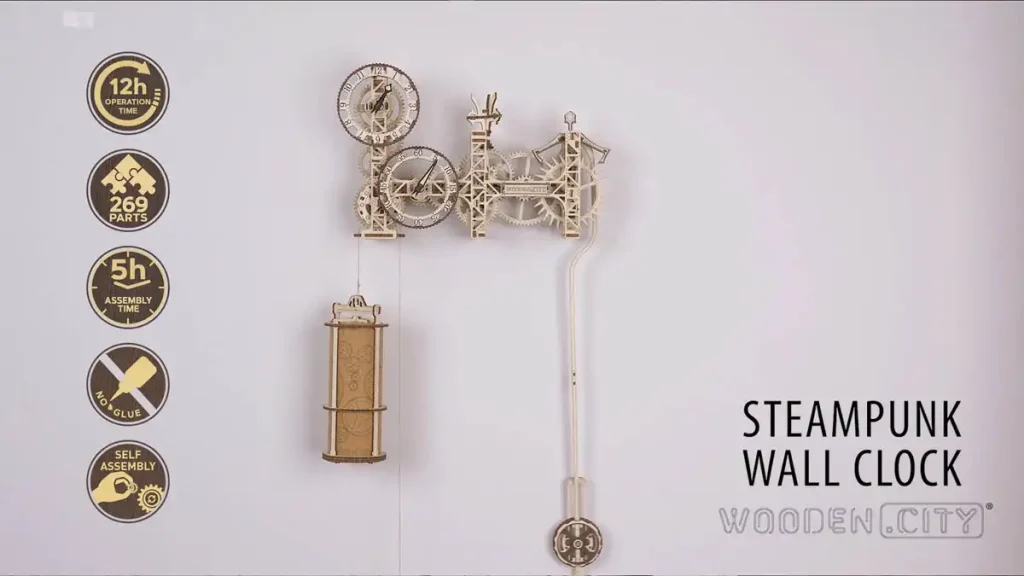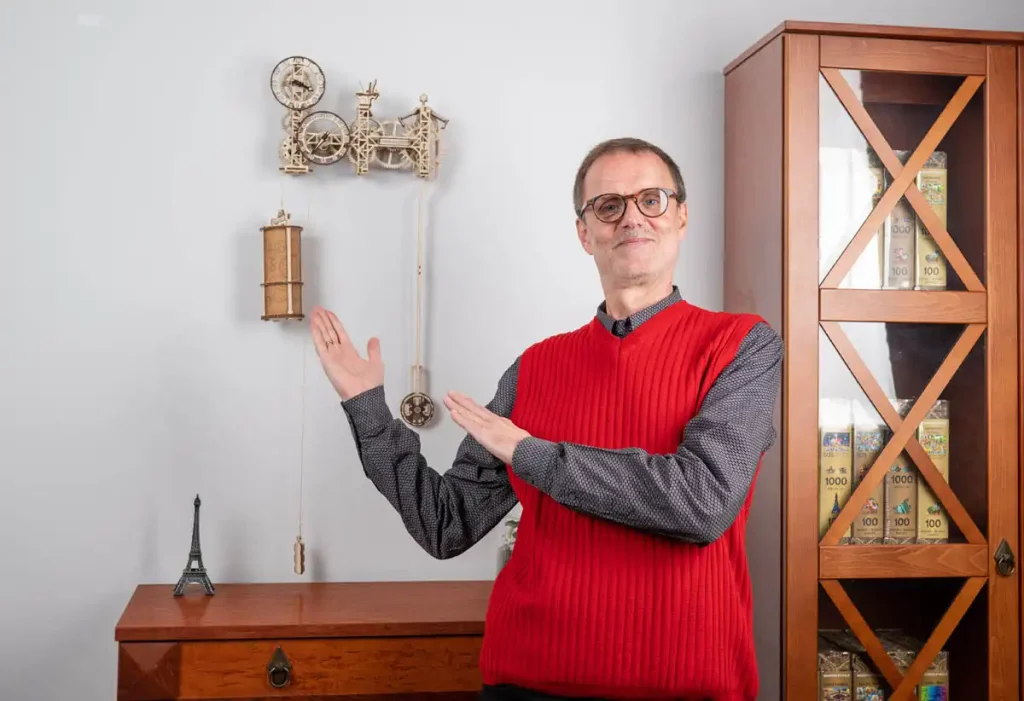 A Memorable Gift
A wooden puzzle of such intricacy makes an excellent gift, offering the recipient not only a challenge but an opportunity to craft a beautiful piece of Steampunk decor. As the final piece fits into place and the pendulum begins its rhythm, the satisfaction derived is incomparable—an experience that any recipient will truly appreciate.
Wall Art with a Twist
This сlock doesn't merely sit on a table; it's designed to be a functional piece of wall art. Once assembled and set in motion, it not only tells the time but also adds a unique Steampunk flair to your space, sparking conversations and admiring glances.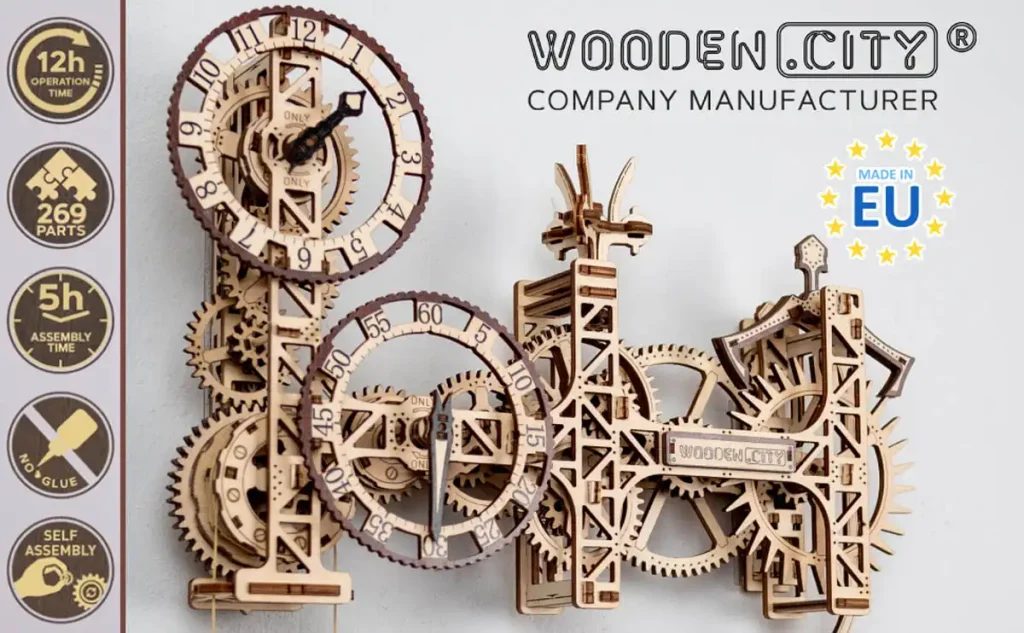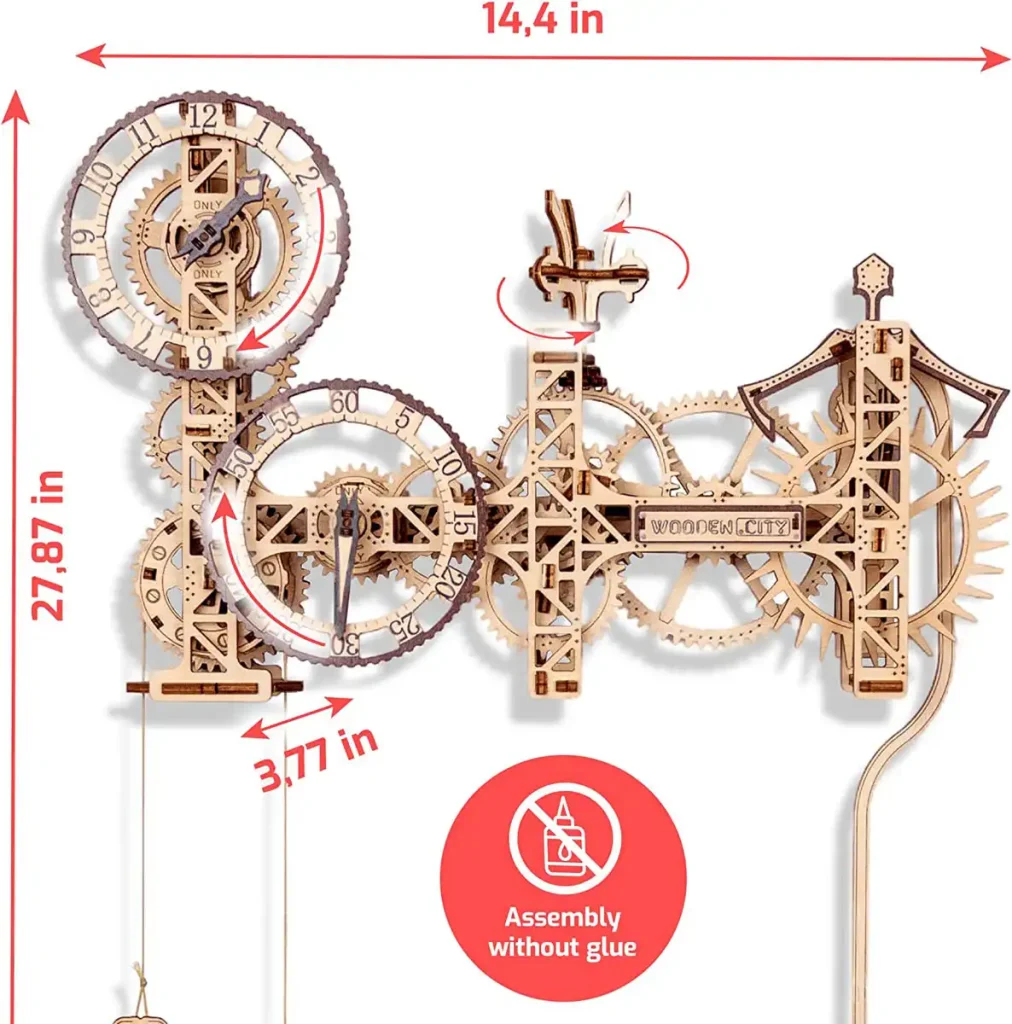 Get Creative with Your Clock
Our Steampunk Wall Clock also offers the chance for personalization. You are free to add your own creative touch by painting the model, creating a truly one-of-a-kind timepiece that reflects your personal style and artistic sensibility.
Timeless Bonding, Steampunk Style
Dive into the world of gears, cogs, and the magic of time with your family. Assemble the Steampunk Wall Clock, celebrating an era where imagination met machinery. Share stories of airships and adventurers while creating a functional masterpiece. A tick-tocking testament to shared moments and crafted memories. Turn hours into cherished memories!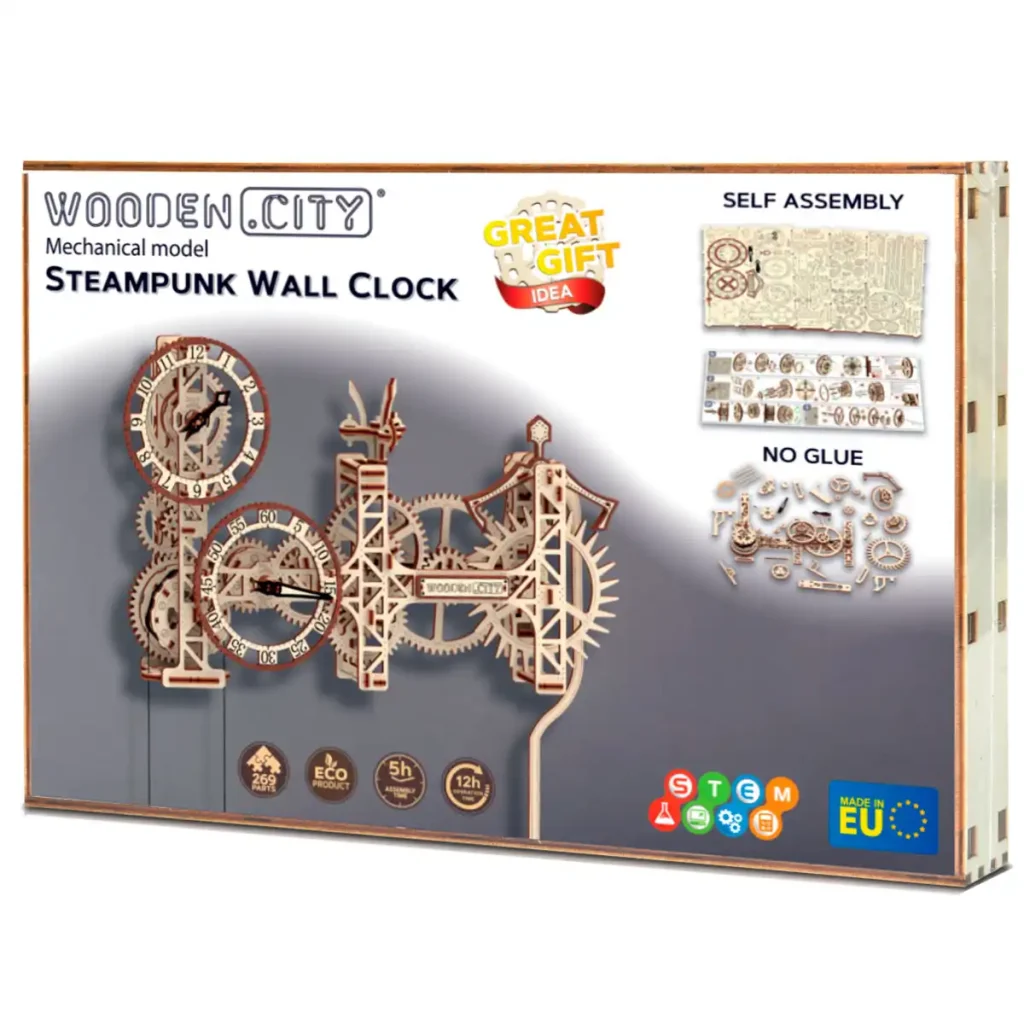 Characteristic
Series / Article
WR 352
Quantity
257
Spare parts
12
Set
Axle 51 – (10+4);
Axle 64 – (2+2);
Waxed cord 1mm – 3m 20 cm – 1;
Rubber band 1.5×1.5 D30-L40 1+1;
Candle – 1
Sandpaper – 1
Cargo paper – 1
Difficulty level
4/5
Assembly time
5 h
Model dimensions
H: 14.33'' (36,4 cm)
W: 27.87'' (70,8 cm)
D: 3.78'' (9,6 cm)
Package size
H: 13.97" (35,5 cm)
W: 9.44" (24 cm)
D: 1.57" (4 cm)
Pendulum
✔
Clock mechanism
✔
Clock hands for indicating time
✔
Can serve as a decorative element
✔
Counterweight that sets the mechanism in motion
✔
Ability to be wall-mounted
✔
Ability to hand paint
✔
Can be a decor element
✔
Age
14+
Quality and Sustainability in Every Piece
Crafted from high-quality, sustainable birch, this puzzle clock is a product you can feel good about owning. Every aspect, from its intricate mechanical components to its beautiful finish, is designed to provide you with a rewarding experience and a lasting piece of decor.
Join us on this journey of creation, where mechanics, artistry, and Steampunk style converge in our Steampunk Wall Clock. Enjoy the process of crafting this exquisite timepiece, from piecing together each component to painting the final product, and ultimately displaying a piece of art that's truly your own.