The 3D Wooden Puzzle Car Adventure Begins
Embark on an incredible assembly journey with the Buggy Limited Edition, a unique 3D Wooden Puzzle Car. Manufactured from high-density birch, these dynamic models transform traditional puzzle-solving into an exciting, tangible exploration of mechanical movement.
Dazzling Design and Performance
The Buggy model captivates with its colorful aesthetics and functional mechanics. Featuring a pull-back mechanism, this car can move approximately one meter in both forward and backward directions, making it not only a visually appealing model but also a fascinating mechanical marvel.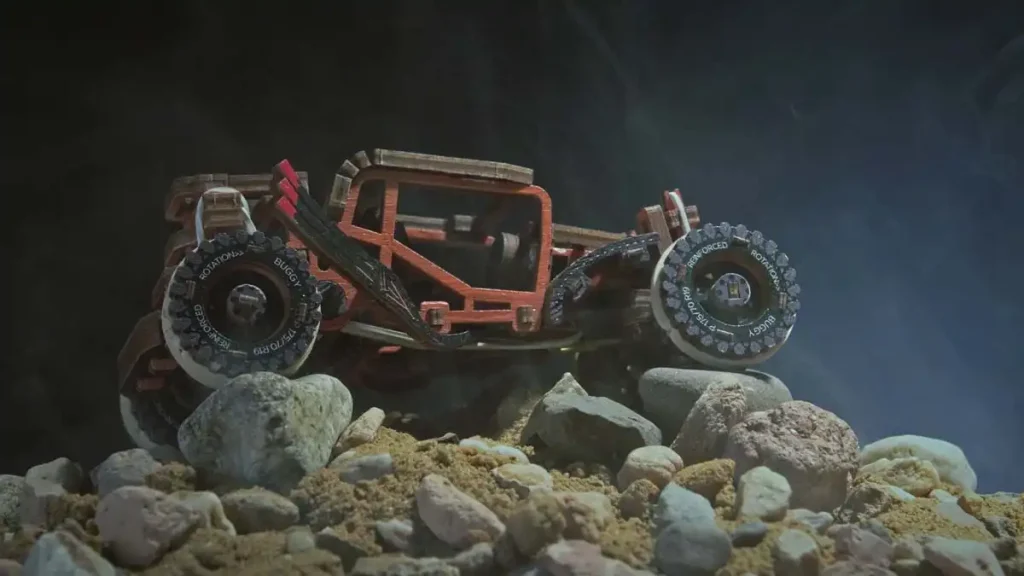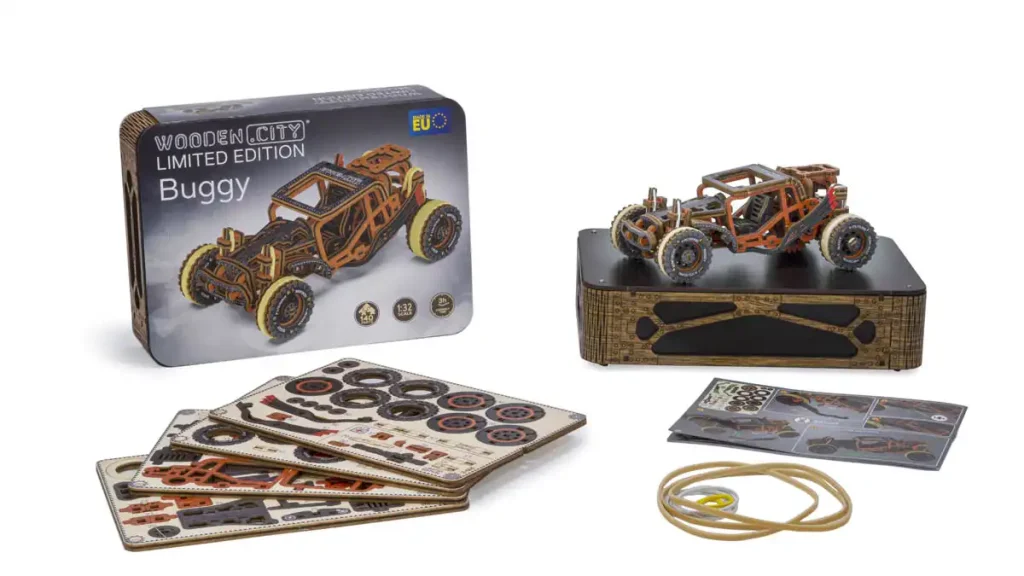 Premium Packaging
The Buggy Limited Edition arrives in a high-quality wooden box fitted with magnets, adding a touch of sophistication to the unboxing experience. Once your model is assembled, the box can serve as an elegant stand for displaying your accomplishment or as a keepsake box for your treasured items.
An Unforgettable Gift
The Buggy Limited Edition isn't just a puzzle; it's a perfect gift that blends fun, learning, and the joy of accomplishment. For enthusiasts of puzzles, mechanical engineering, or unique decor, this model offers an immersive and rewarding assembly experience.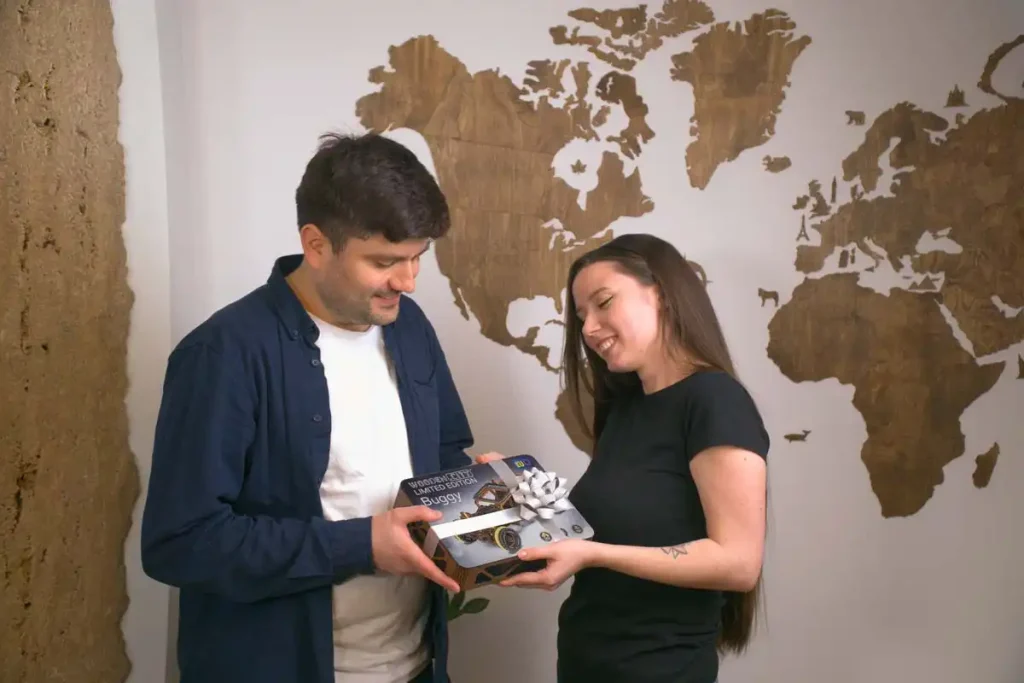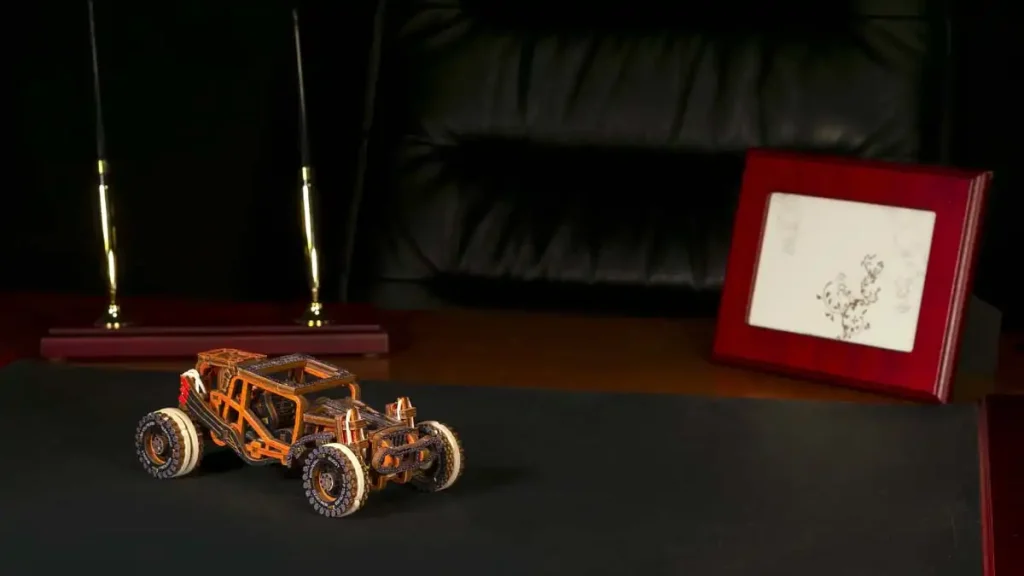 A Decorative Masterpiece
The Buggy model makes for an impressive decorative piece. Its vibrant colors, intricate details, and ability to move set it apart from standard decor, ensuring it becomes a conversation piece in any room.
Attention to Detail
The Buggy model boasts impressive features like rubber on wheels for increased grip, openable doors, control elements, and even a driver's seat. Each of these elements, accentuated by the lively color of the model, makes it a true-to-life miniature of an actual buggy.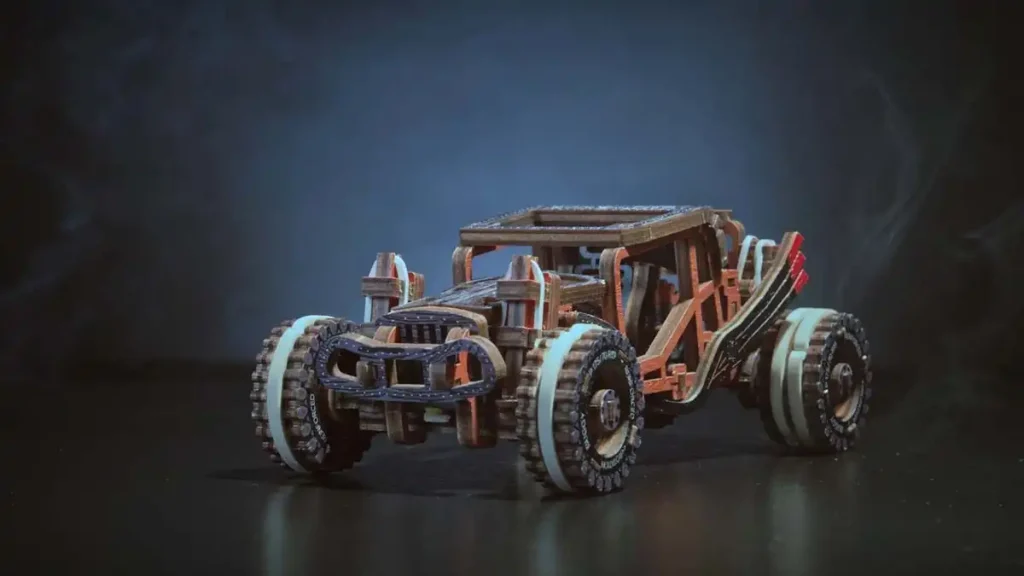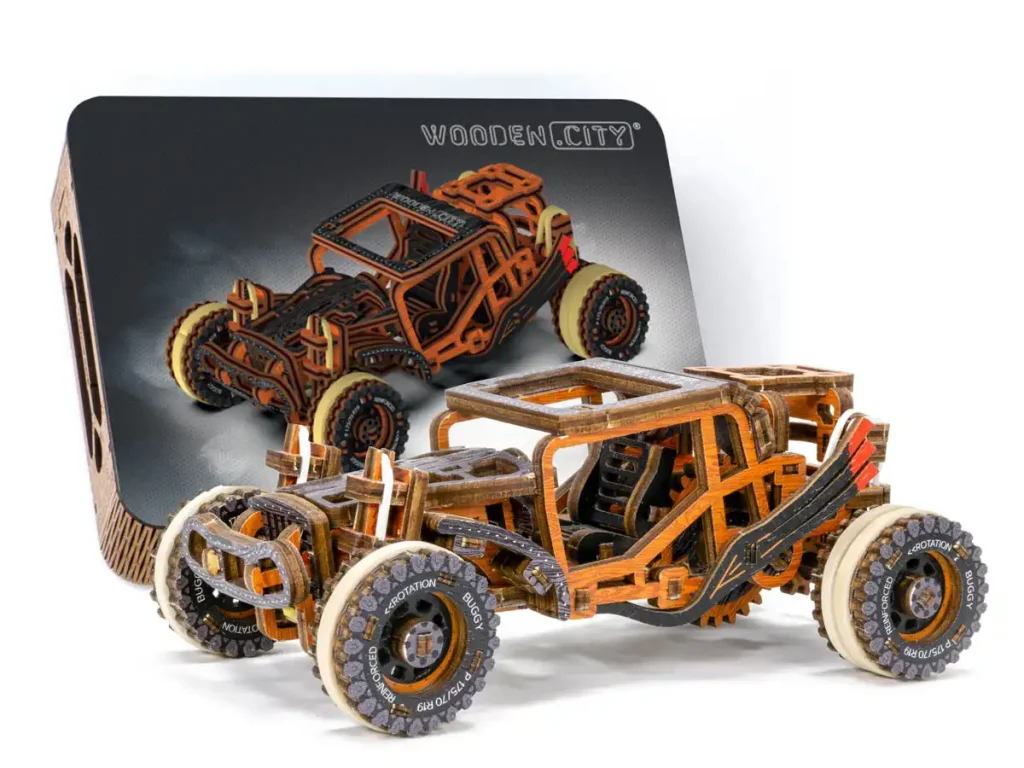 Exclusive Family Fun with the Buggy Limited Edition
Delve into a realm of unmatched craftsmanship with the Buggy Limited Edition. Gather around as a family, celebrating moments of unity and joy. Every intricate detail beckons collaborative exploration, sparking laughter and conversations that linger. Dive deep into this special endeavor, cultivating cherished memories and strengthening familial bonds. Elevate your family time today!
Characteristics
Quantity
124
Spare parts
13
Series/Article
LE-008
Set
Four plywood sheetsAssembly instruction
Rubber Band 1,5х1,5 d30 L40 – 4
Rubber Band 1,5х1,5 d15 L20 – 2
Rubber Band 130х1,5х3,5 – 3
Candle -1
Sandpaper -1
Difficulty level
3/5
Assembly time
2 h
Model dimensions
H: 5.94'' (15,1 cm)
W: 3.43'' (8,7 cm)
D: 2.32'' (5,9 cm)
Package size
H: 8'' (20,5cm)
W: 5.9'' (15cm)
D: 1.89'' (4,8cm)
Model scale
1:32
Path length
39.37" (1 m)
Pull-back mechanism
✔
Rubber motor
✔
Rubber on wheels (increase grip)
✔
Steered wheels
✔
Dashboard
✔
Shock absorber
✔
Painted body
✔
Sunroof
✔
Control elements (steering wheel, levers)
✔
Driver/pilot seat
✔
Reverse movement (backward)
✔
Box – podium/displaying stand
✔
Can be a decor element
✔
Age
12+
Conclusion
The Buggy Limited Edition Wooden Puzzle 3D is more than just a puzzle; it's a journey into the world of mechanics and assembly. With its stunning design and functional features, it provides both an engaging pastime and a stylish decorative piece. Whether as a gift or for your own enjoyment, this model guarantees a delightful and educational experience.