Meet the 3D Wooden Puzzle Car
Discover the fascination of our 3D Puzzle Car – the Buggy. Designed and manufactured in Poland, this high-density birch model embodies the charm of European craftsmanship. It's more than just a puzzle – it's an adventure, waiting to be explored.
An Engaging Build
The Buggy is a mechanical delight that goes beyond the ordinary. It's not just a static model, but a dynamic car that moves. Propelled by a rubber-band motor, the Buggy can travel approximately 1 meter (39,37″) both forwards and backwards. Featuring a pull-back mechanism, it brings the joy of seeing your creation come to life.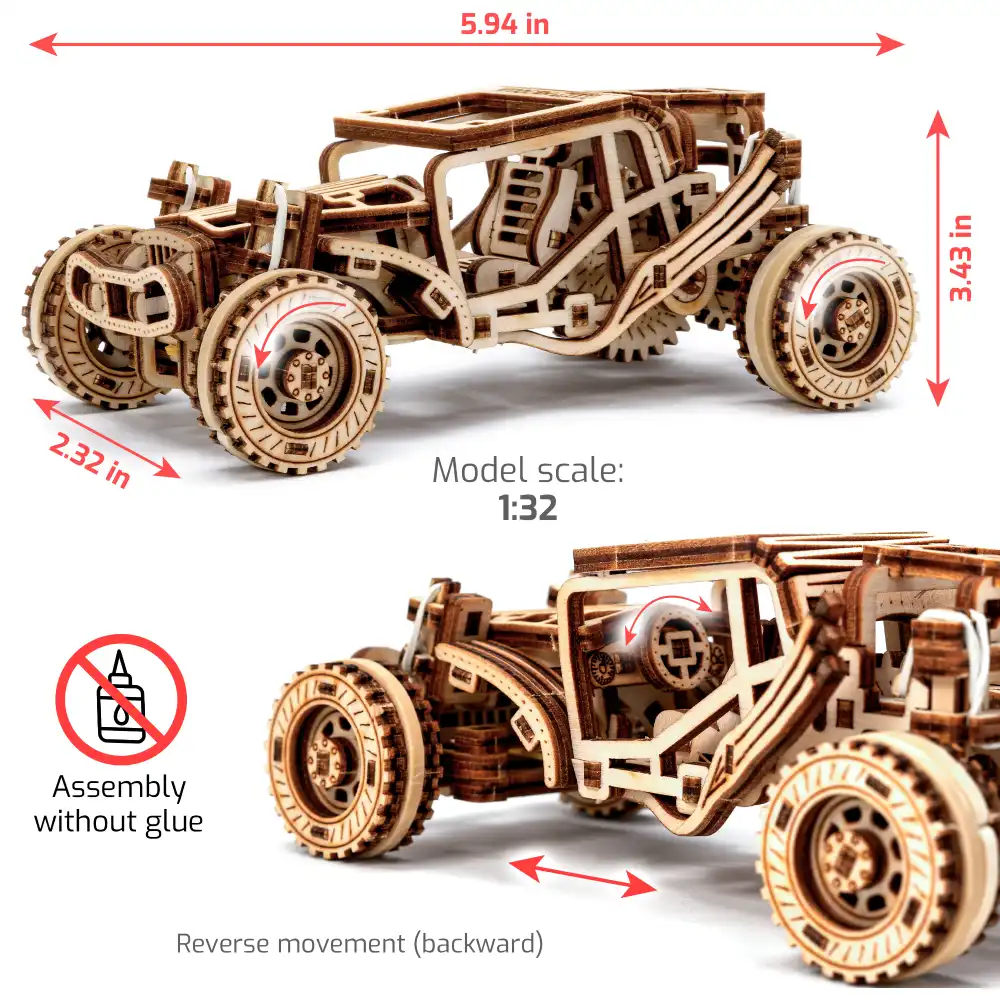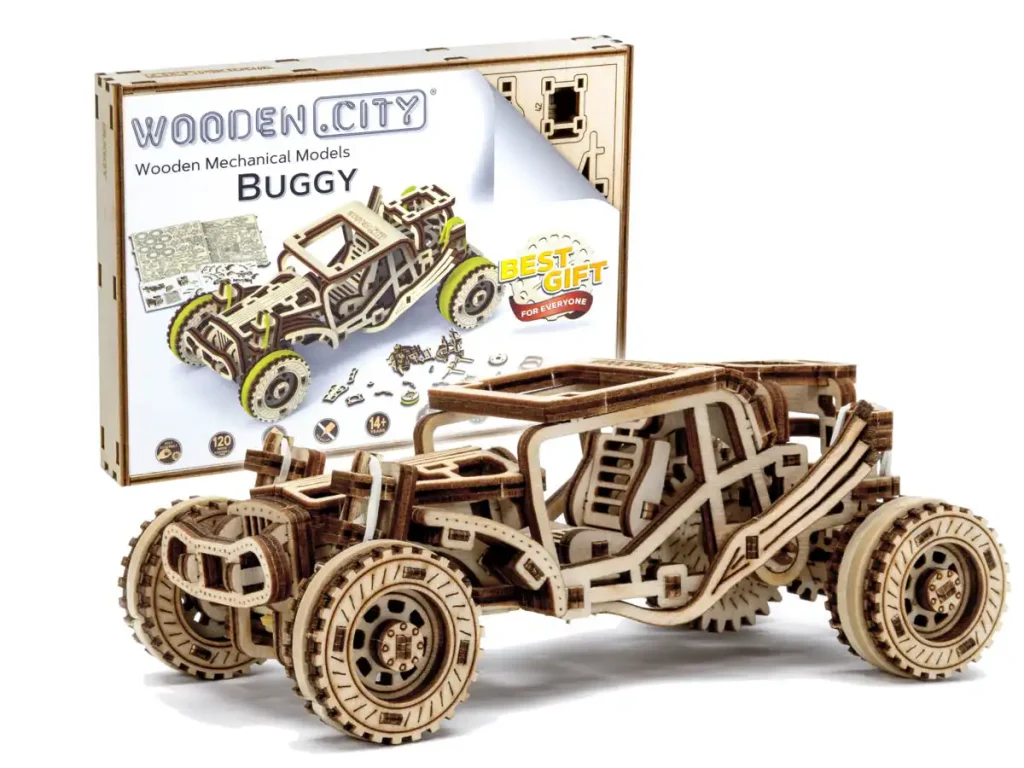 A Creative Stand
The puzzle box is not just a package, it's a part of your experience. You can repurpose it into a stand to display your finished model. So, the Buggy stands tall, a testament to your building skills and a symbol of your creative journey.
A Memorable Gift
The Buggy is not just a puzzle, but an engaging gift that promises hours of constructive fun. Ideal for the young and the young-at-heart, it's a perfect present that inspires learning and fosters creativity.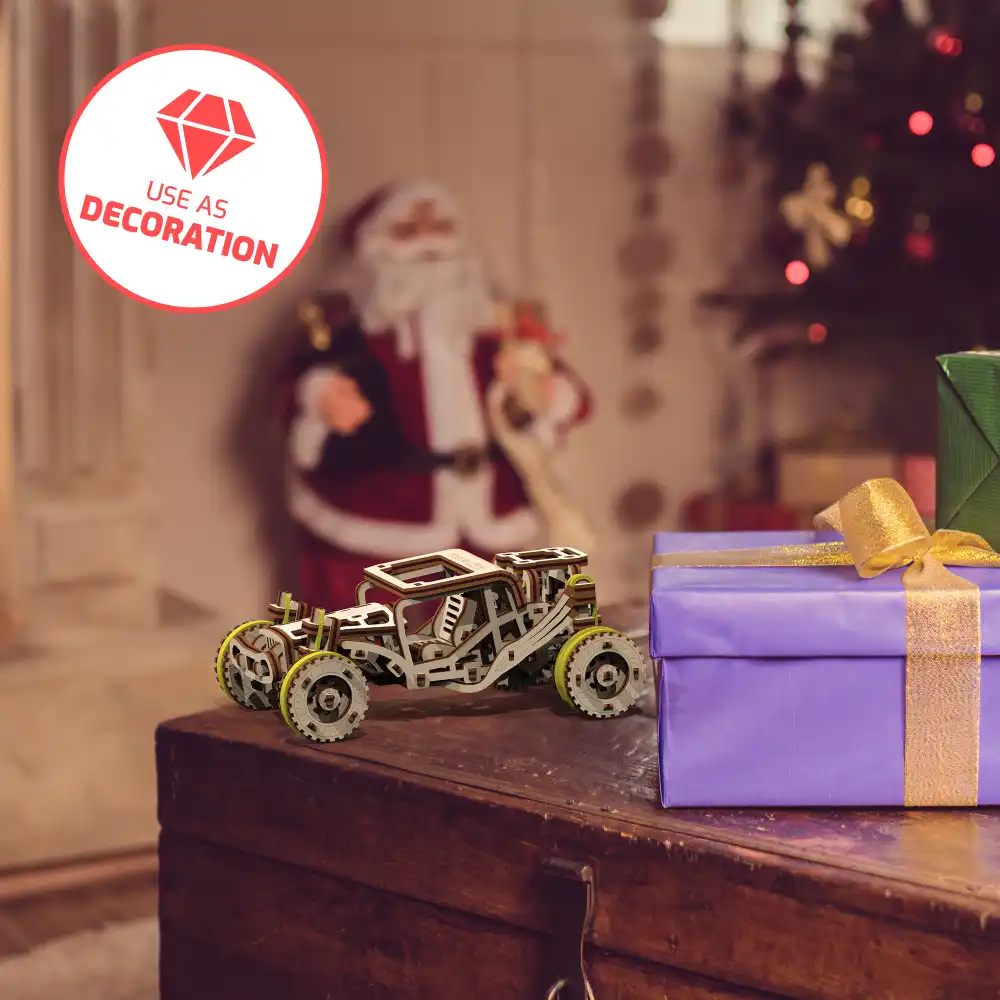 Decor with a Story
Once assembled, the Buggy makes a great decorative piece that can be displayed with pride. Its exquisite detail and mechanical functionality add an element of intrigue to any space, making it a conversation starter.
More Than Meets the Eye
The Buggy model boasts a level of detail and mechanical sophistication that's captivating. Rubber on wheels increases grip, control elements add to its realism, and the driver's seat creates an immersive experience. You can even add your personal touch by coloring the model, enhancing its visual appeal.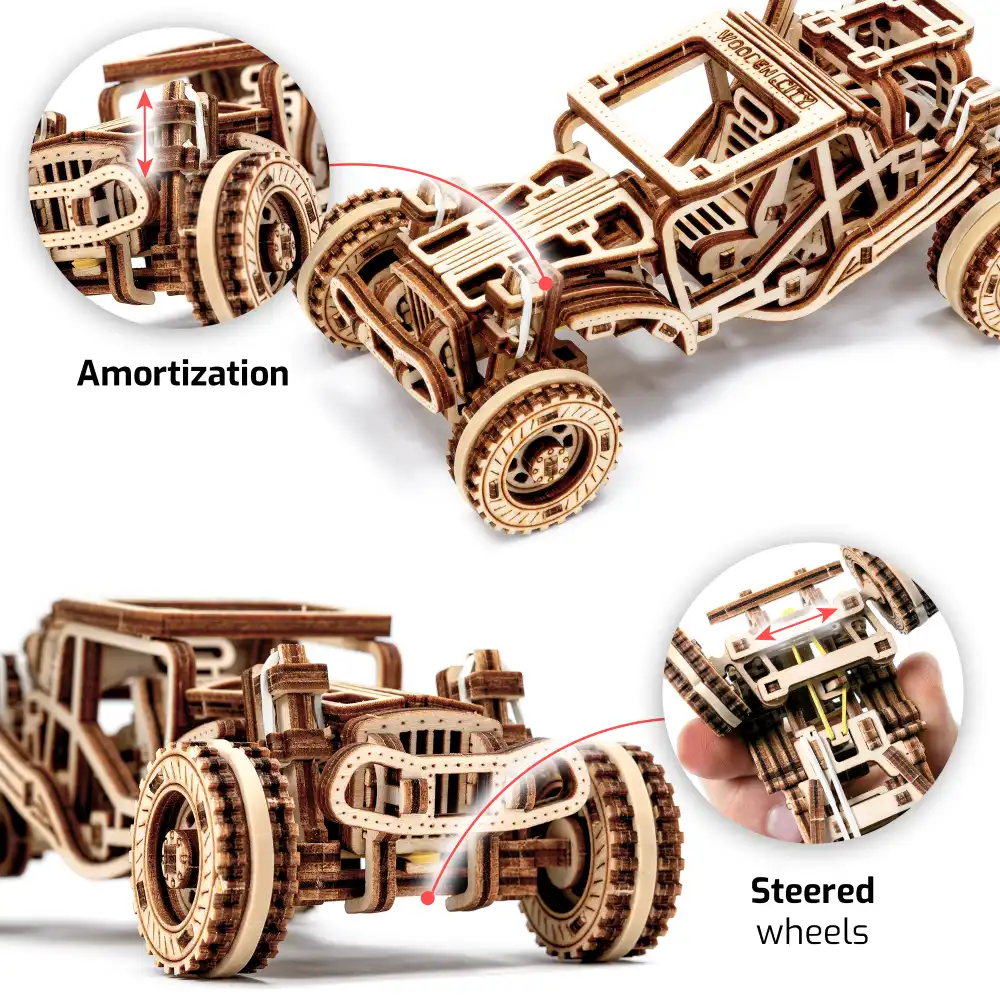 Adventure Awaits with the Buggy Experience
Embark on a delightful journey as you and your family dive into the world of the Buggy. Every piece promises a tale of excitement, fostering connections and nurturing creativity. Let each moment be a discovery, a chance to grow closer, laugh harder, and build memories that'll last a lifetime. Your family's next great adventure begins here!
Characteristics
Quantity
124
Spare parts
13
Series/Article
WR-336
Set
Four plywood sheets
Assembly instruction
Rubber Band 1,5х1,5 d30 L40 – 4
Rubber Band 1,5х1,5 d15 L20 – 2
Rubber Band 130х1,5х3,5 – 3
Candle -1
Sandpaper -1
Difficulty level
3/5
Assembly time, min
2 h
Model dimensions
H: 5.94'' (15,1 cm)
W: 3.43'' (8,7 cm)
D: 2.32'' (5,9 cm)
Package size, mm
H: 9.44'' (24cm)
W: 6.89'' (17,5cm)
D: 1.1'' (2,8 cm)
Model scale
1:32
Path length
39.37" (1 m)
Pull-back mechanism
✔
Rubber motor
✔
Rubber on wheels (increase grip)
✔
Steered wheels
✔
Dashboard
✔
Shock absorber
✔
Sunroof
✔
Control elements (steering wheel, levers)
✔
Driver/pilot seat
✔
Reverse movement (backward)
✔
The model box is made of wood. Inside there
is an instruction on how, after assembling
the model, you can also assemble the box
into a demonstration stand.
✔
Can be a decor element
✔
Age
12+
Final Thoughts
The Buggy model offers a unique combination of educational and recreational value. As you put together each piece, you're not only building a model, you're creating memories. Start your adventure with the Buggy today, and see the magic unfold as your creation comes to life.