Discover the Intricate Beauty of 3D Wooden Puzzle Marble Run
Revealing the exquisite details and fascinating mechanics of our 3D Marble Run, this model is not only a feat of engineering but also a timeless piece of craftsmanship that will decorate your space while capturing the imagination of all ages.
Quality Craftsmanship
Crafted entirely from high-density birch, the model stands as a testament to durability and intricate detailing. This isn't just a child's plaything; it's an innovative marvel that showcases the pinnacle of mechanical design. Activate its captivating features by a mere turn of a hand-cranked lever and be amazed by its dynamic motions.
Unboxing Experience
Unveiling the model should itself be a memorable occasion. It arrives in a high-quality box, accompanied by comprehensive assembly instructions. Sustainability meets style, in perfect harmony.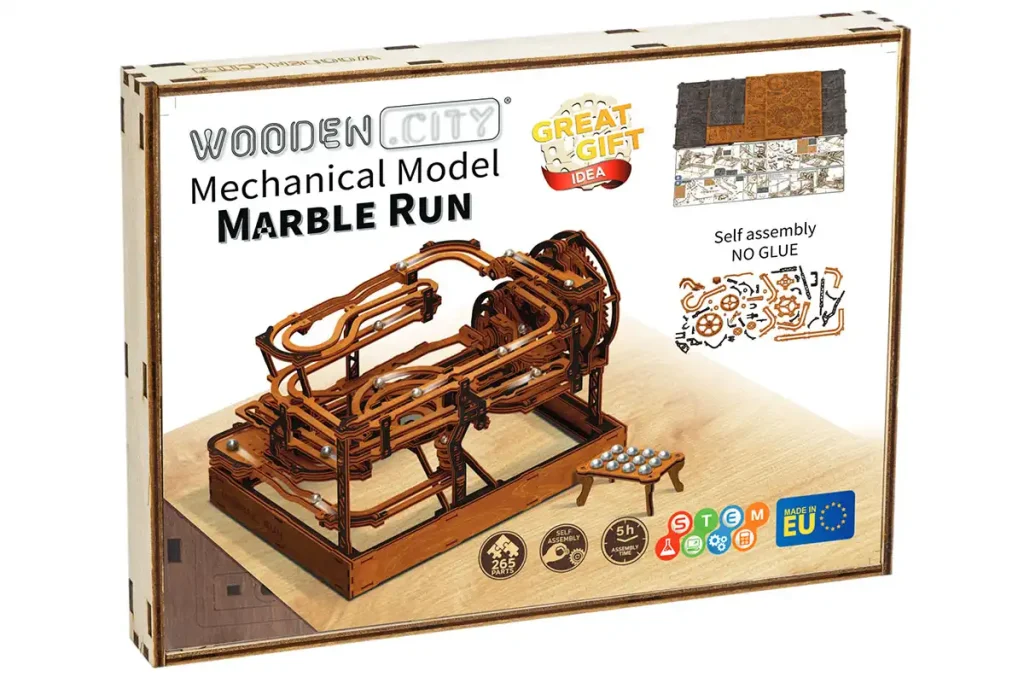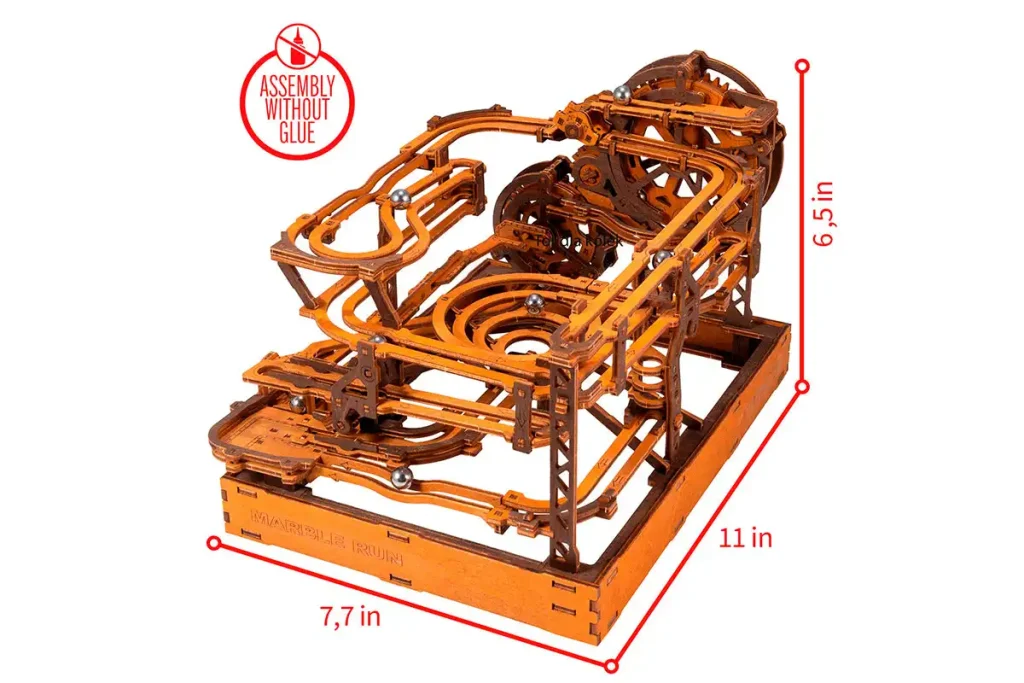 Dynamic Features
Prepare to be awed by the labyrinth's advanced design elements. From its sharp track twists to the hypnotizing spiral descent, your metallic marbles are set for an adventurous journey. The lever-gear elevator showcases the epitome of engineering prowess, meticulously calculated to transport your spheres back to the start, completing the enthralling cycle.
Gift of a Lifetime
Looking for an unforgettable gift that provides intellectual stimulation alongside hours of endless fun? This Marble Run offers a sophisticated, intricate challenge that doubles as a conversational masterpiece. Suitable for any special occasion—be it birthdays or holidays—it is a gift that promises to be cherished and admired.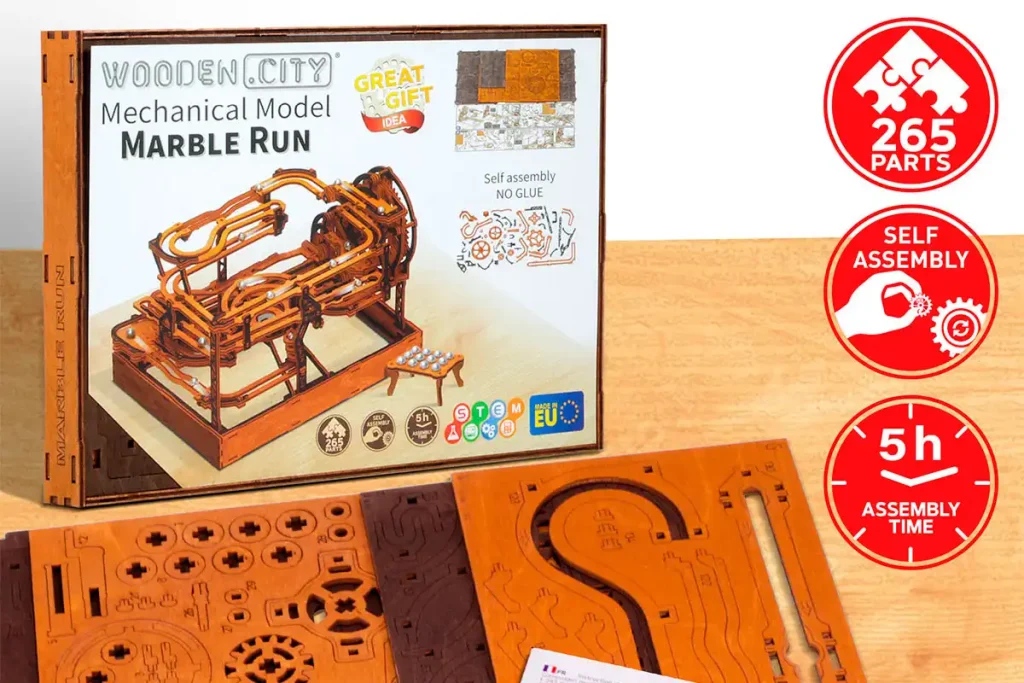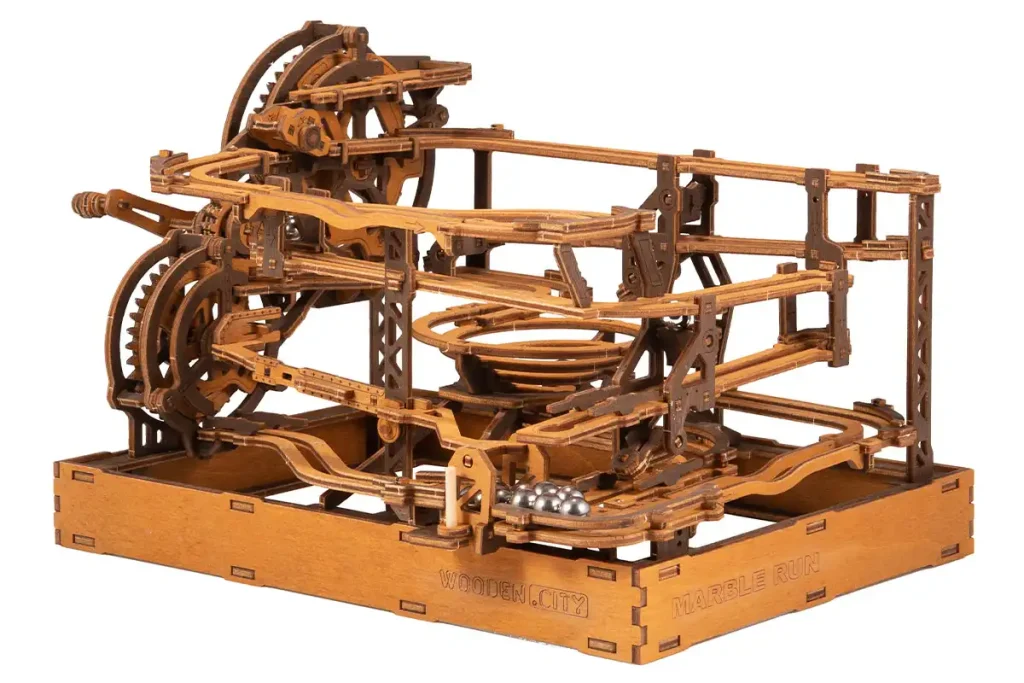 Decorative Elegance
Our Marble Run is not a mere assembly kit; it metamorphoses into a stunning decor piece once it's completed. The mesmerizing turns, and smooth marble descents serve as visual delights, making this a striking addition to any room's ambiance.
Why Opt for Our Creations?
Fabricated in the European Union, specifically in Poland, our models reflect a seamless fusion of aesthetics and mechanics. Our kits are user-friendly, designed to offer a fulfilling experience for people of all skill levels. From the novice to the seasoned model builder, everyone will find a delightful challenge.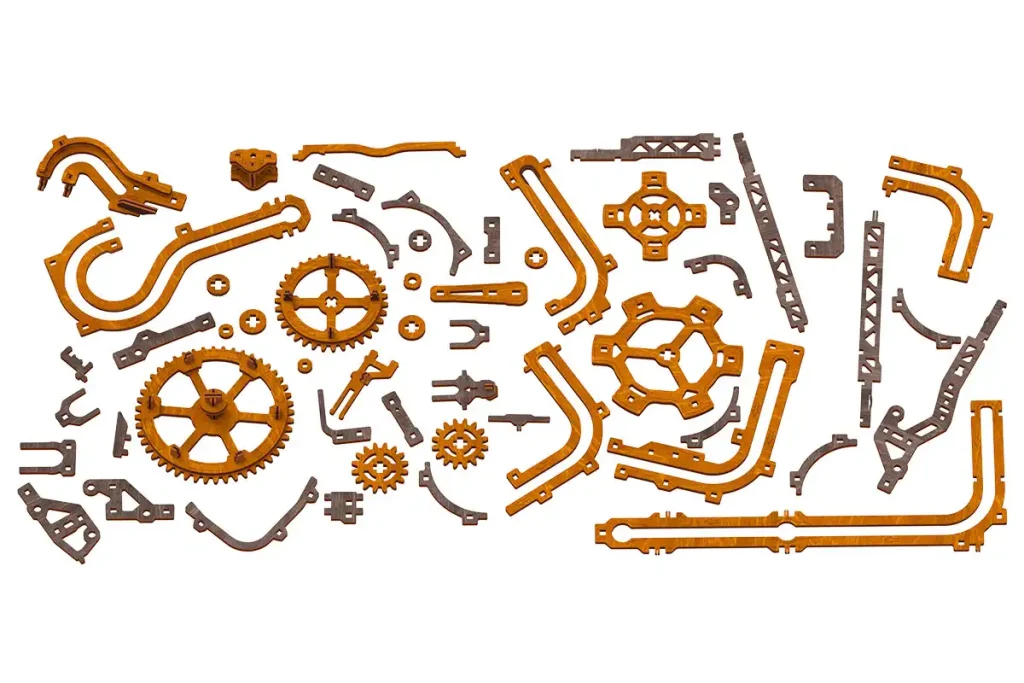 Rolling into Family Fun
Unleash hours of joy with the Marble Run! Engage family members in creative assembly and watch marbles glide gracefully. A mesmerizing journey of twists, turns, and laughter. Perfect for sparking imaginative play and bonding. Ready, set, roll towards endless memories!
Characteristics
Series/Article
WR-353
Quantity
247
Spare parts
17
Set
Axle 3-15,6 (1+1);
Axle 3-23.9 (3+2);
Balls 9,5 (10+2);
Candle,
Sandpaper
Difficulty level
4/5
Assembly time
5 h
Model dimensions
H: 10.94″ ( 27,8 cm)
W: 6.5″ ( 16,5 cm)
D: 7.72″ ( 19,6 cm )
Package size
H: 9.45″ ( 24 cm )
W: 6.89″ ( 17,5 cm)
D: 1.1″ ( 2,8 cm )
Age
14+
Number of gears
4
Setting the mechanism in motion by rotation
✔
The packing box is made of wood.
Inside there is an instruction on how,
after assembling the model.
✔
Sharp track turns
✔
Spiral descent
✔
Lever-gear ball elevator
✔
In closing, the Marble Run model extends far beyond a simple assembly challenge. It encapsulates a whole journey, a captivating narrative where artistry meets mechanical complexity. With its durable birch components, awe-inspiring features like sharp turns and spiral descents, each element combines to transform this piece into a work of art. Experience the wonder and fascination of a masterpiece that transcends conventional categorizations