3D Wooden Puzzle: Experience the Magic of Assembling a Windmill
Dive into the nostalgia of countryside life with our 3D Wooden Puzzle, a mechanically-driven windmill model. As you watch the blades spin, you're instantly transported to the charm and tranquility of rural living. Crafted from birch, this windmill model makes for an engaging and delightful project.
Features and Functionality
This windmill model is far more than a simple puzzle. It's an interactive creation with movable elements powered by a rubber motor. The windmill blades rotate at the turn of a starting key, mimicking the function of a real windmill. Moreover, the model features a start lever for easy operation.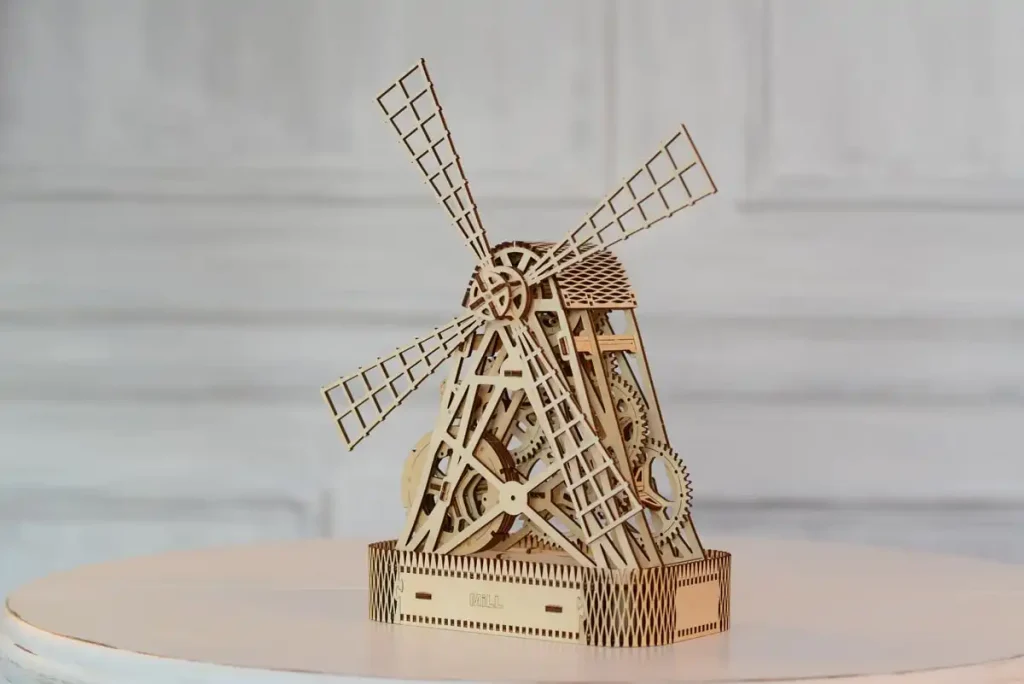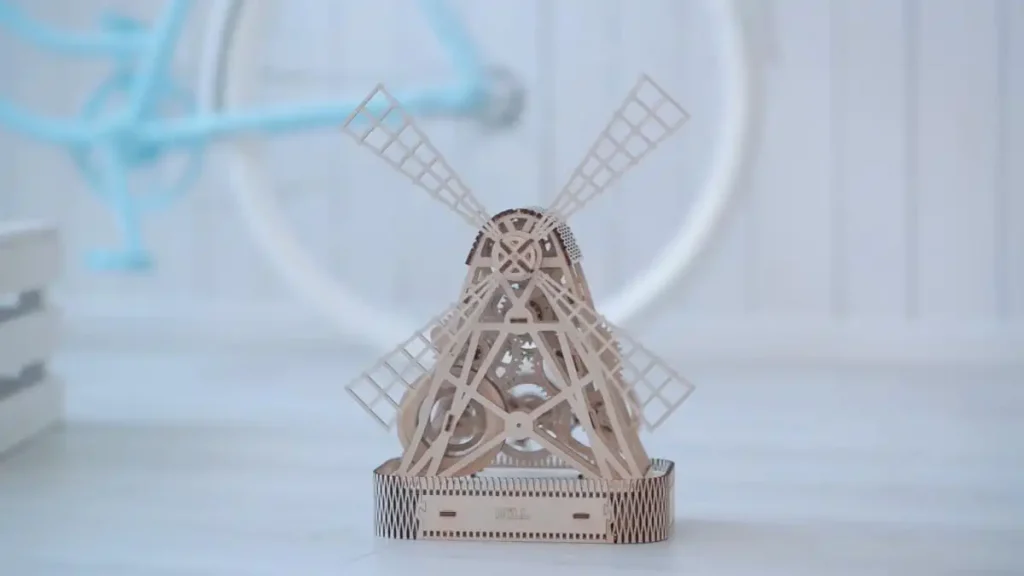 Hidden Treasure
Adding to the windmill's charm and functionality is a hidden compartment that serves as a quaint money box. This secret space allows you to store small items, turning the model into a functional part of your home decor.
Quality Craftsmanship
The windmill puzzle, made from birch, showcases fine craftsmanship that ensures a sturdy, durable, and aesthetically pleasing model. Each piece fits seamlessly, resulting in a mechanical model that is as fun to operate as it is to build.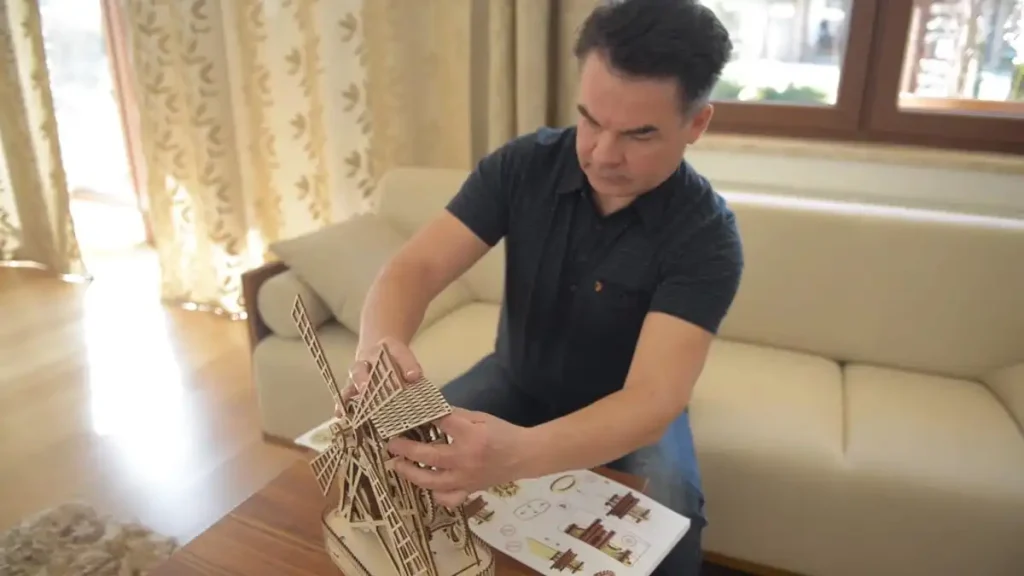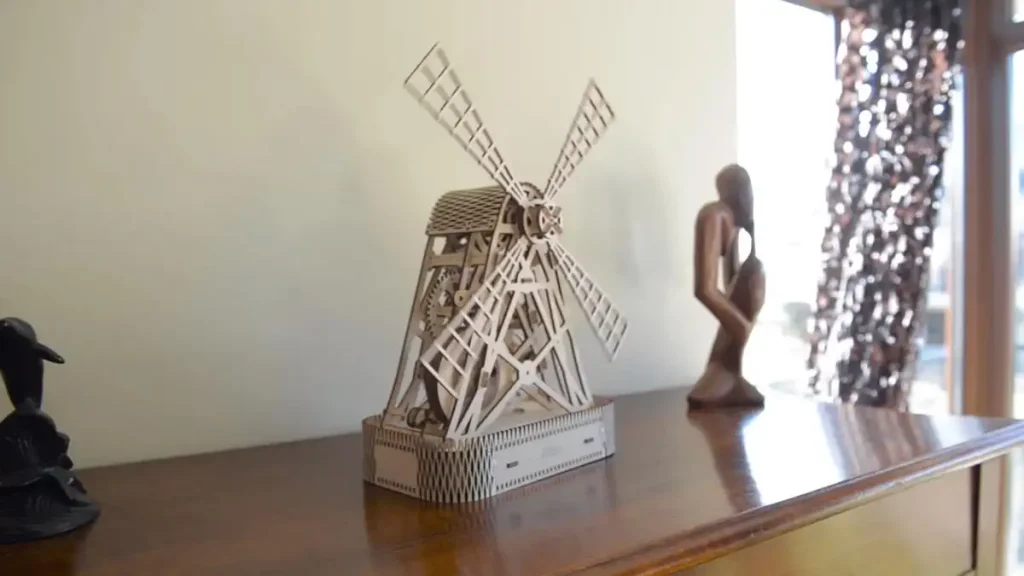 Perfect for Gifting
The Mill Wooden Puzzle 3D is not just a fun hobby project, but also a unique and thoughtful gift. Whether it's for a model enthusiast, puzzle lover, or someone who enjoys crafts, this windmill model promises to bring a smile to their face.
Timeless Traditions: Family Windmill Whims
Step back in time and craft a mill with loved ones. Recreate the charm of old-world countryside, celebrating stories of generations past. A hands-on experience that stirs winds of nostalgia and binds family hearts. Spin tales as your mill turns!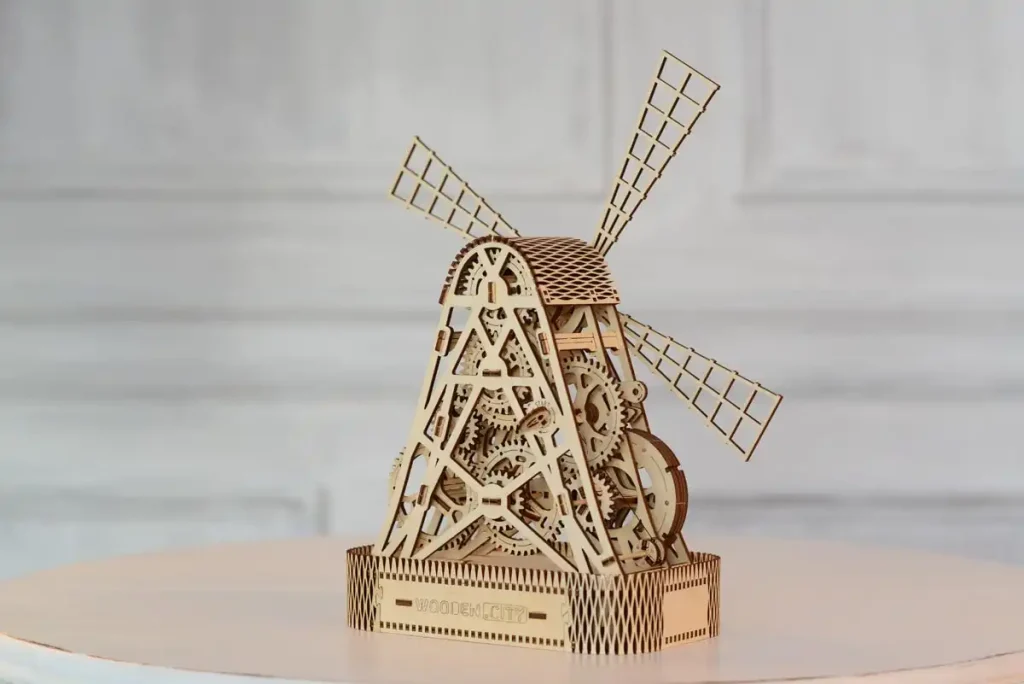 Paint and Personalize
The Mill Wooden Puzzle 3D is a blank canvas waiting for your creative touch. Feel free to paint and personalize it, enhancing its rustic charm and making it truly your own.
Characteristics
Quantity
193
Spare parts
29
Series / Article
WR-307
Set
Assembly instruction
Axle l=15.6 – 8 pcs.
Axle l=56.8 – 9 pcs.
Axle l=83.7 – 3 pcs.
Rubber Band Yellow 1.5х3 D=60 – 2 pcs.
Rubber Band Yellow 1.5х1.5 D30 L40 – 4 pcs.
Toothpicks – 25 pcs.
Thread Black l=1200 – 1 pcs.
Candle- 1 pcs.Sandpaper 30*40mm – 1 pcs.
Difficulty level
4/5
Assembly time
7 h
Model dimensions
H: 12.87'' (32,7 cm)
W: 14.68'' (37,3 cm)
D: 5.31'' (13,5 cm)
Package size
H: 13.97" ( 35,5 cm)
W: 9.44" ( 24 cm)
D: 1.5" ( 4 cm)
Rubber motor
✔
Propeller / propeller with blades
✔
Starting key
✔
Start lever
✔
Money box function (hidden compartment for small items)
✔
Footboard / stand
✔
Can be a decor element
✔
Possibility of hand painting
✔
The packing box is made of wood.
Inside there is an instruction on how,
after assembling the model, you can also
assemble the box into a demonstration stand
✔
Age
14+
In Conclusion
The Mill offers an immersive, enjoyable building experience that culminates in a functional, decorative windmill. Whether you're looking for a creative outlet, a unique gift, or a charming addition to your home decor, this mechanical model is sure to deliver. Engage in a delightful blend of craft and mechanics with the Mill Wooden Puzzle 3D, and enjoy a slice of countryside charm right in your home.