Step into the Realm of the 3D Wooden Puzzle Clock
The 3D Wooden Puzzle Clock is more than just an assembly project. This is where high-density birchwood metamorphoses into a sophisticated timepiece, gracing your desk with its royal retro style.
Mechanical Marvels Unfold
In this horological adventure, you'll unravel an elegant combination of gears, pendulum, and clock hands, all powered by a rubber motor. The clock is windable with a key, much like a timepiece from a bygone era, echoing vintage aesthetics and engineering precision.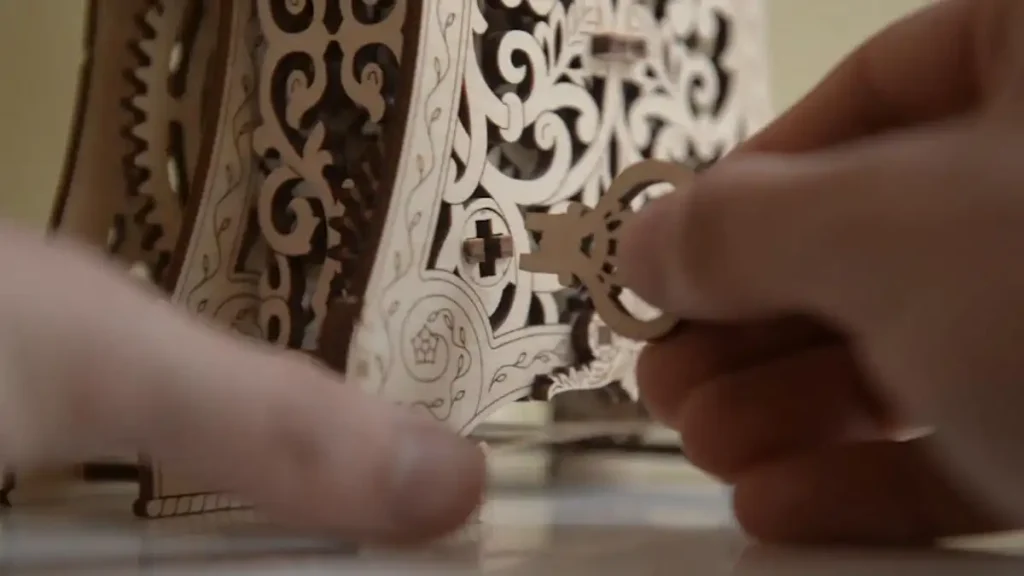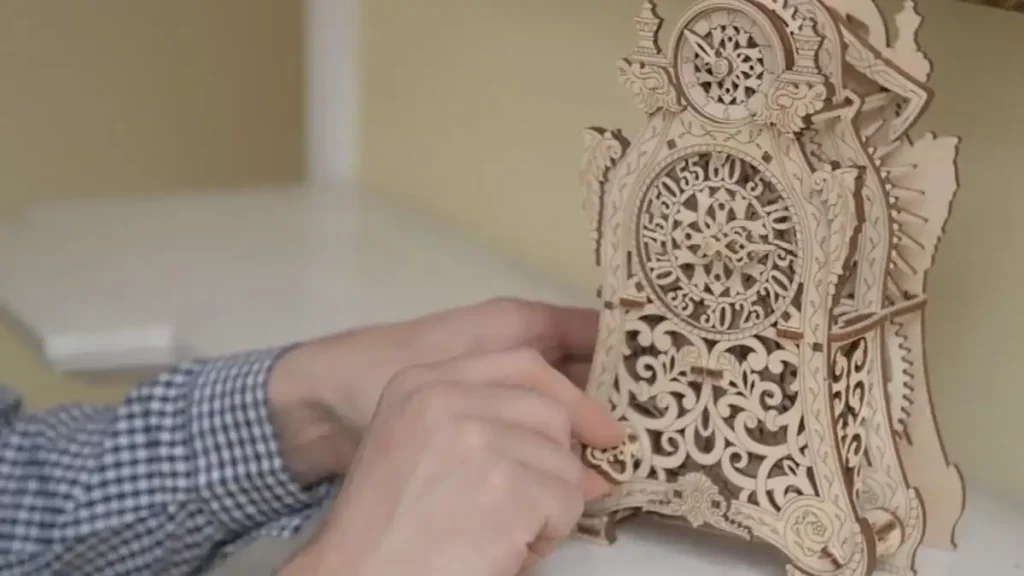 Transformative Stand and Display
Adding an extra touch of versatility, the package includes a wooden box that transforms into a stand, showcasing your assembled Magic Clock. It's not just a model, but a centerpiece that stands out in your decor with its timeless elegance and engaging mechanics.
A Gift That Keeps Giving
Whether for a loved one, a friend, or yourself, the Magic Clock is more than a gift. It's a symbol of time, artistry, and engineering, all wrapped into one. Its appeal lies not just in its royal aesthetics, but also in the joy of assembly, making it a memorable and enduring present.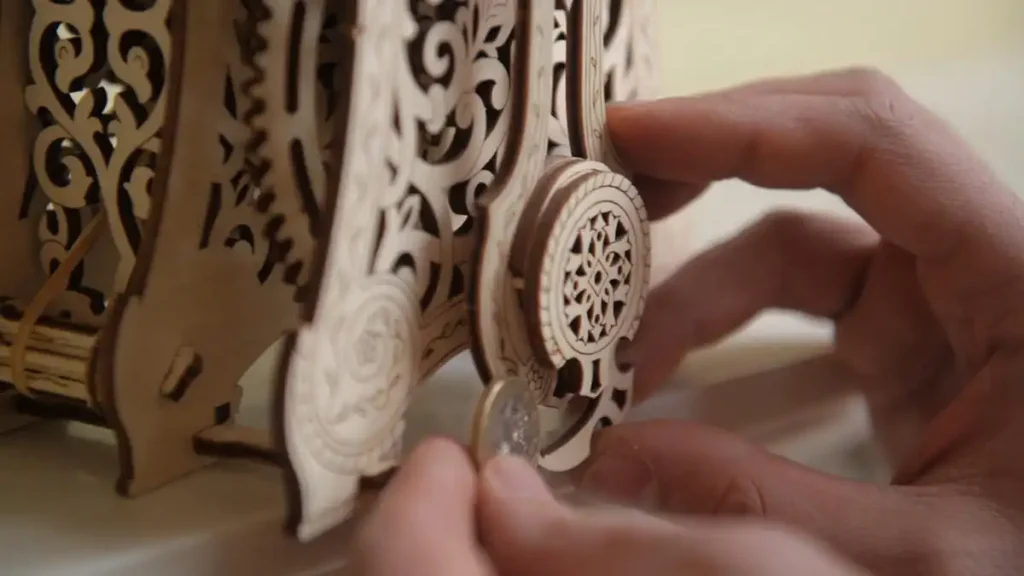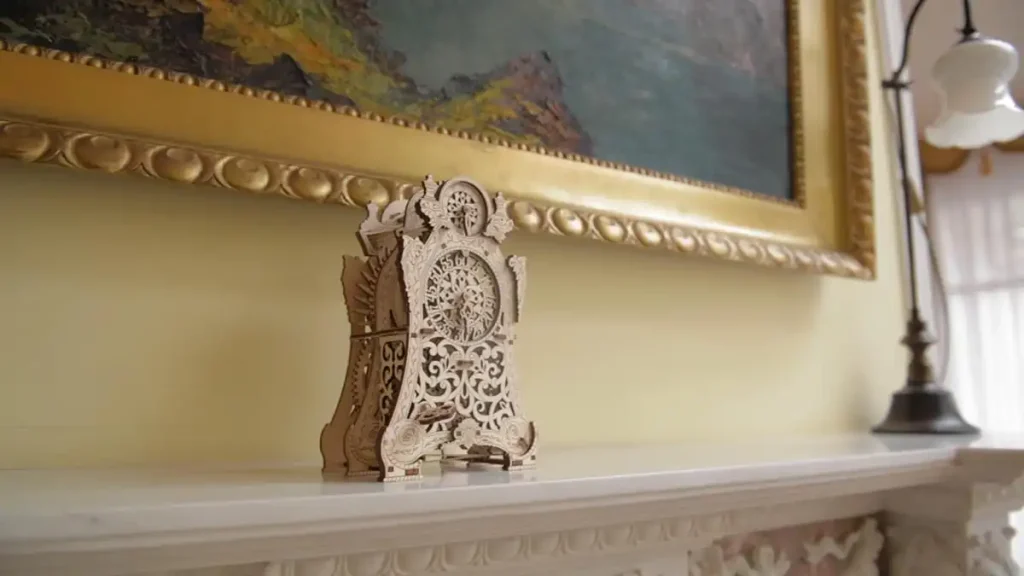 Classic Decor Element
Emulating a retro royal vibe, this tabletop clock serves as a remarkable piece of decor. It adds a layer of vintage charm to your space, contributing an element of sophistication that transcends time.
Personalize Your Timepiece
Let your creativity soar as you add your personal touch to this clock. Paint it to reflect your artistic essence and complement your decor, creating a unique piece that's truly yours.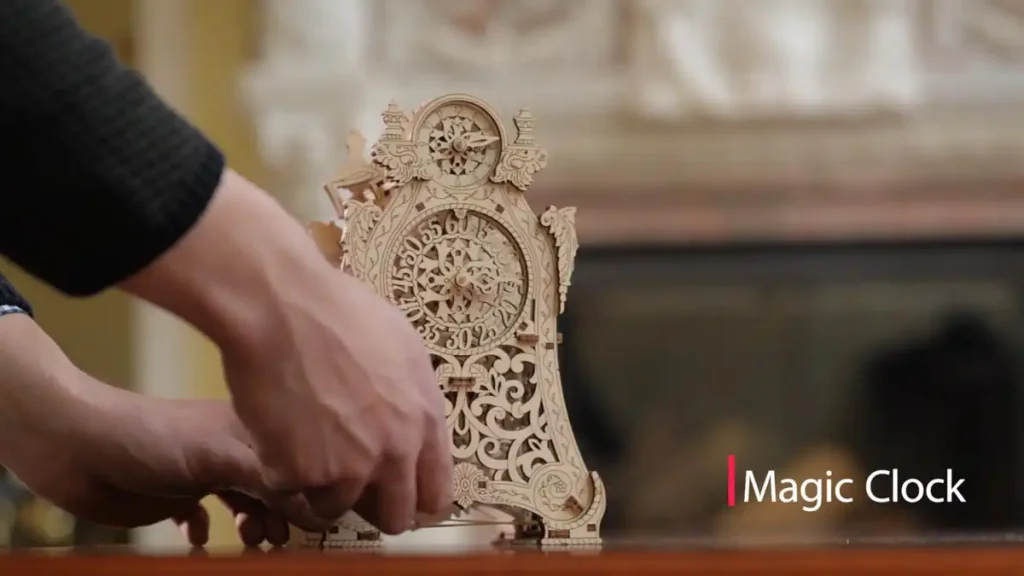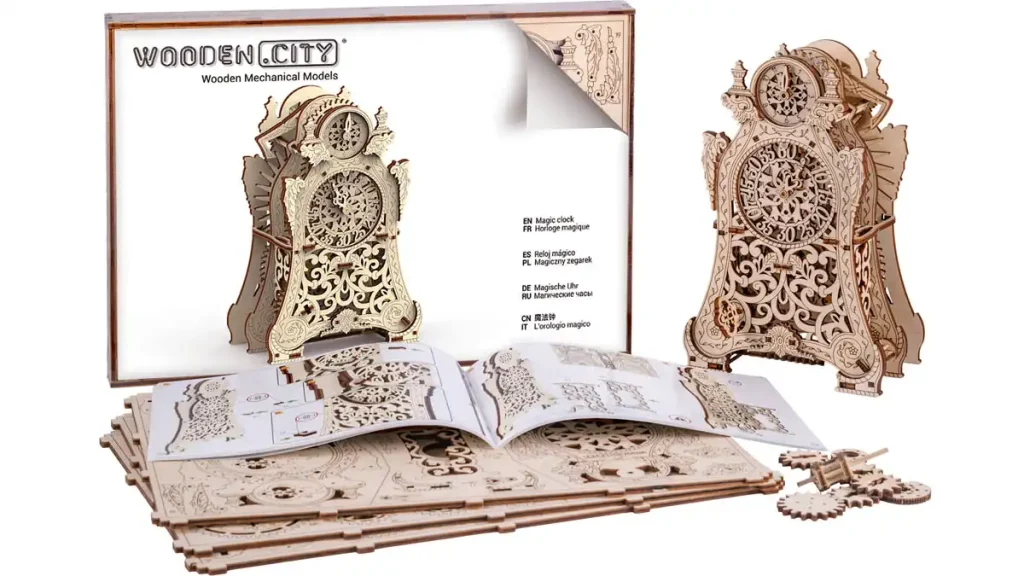 Where Time Meets Enchantment
Dive into a world where magic and mechanics intertwine. With your family by your side, assemble the Magic Clock, and watch as time takes on a whimsical twist. Each tick and tock resonates with laughter, bonding, and shared memories. It's more than just crafting a timepiece; it's about weaving magical moments that last forever. Ideal for families who cherish enchantment!
Characteristics
Quantity
140
Spare parts
9
Series / Article
WR-312
Set
Axle 39.9mm – 2 pcs
Axle 42.9mm – 2 pcs
Axle 46 mm – 5 pcs
Axle 56.8mm – 2 pcs
Axle 83.7mm – 2 pcs
Toothpicks – 30 pcs
Rubber band yellow 1.5х1.5 D30 L40 – 2 pcs
Rubber band yellow 1.5х1.5 D50 L80 – 2 pcs
Candle – 1 pcs
Sandpaper 30*40 – 1 pcs
Difficulty level
4/5
Assembly time
5 h
Model dimensions
H: 5.07 " ( 12,9 cm)
W: 5.55" ( 14,1 cm)
D: 8.58" ( 21,8 cm)
Package size
H: 13.,97" ( 35,5 cm)
W: 9.44" ( 24 cm)
D: 1.5" ( 4 cm)
Rubber motor
✔
Starting key
✔
Pendulum
✔
Clockwork
✔
Clock hands
✔
Can be a decor element
✔
Possibility of hand painting
✔
The packing box is made of wood.
Inside there is an instruction on how,
after assembling the model, you can also
assemble the box into a demonstration stand.
✔
Age
14+
High Quality in Every Detail
Built with the finest birchwood, each piece of the Magic Clock puzzle is crafted to perfection. The assembly process is a journey of exploration and satisfaction, leading to a stunning end product.
Unveil the magic of time with our Magic Clock. Assemble, paint, and display this sophisticated piece, an ode to the harmony of artistry and mechanics, a conversation starter that doubles as a royal retro decoration.