3D Wooden Puzzle: A Journey into the Heart of the V8 Engine
Engage with the 3D Wooden Puzzle that brings the powerhouse V8 engine to your living room. This model invites you to explore the captivating intricacies of a real V8 engine, in an interactive and hands-on manner.
Experience the Mechanical Marvel
The V8 Engine model replicates the detailed structure and functioning of its real-world counterpart. Featuring movable pistons and a propeller with blades, it's a delight for anyone with an interest in mechanics, engine design, or simply loves hands-on building.
Rich Detailing and Craftsmanship
Showcasing detailed engine components and intricate designs, this model offers an immersive building experience. Each piece is carefully crafted from birch wood, ensuring durability and a pleasing aesthetic.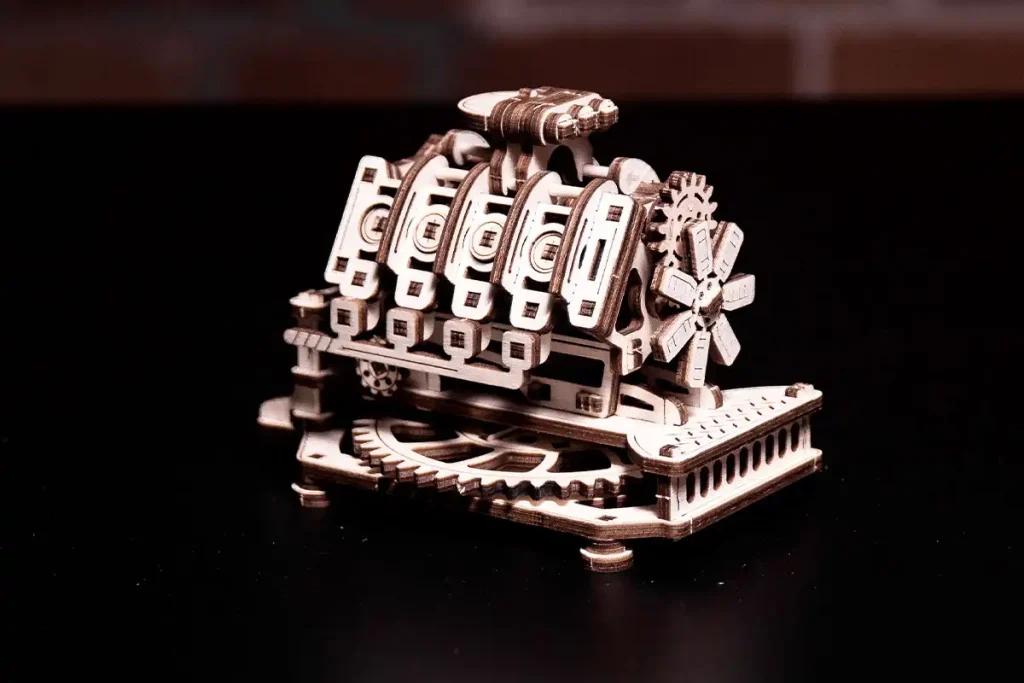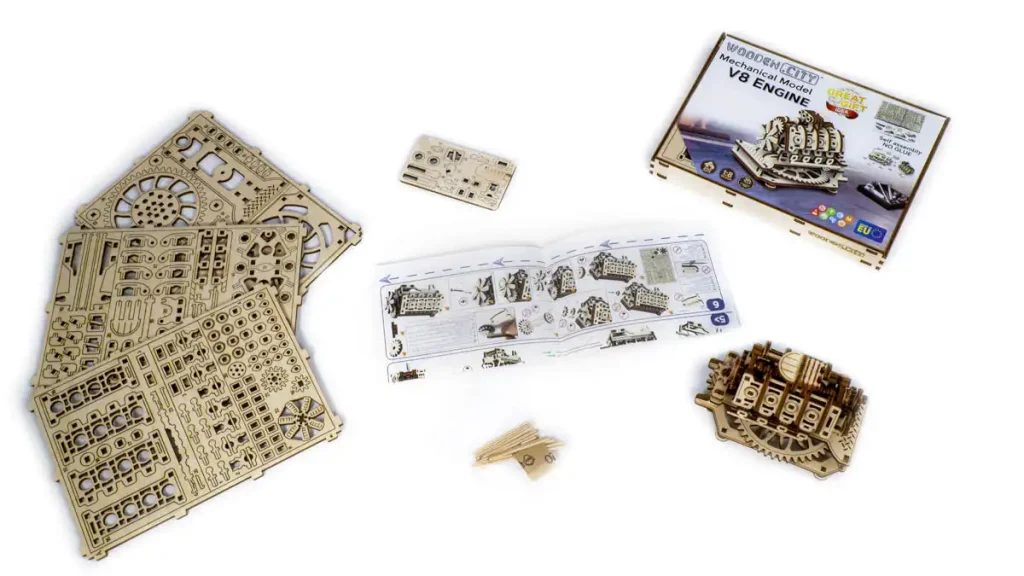 Environmentally Conscious Packaging
The model's wooden packaging not only ensures its safe delivery but can also be repurposed into a display stand. Show off your completed masterpiece in an eco-friendly and stylish way.
Perfect Gift Option
Looking for the perfect gift for a budding engineer, puzzle enthusiast, or car lover? This 3D V8 Engine model is a great choice. Offering an exciting assembly experience and a visually stunning end product, it's a gift that keeps on giving.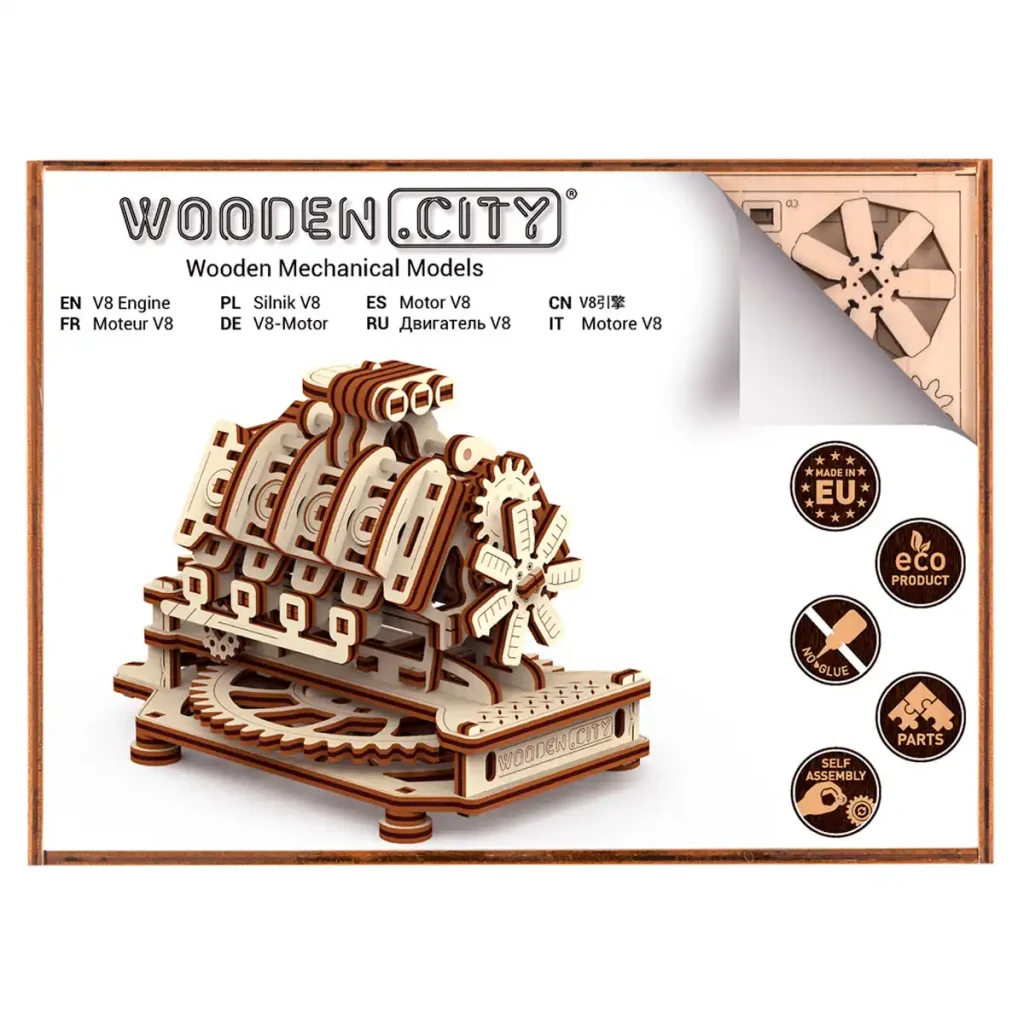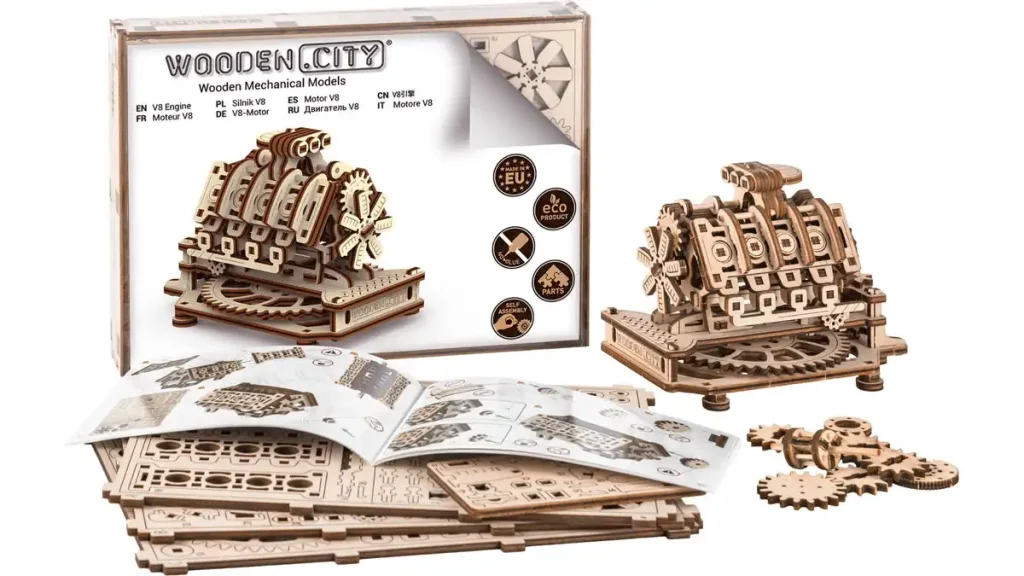 Beautiful Decor Piece
Once assembled, this model doubles as an eye-catching decorative piece. Its unique design and detailed features make it an interesting addition to any desk or display cabinet, sure to spark conversations.
Customizable Aesthetics
Flex your creative muscles by painting your V8 engine model. Bring a touch of personal flair to your model and transform it into a true work of art that reflects your personal style.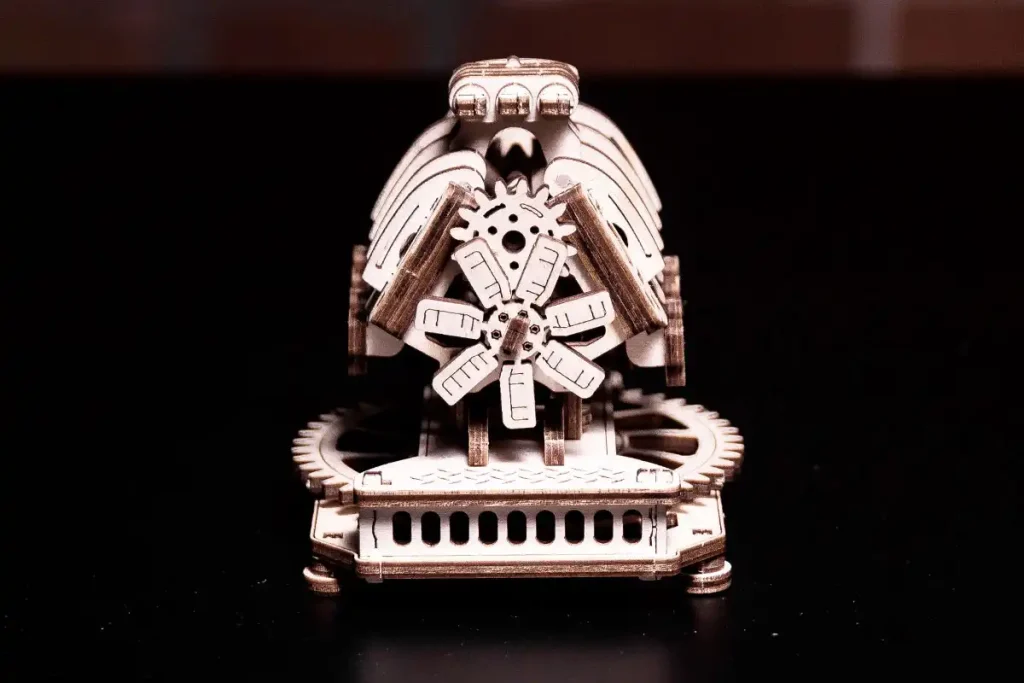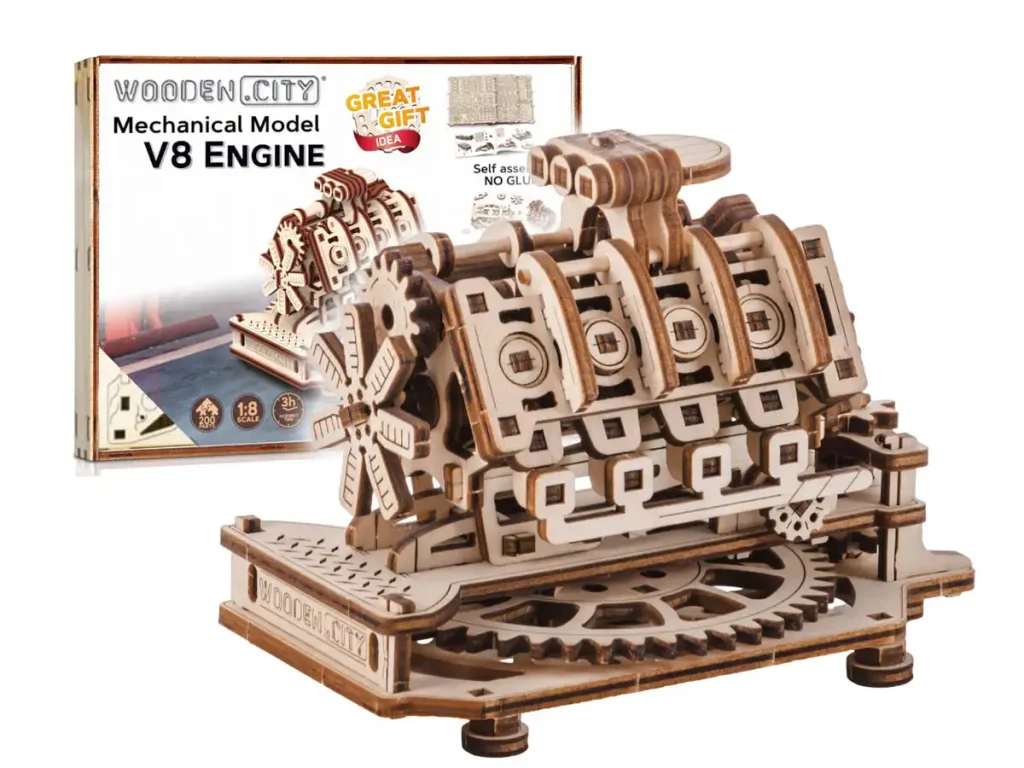 Engineer Family Moments with V8 Magic
Dive into the intricate world of mechanics with the V8 Engine! Ignite a passion for engineering as you and your loved ones bond, exploring the marvels of movement and innovation. It's a journey of discovery, creativity, and shared triumphs. Ready, set, engineer!
Characteristics
Quantity
182
Spare parts
18
Series / Article
WR-316
Set
Assembly instruction
Candle -1
Sandpaper -1
Axle 15.6 – 2 pcs.
Axle 56.8 – 3 pcs.
Axle 83.7 – 2 pcs.
Toothpicks – 5 pcs.
Difficulty level
3/5
Assembly time
3 h
Model dimensions
H: 5.51'' (14 cm)
W: 4.21'' (10,7 cm)
D: 3.94'' (10 cm)
Package size
H: 9.44" (24cm)
W: 6.89" (17,5 cm)
D: 1.1'' (2,8cm)
Model scale
1:8
Detailed engine
✔
Movable pistons
✔
Propeller / propeller with blades
✔
Footboard / stand
✔
Setting the mechanism in motion by rotation
✔
Can be a decor element
✔
Possibility of hand painting
✔
The packing box is made of wood.
Inside there is an instruction on how,
after assembling the model, you can also
assemble the box into a demonstration stand.
✔
Age
12+
In Conclusion
The V8 Engine 3D model is more than just a puzzle. It's an engaging exploration into the world of engines, a testament to mechanical brilliance, and a delightful hands-on project. The journey from individual pieces to a fully-formed V8 engine is a rewarding experience filled with discovery and a great sense of accomplishment. Dive into the challenge and enjoy the thrill of creation with this exceptional model.