Discover the Marvels of the 3D Wooden Puzzle Train
The 3D Wooden Puzzle Train introduces you to the Dream Express, a masterpiece crafted from high-density fiberboard birch. This model is more than a simple puzzle; it's a gateway into an era where steam reigns supreme, echoing the stylistic nuances of steampunk.
A Glimpse into the Features
Fuelled by a precision rubber motor, the Dream Express promises a smooth ride every time. The meticulously designed dashboard stands as a testament to the model's intricate detailing. As you wind it up, the movable pistons spring to life, perfectly capturing the essence of a classic locomotive. The starting key serves as the heart of this masterpiece, setting the train in motion. A start lever further complements the overall mechanics, ensuring a seamless play experience. And, for those who dream of longer journeys, a fragment of rails is included, ready to expand the horizons of your miniature world.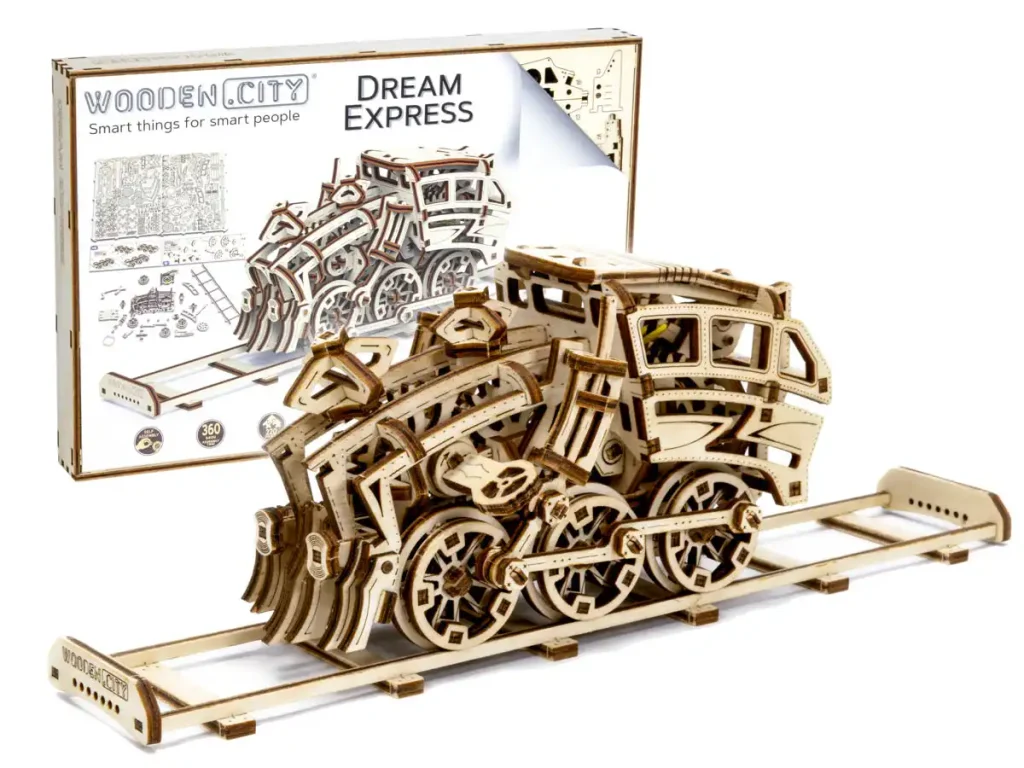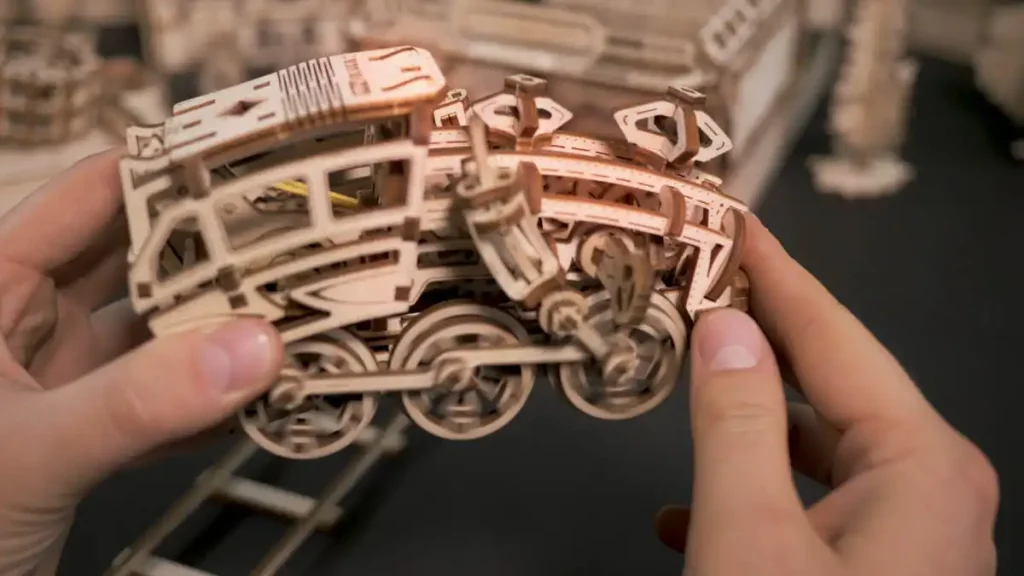 Personalizing Your Dream Express
While the model is a beauty in its raw form, it offers an open canvas for those with an artistic flair. You can paint and customize it to resonate with your style, transforming the Dream Express into a unique masterpiece.
A Token of Thoughtfulness
If you're in search of a gift that stands out, the Dream Express proves to be an excellent choice. It promises not just a tangible product but an immersive experience, making it a memorable gift for birthdays, anniversaries, or any special occasions.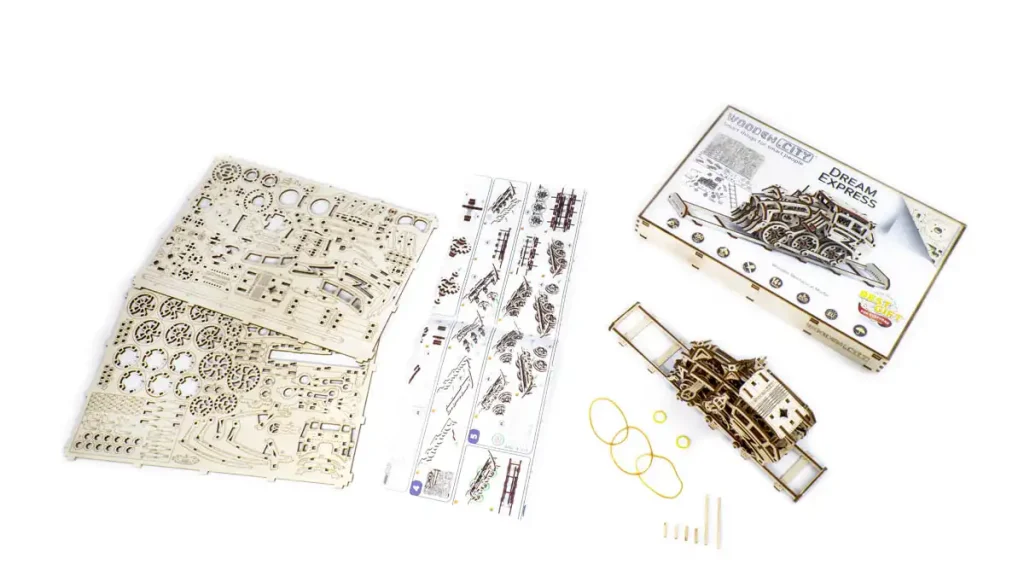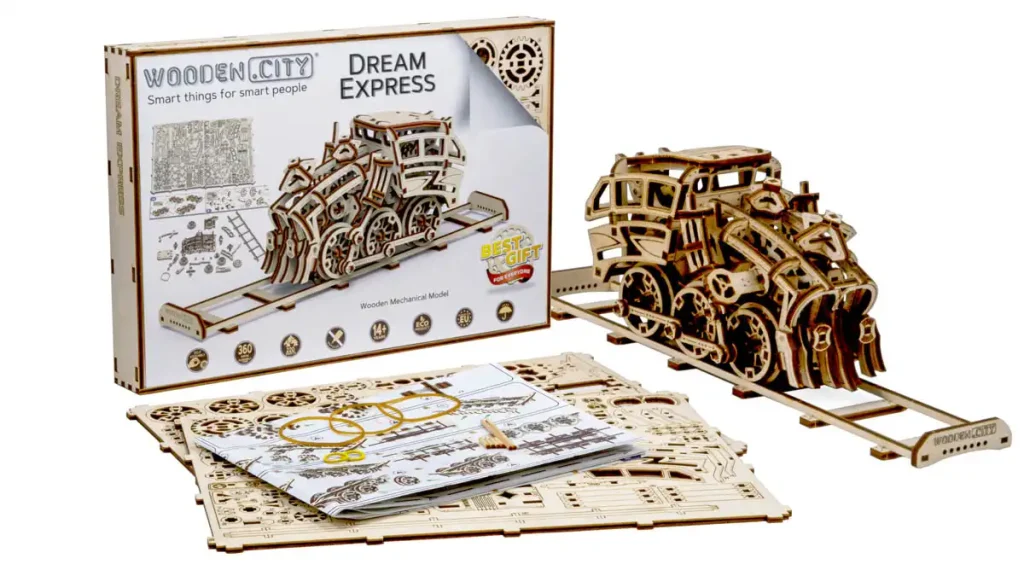 More Than Just a Train
Beyond the joy of assembly, the Dream Express serves as an exquisite decor piece. Its detailed craftsmanship and steampunk aesthetics make it an eye-catching addition to any living space, beckoning admiration from every onlooker.
All Aboard the Dream Journey
Dive into an enchanting family experience with the Dream Express! Assemble together, igniting imaginations and crafting tales of wondrous destinations. A train not just of pieces, but of heartwarming memories and shared dreams. Join the ride to boundless family fun!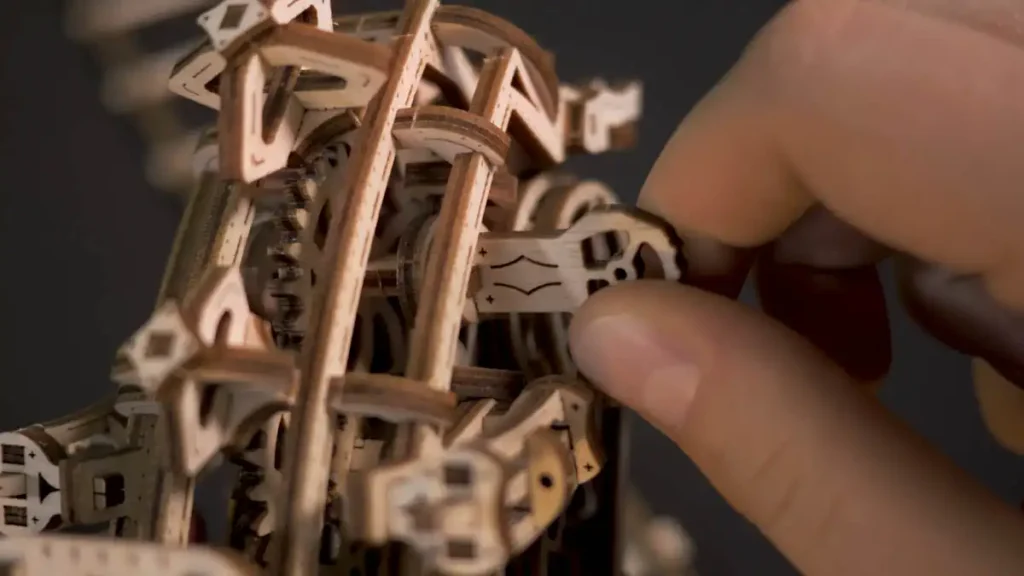 Characteristics
Quantity
204
Spare parts
16
Series/Article
WR-338
Set
Assembly instruction
Axle 15,6 – 3+1;
Axle 56,8 – 1+1;
Rubber Band 1,5х1,5 d15 L20 – 1+1;
Rubber Band 1,5х1,5 d50 L80 – 2+2;
Candle – 1
Sandpaper – 1″
Difficulty level
4/5
Assembly time
6 h
Model dimensions
H: 3.35" ( 8,5 cm)
W: 4.09 " ( 10,4 cm)
D: 11.81" ( 30 cm)
Package size
H: 13.97" ( 35,5 cm)
W: 9.44" ( 24 cm)
D: 1.57" ( 4 cm)
Rubber motor
✔
Dashboard
✔
Movable pistons
✔
Imitation lights
✔
Starting key
✔
Start lever
✔
Model scale
1:40
Path length
1,5 (59,05")
Fragment of rails included
✔
Can be a decor element
✔
Possibility of hand painting
✔
The packing box is made of wood.
Inside there is an instruction on how,
after assembling the model, you can also
assemble the box into a demonstration stand.
✔
Age
14+
In Closing
The Dream Express is not merely a puzzle. It's a journey into a world of fantasy, a piece of art that reverberates with the charm of classic locomotives and the elegance of steampunk design. Dive into this world, and let your imagination soar.