Discover the Magic of the 3D Wooden Puzzle Train
Embark on an enthralling journey with the 3D Wooden Puzzle Train, meticulously designed to ignite the engineer in you. Crafted from premium birch, every intricate piece of this model promises a delightful assembly experience and a captivating final display.
Detailed Craftsmanship
The Wooden Express isn't merely a static model; it's a marvel that brings the bygone era of railways to life. Its doors swing open to welcome miniature passengers, figurines thoughtfully included to elevate your set-up. The model boasts a functional rubber motor, and every twist of its starting key sets the movable pistons in motion. The dashboard, complete with control elements like a steering wheel and levers, beckons you to take charge. Plus, with imitation lights and the possibility of reverse movement, this train is as close to real as a model can get.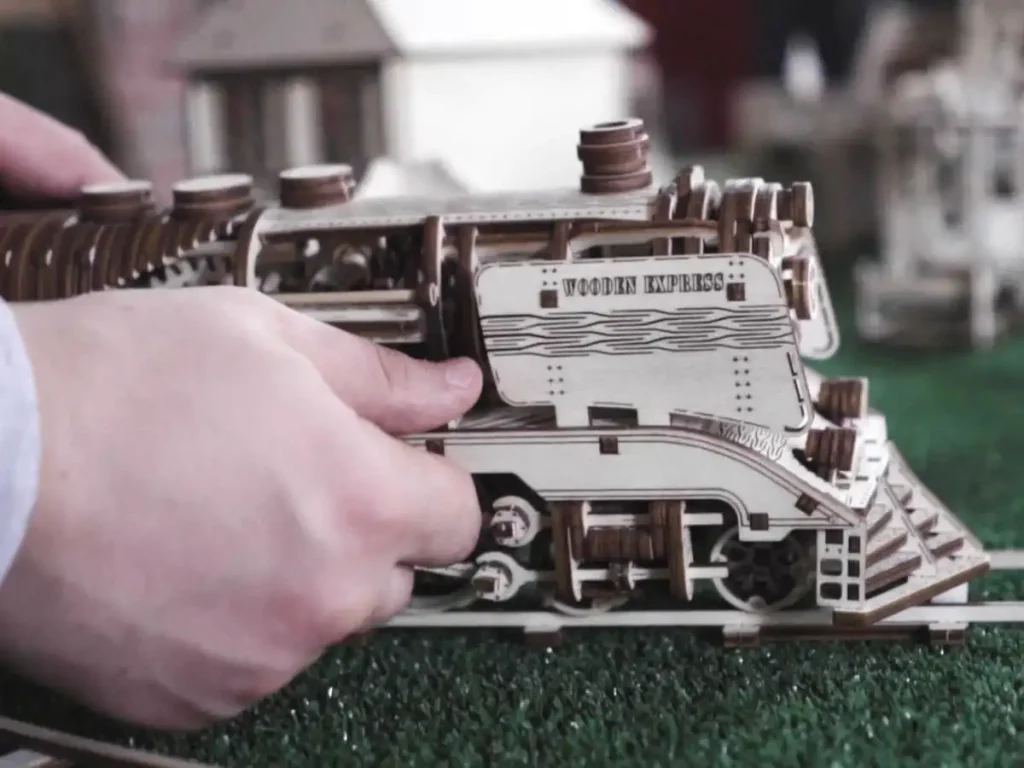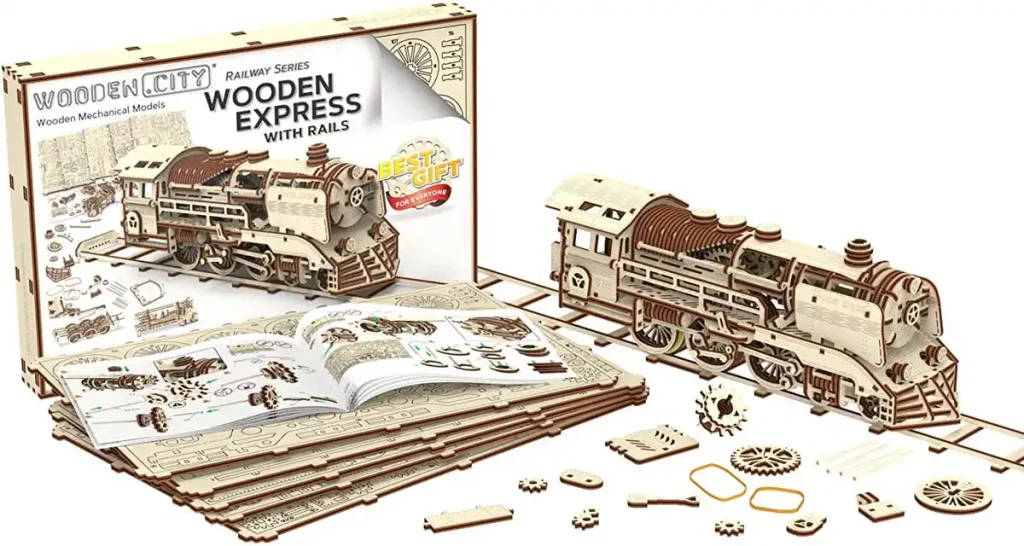 Interactive Elements
Setting the Wooden Express apart are its unique, interactive features. The train's start lever sets it on its journey, moving seamlessly along the fragment of rails included. Measuring a staggering 5 meters (196.85 inches) in length, the track sets the stage for the train's majestic voyage. And if you wish to add a personal touch, the train stands ready for your creative intervention. Paint and personalize it, letting it mirror your artistic vision.
An Ideal Gift
For enthusiasts, hobbyists, or anyone with a penchant for intricate details, the Wooden Express With Rails stands as a perfect gift. Its blend of mechanics, artistry, and historical resonance promises not just a thoughtful present but an unforgettable experience.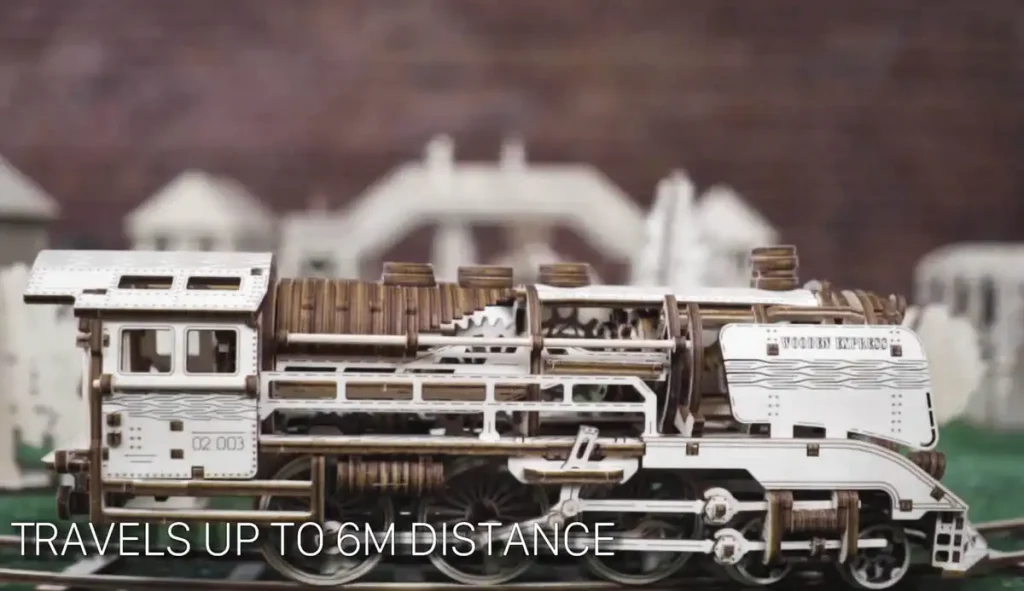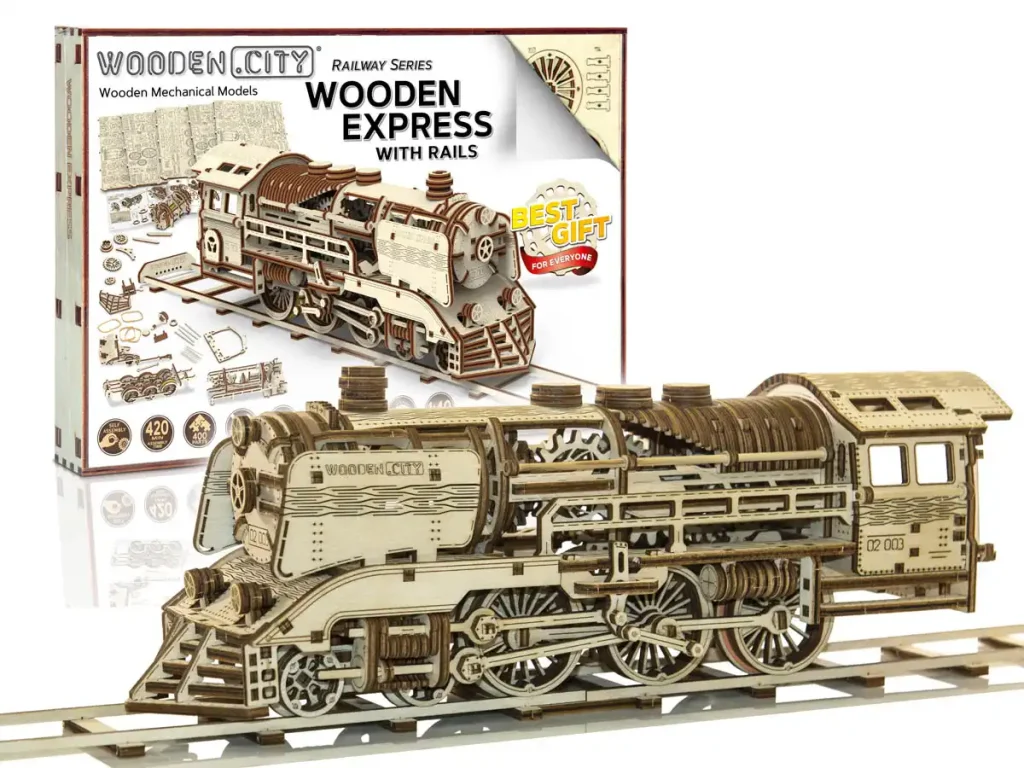 A Masterpiece in Decor
Once assembled, the Wooden Express doesn't merely serve as a testament to your patience and skill; it emerges as a decor masterpiece. With its exquisite details, moving parts, and sprawling track, it's sure to become a centerpiece, drawing admiration from every onlooker.
All Aboard the Family Fun Express
Gather the clan and set off on an adventure of creativity and connection. Together, lay tracks, assemble the majestic express, and ignite imaginative tales of thrilling journeys. A timeless experience that bridges generations, turning moments into lifelong memories. Dive into the joyous railway escapade!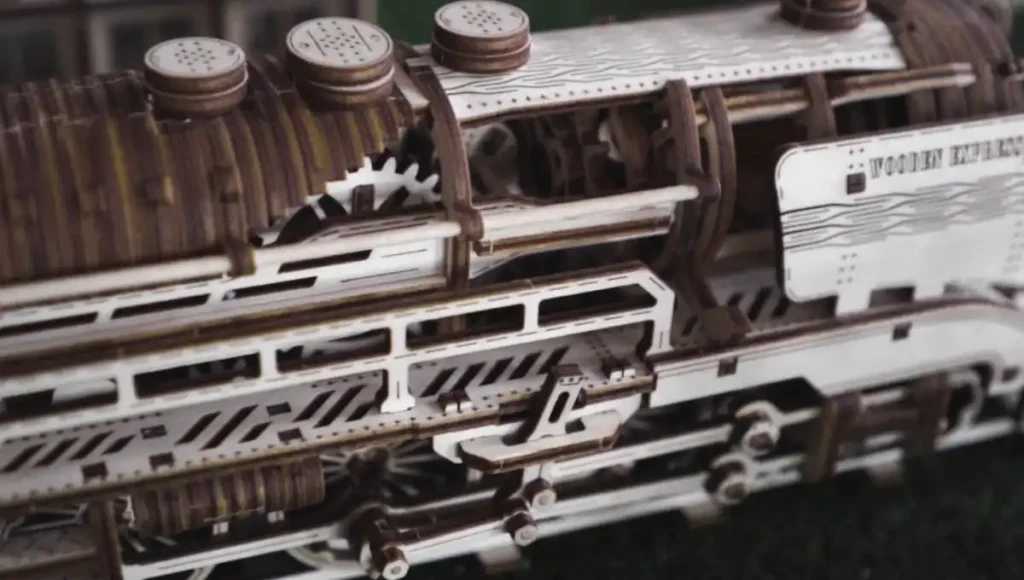 Characteristics
Quantity
385
Spare parts
15
Series/Article
WR-321
Set
Assembly instruction
Toothpicks – 60
Axle 20,6 – 2
Axle 48,5 – 4
Axle 51 – 3
Axle 134 – 3
Rubber band 1,5х1,5 D50 L80 – 18
Rubber band 1,5х1,5 D20 L30 – 2
Rubber band 3,5х1,5 D40 L60 – 3
Candle – 1 pcs.
Sandpaper 30*40 – 1 pcs."
Difficulty level
4/5
Assembly time
7 h
Model dimensions (train)
H: 13.77" ( 35 cm)
W: 4.33" ( 110 cm)
D: 4.8" ( 12,2 cm)
Model dimensions (Rails)
H: 23.62" ( 60 cm)
W: 2.4" ( 6,1 cm)
D: 0.59" ( 1,5 cm)
Package size
H: 13,97" ( 35,5 cm)
W: 9,44" ( 24 cm)
D: 1,57" ( 4 cm)
Rubber motor
✔
Dashboard
✔
Openable doors
✔
Movable pistons
✔
Control elements (steering wheel, levers)
✔
Imitation lights
✔
Starting key
✔
Start lever
✔
Model scale
1:40
Path length
196.85" ( 5 m)
Possibility of reverse (reverse movement)
✔
Figurine(s) of people included
✔
Fragment of rails included
✔
Can be a decor element
✔
Possibility of hand painting
✔
The packing box is made of wood.
Inside there is an instruction on how,
after assembling the model, you can also
assemble the box into a demonstration stand
✔
Age
12+
In Conclusion
The Wooden Express With Rails is more than just a model. It's a journey back in time, an ode to rail transportation, and a celebration of human craftsmanship. Whether you're assembling it for personal pleasure or gifting it to a loved one, this train model promises timeless appeal and endless fascination. Experience the magic of railroads, one piece at a time.