Unveiling the Intricacies of the 3D Wooden Puzzle Train
Setting the stage with the 3D Wooden Puzzle Train, you'll find an assembly experience that's both challenging and rewarding. Expertly crafted from high-density fiberboard birch, this ensemble truly captures the essence of classic European train systems.
Features That Stand Out
This model isn't just about aesthetic appeal; it's a testament to functionality and design. Under the hood, the rubber motor powers the train, ensuring smooth movements across its track. Enhancing its mobility are the rubber-on-wheels, meticulously designed to increase grip and imitate the steady chug of a real locomotive. The dashboard, detailed with control elements such as a steering wheel and levers, invites interaction and exploration.
Your fascination doesn't end there. The openable doors pave the way for tiny figurines of people, included to enrich your miniature world. Movable pistons and control levers add an element of dynamism. And if you thought that was all, an additional function activated by a lever unveils an open trailer roof on the tender, revealing yet another dimension to this intricate creation.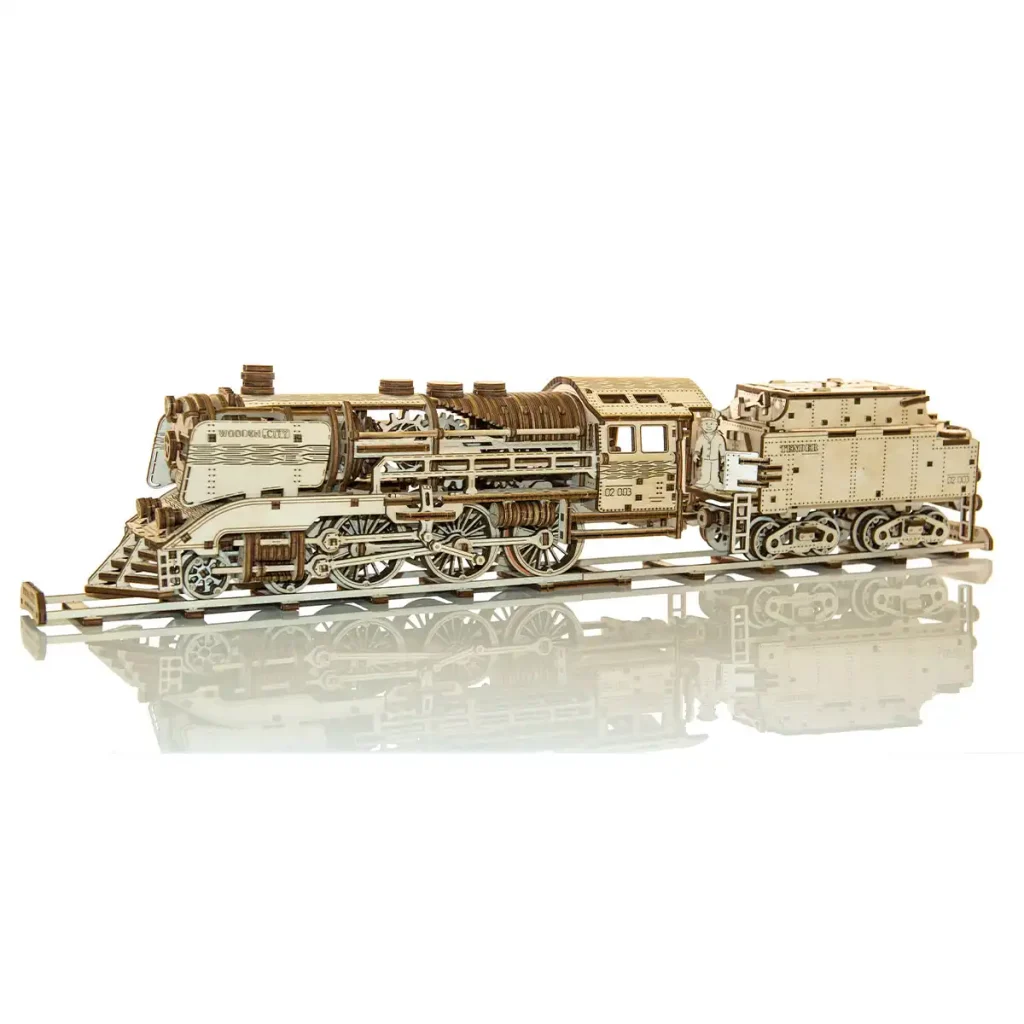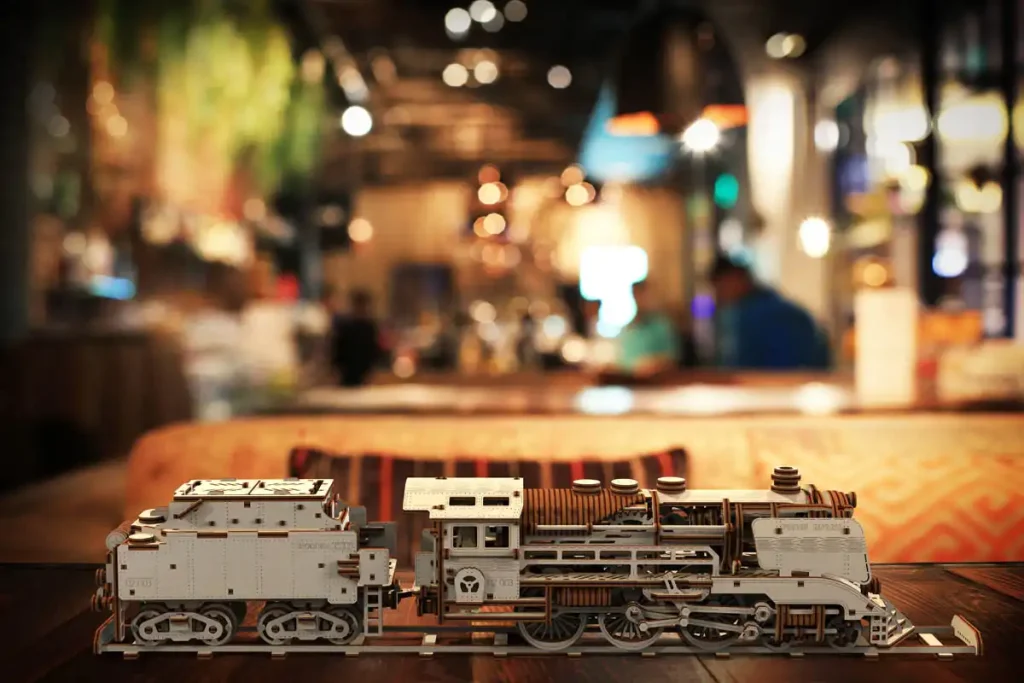 A Journey on Rails
With every twist of the starting key, the model embarks on its journey, covering up to three meters on the included fragment of rails. A unique feature is its possibility of reverse movement, making the experience even more delightful.
The Perfect Gift
Such a unique combination of craftsmanship and mechanics makes this model an excellent gift choice. Whether it's a birthday, anniversary, or a special occasion, gifting this piece promises an experience that the recipient will cherish, remember, and engage with.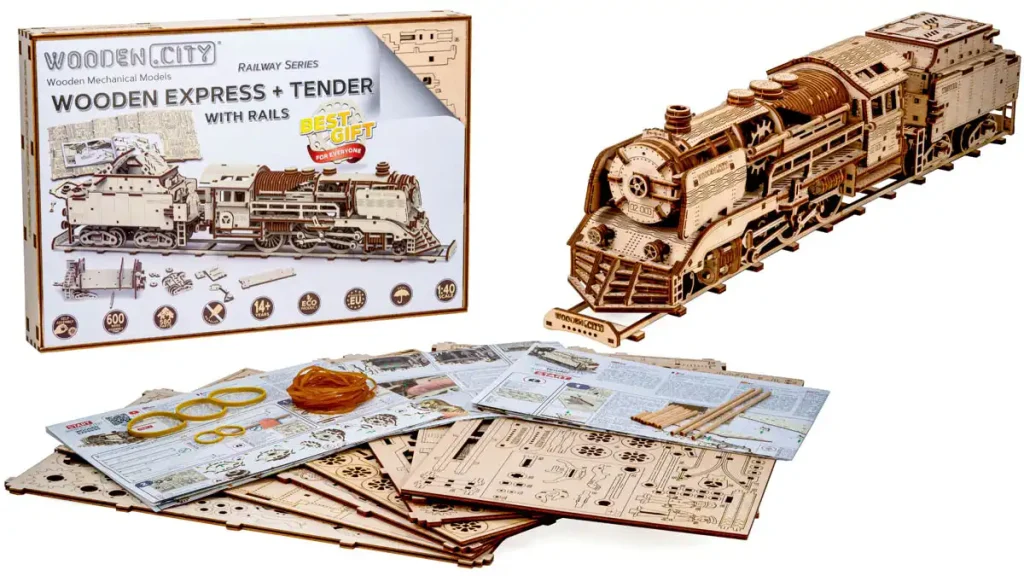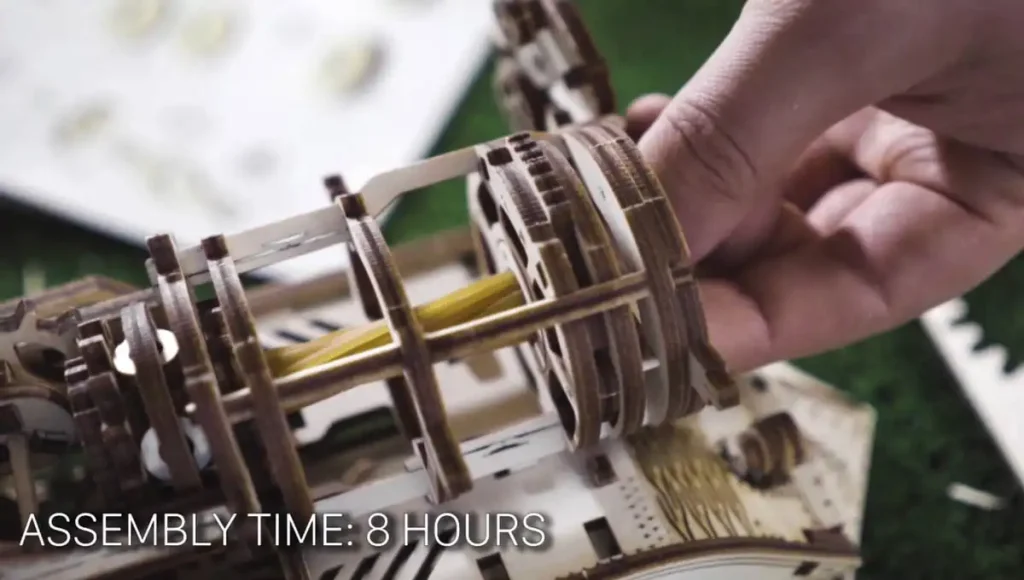 More Than Just a Model
Beyond the joy of assembling, this model doubles up as an exquisite decor piece. Its intricate details, movable parts, and European design accentuate any living space, making it a topic of admiration and conversation.
Personal Touch
The model is open to personalization. You have the freedom to paint and customize it, allowing its final appearance to resonate with your style.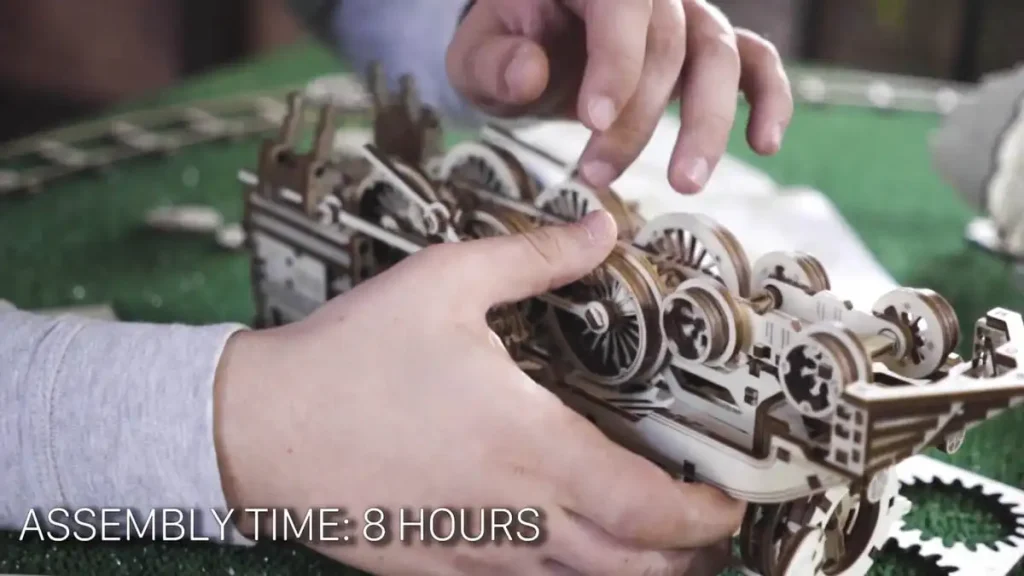 Chugging Through Memories: All Aboard the Express
Embark on a family journey assembling the iconic express and tender. Feel the joy of each rail clicked into place. Together, create tracks of laughter and tales, fostering bonds that endure beyond the final piece. Make memories, one train car at a time.
Characteriscs
Quantity
(Express 385) + (Tender 175)
Spare parts
(Express 15) + (5 Tender)
Series/Article
WR-323
Set
Wooden express:
Assembly instruction
Toothpicks – 60
Axle 20,6 – 2
Axle 48,5 – 4
Axle 51 – 3
Axle 134 – 3
Rubber band 1,5х1,5 D50 L80 – 18
Rubber band 1,5х1,5 D20 L30 – 2
Rubber band 3,5х1,5 D40 L60 – 3
Candle – 1 pcs.
Sandpaper 30*40 – 1 pcs."
Tender:
Toothpicks – 30
Candle – 1
Sandpaper 30×40 – 1
Difficulty level
5/5
Assembly time
10 h
Model dimensions (train)
H: 21.96" ( 55,8 cm)
W: 4.33" ( 110 cm)
D: 4.8" ( 12,2 cm)
Model dimensions (Rails)
H: 23.62" ( 60 cm)
W: 2.4" ( 6,1 cm)
D: 0.59" ( 1,5 cm)
Package size
H: 13.97" ( 35,5 cm)
W: 9.44" ( 24 cm)
D: 1.57" ( 4 cm)
Rubber motor
✔
Rubber on wheels (increase grip)
✔
Dashboard
✔
Openable doors
✔
Movable pistons
✔
Control elements (steering wheel, levers)
✔
Imitation lights
✔
Starting key
✔
Start lever
✔
Model scale
1:40
Path length
3
Additional function activated by lever (open trailer roof)
✔
Possibility of reverse (reverse movement)
✔
Figurine(s) of people included
✔
Fragment of rails included
✔
Can be a decor element
✔
Possibility of hand painting
✔
The packing box is made of wood.
Inside there is an instruction on how,
after assembling the model, you can also
assemble the box into a demonstration stand
✔
Age
14+
In Conclusion
The Wooden Express + Tender With Rails is not just a model; it's a journey, a story, and a piece of art that pays homage to classic European railways. Its detailed features and functionalities make it more than worth the exploration. Dive into the world of trains, one piece at a time.