Exploring the Intricacies of the 3D Wooden Puzzle Train
The 3D Wooden Puzzle Train sets the stage for the City Tram With Rails, a marvelous engineering feat hailing from Poland. Crafted with precision from high-density fiberboard birch, this model provides a captivating journey through the golden age of trams.
Energized by an impeccable rubber motor, the City Tram ensures a remarkable journey, making every turn and stop feel real. A detail that doesn't go unnoticed is its openable doors, granting passage to the intricately designed figurine(s) of people included, embodying the spirit of a bustling European tramcar. The tram's imitation lights offer an added touch of realism, casting a gentle glow, reminiscent of twilight rides through cobbled streets.
Impeccable Features Awaiting Discovery
Winding up this tram is an experience in itself, with a beautifully designed starting key ensuring the mechanism's vitality. Accompanied by a start lever, the tram not only moves forward with grace but also boasts the possibility of reverse, enhancing its authenticity.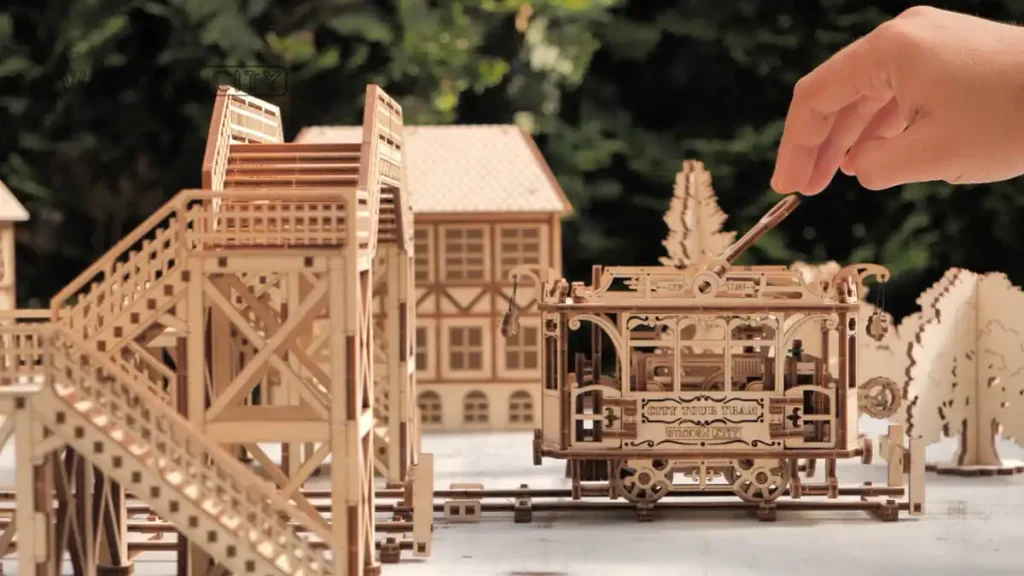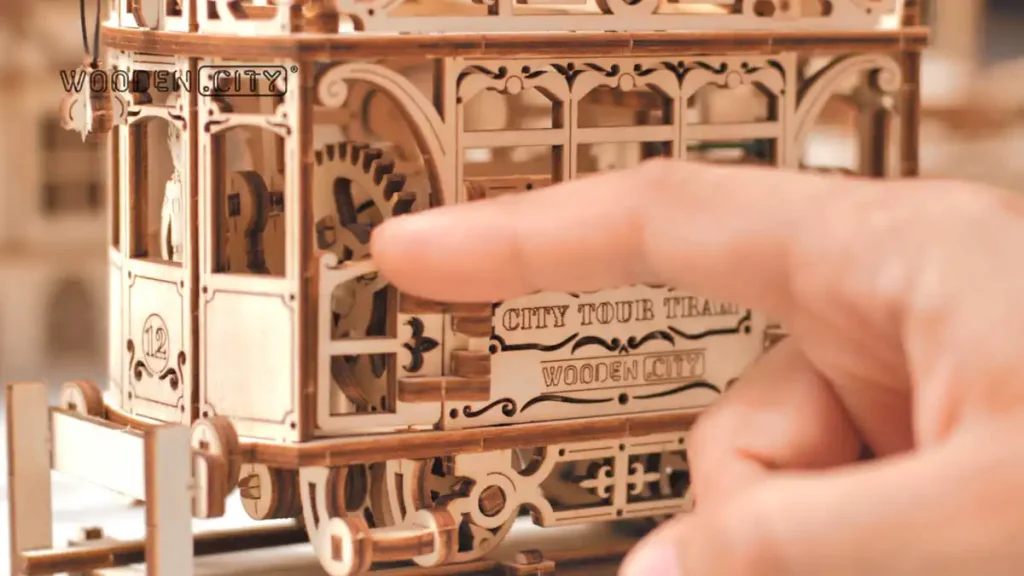 A Canvas for Personalization
The City Tram is not only a model to assemble but also an art piece waiting for your personal touch. Its birch structure offers a perfect canvas for those inclined to add colors, making it a unique rendition of your creative vision.
The Perfect Gift for All
Whether for a hobbyist, a model enthusiast, or someone who cherishes unique gifts, the City Tram serves as an exquisite choice. Its intricate design and mechanical wonders guarantee an engaging and memorable crafting experience.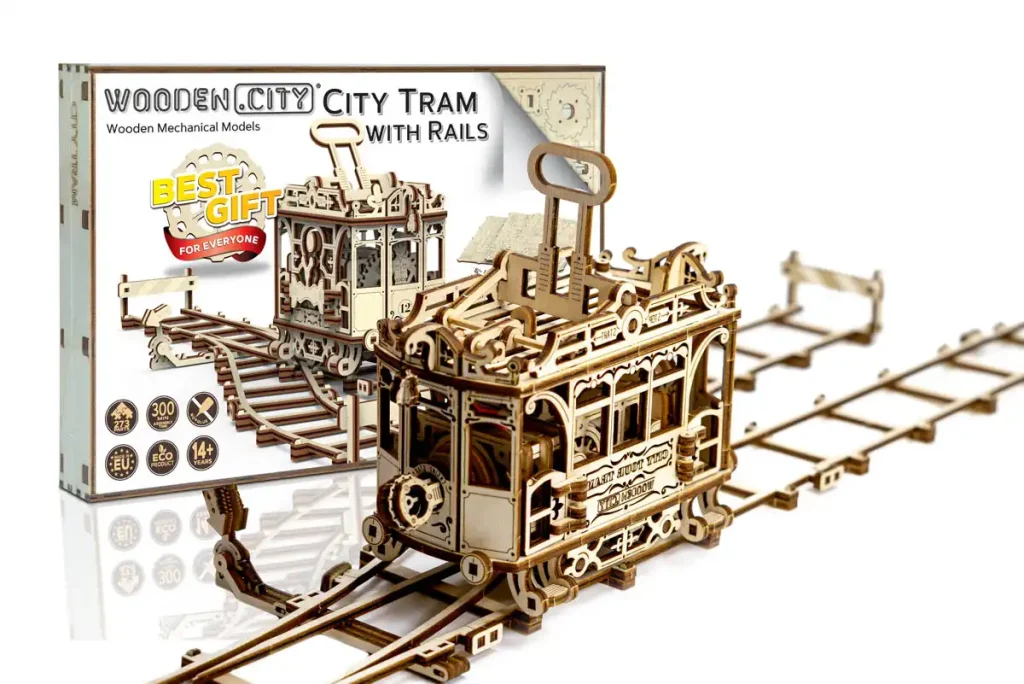 More Than Just a Model
Once assembled, the City Tram doesn't just remain a toy. With its intricate details and captivating design, it doubles up as an elegant decor piece. A fragment of rails included in the set ensures that the tram has its own stage, making it a conversation starter in any setting.

City Adventures Await
Gather your family and embark on a delightful journey with the City Tram! As you assemble, conjure stories of bustling streets and scenic routes. It's more than just a tram; it's a ride through a metropolis of cherished moments and joyous laughter. Family bonding on rails!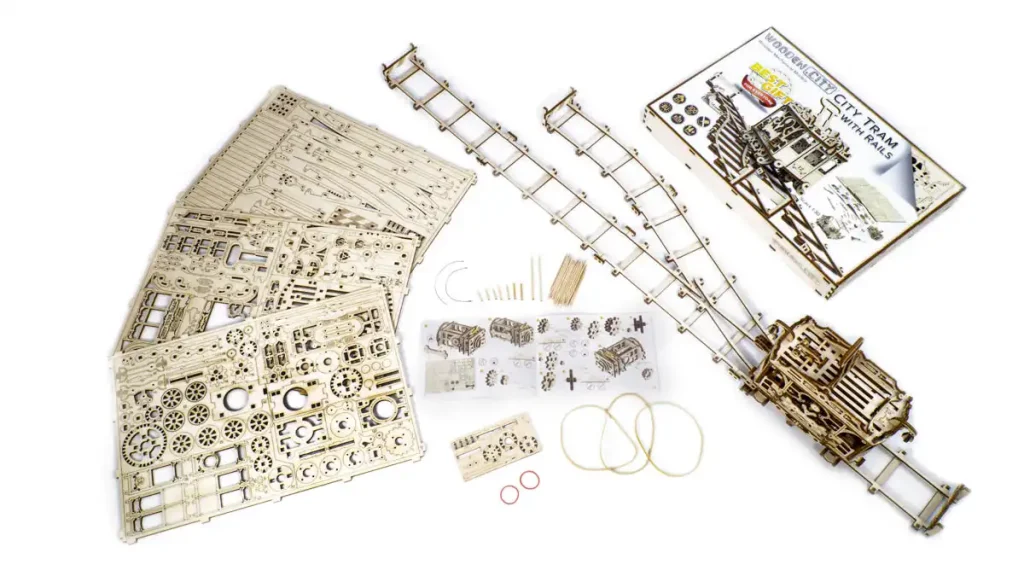 Characteristics
Quantity
273
Series/Article
WR-320
Difficulty level
4/5
Assembly time
5 h
Model dimensions
H: 7.23" (18,5 cm)
W: 3.35'' (8,5 cm)
D: 5.74'' (14,6 cm)
Package size
H: 13.97'' (35,5 cm)
W: 9.44'' (24 cm)
D: 1.57'' (4 cm)
Rubber motor
✔
Openable doors
✔
Imitation lights
✔
Starting key
✔
Start lever
✔
Model scale
1:30
Path length
118.11" (3 m)
Possibility of reverse (reverse movement)
✔
Figurine(s) of people included
✔
Fragment of rails included
✔
Can be a decor element
✔
Possibility of hand painting
✔
The packing box is made of wood.
Inside there is an instruction on how,
after assembling the model, you can also
assemble the box into a demonstration stand.
✔
Age
14+
Conclusion
The City Tram With Rails is a testament to timeless design and mechanical brilliance. As you embark on this assembly journey, you don't just put pieces together; you travel through time, cherishing the beauty of trams, the hustle and bustle of city life, and the unparalleled joy of crafting. Embrace this journey and let your imagination roam free.