3D Wooden Puzzle: A Perfect Addition to Your 4×4 Model
Discover the excitement that comes with the 3D Wooden Puzzle, an impeccable companion for your 4×4 model. This Trailer Puzzle offers an immersive, hands-on assembly experience, transforming from flat birch wood pieces into a functional trailer model.
Features and Functionality
The Trailer model is packed with realistic features and functions. It has an open body that replicates the cargo compartment of a real trailer, along with enlarged wheels for an authentic look. A unique feature is its shock absorber that adds to its realistic functionality, and an additional lever-activated function that simulates the dynamics of a real-world trailer.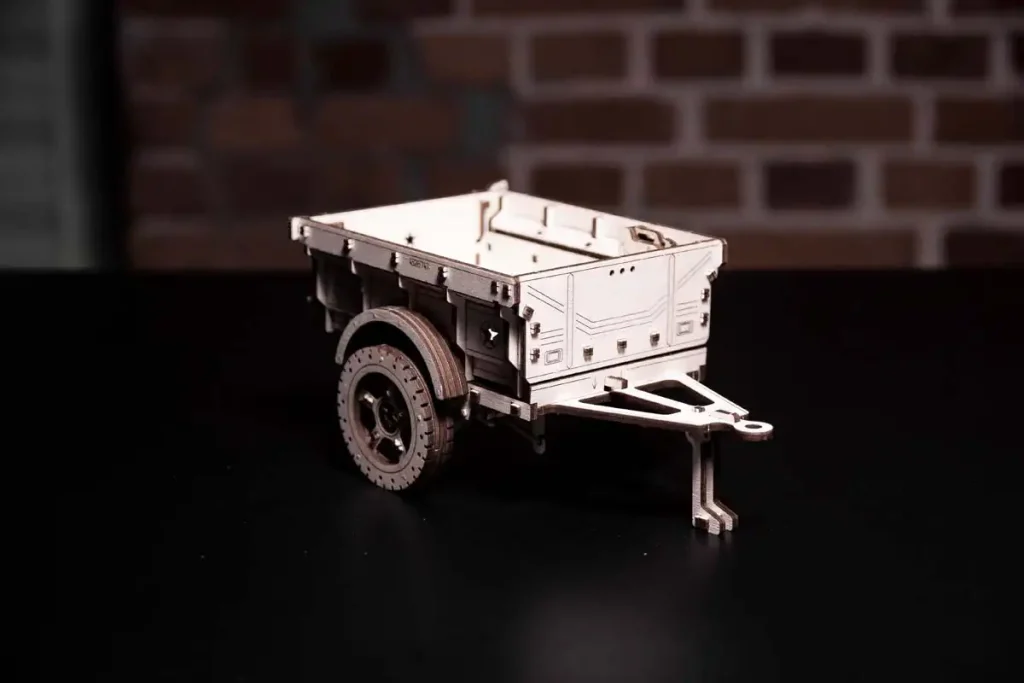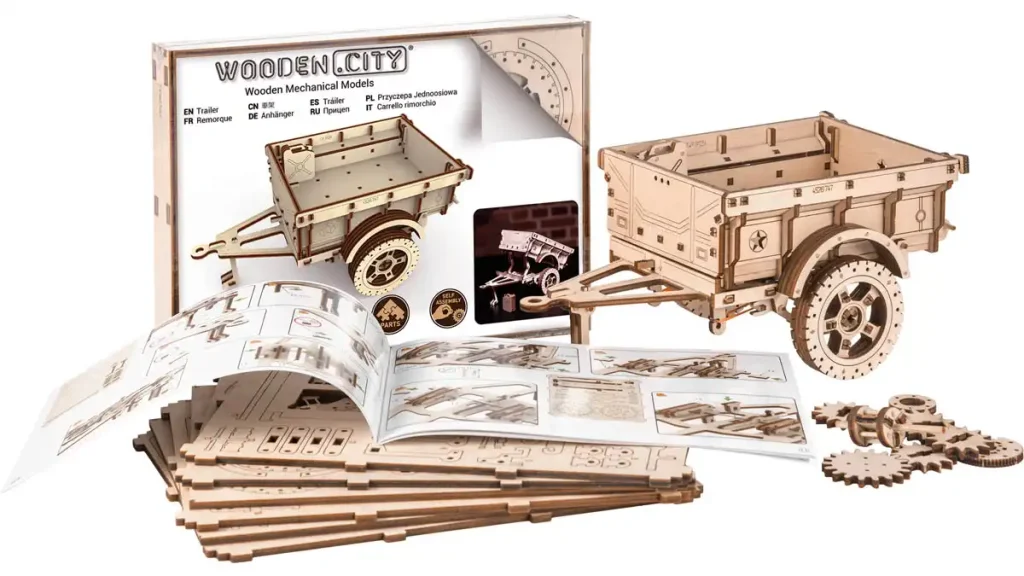 Quality Craftsmanship
Expertly crafted from birch wood, this model promises durability and a refined aesthetic appeal. The precision-cut pieces ensure a smooth building experience and a well-fitting final product, giving you a sense of accomplishment once fully assembled.
Eco-friendly Packaging
The model's wooden packaging is designed to be repurposed into a display stand for the completed model, promoting an environmentally friendly approach and offering an attractive way to showcase your assembled masterpiece.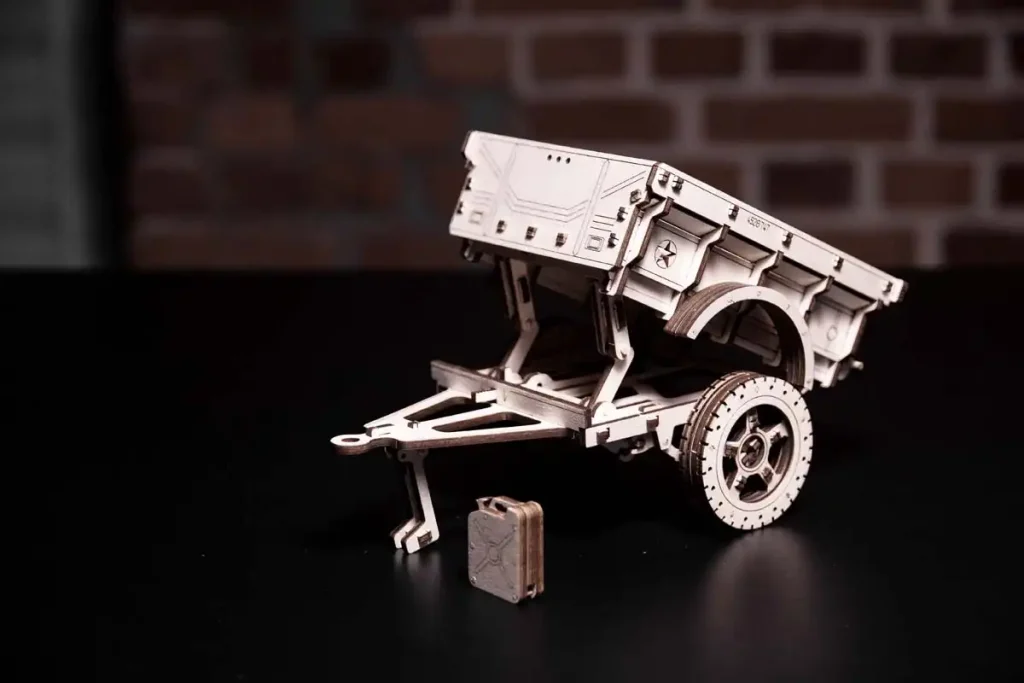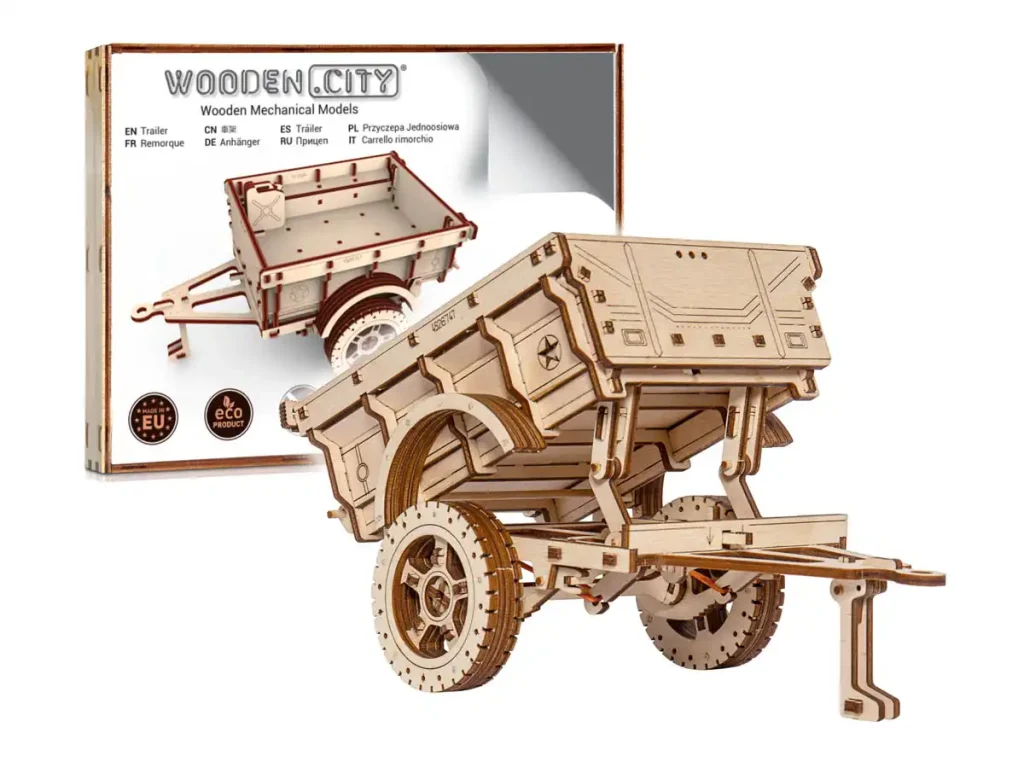 Perfect for Gifting
This 3D Trailer Puzzle makes a perfect gift for enthusiasts of mechanical models, car lovers, or anyone who enjoys a good puzzle. Offering hours of assembly fun, it results in a functional trailer that can be attached to the 4×4 vehicle model, enhancing its display value.
Customizable and Unique
This model is not only about mechanical assembly – it's also an opportunity for artistic expression. You can customize your trailer by painting it, making it truly unique and personalized.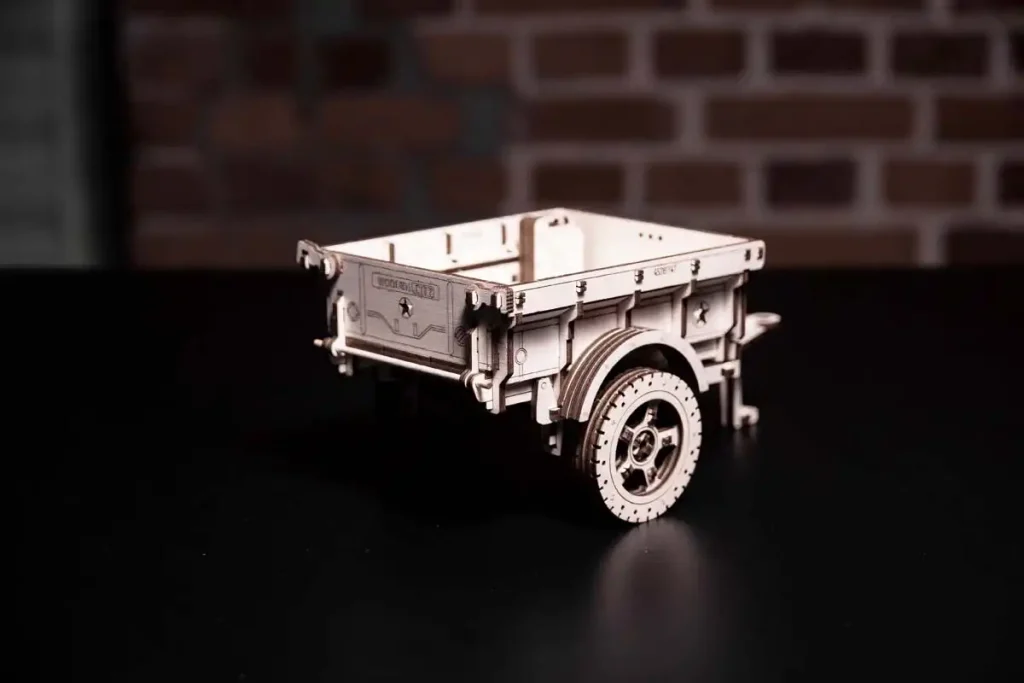 Off-Road Family Fun
Join hands and get set for an off-road adventure right in your living room! Building this trailer brings families together, driving discussions about road trips and wilderness escapades. A bonding project that turns into hours of imaginative play. Let's hit the family trail!
Characteristics
Number of parts total
119
Series / Article
WR-310
Difficulty level
3/5
Assembly time
3 h
Model dimensions
H: 9.65'' (24,5 cm)
W: 5.67'' (14,4 cm)
D: 4.41'' (11,2 cm)
Package size
H: 9.44" ( 24cm)
W: 6.,89" ( 17,5 cm)
D: 1.1'' (2,8cm)
Model scale
1:12
Shock absorber
✔
Imitation lights
✔
Additional function activated by lever
✔
Enlarged wheels
✔
Open body (cargo compartment)
✔
Footboard / stand
✔
Can be a decor element
✔
Possibility of hand painting
✔
The packing box is made of wood.
Inside there is an instruction on how,
after assembling the model, you can also
assemble the box into a demonstration stand
✔
Age
14+
In Conclusion
The Trailer is more than just a model; it's an opportunity to immerse yourself in a rewarding process of creation. From opening the eco-friendly packaging to attaching the final piece, you're in for a journey of discovery, fun, and satisfaction. Whether as a companion piece to your 4×4 model, a standalone project, or a unique gift, this Trailer Puzzle promises a fantastic building experience and a stunning final product.