3D Wooden Puzzle: Clock is a great choice for people who are looking for an interesting puzzle, which, when arranged, will turn into a wonderful decoration. This motif is characterized by the fact that it will also be suitable as a gift for adults who are interested in this form of entertainment. If you are looking for good quality products with such specificity, take a look at our offer and you will surely find something suitable for you.
Table of Contents:
Our offer
Available models
For people of all age
Great fun
Beautiful decoration
Find out our 3D wooden clock puzzle
3D wooden puzzle: clock produced by our company Wooden.City are a guarantee of the highest quality. For the available products prepared by us, we use birch plywood. Used elements are environmentally friendly. The individual elements are cut with laser devices, ensuring the perfection of the shapes. The combination of our team's experience and creativity guarantees the creation of sets that you are satisfied with. If you have any questions, we welcome you to contact us.
Overview of the available models
In our offer, you will find several proposals with clocks as their theme. The first of these is the 3D Puzzle: Magic Clock. This Magic Clock consists of 149 pieces that will take several hours to assemble. This fairy-tale model is notable for the possibility of taking a close look at the mechanism itself and analyzing how it works. All you need is a coin to set the pendulum in motion. There are two dials in this model – one hour and one minute dial.
Another available choice in this category is the 3D Puzzle: Royal Clock. The Royal Clock is beautiful enough to be a decoration of any, even a lavish home. It is made in Rococo style, characterized by delicacy on the one hand, and many fine details on the other. The model has a pendulum mechanism, activated by coins – the more you put them in, the longer the period of action, which can reach up to twelve hours. The assembled puzzle will form a small masterpiece that you will proudly place in your home or apartment.
The Wooden Steampunk Clock is already a slightly less typical clock model, which counts up to 269 pieces made of eco-friendly wooden materials. Importantly, no glue is needed to assemble any of these models. The products will provide hours of assembling entertainment. All variants are an excellent choice with an uncommon and original gift in mind.
Other proposals
In search of less typical solutions, we also encourage you to take a look at two models that are not directly clocks but refer strongly to the mechanism of these devices. The 3D Puzzle: Mechanical Picture and 3D Puzzle: Kinetic Picture are wooden puzzles with mobile mechanisms activated by a key. The 3D Mechanical Picture is a "living" picture, that perfectly presents the beauty of the operation of gears, associated, precisely with clock systems. Similar is the scheme of operation of the 3D Kinetic Image. The model has a simple and minimalist but at the same time extremely impressive design. The central part of the model is the clock face.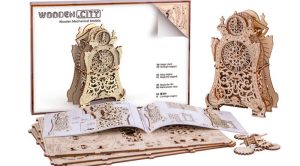 3D wooden puzzle: clock for people of all ages
3D wooden clock puzzle can safely be considered a fairly universal theme, as they will appeal to younger people, but also to older ones. It is worth considering them, if only as a gift for an adult who is interested in puzzles and explores such a hobby in his spare time. Moreover, the advantage of these models is, that their aesthetic qualities make them usable after they have been assembled.
Fantastic entertainment
The variations of puzzles in the form of clocks are quite advanced, so they will be an interesting challenge, even for people who reach for this type of puzzle not for the first time. As a result, you can enjoy the puzzle a lot, but also get satisfaction when you manage to complete the clock. Arranging wooden puzzles will give you the feeling of interacting with a natural raw material, which is incredibly relaxing. At the same time, the choice of these particular models is a guarantee of many hours of fun in arranging alone, with friends. or family.
Beautiful decoration
Wooden puzzles, especially in three-dimensional form, are distinguished by their beautiful final effect, especially in the case of our models. We refine to the smallest detail. Unlike standard puzzles, once assembled, it is not worth dismantling them. Instead, it is better to leave the arranged model and use it as a decoration. In the case of a theme related to a clock, this is a particularly good idea, because such a decoration will enrich any interior. At the same time, in our store, we have several available variants, so you can choose one that will best suit the character of the interior.
3D wooden puzzle: clock is a source of entertainment for people of all ages. In addition to interesting, once assembled you will get a decoration that you can decorate your living room or bedroom. We highly recommend ordering such models from our store. We guarantee our products are beautiful and made with high quality.