Adult wooden puzzles are different from models created for children, not only in difficulty level but also in theme. Such puzzles consist of hundreds or even thousands of elements, which are also often irregular, further increasing the level of difficulty of the puzzle adequate to the development level of an adult. Should adults assemble puzzles?
Table of contents:
Are such products worth using?
Benefits
How to use ready models?
Perfect as a gift
Is it worth it to assemble adult wooden puzzles?
Adult wooden puzzles from our store are difficult and complex, but also durable and aesthetically very pleasing. Models for adults rarely depict motifs similar to those of children. More often, a picture composed of wooden pieces depicts a well-known work of art, a landscape, or other very complex graphics. Indeed, such puzzles should always correspond to the interests of the person who arranges them, as well as have a content value for its user, or at least have a decorative character. In our portfolio, you will find wooden puzzles depicting not only beautiful city views or detailed maps of the world, but also 3D puzzles – vehicles, weapons, clocks, and many others. If you need help choosing or assembling your desired model, contact us!
Benefits
Much is said about the benefits of children putting together puzzles. We know that such an activity teaches a child to focus, improves his motor skills, develops imagination and creativity, and trains concentration or logical thinking skills. However, it is no different for adults as well. The process of arranging stimulates the brain and forces the training of the precision of finger and hand movements. During the process of arranging, the human nervous system works at full speed. People who engage in this type of logic puzzle are less likely to suffer from neurological diseases, have a better memory, and enjoy a higher level of concentration. Puzzles of all kinds are recommended for elderly people at risk of dementia and memory loss, as well as post-stroke patients in recovery and rehabilitation. However, this type of entertainment cares not only for the fitness of the mind but also for the mental state of an adult. Fitting the pieces is relaxing, it helps to soothe and calm the nerves. The final result of succeeding in assembling a complicated puzzle is pride and satisfaction, lifting one's spirits and allowing one to improve one's self-esteem.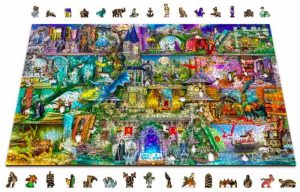 How to use wooden 3D puzzles for adults
Wooden 3D puzzles for adults available in our store are a great gift idea considering the fact that their themes are very distinctive and can be easily matched to the interests of the selected person. While classic (2D) puzzles usually depict fairly universal graphics, such as landscapes or animals, in the case of 3D models we are dealing with very specific thematic collections. In particular, we offer mechanical puzzles with vehicles, weapons, or clocks. Thus, a suitable mobile model can be given to a person who is passionate not so much about the puzzles themselves, but, for example, about automobiles or the military. Since we present entire collections of such moving mechanical models, the birthday boy or girl can receive a different piece of the puzzle every year.
What to do with the assembled model?
Assembling our models is done without glue or tools, therefore not only classic puzzles but also mechanical models can be assembled and disassembled repeatedly. An exception to this rule is the wooden world map, which most people choose to adhere permanently to the wall as a decoration. Traditional variants can also be treated in a similar way. Variants of puzzles depicting famous paintings, and postcards from attractive tourist cities or landscapes can successfully decorate the wall of a bedroom, living room, or hallway. If you spend your precious time assembling, the puzzle will have much more value for you than ready-made posters or paintings. As for mechanical models made of wood, they can also be assembled permanently, painted in the color of your choice, and displayed in your apartment.
Why choose our puzzles for a gift?
Puzzles made of wood – or more precisely, certified birch plywood – are a durable, aesthetically pleasing, and timeless product. The natural material looks great, is eco-friendly, and is safe for those with allergies. Simultaneously, wooden puzzles have an elegance that standard products may lack. The most important asset of our products, is the care and precision of production, thanks to which each piece fits perfectly into its dedicated place. No matter how many times it is combined with the other parts of the puzzle, it maintains its original design, that is, perfectly smooth edges and the desired firmness. Thus, wooden puzzles are perfect for a gift for someone close to you – their quality and authenticity allow you not to worry about how the recipient will treat such a gift.
Wooden puzzles for adults are a source of entertainment, as well as a way to keep your mind in good shape or your hand agility. Plywood puzzles are also great as a gift. Find out more about the wooden puzzles we currently have in our offer!