Wooden fox puzzle is a puzzle with a fashionable motif of a majestic red fox. The picture arranged from variously shaped elements is multicolored, full of intriguing details, and surprisingly realistic. The level of difficulty represented by such a puzzle will meet the expectations of children over 8 years old, teenagers, and adults. When is it worth choosing such a puzzle model?
Table of contents
Benefits
Assemble repeatedly
Development and fun
Relaxation for adults
For a gift
Animal motif
How to frame them?
What are the advantages of the wooden fox puzzle?
The wooden fox puzzle is available in our online store Wooden.City is made of certified birch plywood. The product has approvals and certificates, including CE, EN-71, ASTM D-4236, which prove its safety, including for the youngest users. The 150-element models are suitable for children aged 8 and older. On the other hand, 250-element models for 10-year-olds. However, wooden puzzles composed of elements of various shapes are also challenging for teenagers and adults. If you want to learn more about our puzzles, please contact us. In our offer, you will find many other designs in the shape of animals and more. In our offer are also available 3D puzzles in the form of mechanical models, such as vehicles, railroads, dinosaurs, or other gadgets. We also offer wooden board games or various kinds of keychains.
Fold multiple times
The main advantage of wood puzzles is their durability. Plywood does not deform, soften, or fray. Precisely cut elements fit together perfectly, so that arranging pictures is a pure pleasure, and the finished work holds together even without the use of glue or tape. The pieces are stiff and thick, which translates into a better and more comfortable grip when you turn them in your fingers and fit them together. Wooden puzzles also look different from paper ones. They are more aesthetically pleasing and more elegant. When assembled, you can make them into a beautiful interior decoration, especially if you like the fox motif. Such a decoration will suit Scandinavian or vintage style.
Development and fun
Wooden puzzles with an animal theme are sure to encourage children to reach for this special educational toy. Stacking puzzles is a fun activity that develops motor coordination, spatial abilities, and manual skills. Puzzles teach perceptiveness and logical thinking. They improve small motor skills and eye-hand coordination. Since the ones with a fox theme consist of different-shaped elements and figures. They are more interesting and surprising and thus will occupy the child for a longer time. The higher level of difficulty also translates into more effective learning of patience. However, the end result rewards the effort put into such work.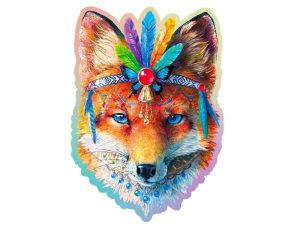 Relaxing for adults
Those who say that puzzles are a toy only for children probably haven't dealt with them in a long time. Wooden puzzles built from a variety of pieces are challenging even for adults. However, they are so phenomenal and fun to put together that they are a great way to relax at home. You can put them together to take care of mental sharpness and good memory. However, they will also work well as entertainment at family gatherings or parties with friends.
Make it a gift
Do you know someone who loves handmade gifts? Or maybe there is a lover of fox themes among your loved ones? In both cases, puzzles of this type will work perfectly. You can arrange them yourself, frame and give them as a gift as a finished picture. It will also be a good idea to give someone a puzzle to put together on their own. Just tie a bow on the box with puzzles and the gift is ready to make someone's birthday, name day, or other holidays.
Popular fox theme on wooden puzzles
Wooden puzzles with a fox theme are increasingly chosen. This ginger animal represents the mysterious side of the forest. It is beautiful, refined, majestic, and charming, just like a domestic kitty. This design motif gained popularity with the appearance of Scandinavian style in interiors. This is because it draws from natural themes, that is, from the world of flora and fauna. Children's rooms in Scandinavian style are often decorated with wallpapers or stickers with forest animals, especially foxes. The foxy ginger color enlivens the arrangement, but also blends perfectly with fashionable shades of white and gray. All this means that self-assembled fox puzzles can decorate interiors as impressively as posters or paintings. While the image of a fox will decorate a child's room or a teenager's bedroom, a wooden map of the world, which you will also find in our store, will be perfect for the living room in the same role.
How to frame a puzzle?
You can glue puzzles directly to the wall, create a beautiful and original decoration, or frame your artwork. You can use a plexiglass or glass frame. Such a product secures the picture without the need for glue. So if you want to put the puzzle together again, you will not be deprived of this opportunity.
Puzzles with a fox theme are a fashionable but also timeless choice for both children and adults. The ginger fox can decorate interiors, peering proudly from the wall or from the top of the dresser. When choosing such a product, bet on a model made of wood – this will make the picture more elegant, and the pieces themselves will prove much more durable. Check out the puzzles we currently have in our assortment!