Wooden puzzles for children is a solid, durable, and creative toy, which falls into the category of educational toys. From ordinary paper puzzles, our product differs above all in durability. Repeatedly stacked traditional puzzles are easily damaged, while those made of plywood can last for many generations. Why else should you choose such a product for your child?
Table of Contents:
Why are such puzzles a good choice?
Brain development stimulation
Motor skills development
Beneficial effect on the emotional level
Variety
Wide selection of designs
Puzzles with figures
Why are wooden puzzles for children a good choice?
Wooden puzzles for children activate both: the youngster's brain, as well as little hands and fingers to work. Parents often don't realize how many benefits a toddler can gain from the fun of matching individual puzzle pieces together. What's important, since the products available at Wooden.City vary in difficulty level, you can find among them both a simple picture that a toddler can handle or a graphic that will be a challenge even for a teenager or an adult. Contact us if you need help with your selection!
Brain development stimulation
Assembling puzzles in a very intensive way stimulates the brain, thanks to which it stimulates its development or sustains its functions. While fitting the puzzle pieces together, a child improves concentration and logical thinking skills. This activity also shapes spatial imagination, which is extremely important at school (especially in mathematics). This type of entertainment is the art of finding good solutions, which at the same time does not limit children's creativity, but, on the contrary, stimulates and develops it.
Fine motor skills development
To put a puzzle together, a child has to fit successive pieces together. Most often the method of trial and error is used for this purpose. A kid repeatedly rotates each piece between fingers. It is highly beneficial for the development of fine motor skills, i.e. the dexterity of hands and fingers. It is worth mentioning at the same time that proper development of fine motor skills has a huge impact on later learning to write or draw. In the case of puzzles made of wood – thicker and more rigid than those made of paper – grasping individual pieces is much more comfortable for the child, which affects his comfort during the play.
Beneficial effect on the emotional level
By putting puzzles together, a child develops physically and mentally, as well as emotionally. Assembling puzzles teaches patience, perseverance, and coping with obstacles. If a child puts together a puzzle with parents or siblings, the teamwork skills are trained. Besides, during such play kids calm down and soothe themselves. That's why it's worth encouraging a child to put puzzles together, among other things, just before bedtime or after an intense workout.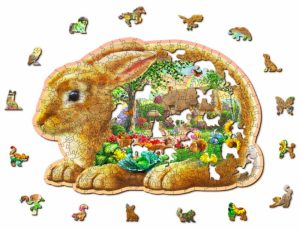 Variety of our wooden puzzles for children
Wooden puzzles for children available in our store are produced from certified birch plywood – ecological and safe for the youngest, even for those with allergies. Such puzzles are durable and rigid no matter how often the child arranges them each day. Even if the toddler does not follow the principle of clean and dry hands when doing so, the individual pieces are not damaged and it is easy to clean them from dirt. Because the wooden puzzle pieces are tough, the arranged picture holds well together – it does not fall apart, which could discourage the toddler from creative play.
Wide range of designs
Our products are outstanding for their high quality, but what's more, they are also diverse. We offer pictures composed of both: a few hundred or a few thousand elements, making them suitable for people of all ages – and for the youngest, teenagers, adults, or seniors. To encourage your child to puzzle, you can choose a model, that corresponds to the interests of a child. Puzzles can be used as educational toys. They will broaden the youngster's horizons and provide knowledge about the world. In our offer you will find various types of mechanical models, which, once assembled, can become, a room decoration, and more. We offer many similar models in the shape of vehicles, railroads, dinosaurs, or other gadgets. In our product range, you will also find wooden board games or maps to hang on the wall, also fulfilling educational functions.
Puzzles with figurines
By choosing a puzzle from our offer, you may notice that many of the available models in the store include irregular elements. Moreover, in sets are figurines of a particular shape, e.g. various animals. This is an additional attraction for the child, who, by arranging the selected picture, can also: learn the names of the fauna world species, imitate sounds, or determine the colors of their coat. What if one of the elements accidentally gets lost? Just contact us and we will send you the missing pieces of the puzzle!
Wooden puzzles for children are a creative, educational toy, which surpasses classic paper puzzles with its quality of execution. Therefore, it can serve not one child, but all generations. Find out what puzzle designs we currently have in our offer. Remember that all models available in the store are manufactured in Poland and have the necessary certificates attesting to their safety.