3D wooden puzzle helicopter is a unique but at the same time complex model. With this level of sophistication, it will bring a lot of fun to both children and adults, who are interested in assembling models. The products available in our offer are distinguished by their high quality and fully ecological and certified raw materials used in their production. Find out more about the wooden puzzles we currently have in our offer.
Table of contents:
Our offer
Available models
For whom such a model will be suitable?
Advantages
3D wooden puzzle helicopter in our offer
The 3D wooden puzzle helicopter is a rather distinctive and complicated model. For this reason, you should expect that you will not find them at every producer. However, you will order such products as part of our offer, while enjoying the high quality of their workmanship. Wooden.City is our Polish brand, which offers not only traditional wooden puzzles but also many 3D models and wooden maps.
Available models
The primary choice from our store will be the 3D Puzzle: Helicopter. The model is 100% eco-friendly, made of wood, and consists of 173 pieces. It guarantees excellent fun for about 3-4 hours of assembly. Significantly, you will assemble this model without using any glue. By choosing this option, you have the opportunity to discover a passion for wooden models. An additional attraction is that the product has a screw-on mechanism that allows you to set it in motion. To do this, after assembling such a helicopter, you only need to screw it with a special wrench.
Another interesting option is to reach for a helicopter from a unique limited edition. It consists of 178 parts, standing out especially for its unique color scheme. The model has a wooden box, which can be used as a podium. The overall design is prepared from ecological materials and does not require the use of glue for assembly. This variant will bring a lot of fun when assembling, and later it can serve as a stylish decoration. The limited edition helicopter is perfect for collectors or as a gift. If you have any questions about the offer, please contact us, we are happy to clarify any uncertainty.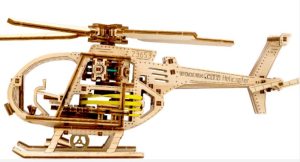 Who will be interested in the 3D wooden puzzle helicopter?
3D wooden puzzle helicopter is a unique model that can be distinguished for a wide range of interested customers. At the same time, pieces made of wood have a lot of advantages that their plastic equivalents lack. Find out the details and see why it is worth buying such products.
For whom?
Puzzles of this type are specific products prepared for very diverse customers. Of course, they will work well for slightly older children who love puzzles, and who already seek bigger and more interesting challenges in respect of standard sets. However, such models also suit adults who have a hobby of assembling puzzles or even assembling models. Finally, the helicopter product is an interesting solution for people who are very interested in airplanes, helicopters, or simply any means of aircraft. Such products are great for personal use but also are excellent gifts.
Advantages of such products
You can find many types of puzzles on the market, but the wooden ones are distinguished from the traditional ones. First of all, they require more creativity, especially when it comes to models made in three-dimensional form. This allows for to development of creativity and makes those products appealing as much to the youngest, but also adults. Such puzzles are a great product for people who like puzzles and are looking for a way to spend their free time in an engaging way. If you reach for this kind of puzzle, surely it will turn into an interesting hobby. Secondly, a big plus of wooden puzzles is also their durability. Wood is able to withstand much longer than plastic, or ordinary paper, which is easily damaged. For this reason, many toys quickly become tattered and lose their value, or are not suitable for further use. Wooden pieces, meanwhile, are characterized by sturdiness and resistance to mechanical damage, so they are really difficult to damage. Therefore, it is an investment in a high-quality product, that can be enjoyed for many years and passed on to future generations. Finally, it is worth mentioning the fact that our puzzles are fully ecological. Nowadays, when we are surrounded by artificial plastic products, wooden puzzles are a lovely change that allows us to connect with nature. Such pieces are more pleasant to touch, and in terms of children, it is important that the product is healthier – puzzles have the required certificates, and do not contain any toxic substances. Wooden pieces are biodegradable and environmentally friendly.
3D wooden puzzle helicopter are interesting models that can appeal to children and adults. They are sure to appeal to all those interested in aircraft. In addition to the fun of assembling, the wooden puzzle turns into a beautiful decoration, that can be used to accessorize your home or apartment. If you are looking for such products with high-quality workmanship, make sure to find what we have in our offer and contact us.