Unleash Your Creativity with the 3D Wooden Puzzle
Experience the thrill of building as you embark on a journey with our Monster Truck 5 Wooden Puzzle. This 3D masterpiece is more than just a puzzle – it's a captivating mechanical marvel. With its imitation lights that add a touch of realism and attention to detail, and wheels that have been thoughtfully enlarged to ensure smooth forward and backward motion, this model is a true testament to the art of engineering and craftsmanship.
Immerse Yourself in the Art of Assembly
Delve into the world of mechanics and engineering as you carefully piece together this exquisite wooden model. The process itself is an education in precision and patience, while the end result is a testament to your skill and dedication.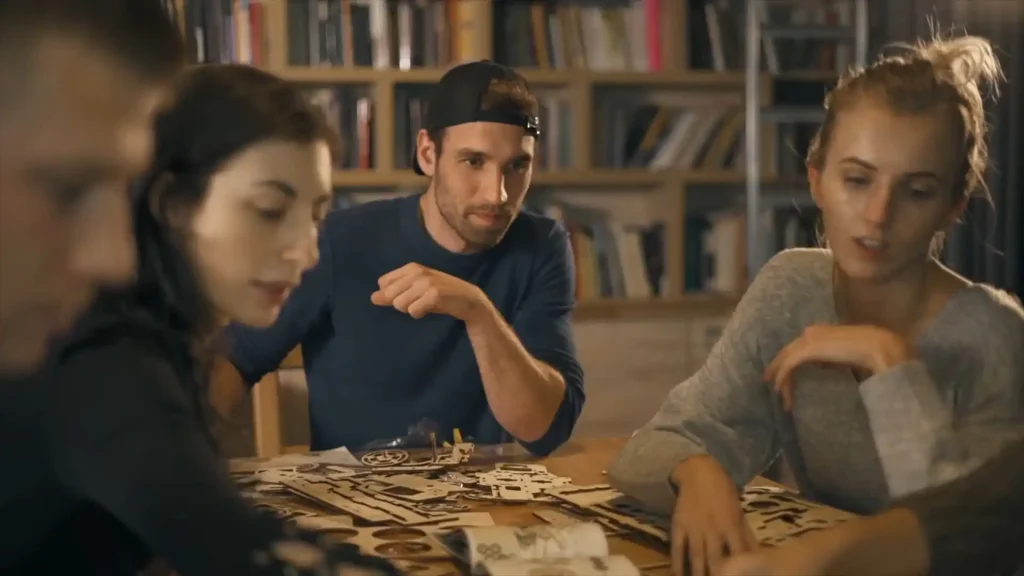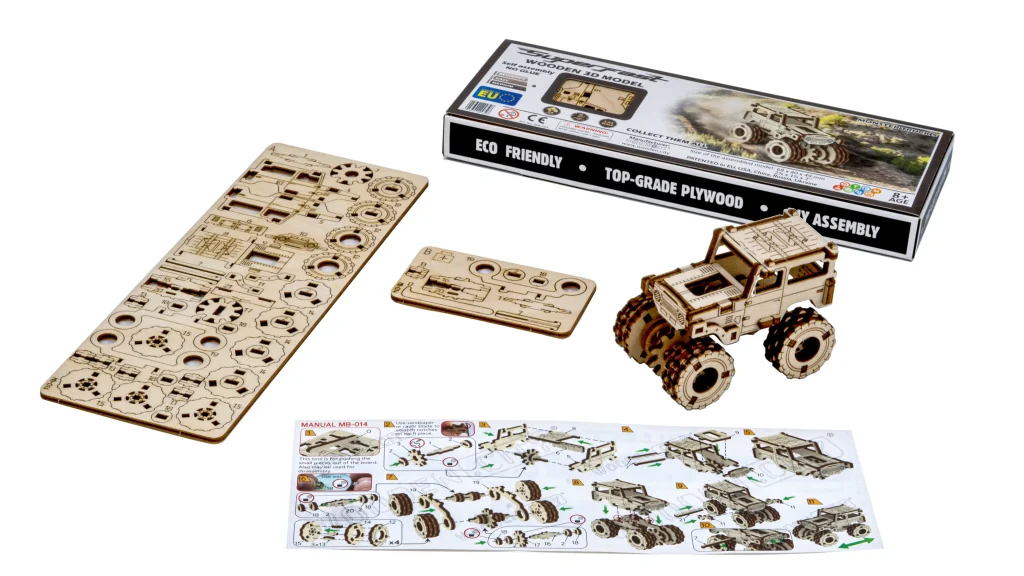 A Perfect Gift Choice
Looking for the ideal gift that combines innovation, creativity, and entertainment? The Monster Truck 5 Wooden Puzzle 3D fits the bill perfectly. Its captivating assembly process and stunning lifelike features make it an excellent choice for gifting to both young and old, hobbyists and enthusiasts alike.
Elevate Your Décor
Once assembled, the Monster Truck 5 Wooden Puzzle 3D doesn't just stop at being a mechanical wonder. It seamlessly transforms into an elegant piece of decor that adds a touch of sophistication to any space. Place it on a shelf, a desk, or even a mantel, and let its intricate design spark conversations and admiration.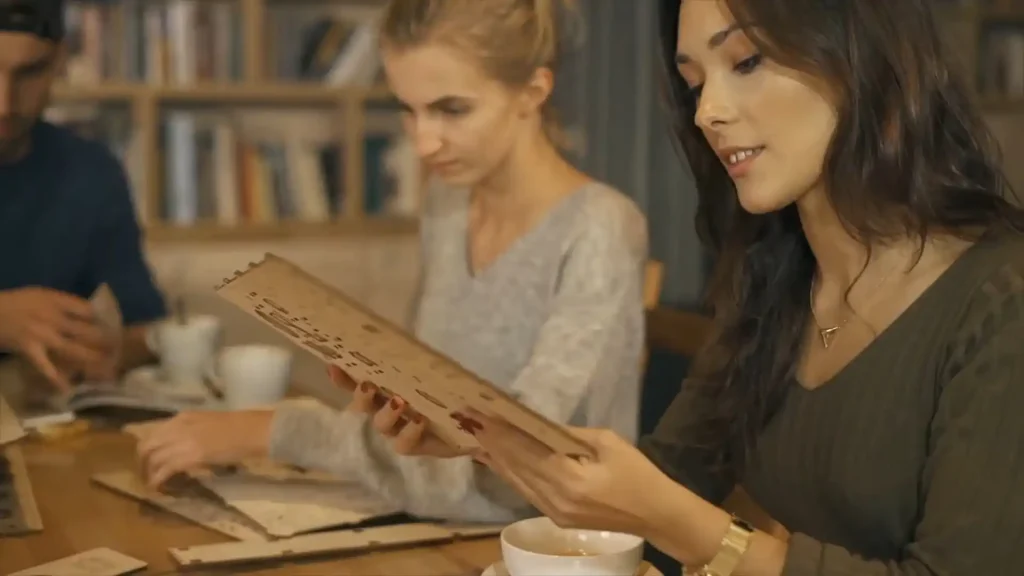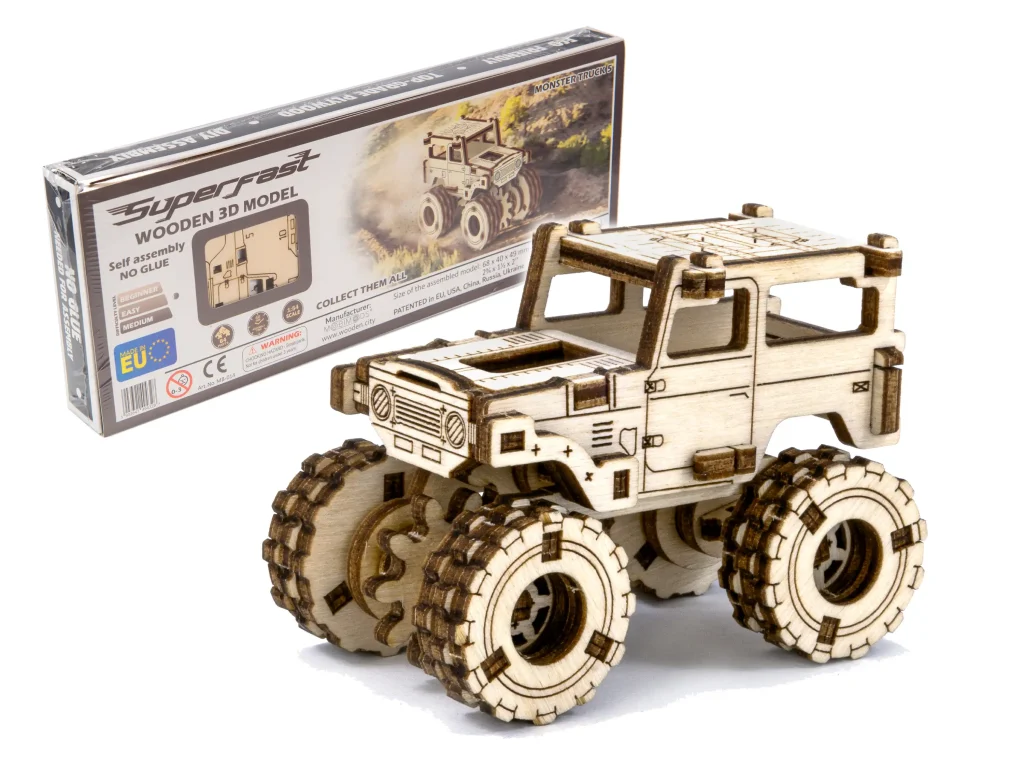 Families Assemble for the Monster Truck 5 Odyssey
Gear up for an unforgettable escapade with Monster Truck 5! Together, delve into a world of towering wheels and shared triumphs. This adventure transcends mere crafting—it's an exhilarating journey of storytelling, collaboration, and joyous discoveries. With every turn and fitting, deepen bonds and create lasting memories. Propel your family into a realm of epic fun and connection!
Characteristics
Series/Article
MB-014
Model Scale
1:54
Quantity
53
Set
1 sheet of plywood,
Assembly instruction
Spare parts
11
Difficulty level
3/5
Assembly time
1 h
Model dimensions
H: 2.68'' (10 cm)
W: 1.49'' (4 cm)
D: 1.85'' (4,7 cm)
Package size
H: 3.54" (9cm)
W: 9.52" (24,2cm)
D: 0.99" (2,52 cm)
Imitation lights
✔
Enlarged wheels
✔
Can be a decor element
✔
Possibility of hand painting
✔
Age
8+
Order now and add a touch of mechanical magic to your life!
Experience the joy of assembling, the pride of accomplishment, and the beauty of design with our Monster Truck 5 Wooden Puzzle 3D