Embark on the Journey of the 3D Wooden Puzzle Gun
Dive into the world of mechanical craftsmanship with this 3D Wooden Puzzle Gun. Made from the finest birch, each part is precisely crafted, ensuring not just a fitting assembly but an adventure in creation.
Functionality Meets Design
The Legend BRT-9 is not just about aesthetics; it's about functionality. Equipped with a magazine for ammunition and a trigger safety lever, this model is prepared to deliver. Challenge your aim with the included target and the rubber band ammunition provided, making it not just a display piece but a model with purpose.
Reinvent and Recreate
Beyond its primary function, The Legend BRT-9 is a testament to sustainability. The packaging, crafted from the same exquisite birch, can be transformed into a stand, making it a centerpiece of any display. Plus, for those with an artistic flair, the model provides a blank canvas. Paint and personalize it, making it a true reflection of your style.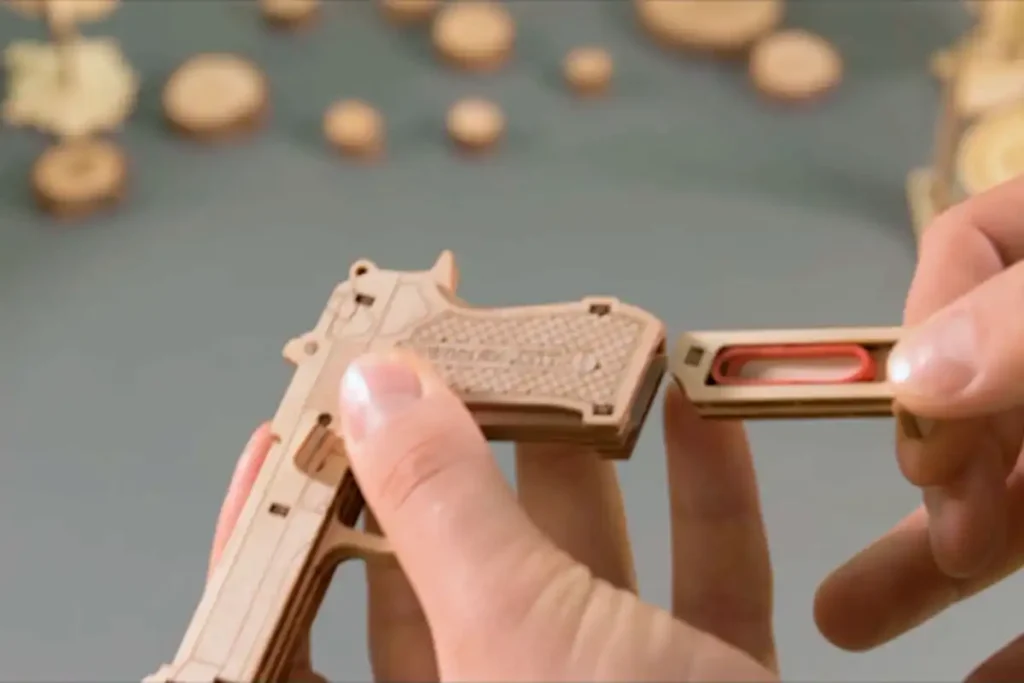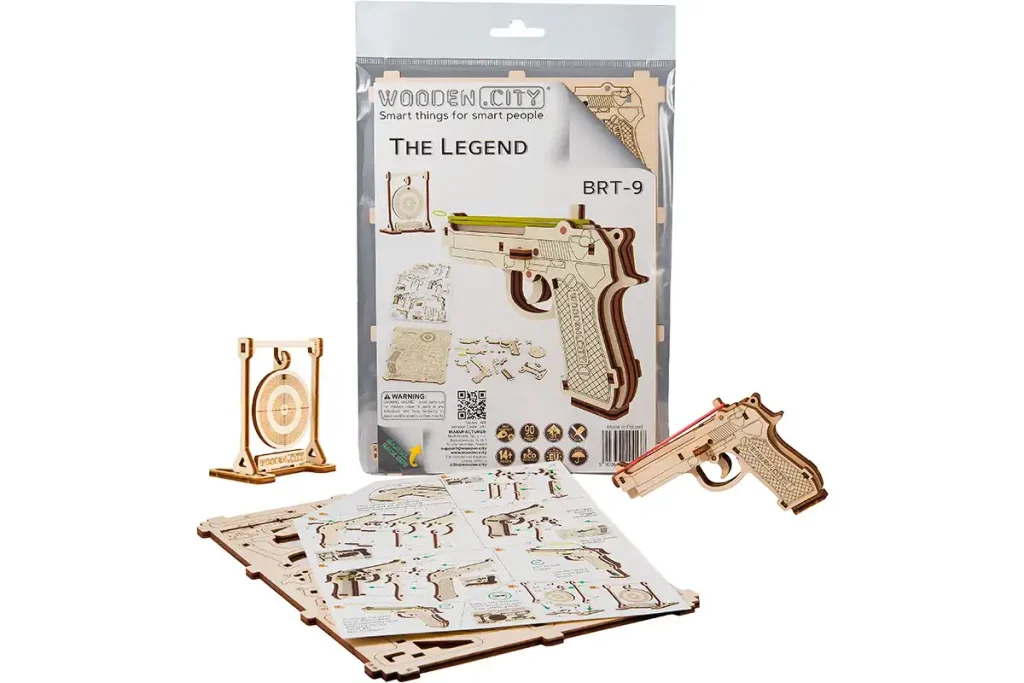 The Ultimate Gift
If you're hunting for that perfect gift, The Legend BRT-9 captures the essence of thoughtful gifting. Its combination of art, mechanics, and functionality makes it a delightful present for those who appreciate fine craftsmanship and a bit of challenge.
A Statement Decor Piece
Upon completion, this model doesn't just sit on a shelf. It makes a statement. As a decor piece, The Legend BRT-9 serves as a conversation starter, representing patience, skill, and an appreciation for the finer things in life.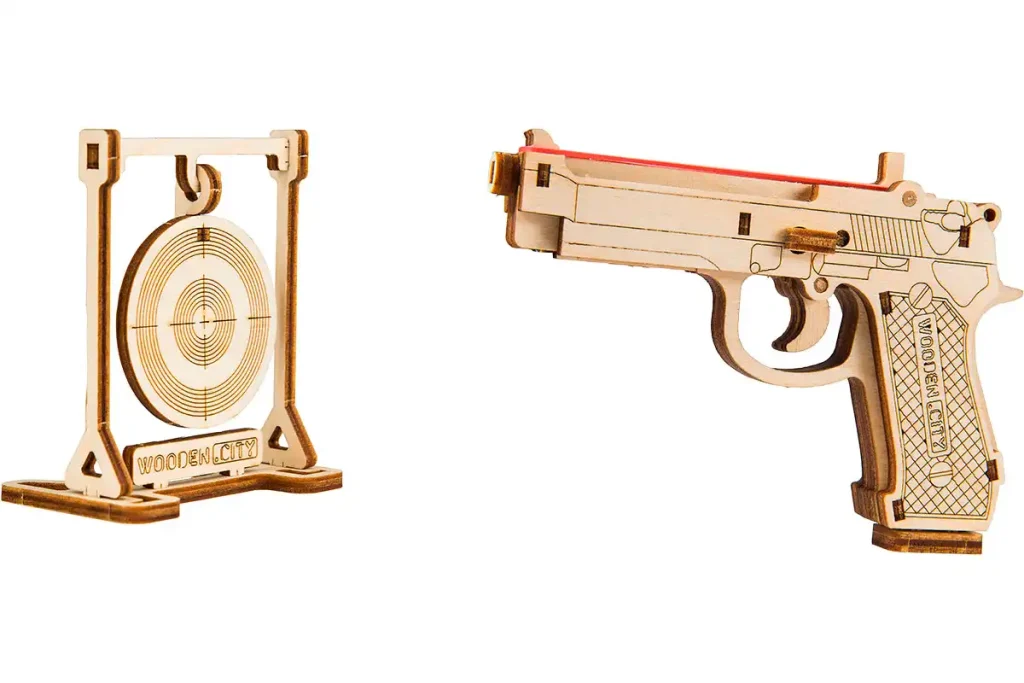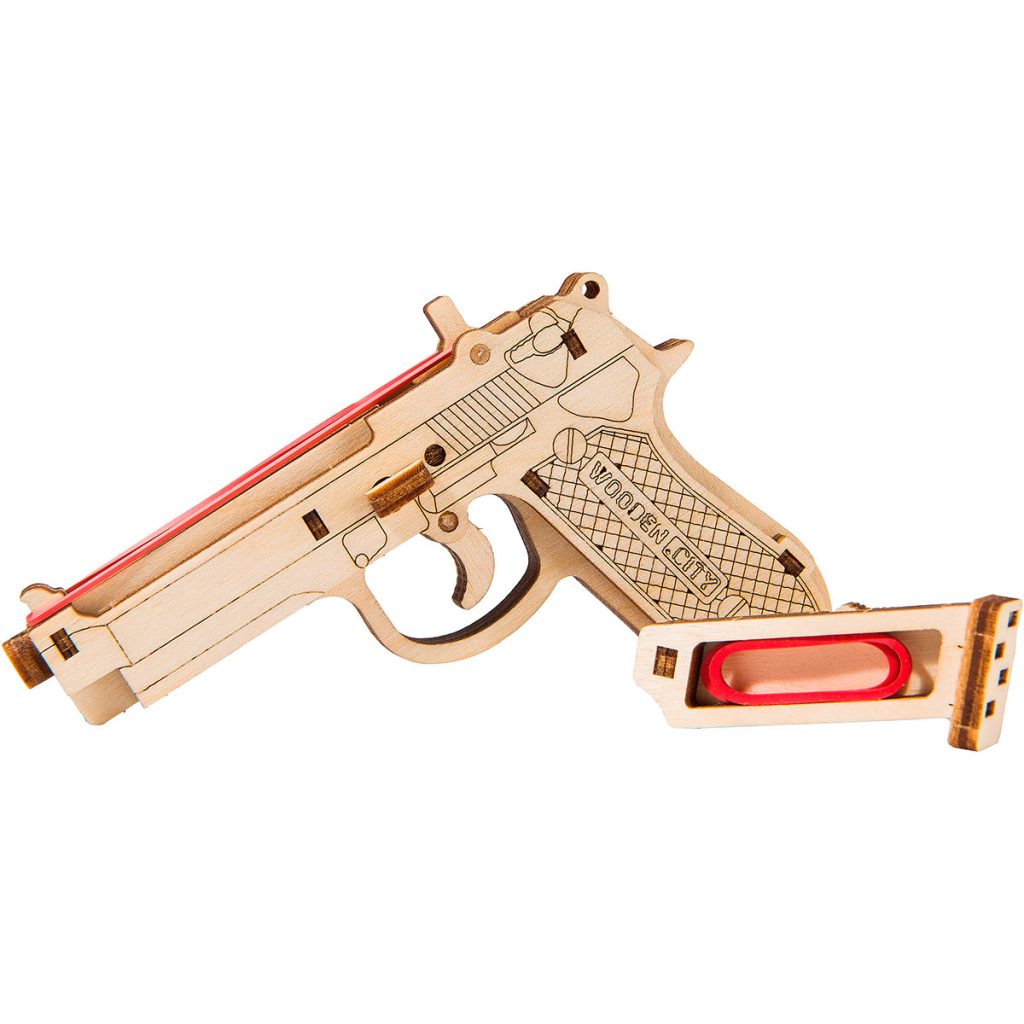 Family Adventures with The Legend
Embark on a journey with the BRT-9 masterpiece. Engage with loved ones, fostering teamwork and imagination. Perfect for an evening of collaborative fun, every piece brings a story. Relive tales and craft new memories together!
Characteristics
Quantity
36
Spare parts
3
Series/Article
WR-347
Set
Assembly instruction
Rubber Band 1.5х1.5 D15 L20 – 1+1;
Rubber Band 1,5х1,5 d20 L30 – 5+3;
Axle 15,6 – 2+2″
Difficulty level
2/5
Assembly time
1,5 h
Model dimensions
H: 4.21'' (10,8 cm)
W: 3.03'' (7,7 cm)
D: 0.78'' (2 cm)
Package size
H: 6.89" ( 17,5cm)
W: 9.44" ( 24cm)
D: 0.27" ( 0,7cm)
Magazine for ammunition
✔
Trigger safety lever
✔
Target included
✔
Ammo included (rubber bands)
✔
Can be a decor element
✔
Possibility of hand painting
✔
Age
10+
Wrap Up
The Legend BRT-9 is more than just a model; it's an experience. From the first piece to the last, it promises engagement, challenge, and satisfaction. Whether for yourself or as a gift, this model stands as a monument to craftsmanship, beauty, and mechanical brilliance. Dive in and create your legend.