The Grandeur of 3D Wooden Puzzle Craftsmanship
Embrace a hands-on experience with this 3D Wooden Puzzle that resonates with the old-world charm of the Retro Ride 1. Assembled with utmost precision, this model promises an engaging journey, reminiscent of a bygone era.
The Retro Ride 1 isn't just a puzzle; it's a tribute to iconic retro vehicles.
Attention to Detail: More than Just a Model
Controls, from the elaborate steering wheel to the realistic levers, make the assembly process a real pleasure. Imitation mirrors of intricate design, reminiscent of the times, are evidence of the authenticity of the model.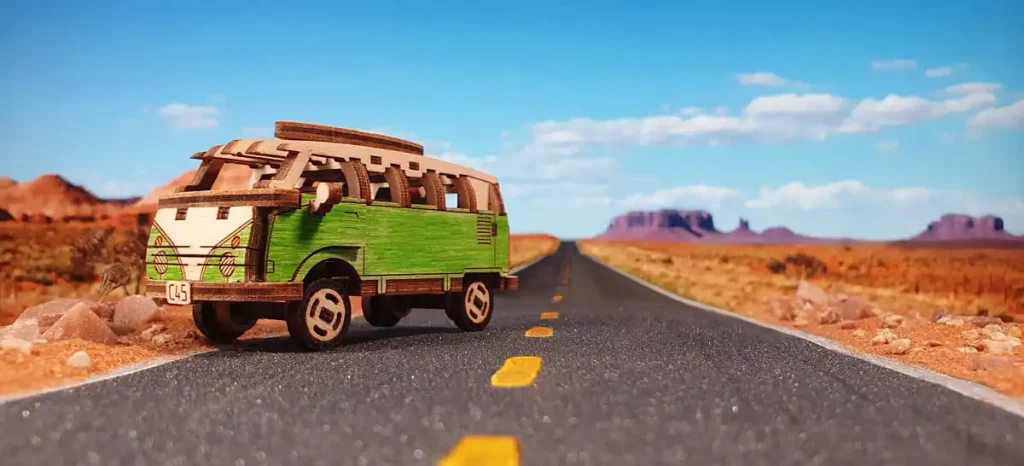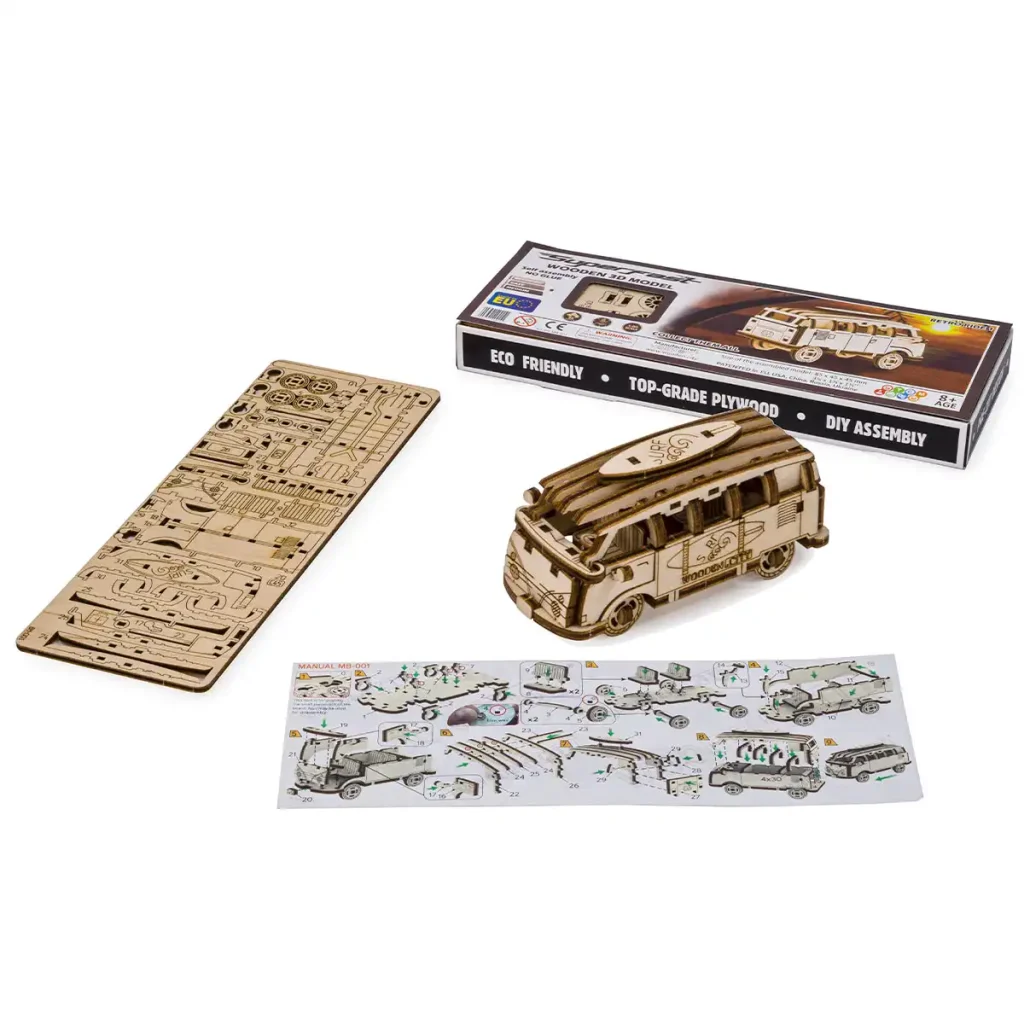 A Unique Gifting Experience
Seeking an unforgettable gift? The Retro Ride 1 stands out as a perfect present, combining the essence of heritage with hands-on assembly fun. Whether for an automobile enthusiast or a hobbyist, it promises a memorable experience that extends beyond mere unwrapping.
Transform Your Living Space
Once put together, the Retro Ride 1 transcends its puzzle origins to become a delightful decor piece. Its refined aesthetics, paired with its intricate detailing, make it a perfect centerpiece, evoking conversations and admiration from visitors.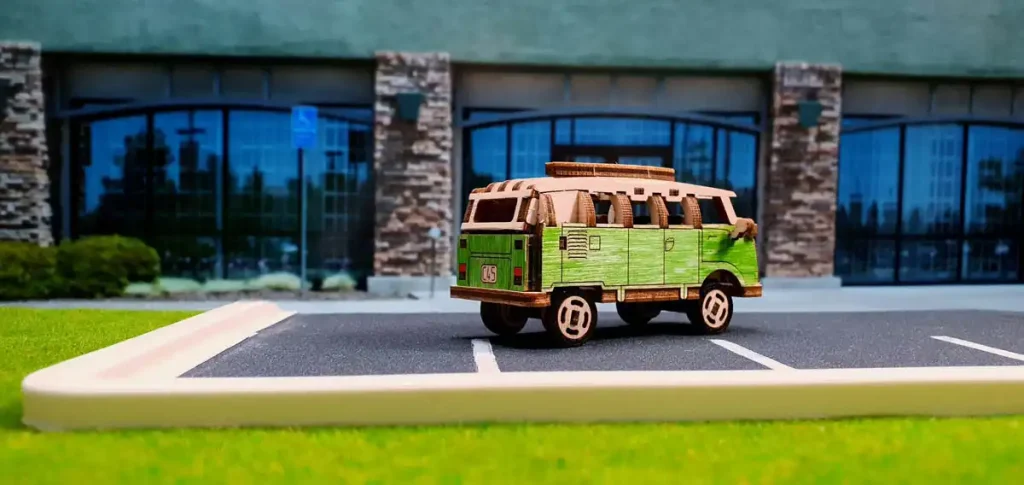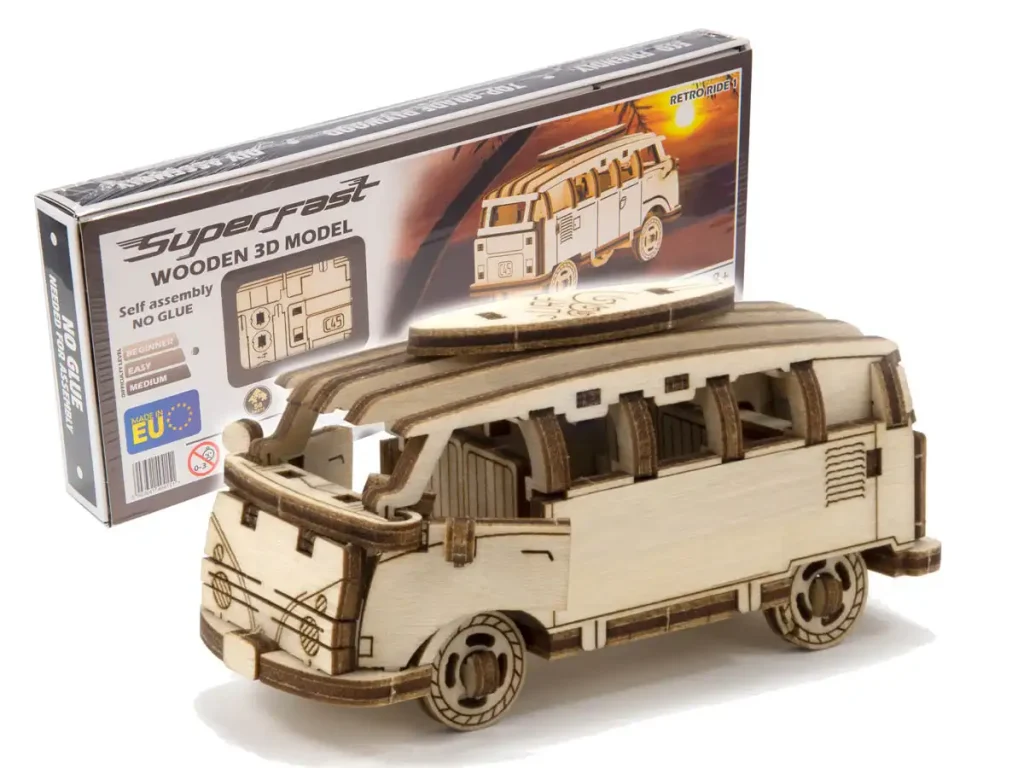 Retro Ride 1: Relive the Classics Together
Step back in time with the elegant Retro Ride 1! As a family, explore stories of bygone eras, bonding over each unique detail. It's not just crafting—it's a nostalgic journey, filled with laughter, memories, and the charm of yesteryears. Dive into the vintage magic together!
Characteristics
Series/Article
MB-001
Model Scale
1:50
Quantity
53
Set
2 sheet of plywood,
Assembly instruction
Spare parts
3
Difficulty level
3/5
Assembly time
1 h
Model dimensions
H: 3.35'' (8,5 cm)
W: 1.77'' (4,5 cm)
D: 1.77'' (4,5 cm)
Package size
H: 3.54" (9cm)
W: 9.52" (24,2cm)
D: 0.99" (2,52 cm)
Control elements (steering wheel, levers)
✔
Imitation mirrors
✔
Imitation lights
✔
Driver/pilot seat
✔
Can be a decor element
✔
Possibility of hand painting
✔
Age
8+
Polish Craftsmanship at Its Finest
Behind every piece of the Retro Ride 1 lies the meticulous care and unmatched expertise of Polish artisans. It stands as a testament to the legacy of European craftsmanship, combining innovative design with the timeless allure of birch.
Embarking on the Retro Ride 1 assembly journey is more than just a pastime. It's a trip down memory lane, a nod to the golden age of automobiles, and an opportunity to create something truly mesmerizing. As you join each piece, savor the experience, for you are not just constructing a model, but weaving a story that's uniquely yours.