An Exciting Journey with Our Wooden Puzzle
Embark on an intergalactic journey as you piece together this unique Wooden Puzzle. From the vastness of galaxies to the intricate details of astronauts and spaceships, every piece draws you into a fantastic cosmic tale. The vibrant colors, ranging from the deepest blues of space to the bright hues of planets and stars, ensure that the assembling process is as delightful as the finished masterpiece.
Exceptional Artistry and Design
Crafted with perfection in the heart of the European Union, Poland, known for its impeccable woodworking skills, each of the 1000 pieces boasts unparalleled craftsmanship. The scene is not just a random assortment of celestial bodies; it tells a story – of cosmic voyages, of astronauts venturing into the unknown, and of the sheer beauty of the universe.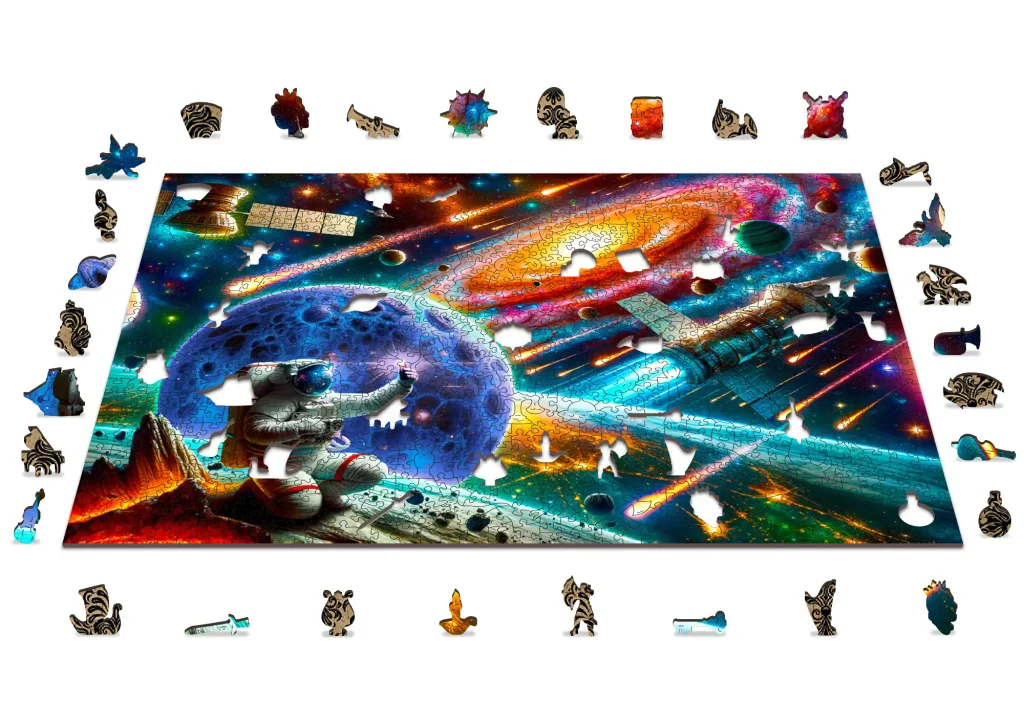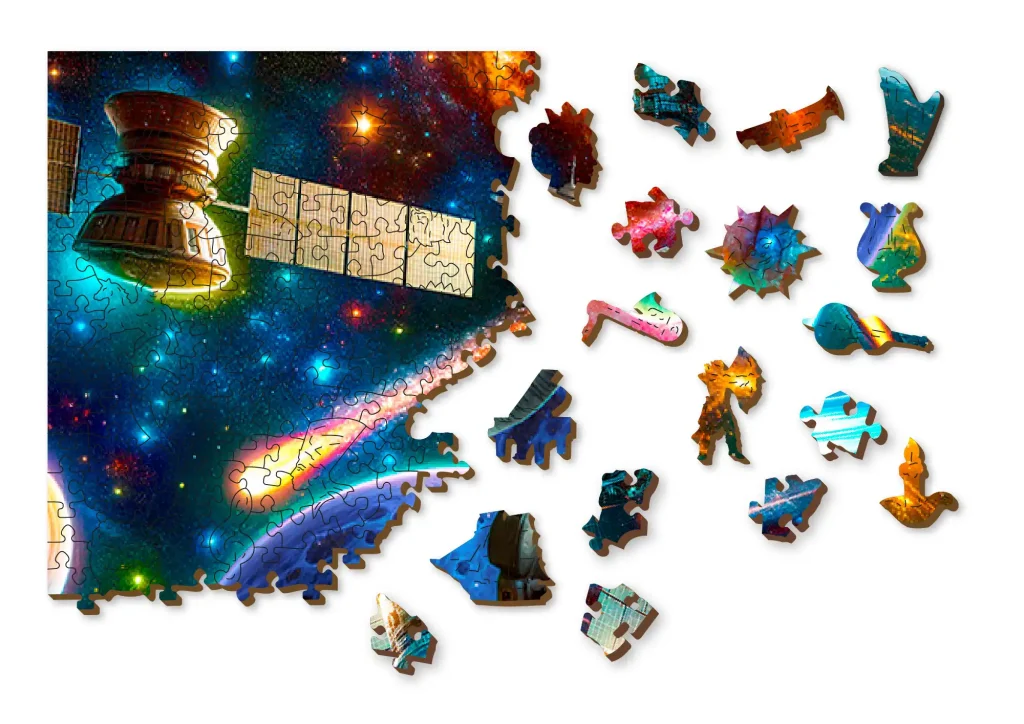 Unique in Every Way
Every piece of this jigsaw is distinct, making the process challenging yet rewarding. Depending on the theme, our jigsaws come with special shaped pieces; for instance, a travel-themed one would have landmarks, while one with animals might surprise you with unique animal-shaped pieces. Moreover, the double-sided design offers a pattern on the reverse, assisting you in those particularly tricky sections.
A Perfect Gift and Decor Piece
Searching for a meaningful gift for a loved one? Look no further. This jigsaw is an ideal present for both adults and kids aged 14 and up. Once completed, it transitions beautifully from a challenging task to a stunning piece of decor, ready to adorn any wall and spark conversations.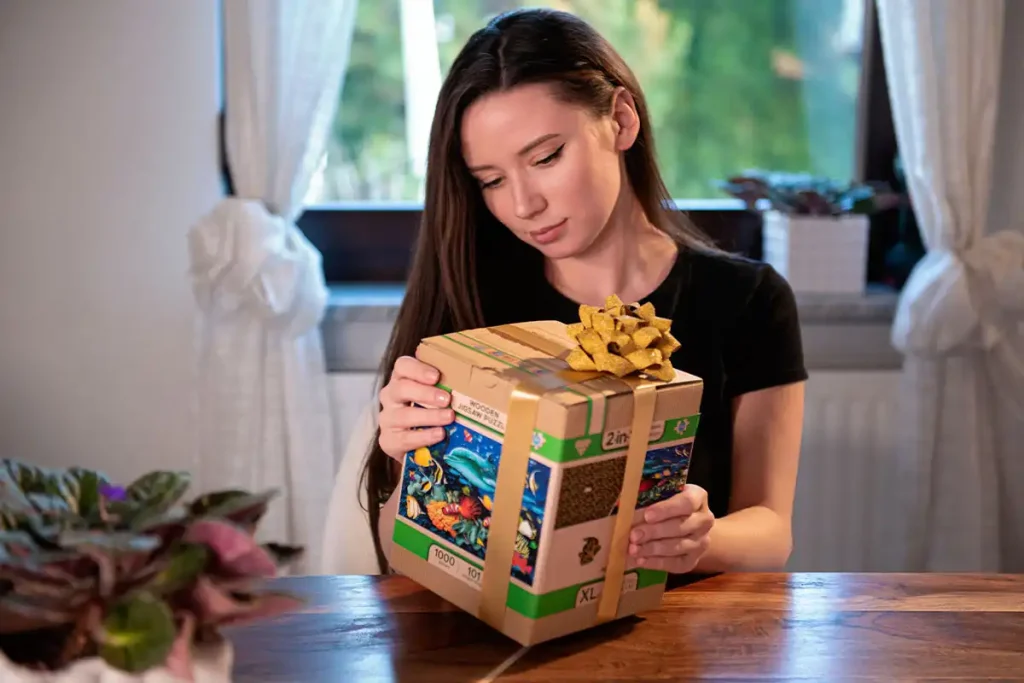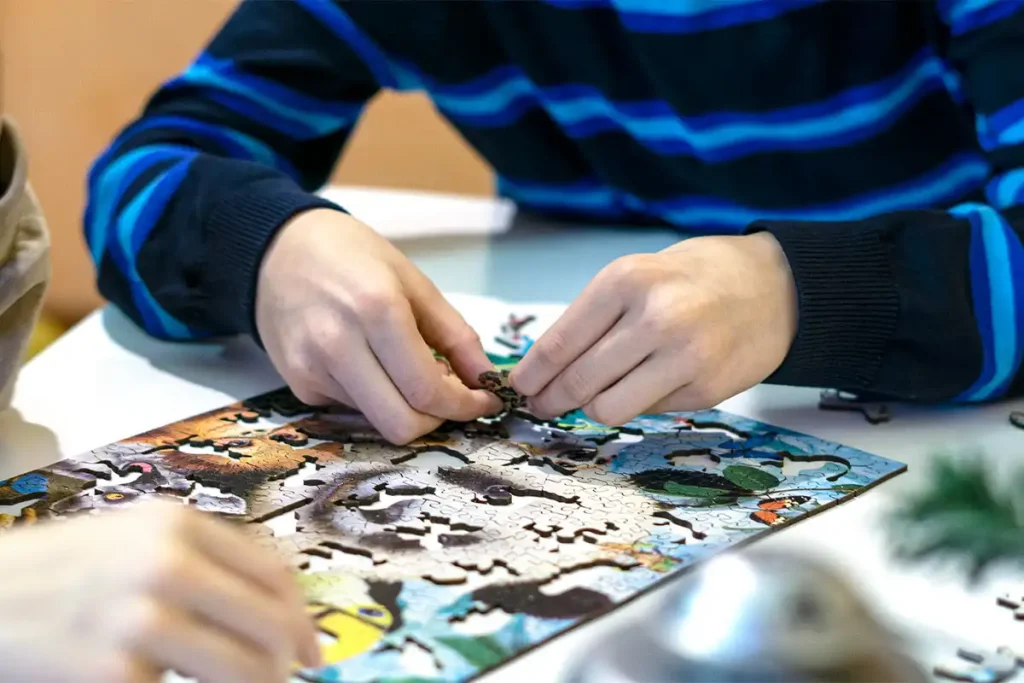 Quality Time with Family
Assembling this jigsaw is more than just a hobby; it's a bonding experience. It's an excellent way to spend time with family, collaborating, and creating memories as you piece together a shared adventure.
Characteristics
Series/Article
NB 0800-XL
Age
14+
Number of elements
1000 pcs
Number of whimsies
100 pcs
Assembled size
H: 20.43" (51,9 cm)
W: 14.76" (37,5 cm)
Packaging size
H: 7.87" (20 cm)
W: 6.57" (16,7 cm)
D: 6.57" (16,7 cm)
Packaging weight
1,34 lb (0,61 kg)
Puzzle thickness
0,12" ( 3 mm)
Assembly time
13h
Type of Cut
Library
Back side
Conclusion
Immerse yourself in a world where art meets challenge, where every piece is a step closer to a cosmic odyssey. Whether you're spending a quiet evening with family or seeking a decor piece that stands out, the Cosmic Exploration 1000 is your ticket to a universe of fun, learning, and beauty. Embrace the challenge, revel in the artistry, and let your walls tell a story of adventures beyond the stars.