The Aesthetics and Challenge of this Wooden Puzzle
Discover the hidden wonders with the Bike in the Woods 250 Wooden Puzzle. Perfect for both adults and children over the age of 10, this 250-piece, round-shaped marvel offers a multifaceted experience.
The Story Captured
A picture is worth a thousand words, and our 250-piece set is no exception. Witness a cyclist journeying through vibrant, scenic forests. This artistic rendering offers more than just a cerebral exercise—it's a stroll through a living tapestry of color and imagination.
Age Is Just a Numbe
Though it's an engaging activity for grown-ups, kids over 10 will find it equally intriguing. The rich colors engage younger minds, while the level of detail will test even the most experienced hobbyists. Whether you're looking for solitary meditation or a lively family activity, this work of art offers high-quality, endless entertainment.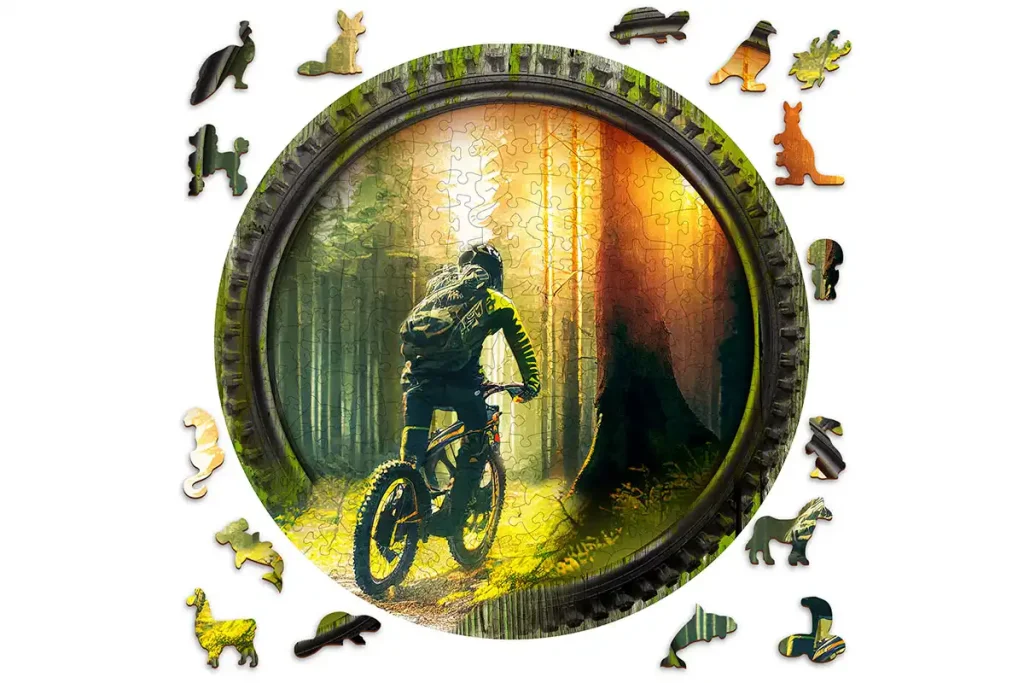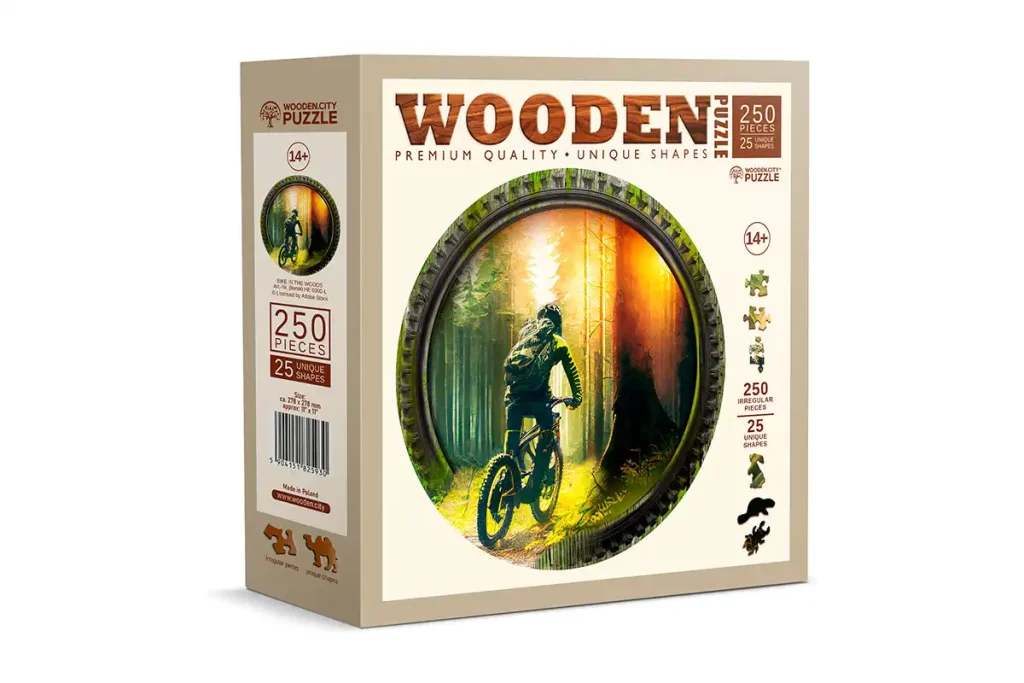 Uniqueness in Every Piece
Each of the 250 elements is unlike any other, elevating the assembly process to a delightful challenge. Depending on the theme, you'll find large, shape-specific elements, such as animals or landmarks, which enhance the activity and make it even more captivating.
Two Sides to Every Story
An exclusive feature of this set is its two-sided pieces. The reverse side showcases a unique pattern, serving as a guide while you assemble the elements. This extra layer of help appeals to both novice and seasoned enthusiasts.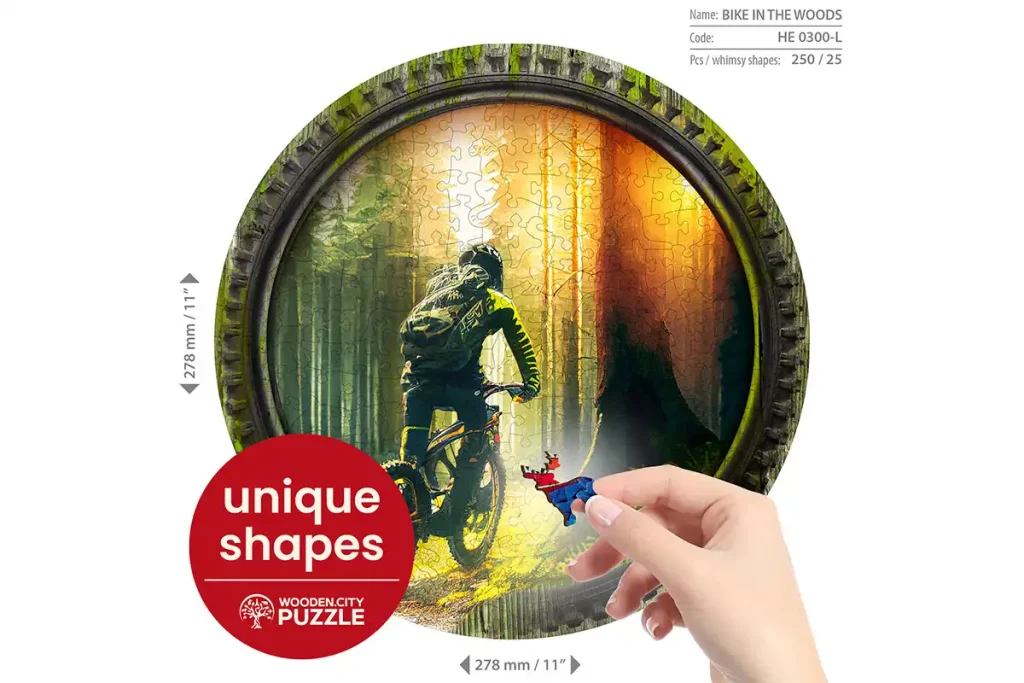 Creating Family Memories
Putting this intricate creation together is a fantastic way to foster family bonding. It's not just about fitting pieces—it's about crafting stories and making lasting memories. The unique elements tied to the theme add an exciting layer, making the activity a narrative adventure.
Perfect Gift Material
If you're in search of a one-of-a-kind gift, look no further. The blend of artistic beauty and cerebral challenge makes this an exceptional gift for any occasion.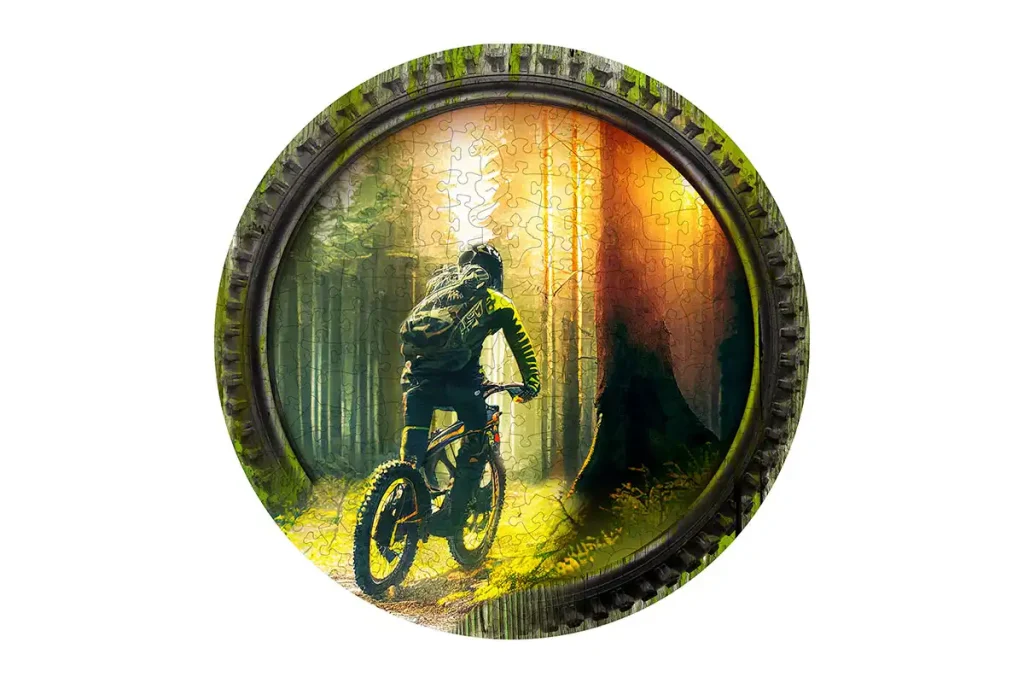 A Lasting Keepsake
Once you've placed the final piece, you're left with more than just a sense of accomplishment. This breathtaking landscape is worthy of wall space, transforming from a simple pastime to a stunning piece of home décor.
Characteristics
Series/Article
HE 0300-L
Age
10+
Number of elements
250 pcs
Number of whimsies
25 pcs
Assembled size
H: 11'' ( 27,8 cm)
W: 11'' ( 27,8 cm)
Packaging size
H: 7.8'' (20 cm)
W: 7.8'' (20 cm)
D: 2.24'' ( 5,7 cm)
Packaging weight
0,88lb (0,4 kg)
Puzzle thickness
0,12" (3 mm)
Assembly time
4h
Artist
Adobe Stock
Type of Cut
Animal
Final Thoughts
In a world increasingly dominated by screens and digital distractions, here's an opportunity to immerse yourself in a tactile, thought-provoking endeavor. Our product from Poland offers a unique storytelling canvas, with special pieces that align with various themes. The double-sided elements provide an extra layer of guidance, making it an inclusive experience for participants of all skill levels. It's not just an activity; it's an invitation to create, connect, and cherish.