The Unique Attraction and Artistry of this Wooden Puzzle: Love And Frogs 500
Opening the box of the Love And Frogs, you're greeted by a Wooden Puzzle that caters to children and adults over the age of 10. This vibrant, circle-shaped masterpiece showcases the romantic frogs amidst colorful foliage.
Unique Pieces, Artistic Details
This is no ordinary assembly of interlocking shapes; it's an intricate work of art. Each piece has a unique form, adding layers of challenge and fascination. Themed cutouts, such as animals or landmarks, depending on the subject, enhance the process of putting it together.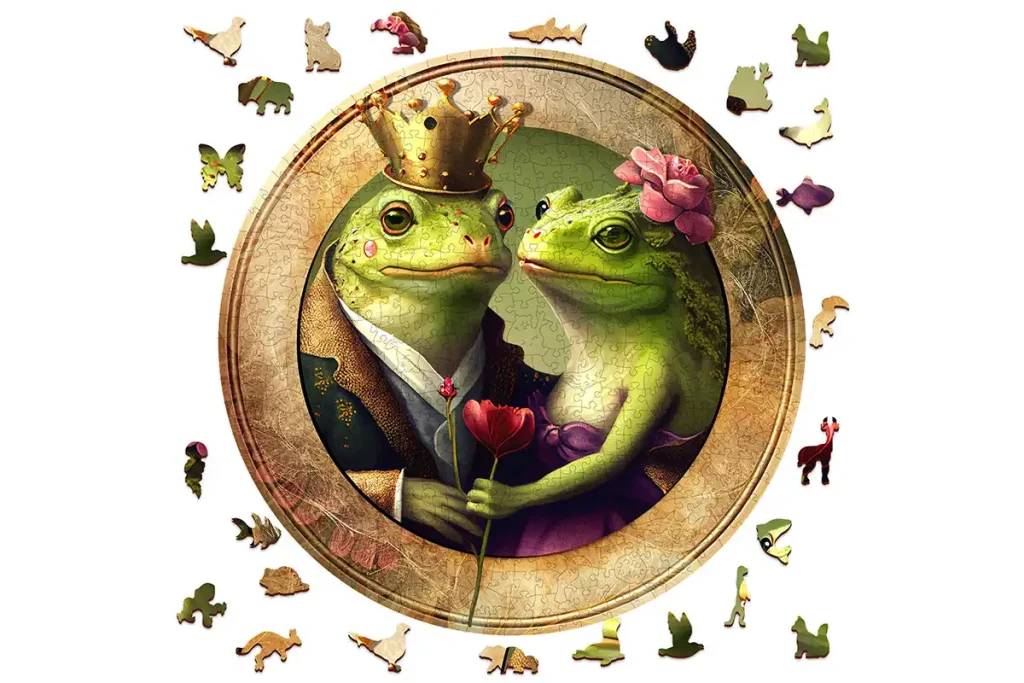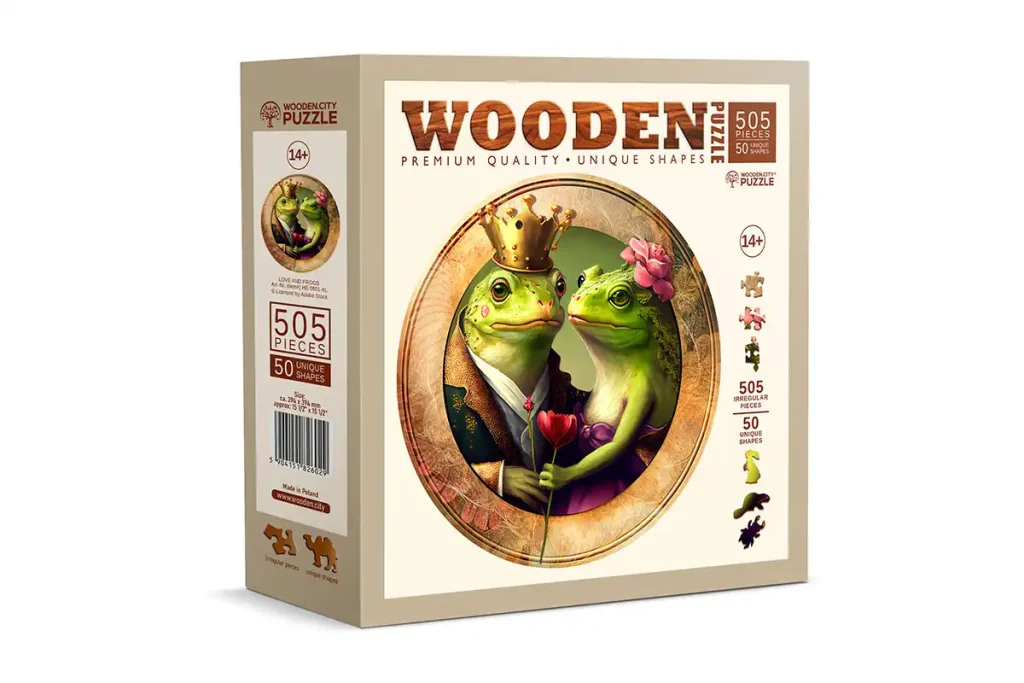 Quality Time with Loved Ones
Constructing this marvel offers an excellent opportunity for family bonding. Beyond piecing together an image, it's about teamwork, problem-solving, and the pleasure of collective achievement.
Two-Sided Creativity
One side reveals the love-struck frogs, while the flip side has a pattern that serves as an assembly guide. This dual feature adds an extra layer of engagement and versatility to the activity.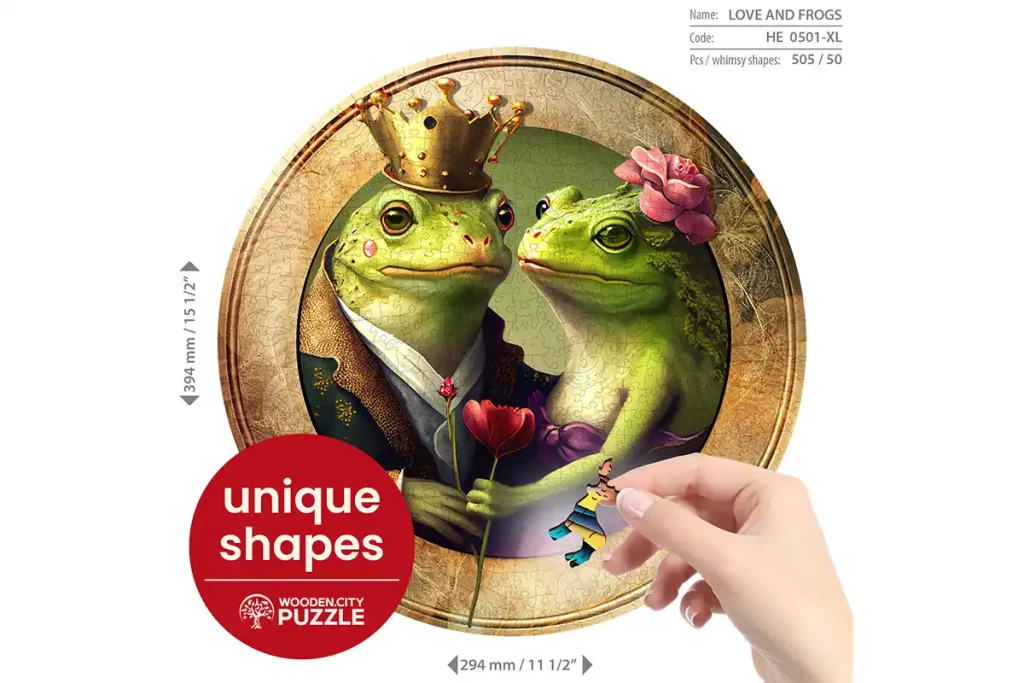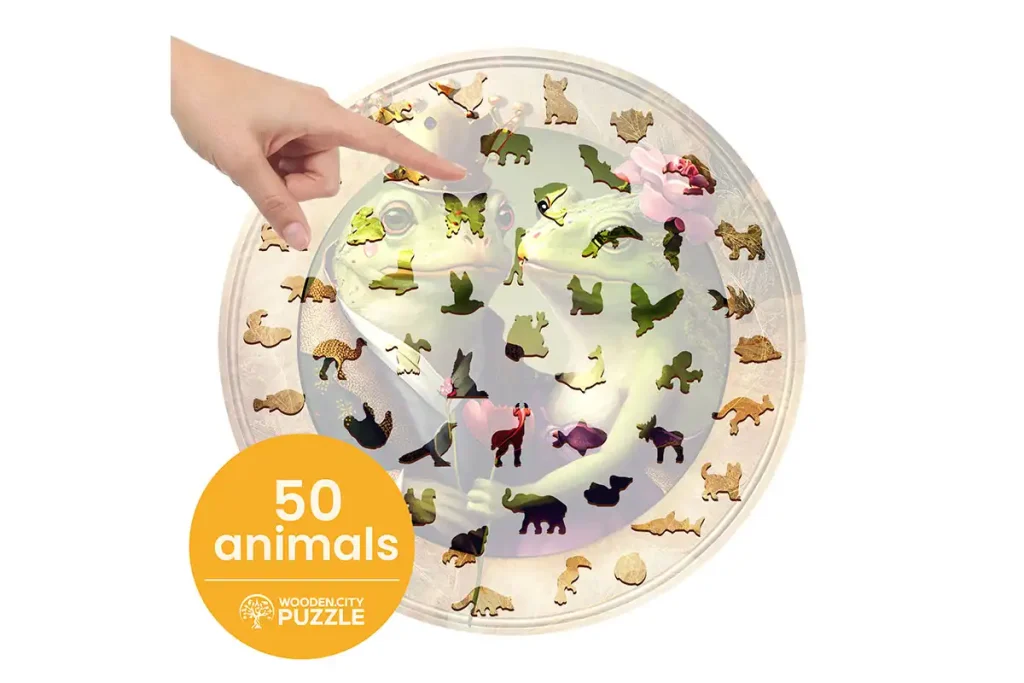 A Transition to Wall Art
Once completed, it becomes more than just an activity; it transforms into an eye-catching piece of home décor. Elevate your living space by hanging this completed artwork on your wall, adding vibrancy and artistic flair.
An Exceptional Gift Option
Looking for a memorable present? Your search ends here. The LOVE AND FROGS 500 is ideal for birthdays, anniversaries, or just to share a heartfelt message. It encapsulates an intellectually stimulating and visually rewarding experience.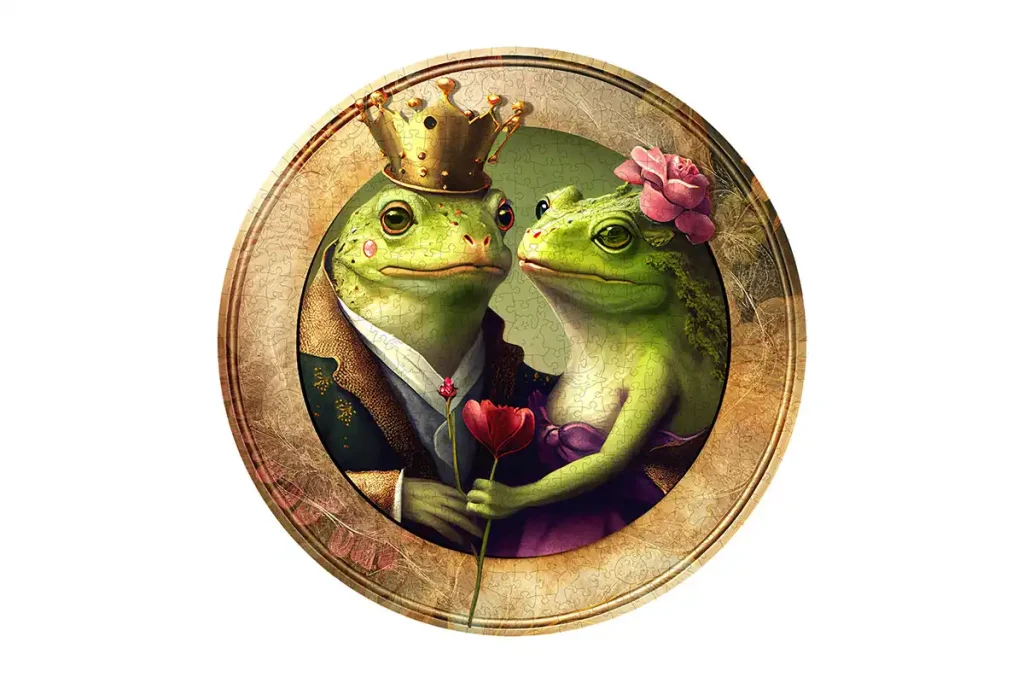 Characteristics
Series/Article
HE 0501-XL
Age
14+
Number of elements.
500pcs
Number of whimsies
50 pcs
Assembled size
H: 15.51″ ( 39,4 cm)
W: 15.51″ ( 39,4 cm)
Packaging size
H: 8.66'' ( 22 cm)
W: 8.66'' ( 22 cm)
D: 2.75'' ( 7 cm)
Packaging weight
1.65 lb (0,75 kg)
Puzzle thickness:
0,12" (3 mm)
Assembly time
13h
Artist
Adobe Stock
Type of Cut
Animal
To summarize, the LOVE AND FROGS 500 is not merely an item to add to your shelf. It's a testament to skilled craftsmanship, a wonderful gift, and a beautiful piece of home decor. Beyond that, it offers an engaging and intellectually stimulating experience, perfect for quality time with the family. Its unique pieces and thematic design contribute to an enthralling assembly journey, making it much more than the sum of its parts.