The Intricacies of a Perfectly Crafted Wooden Puzzle
Experience the excitement and challenge of the Colorful Frog 250 Wooden Puzzle. Created for people of ages 10 and up, it's an engaging masterpiece that offers both entertainment and intellectual stimulation.
Exquisite Craftsmanship from Poland
Each piece of this handcrafted 250-piece item displays a vibrant, multicolored frog set against the magical backdrop of a rich forest. The pieces are entirely unique; no two shapes are the same, adding to the complexity and uniqueness of the assembly process. Special pieces like animals and landmarks corresponding to the item's theme make the building process even more engaging.
Quality Time with Family
The assembly process isn't just about problem-solving; it's an excellent way to bond with your family. Moreover, the thematic cuts in the product add to its appeal. For example, in versions themed around animals, expect to find unique animal-shaped elements. Similarly, travel-themed versions feature landmarks from around the world, making each version a unique experience.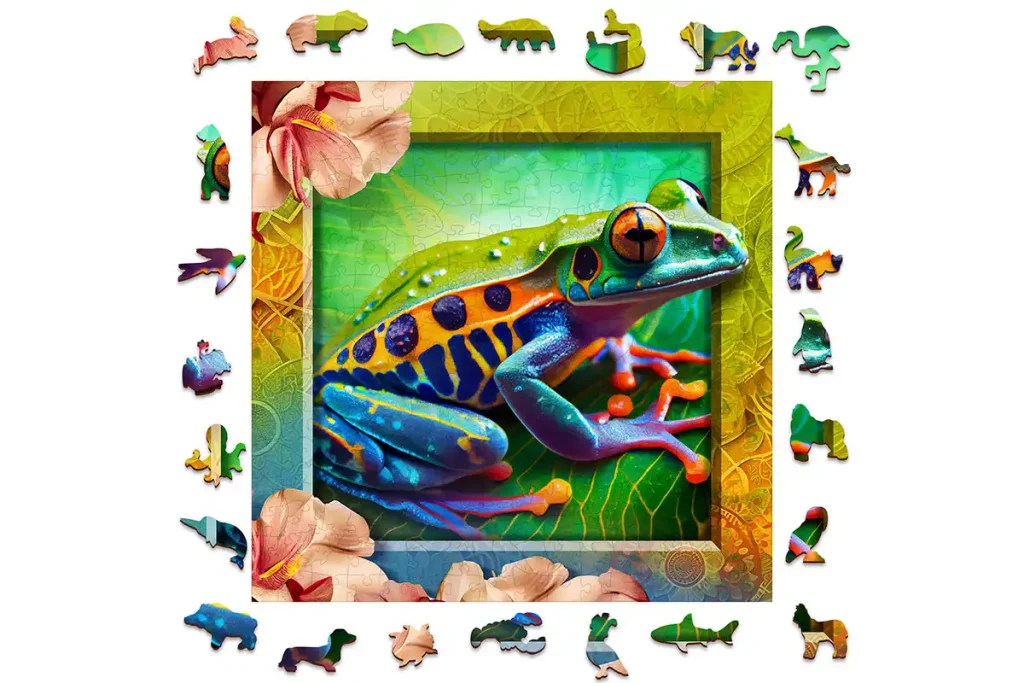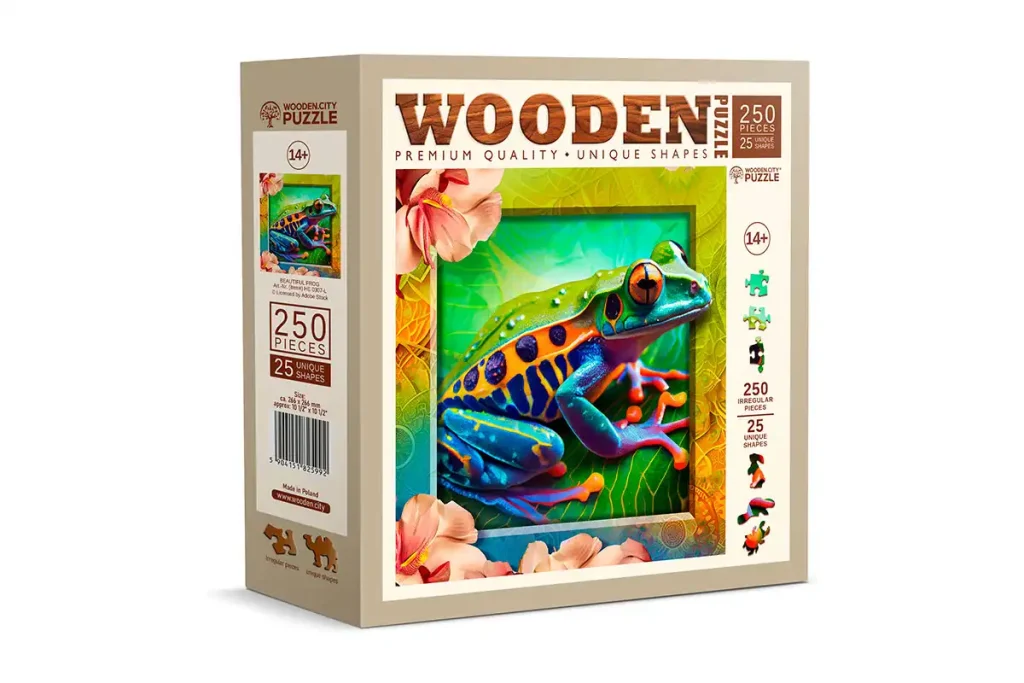 Unique Patterns and Visual Clues
An interesting feature of this item is the distinctive pattern on the back of each piece, which can serve as a clue for easier assembly. This makes the experience more layered and multi-dimensional.
An Unforgettable Gift
Looking for a memorable gift? This intricately crafted item marries beauty with mental engagement, making it a perfect choice for gift-giving occasions.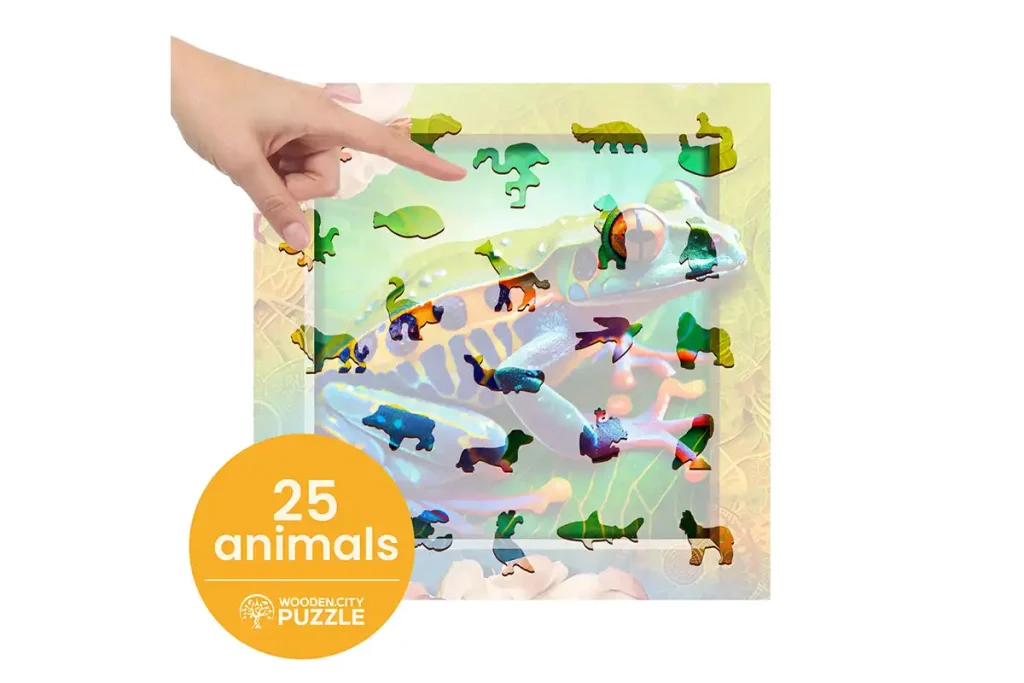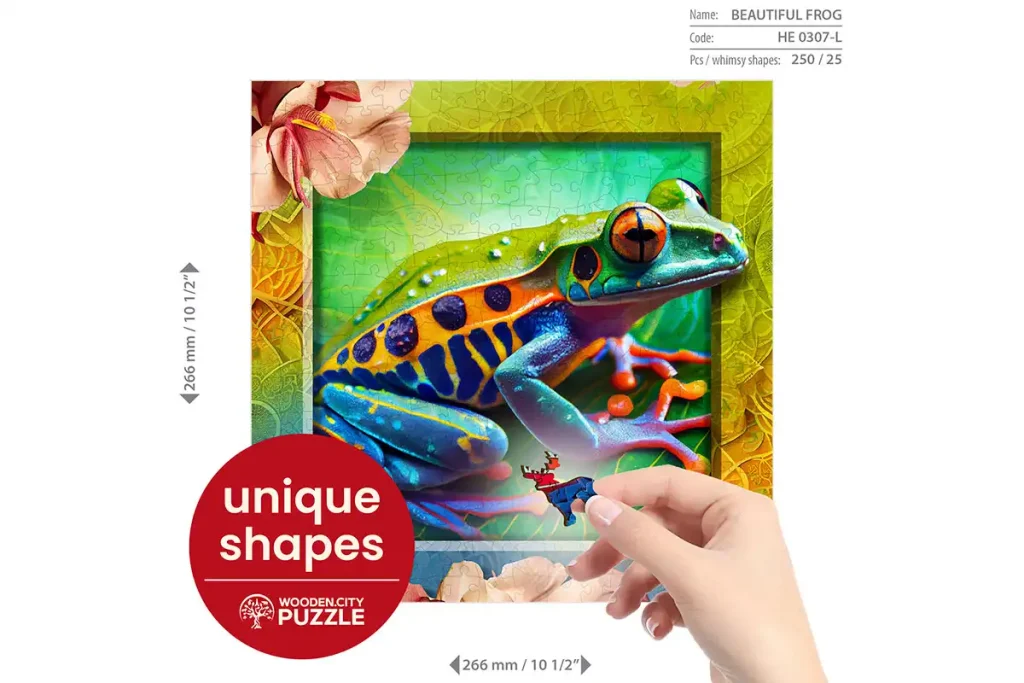 A Work of Art
After completion, this 250-piece creation can be transformed into an elegant piece of home decor. With its vibrant colors and intricate craftsmanship, it can even be framed and hung on your wall.
Characteristics
Series/Article
HE 0307-L
Age
10+
Number of elements
250 pcs
Number of whimsies
25 pcs
Assembled size
H: 11'' ( 27,8 cm)
W: 11'' ( 27,8 cm)
Packaging size
H: 7.8'' (20 cm)
W: 7.8'' (20 cm)
D: 2.24'' ( 5,7 cm)
Packaging weight
0,88lb (0,4 kg)
Puzzle thickness
0,12" (3 mm)
Assembly time
4h
Artist
Adobe Stock
Type of Cut
Animal
Conclusion
In today's fast-paced digital world, take a moment to immerse yourself in a tactile, enriching activity. Reveal the colorful frog set against a lush forest, piece by unique piece. This item serves as more than a challenging task; it's an opportunity to create art, making for a fulfilling and enriching experience for the entire family.