Embarking on the Puzzle Box
The allure Escape room Treasure Chest beckons from the very first glance. A creation emanating from Poland, a proud member of the European Union, this model holds the essence of intricate design and mechanical marvel. Imagine a chest, so meticulously crafted that every latch and every hinge becomes a part of an unfolding story. Once assembled, a thrilling journey of deciphering awaits, with the chest safeguarding its secrets vehemently. Do you possess the acumen to unlock its enigma?
Exquisite Craftsmanship
Each piece is a testament to the dedication and prowess of its creators. Made from Birch wood, the model resonates with quality and durability. It's not just a static display; it's a dynamic embodiment of art meeting mechanics. In the broader collection, vehicles move, clocks tick, and helicopter blades whirl – showcasing the finesse of the mechanical design.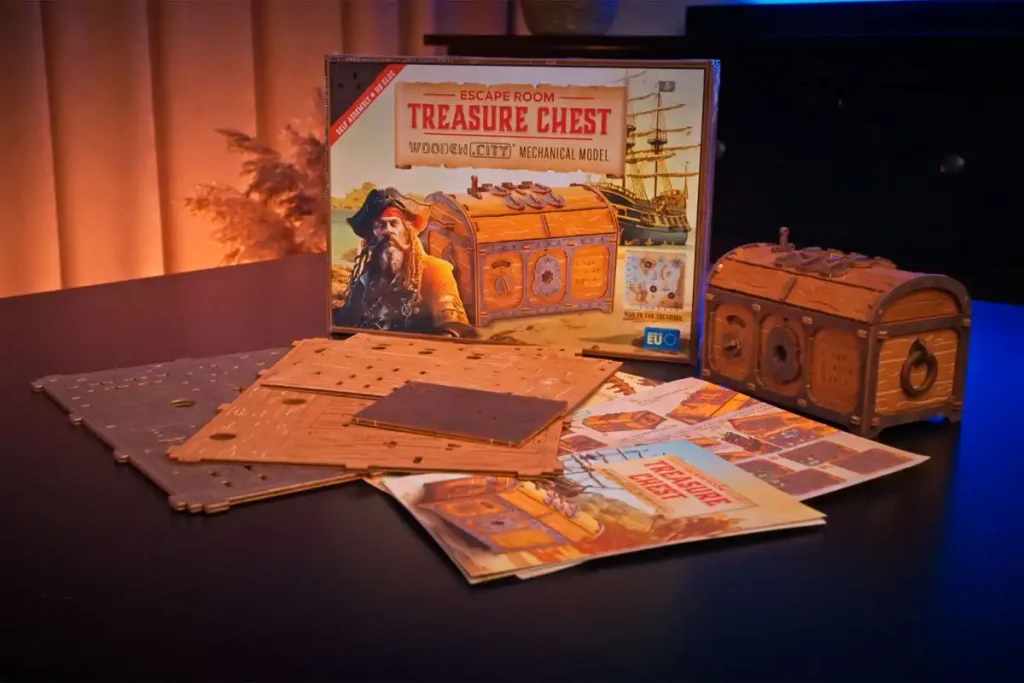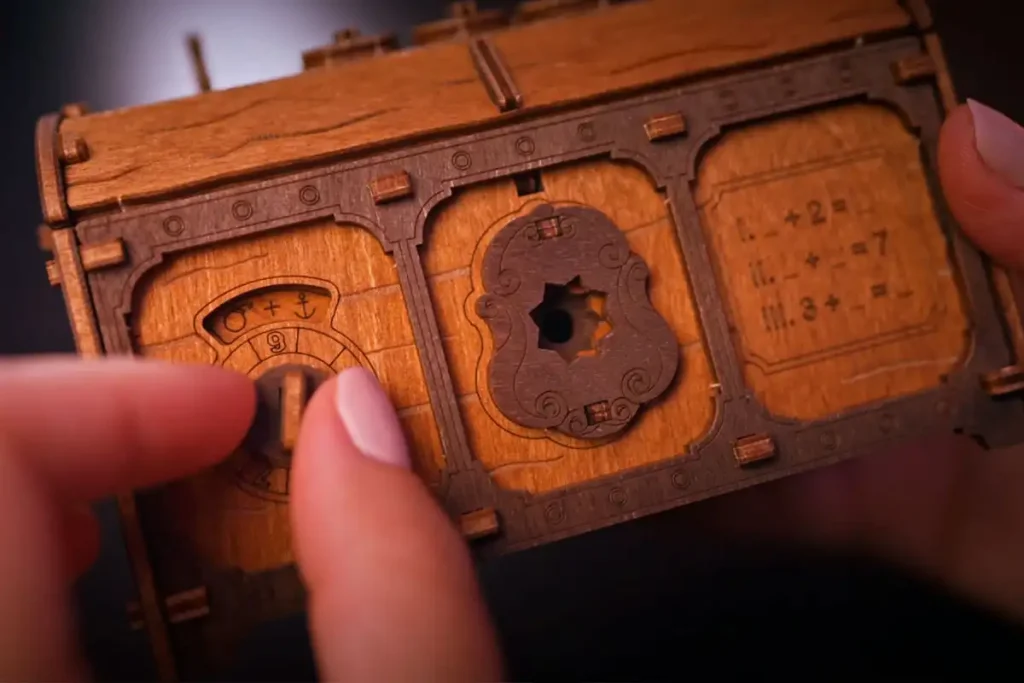 A Journey Through Time
This isn't merely a model; it's a story waiting to be told. Assembling each piece, you embark on a narrative journey to pirates, treasures, and deserted islands. The allure of the past is palpable, making the building process a transcendental experience.
More than Just a Model
Perfectly poised to be an exquisite decor piece, it lends an aura of mystery and elegance to any room. A conversation starter, its presence is bound to evoke curiosity and admiration from onlookers.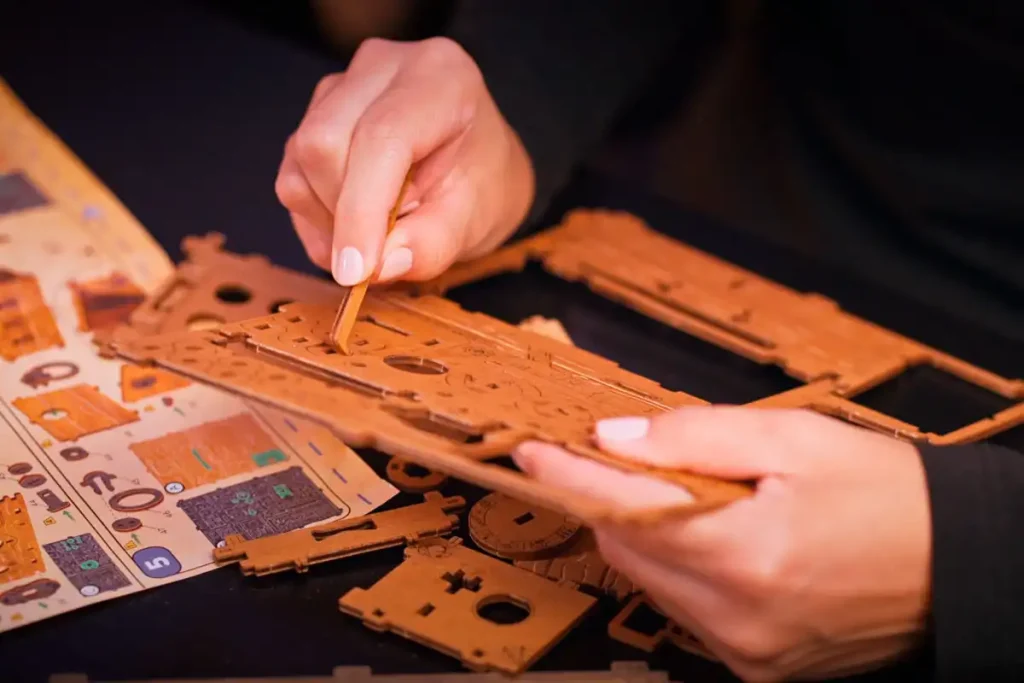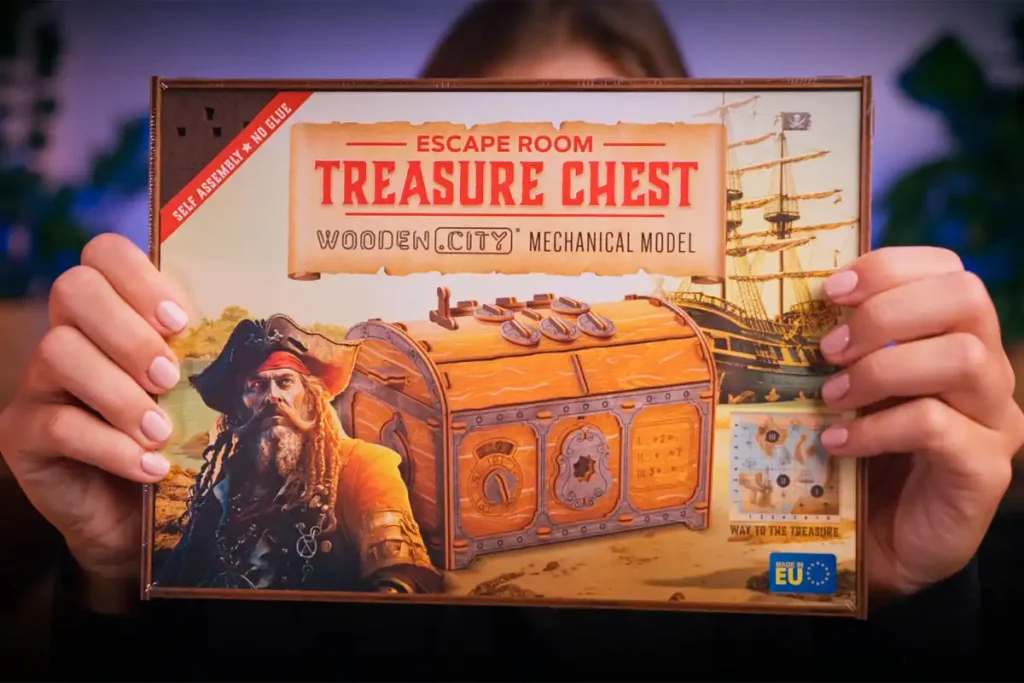 A Gift Like No Other
If you're in search of a present that transcends the ordinary, this is it. Be it for a history aficionado, a conundrum enthusiast, or someone who appreciates fine artistry, the Treasure Chest is bound to captivate. It's not just a gift; it's an experience waiting to unfold.
Characteristics
Series/Article
WR-355
Number of parts total
165
Spare parts
16
Set
Candle -1
Sandpaper -1
Difficulty level
3/5
Assembly time
3 h
Model dimensions
H: 5'' ( 12,7 cm)
W: 2.91'' (7,4 cm)
D: 3.46'' (8,8 cm)
Package size
H: 9.44'' (24 cm)
W: 6.88'' (17,5 cm)
D: 1.10'' (2,8 cm)
Painted body
✔
Secret opening mechanism
✔
Brain teaser
✔
Force is not the ally in this journey; gentleness is the key. Each part effortlessly aligns, ensuring a smooth assembly. The solutions lie hidden, awaiting discovery through logical reasoning. Challenge yourself, embark on this adventure, and let the Escape room Treasure Chest reveal its mysteries to you.