3D Wooden Puzzle Motorbike – A Journey into Engineering Marvel
Dive into the 3D Wooden Puzzle Motorbike assembly and prepare for an engaging mechanical adventure. This cafe racer motorcycle, created with the utmost attention to detail, invites both kids and adults to explore the principles of mechanics and engineering in an exciting hands-on way.
Thrilling Movement Features
This Cafe Racer motorcycle model brings to life the dynamics of real motorcycles. Featuring a pull-back mechanism, the model moves forward and backward, covering a distance of approximately 1 meter (39,37″). It's powered by a rubber-band motor, giving you an intriguing glimpse into the mechanism of motion.
Detailing that Captures Imagination
The model boasts a myriad of details to enhance its realism and functionality. It includes rubber on wheels for increased grip and control, reverse movement capability, and even imitation lights. The presence of control elements like the steering wheel and levers further amplifies the realistic experience of assembling and handling this model.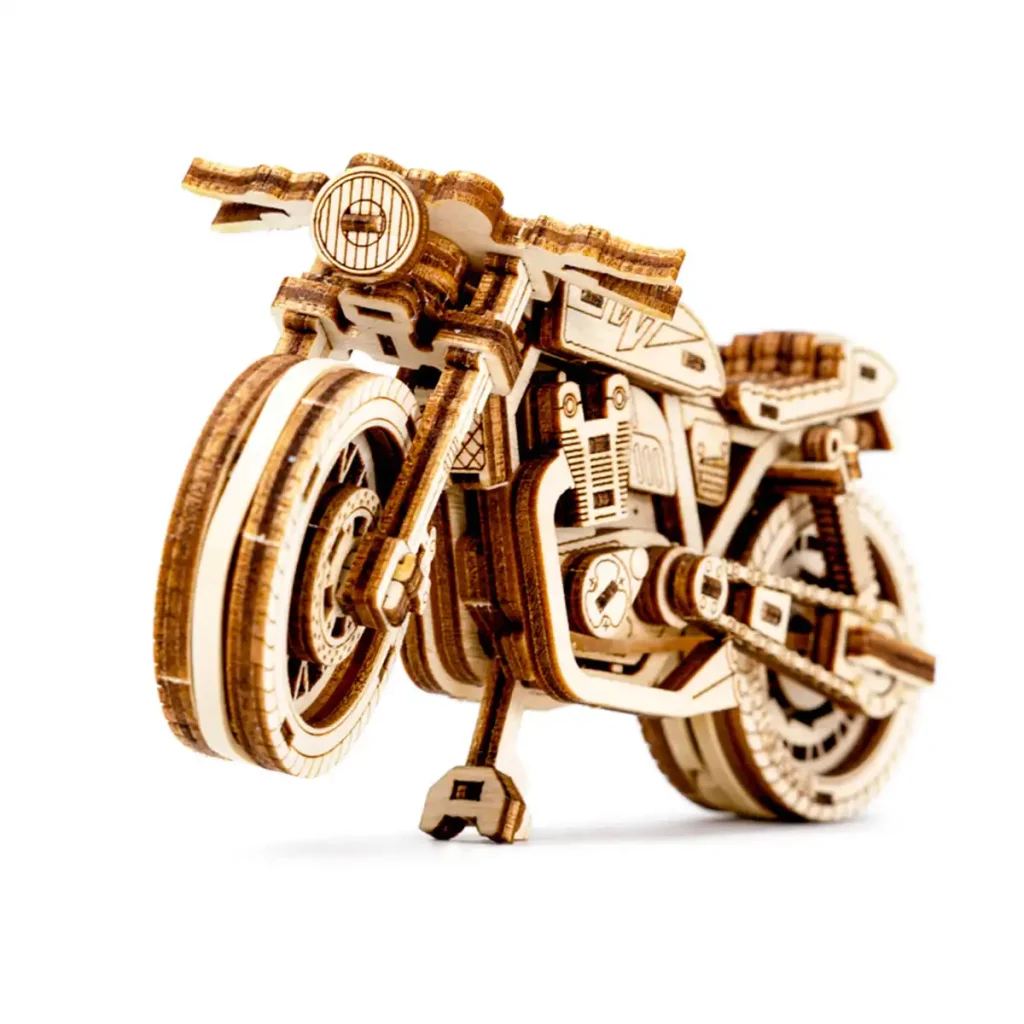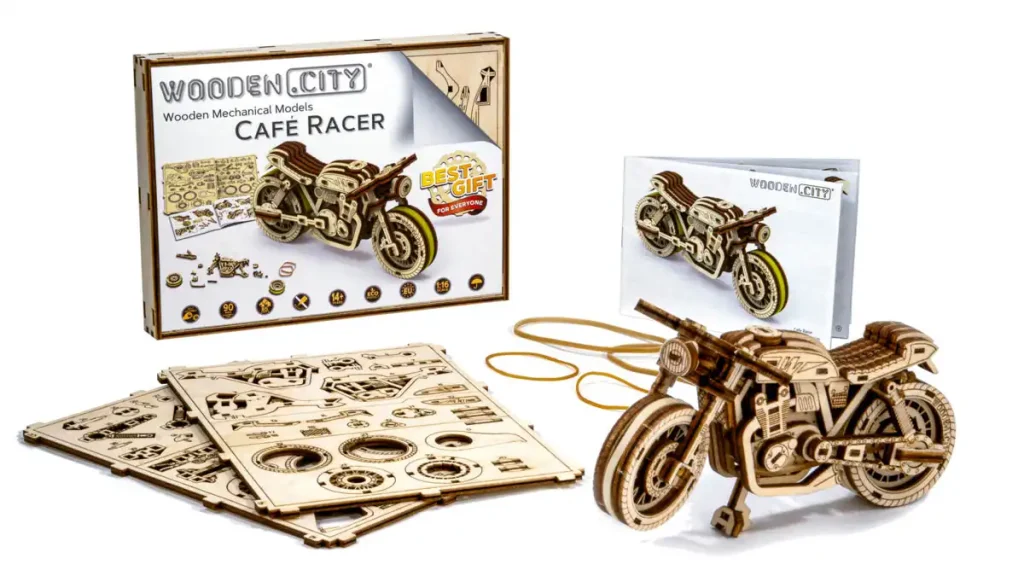 More than Just Packaging
Even the packaging of this model has been carefully designed to play a dual role. Not only does it ensure the safe transportation of the puzzle pieces, but it can also be transformed into a stand for the assembled model, ideal for displaying the completed Cafe Racer motorcycle.
An Ideal Gift
This Cafe Racer model can be an exceptional gift for those passionate about mechanics, puzzles, and DIY projects. Its interactive assembly process provides hours of fun and learning, while the finished product serves as an impressive display piece that adds character to any room.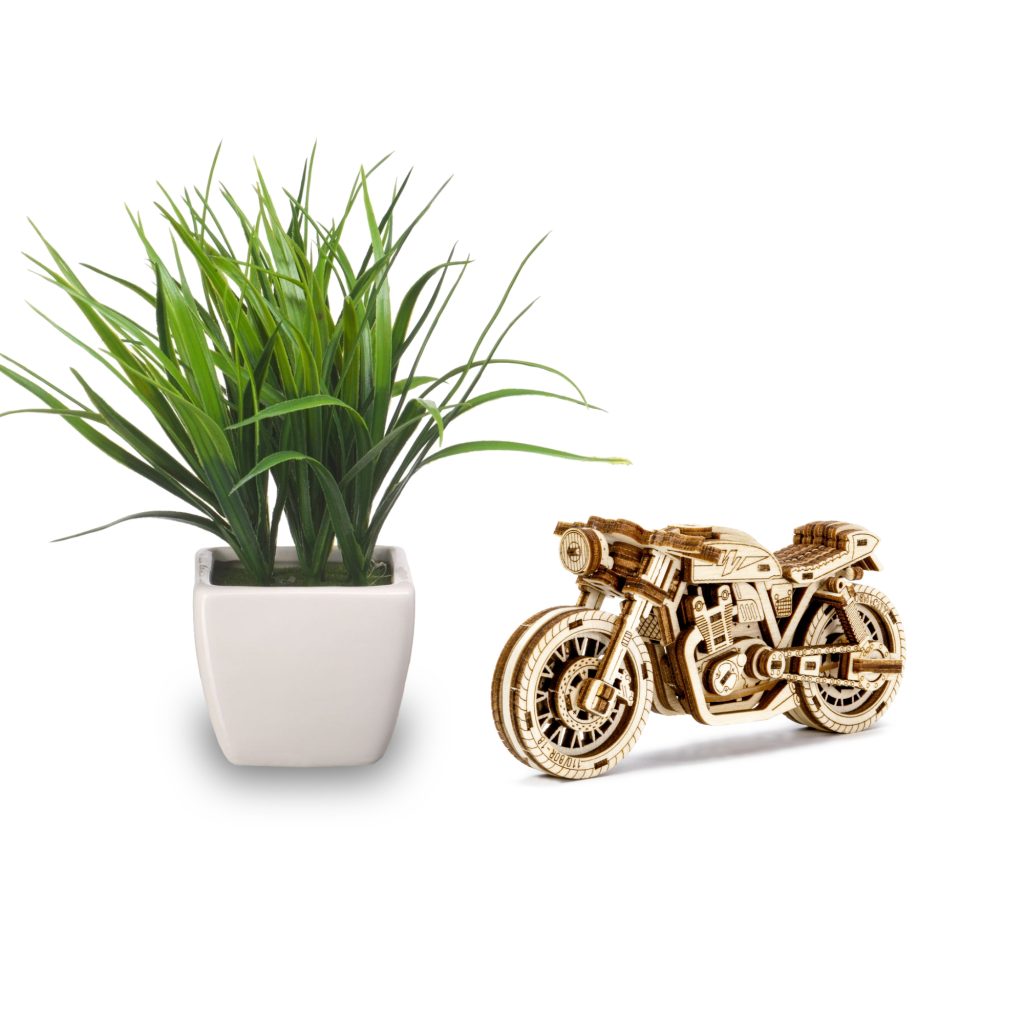 From a Puzzle to Decor
Once assembled, this motorcycle model transcends the realm of toys and puzzles to become an intriguing piece of decor. Its distinctive design and mechanical features make it a conversation starter, sure to catch the eye of every visitor.
Get Creative
This Cafe Racer model comes unpainted, leaving room for you to add a personal touch. Feel free to paint it in colors of your choice, allowing you to create a truly unique masterpiece that reflects your style and personality.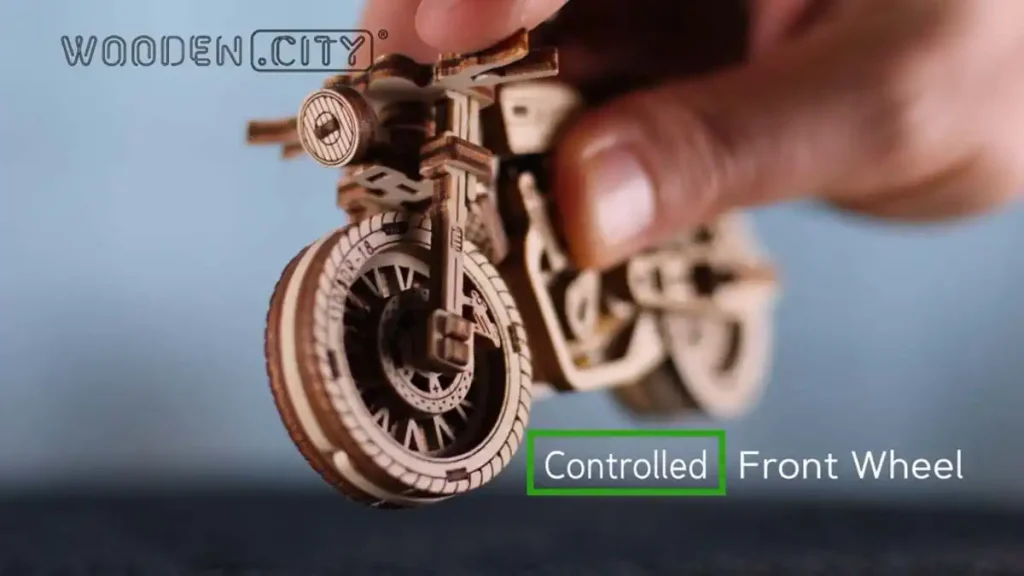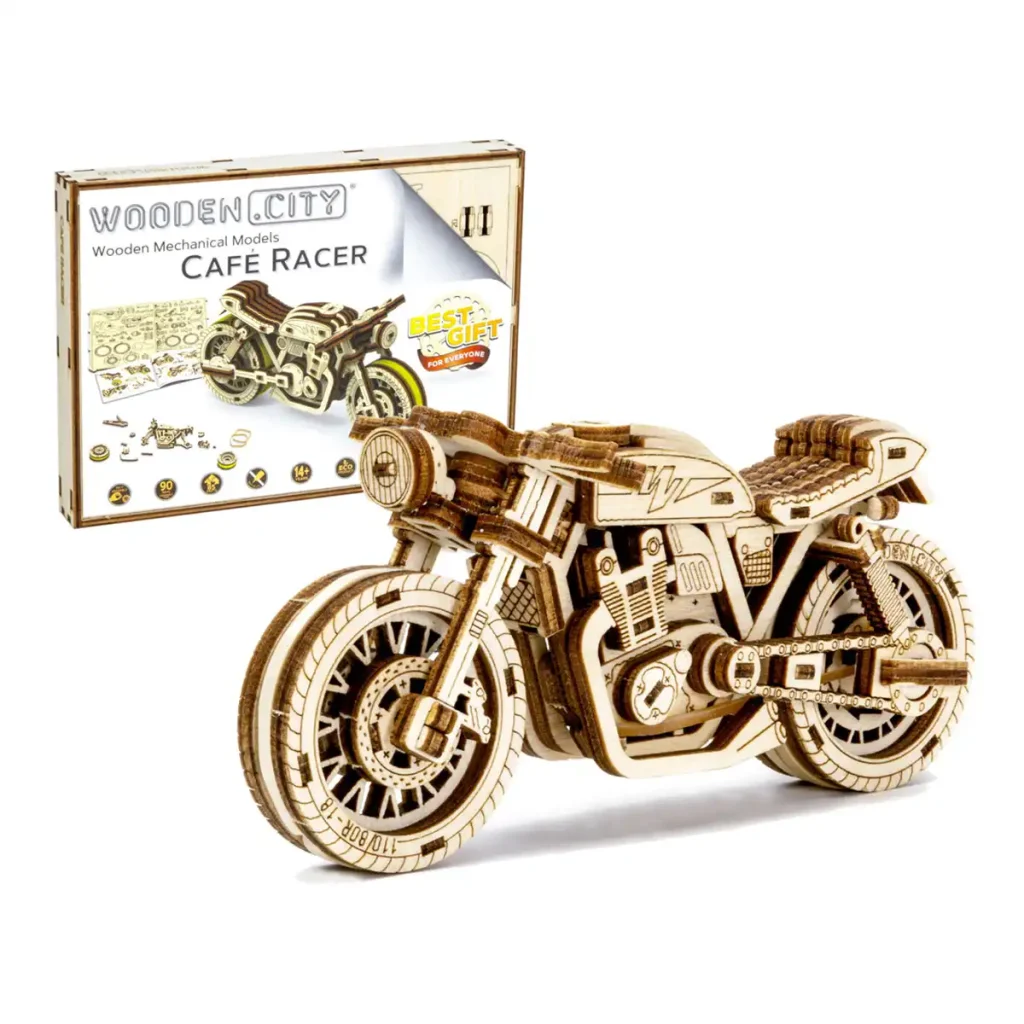 Family Thrills with the Cafe Racer
Embrace the spirit of classic racing! The Cafe Racer offers endless family fun, kindling creativity and teamwork. Dive into nostalgia, piece by piece, crafting tales of speed and style. Perfect for cherished family moments, let's rev those bonding engines together!
Characteristics
Quantity
73
Spare parts
12
Series/Article
WR340
Set
Assembly instruction
Candle -1
Sandpaper -1
Rubber Band 1,5х1,5 d50 L80 – 2
Rubber Band 130х1,5х3,5 – 2
Difficulty level
3/5
Assembly time
1,5 h
Model dimensions
H: 5.35'' (13,6 cm)
W: 2.37'' (6 cm)
D: 2.56'' (6,5 cm)
Package size
H: 9.44" ( 24 cm)
W: 6.89" ( 17,5 cm)
D: 1.1'' (2,8 cm)
Model scale
1:16
Path length
39.37" (1 m)
Pull-back mechanism
✔
Rubber motor
✔
Rubber on wheels (increase grip)
✔
Steered wheels
✔
Dashboard
✔
Control elements (steering wheel, levers)
✔
Imitation lights
✔
Driver/Pilot seat
✔
Reverse movement (backward)
✔
Model scale
1:16
Can be a decor element
✔
Possibility of hand painting
✔
The model box is made of wood.
Inside there is an instruction on how,
after assembling the model, you can also
assemble the box into a demonstration stand.
✔
Age
12+
Conclusion
With the Cafe Racer model, you get more than just a puzzle. You embark on a journey of discovery, exploring the intricacies of mechanical movement, honing your assembly skills, and finally, creating a stunning piece of decor that's entirely your own. There's nothing quite like the sense of accomplishment and the joy that comes with completing this mechanical marvel.