Step into the Realm of 3D Wooden Puzzle Perfection
Journeying with the 3D Wooden Puzzle creation promises an adventure of dexterity, awe, and meticulous detailing. Crafted from premium birch, each piece stands as a testament to Polish expertise and the rich, European heritage of woodworking.
The Monster Truck 4 is the epitome of robust elegance. Its enlarged wheels, designed with precision, showcase its might and capacity to traverse realms of imagination.
Exquisite Features
The carefully crafted imitation lights add a touch of realism, a beacon guiding you through nocturnal adventures. But, what truly sets this model apart is its open body. A versatile cargo compartment awaits your command, ready to carry dreams, hopes, and tiny treasures.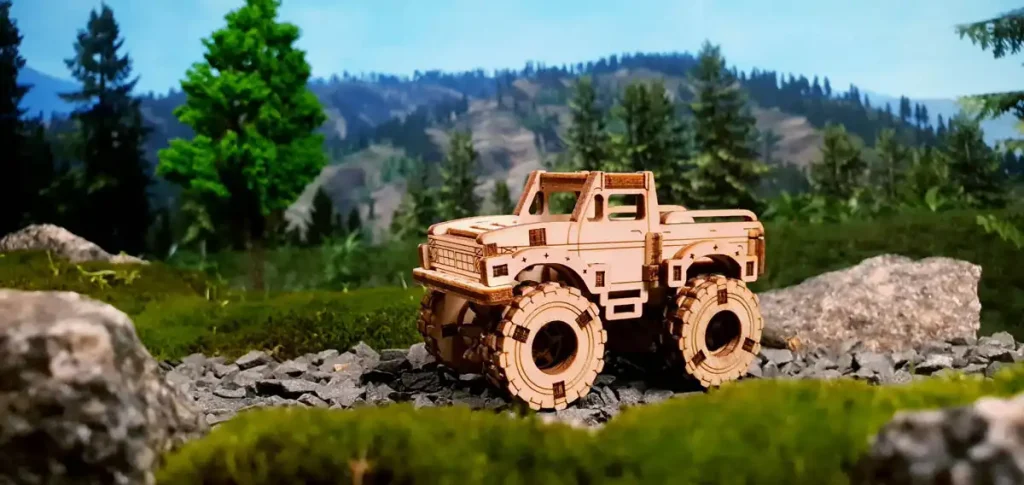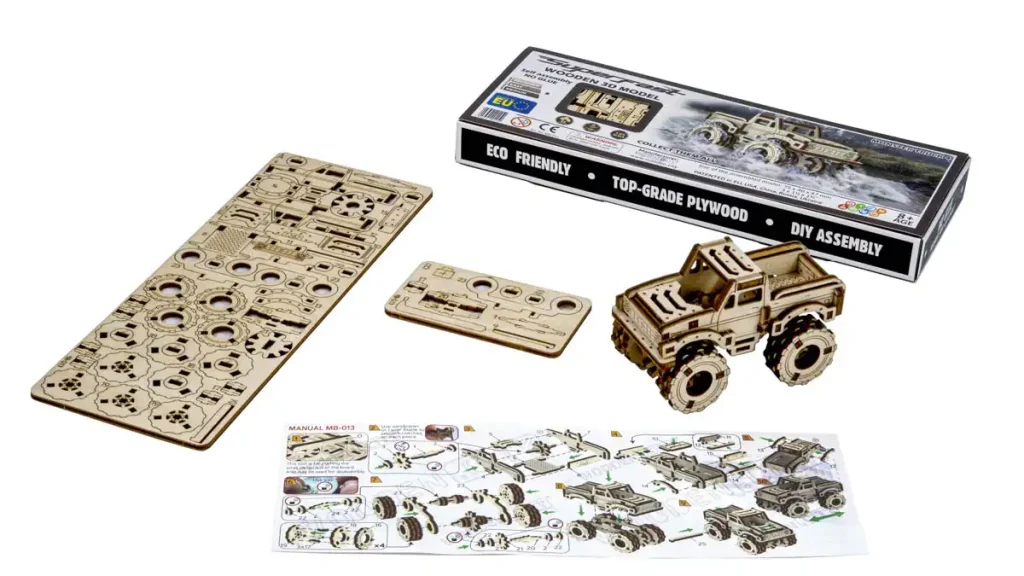 A Canvas Awaiting Your Touch
While Monster Truck 4 is a marvel in its organic form, it invites you to make it truly yours. Unleash your creativity, paint, and embellish. Give it shades of your memories, hues of your dreams, or even the palette of your adventures.
The Ideal Gift
The Monster Truck 4 is that perfect gift. A symbol of timeless elegance, engaging passion, and a journey waiting to be embarked upon. It's not just a model; it's an experience wrapped in emotions.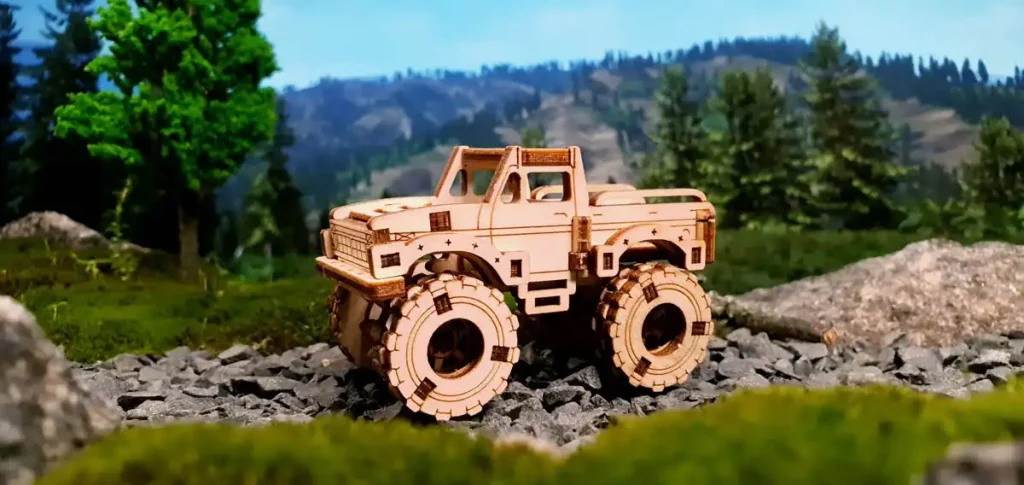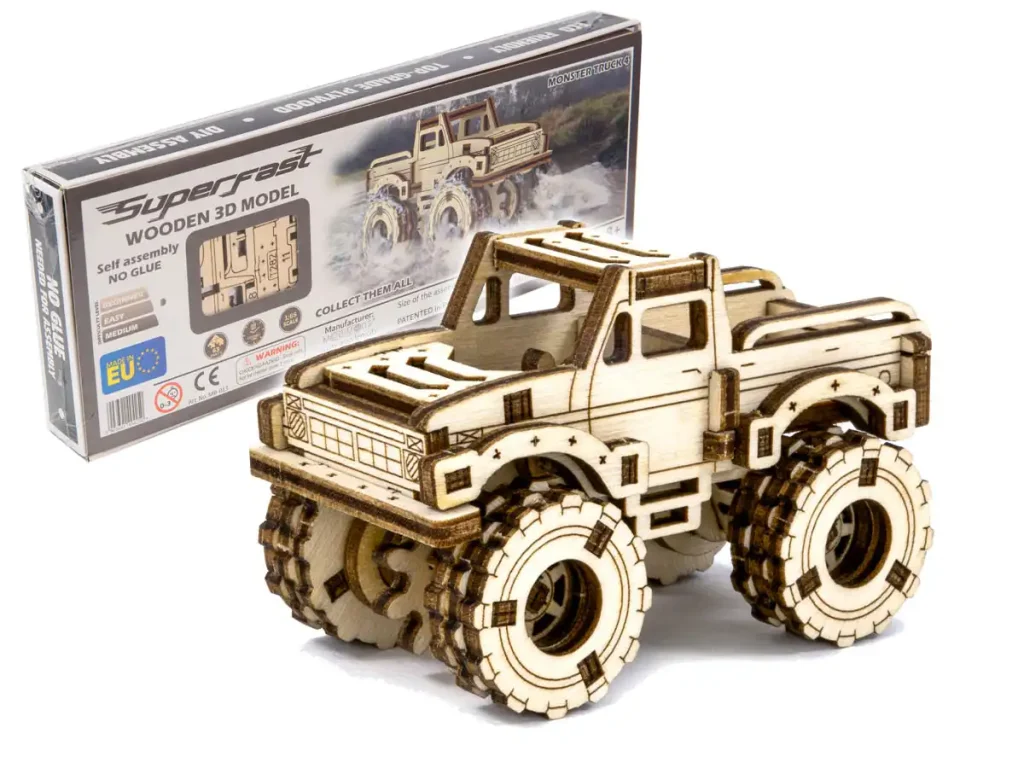 Roaring Adventures Begin with Monster Truck 4
Gather your crew for a thrilling family endeavor with Monster Truck 4! Revel in the joy of creation, as tales of daring stunts and epic trails come alive. This isn't merely a craft—it's an exhilarating journey, filled with shared laughter, teamwork, and imagination. Forge ahead into a world of fun and connection, where every moment becomes legendary. Jumpstart the magic today!
Characteristics
Series/Article
MB-013
Model Scale
1:65
Quantity
54
Set
1 sheet of plywood,
Assembly instruction
Spare parts
9
Difficulty level
3/5
Assembly time
1 h
Model dimensions
H: 2.95''(10 cm)
W: 1.49''(4 cm)
D: 1.49''(4,7 cm)
Package size
H: 3.54" (9cm)
W: 9.52" (24,2cm)
D: 0.99" (2,52 cm)
Imitation lights
✔
Enlarged wheels
✔
Open body (cargo compartment)
✔
Can be a decor element
✔
Possibility of hand painting
✔
Age
8+
Decor Par Excellence
Beyond the joy of assembly and the thrill of personalization, Monster Truck 4 seamlessly integrates into any decor. It isn't just a model; it's a conversation starter, a centerpiece, and a testament to refined taste. From living rooms to personal studies, it adds an aura of sophistication.
In the heart of Europe, in the lush landscapes of Poland, the Monster Truck 4 was born – conceived in passion and crafted with precision. To own it is to celebrate the legacy of craftsmanship, the joy of innovation, and the thrill of creation. Embrace it, and let a world of imagination unfold before you