Bringing to Life the 3D Wooden Puzzle Dinosaur
Embark on an exciting journey back in time as you assemble the 3D Wooden Puzzle Dinosaur. This mechanical masterpiece features the king of dinosaurs, the Tyrannosaurus Rex, and promises an engaging and educative experience as you navigate through the assembly process.
Unearth a Prehistoric Giant
The T-Rex model provides an intimate encounter with this famed creature of the past. Each piece of the model is designed to illustrate the formidable features of the T-Rex, from its powerful jaws to its colossal hind legs. As you assemble, the moving parts bring this magnificent creature to life right before your eyes.
An Engaging Educational Tool
Designed for anyone above eight years old, the T-Rex model is not only a fun activity but also an educational one. Assembling the model helps nurture problem-solving skills, patience, and concentration. It is an opportunity for children and adults alike to learn more about dinosaurs while having fun.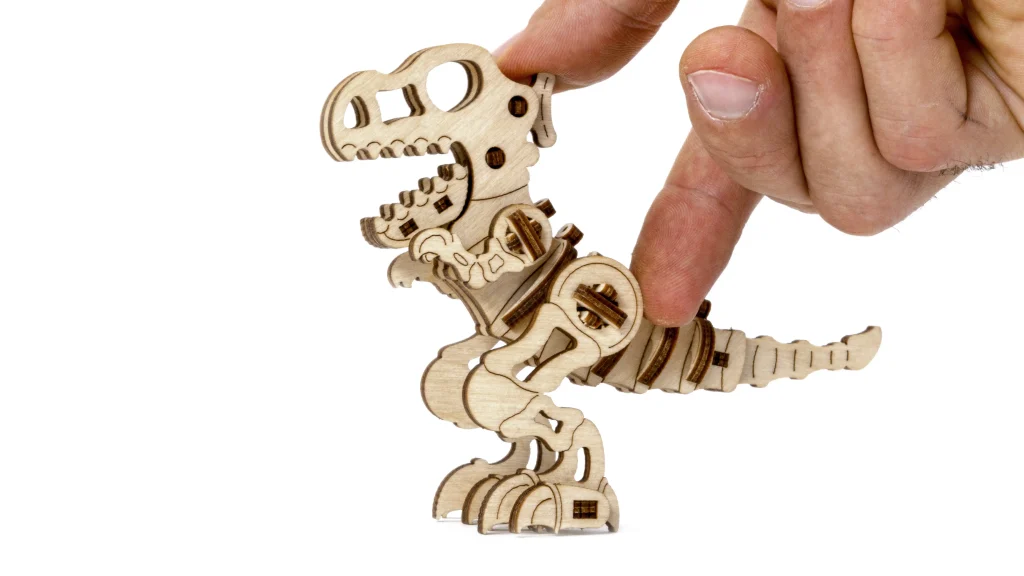 Transformable Packaging
The packaging of the T-Rex model doubles as a stand for the assembled model. This innovative design allows you to turn the package into a pedestal where your T-Rex can proudly stand, adding to the model's overall appeal and the sense of accomplishment from completing the puzzle.
A Gift Like No Other
Looking for a unique gift that will captivate and educate? The T-Rex model is an excellent choice. Whether for a birthday, special event, or just as a surprise, this model will provide hours of entertainment and an end product that recipients can be proud of.
Stylish Decor Piece
Once assembled, the T-Rex model is more than just a puzzle – it's a striking decor piece. Its intricate skeleton structure and lifelike features make it a conversation starter and a delightful addition to any room decor.
Unleash Your Creativity
This model is a blank canvas waiting for your creativity. You can personalize it by painting it in colors of your choice. This way, not only do you have a model that reflects the T-Rex's grandeur, but one that also captures your artistic flair.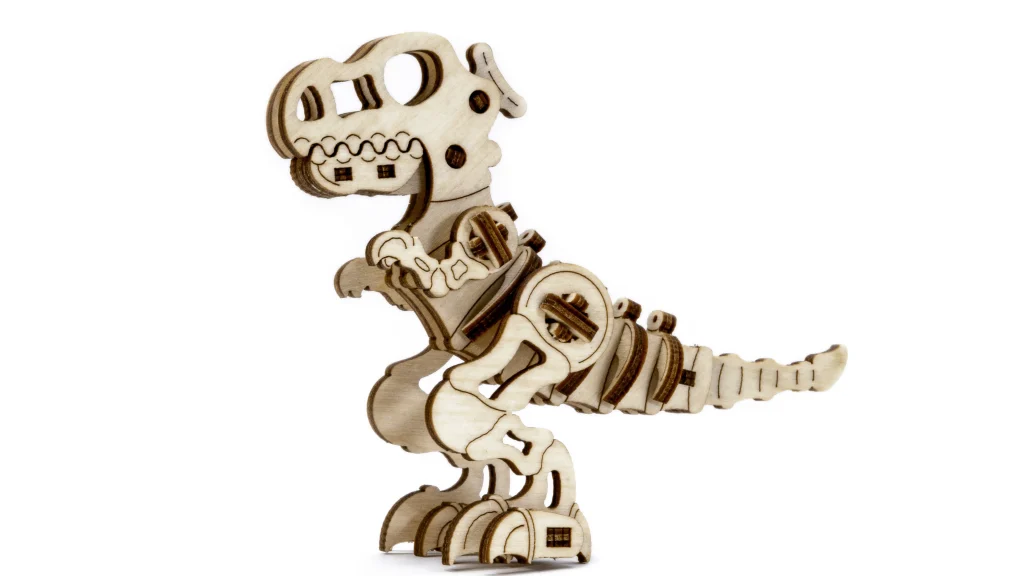 Roaring Family Fun Time
Unleash the mighty T-Rex with your loved ones by your side! Embark on a prehistoric assembly adventure, kindling teamwork and awe. Perfect for budding paleontologists and families seeking a thrilling project. Dive deep into history while making timeless memories. Dive in now!
Characteristics
Quantity
33
Spare parts
9
Series/Article
MB-018
Difficulty level
3/5
Assembly time
1 h
Model dimensions
H: 7.83'' (19,9 cm)
W: 1.65'' (4,2 cm)
D: 3.5'' (8,9 cm)
Package size
H: 3.54" ( 9cm)
W: 9.52" ( 24,2cm)
D: 0.99" ( 2,52cm)
Model scale
1:108
Movable limbs (legs, hands, head)
✔
Skeleton structure
✔
Additional function activated by lever
(head moves by lever)
✔
Can be a decor element
✔
Possibility of hand painting
✔
Age
8+
Final Words
In this model, you'll find a perfect blend of entertainment, education, and decoration. It offers an enjoyable pastime, a fun learning experience, a unique gift idea, and a stylish decor addition. Assemble your T-Rex today and take a step back into the fascinating world of dinosaurs.