Experience the Magic of the 3D Wooden Puzzle Dinosaur\
Immerse yourself in the world of the prehistoric era by constructing the 3D Wooden Puzzle Dinosaur. Designed with precision, this model replicates the iconic Triceratops, one of the most recognized dinosaurs, promising a journey of fun and knowledge for the entire family.
A Journey to the Cretaceous Period
With this model, you get a taste of the Cretaceous period as you construct your very own Triceratops. This herbivorous dinosaur is known for its distinct features – a large bony frill and three horns – all replicated with intricate detailing in the model. The moving parts, including its legs and jaw, add an extra level of realism, bringing the dinosaur to life right in front of your eyes.
A Learning Experience for All Ages
This model is not just a toy, but also an educational tool suitable for anyone aged 8 and above. The process of assembling the Triceratops offers a hands-on learning experience about the structure and lifestyle of this ancient creature, fostering an appreciation for history and paleontology.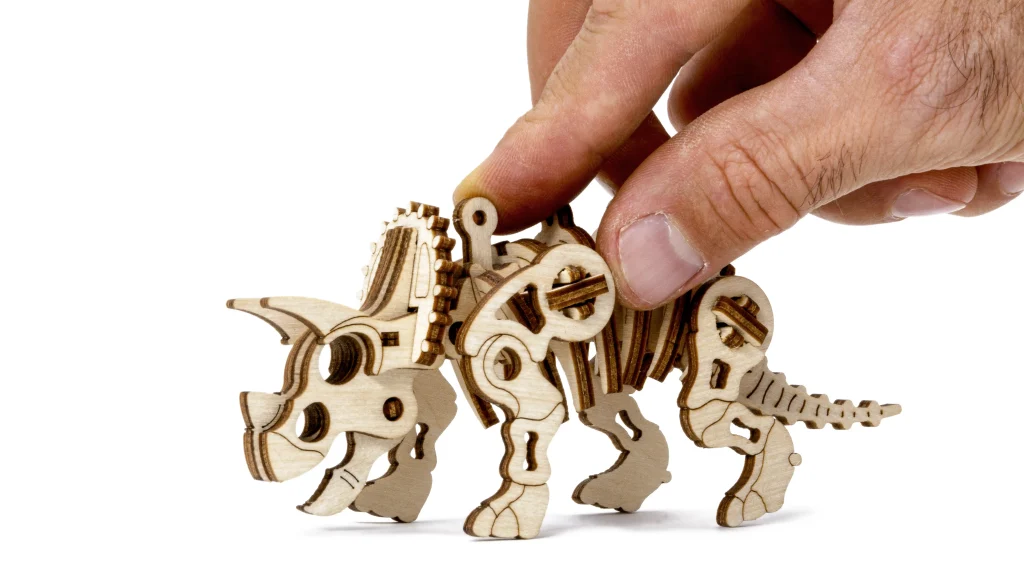 Recyclable Packaging with a Twist
Further showcasing our commitment to innovation, the packaging of the model can be creatively repurposed as a stand for your completed Triceratops, ensuring that no piece goes to waste and enhancing the model's overall appeal.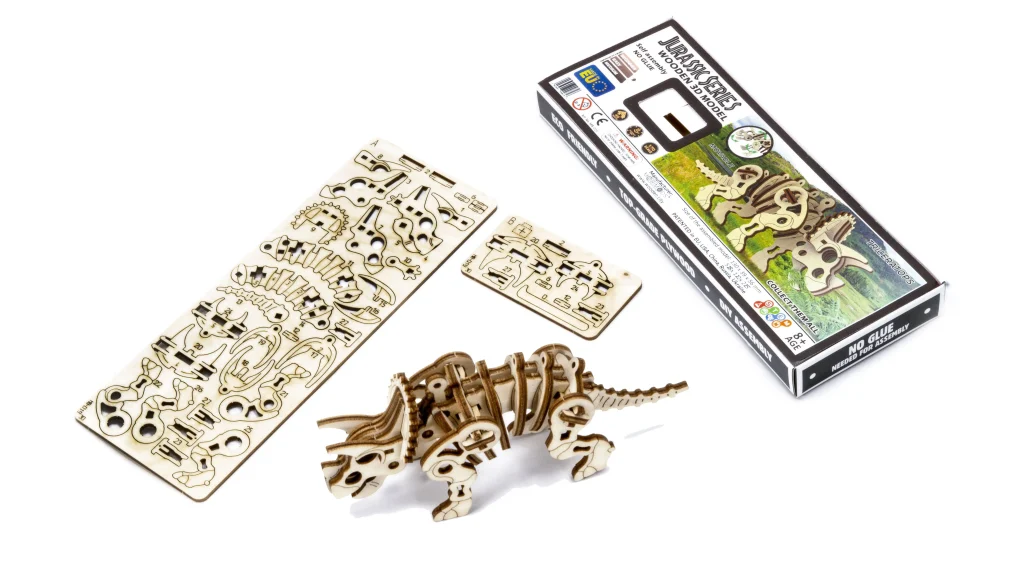 An Unforgettable Gift
Searching for a unique gift that offers an immersive experience? This model is the perfect option. Its educational and fun aspects make it an ideal gift for birthdays, holidays, or any special occasion, providing a memorable experience that will be treasured.
Make it a Part of Your Decor
Once assembled, the Triceratops model transitions from a puzzle to a striking decorative piece. Its intricate detailing and lifelike skeleton structure make it a conversation starter, adding a touch of historic elegance to any room.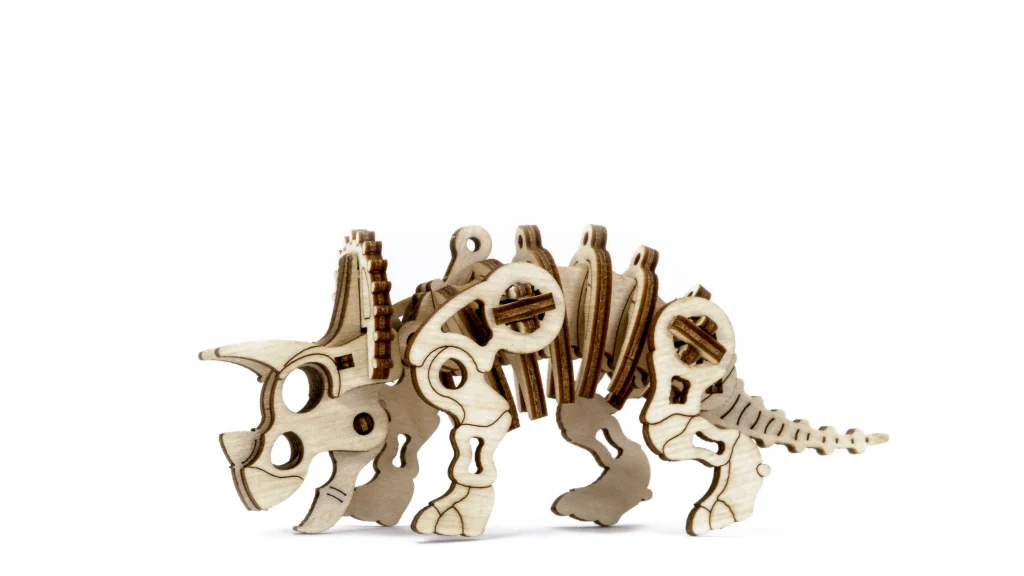 Unleash Your Artistic Side
Express your creativity by personalizing the model with paint or other decorative elements. This allows you to transform the model into a piece of art that not only represents an iconic dinosaur but also reflects your unique artistic flair.
Prehistoric Family Adventures
Dive into an age of giants with the Triceratops 3D challenge! Spark curiosity and rekindle family bonds as you assemble this ancient behemoth. A journey back in time, uniting young and old in fascination and fun. Experience a dino-sized bonding moment today!
Characteristics
Quantity
33
Spare parts
7
Series/Article
MB-019
Difficulty level
3/5
Assembly time
1 h
Model dimensions
H: 5.12'' (13 cm)
W: 1.54'' (3.9 cm)
D: 3.5'' (5,6 cm)
Package size
H: 3.54" ( 9cm)
W: 9.52" ( 24.2cm)
D: 0.99" ( 2.52cm)
Model scale
1:70
Movable limbs (legs, mouth, head)
✔
Skeleton structure
✔
Additional function activated by lever
(head moves by lever)
✔
Can be a decor element
✔
Possibility of hand painting
✔
Age
8+
Conclusion
Embrace the thrill of bringing a piece of history to life with this Triceratops model. It's more than just a model – it's a journey to the past, an educational tool, a perfect gift, and a striking decor piece. Assemble your Triceratops today and experience the awe-inspiring world of dinosaurs.